I could get used to this. Seriously. Because seemingly I suddenly have more time with one less person to deal with. Hahaha. The girls have already decided that it is more fun sleeping in my master bedroom because:-
1. I have a much more comfortable king bed (Hello? How many grand for that mattress?)
2. They are allowed to turn the air-conditioning on and watch a movie from my bed (We don't usually use air-conditioning as it is cool enough being on a hill beside jungle)
3. I have the Young Livings diffuser in my bedroom that makes it smell so lovely…..
4. They love sleeping with Mama!
The day started off with a few people coming over to collect their boxes of Izumio. Thankfully, I had a cleaner today so there was someone to help carry the boxes. I am thinking now if I should hire a cleaner to come daily. What I really want is a driver so if you know anyone with contacts for drivers, please let me know! I am so tired of driving in KL!!!
I cooked a simple vegetable pasta for lunch and caught a glimpse of some of my buddies who came to collect their goods. I was meant to take the kids out for Tae Kwon Do when it started pouring cats and dogs and the cleaner couldn't get transport home so I offered to send her home. In the rain and in traffic. It took me freaking 1.25 hours and my kids had to miss their TKD class, not that they minded at all.
I was so stressed by then and kept asking myself why I do what I do. Why didn't I just let the cleaner call a cab and wait for the cab outside my home (she can wait at the lobby) and not make it my problem how she got home. To make matters worse, I was suddenly tired from all that driving in the rain sending her home that I wanted to stop at a mall for a coffee just to take a break from driving and because I was so stressed, I kept taking wrong turns. URGH!!!! THAT is why I need a fucking driver already!!! I just could not decide if we should stop at 1MK or head home and I kept driving in circles. Thankfully, my sensible girl T1 decided for me despite T2 saying let's go shopping, let's go to H&M!! I was so tempted, I swear to God and if it wasn't me looking like a maid myself, I probably would have gone. T2 and I, we're suckers like that.
After coming home, I attempted to catch a snooze but T2 kept coming into the bedroom. Argh. I was tired. Whenever I go out, I get tired. And to be honest, I have not been diligent with taking my Super Lutein. Why? Because I actually hate supplements and honestly forget. But I so need it….sigh.
I actually managed 2 pages of homework with T2 today before she got restless and then T1 wanted me to check her Chemistry homework. What??? Why??? Leave me alone already.
Within the day, business is seriously booming and I have 15 registrations pending. I used to do 9-10 registrations per week but now it is looking more like 18-20 registrations per week. CFC hurry up already. I think I not only need a helper and a driver and a PA but soon a Manager!
T1 baked a Thermomix apple tart today. It was so yummy. So proud of my girl. She is so awesome.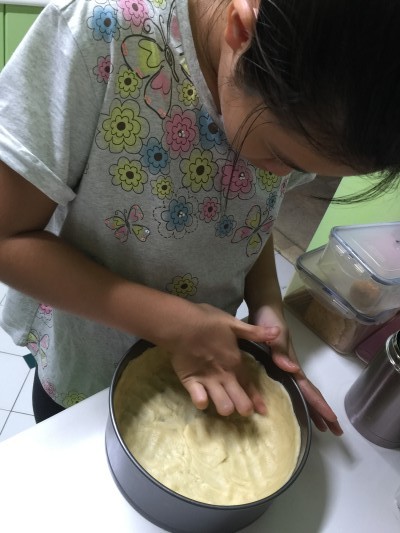 She also helped me to wash dishes and entertain her sister whilst I needed to rest.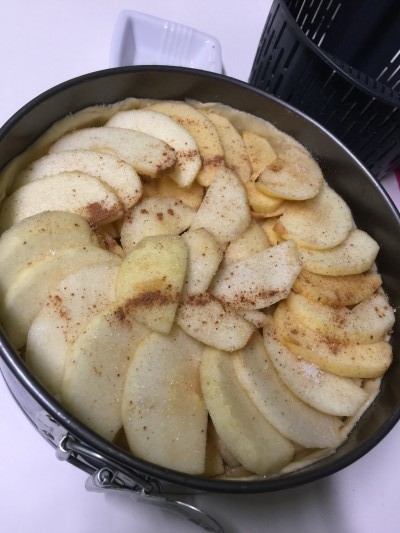 Tomorrow we are visiting a baby with leukaemia whom we hold dearly to our hearts. After that, we will need to go get our last minute winter stuff from Pavilion and call it a day. What shall we do for Daddy's arrival home???
**************************************************************************
Who is Mamapumpkin?
Mamapumpkin spent 7 years in London committing crimes to gain her Bartlett BSc in Architecture. She spent 7 years as a Stay At Home Mom raising her children as documented in this Mamapumpkin blog since over 10 years ago and thereafter returned to the Corporate World stronger than ever. Her last job as Country Director of a British Railway Signalling organisation saw her getting ill with an aortal and mitral heart valve regurgitation and cancer. Through her journey from working to not working to working again, she sets out to prove to all women that they can do anything and everything that they set out to do; as long as they have that fire of desire burning within and the drive to work hard with oodles of love, passion and integrity.
Despite being ill, she has grown a network marketing business from little knowledge and experience in the otherwise infamously known MLM (Multi-Level Marketing) industry, racing from an income of ZERO to RM 100,000 monthly in merely 2 years. She is a firm believer of the MLM business model but realises the pitfalls too and understands how and why the majority of people would shy away from any MLM business.
She is now pondering the title of her new book, From Zero to 100,000 RM monthly in 2 years and has a sequel in the pipeline with the aim of helping real professionals succeed in the World of MLM. Always the giver, Mamapumpkin has supported orphans for years and has now extended her care to the sick, single mothers, and even struggling families. She believes that with the MLM business model, we can all have a life of our own desires to enable real contribution into the world.
A beautiful life without limits.
Mamapumpkin currently manages the
Homeschooling Hub Malaysia on Facebook
. She also runs
Working Women Malaysia
(not THAT kind of Working Women LOL),
Mamapumpkin - Creating A Life of Abundance
, and Funky Moms on Facebook to offer REAL support to all women who want career and life success. She is a living testimony that women really can have a lot. Being financially free has enabled her to travel the world anytime anywhere doing anything, and she spends most of her day to day with her children, reading and supporting other women.
For enquiries, please contact her at mamapumpkin at gmail dot com or WhatsApp her at +6012-2333840
Show your support and spread the love!