I remember all those arguments that I'd had with the Hubs about sending his precious super tiny T2 to school. He always felt she was too tiny and was protective about people pushing her into the drain (LOLOL!!!) and I always felt I just wanted her OUT of the house as early as possible and kept telling him that despite her size, SHE'D be bossing everyone around and pushing THEM into the drain instead, being the little terrorist that she is.
The day finally came this year and boy, was she so ready for school. She adjusted within the day (unlike T1 who took an entire YEAR!) and loves going to school. No separation anxiety issues at all and she's all smiles going and coming back from school. She looks up so much to her big sister and poor lass, she is always wanting to become like her big sister.
She finally got her chance to go to school AND have her first Sports Day, just like her big sister, and it was SO MUCH FUN.
She first had to do a March Past……at 3, it was rather a walk past than a march past, but hilariously, the 2 year olds would just walk or toddle anywhere they fancied and not follow the march past direction so you would see teachers running randomly across the grass to direct them back to their lines. So cute!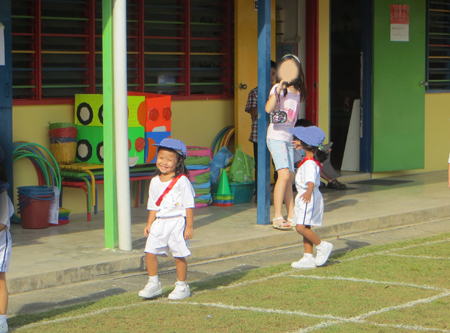 .
Then she had to do a dance aerobic kind of performance to music and because we sat at the back, she kept looking back at us and sticking her tongue out! Where she learnt that from I have no idea. So yup, she'd do her moves then every 10 seconds, turn and gave us the tongue. How she managed to remember where she left off was quite impressive. Just copy what everyone else is doing, haha……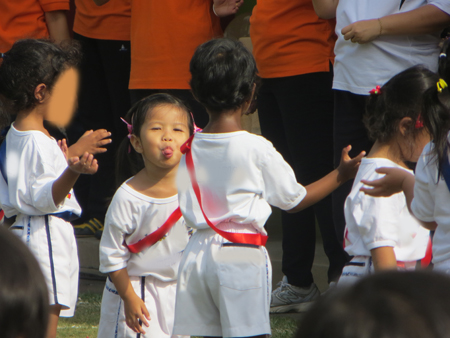 .
Last but not least, she participated in her tele-match race, here waiting her turn…..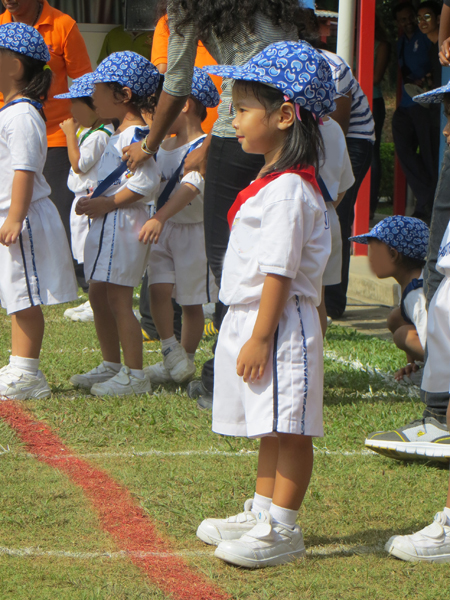 .
She had to run with a ball, jump into a hoop, jump out of it, jump into another hoop then throw the ball into the basket. Then she had to pick up the ball and do the same thing back. Too damn cute.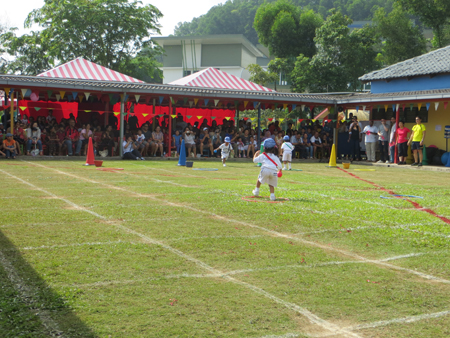 .
Unlike her sister who has a string of Gold Medals (and who's even asked for her own Medal Cabinet!!!), T2 eagerly awaited her Silver Medal here. At least at this age, they do not know the difference between what a gold and silver is or she'd be asking for that medal cabinet too.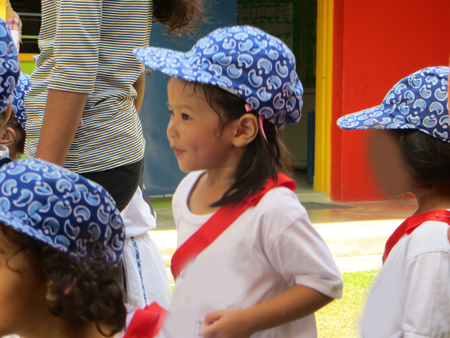 .
Admiring her first Sports Day Medal.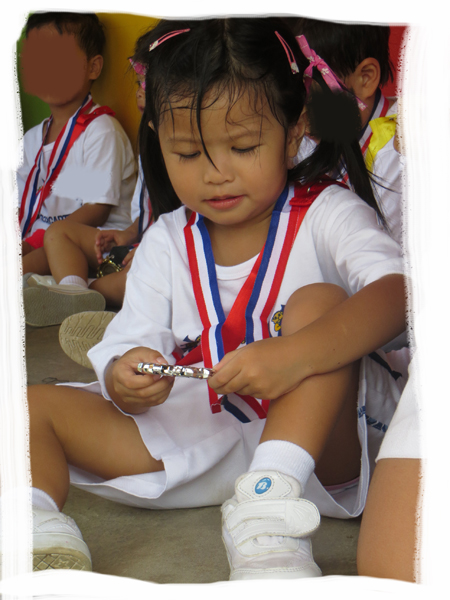 Well done, my little T2. We love you so much!