My Whirlwind Trip to Kota Kinabalu
Every time I go to KK, I always feel so blessed! The people are so wonderful, the air is different and of course the sea breeze with the majestic Mount Kinabalu radiates some incredible positive energy. My experience has always been extremely rich and this time was no less. Sunsets in KK are very beautiful. I have not experienced a sunrise yet but I already have plans to bring the kids there soon to experience just this.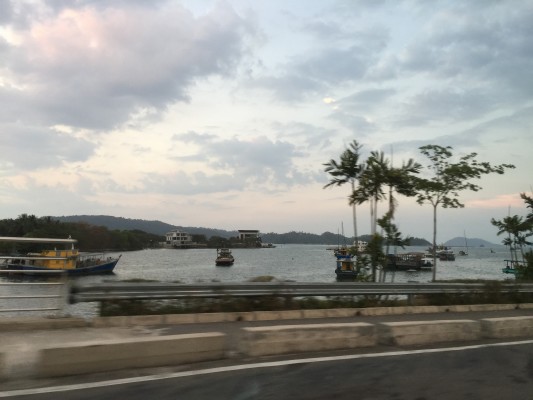 I went to help spread the love in KK to educate more and more people about the wonderful option of Izumio and Super Lutein to give them better health to end their suffering. I met tons of lovely people in doing that and had wonderful KK meals – fresh seafood!!! It was really, really, really good. And man, the chilli padi from KK is da bomb. I had the runs after no kidding!!! But if I had to do it again, I will. Hahahahaha.
I literally slept an hour the night before at 3am and had to wake up at 430am to catch the early morning flight from KLIA. I was not well the night before and had some trouble sleeping but anyways, after waking up, could not find a taxi to take me to the train station!!! I called my guards to help and eventually we got a cab and I was so thankful that I paid him RM50 even thought the bill was less than RM20 (due to being the wee hours of the morning) from Taman Duta to KL Sentral, literally a 3 minute ride without traffic. He was shocked but what the heck, he saved me from a lot of stress from missing my flight.
And when I arrived, my roomie driver was buzzing me but the airport immigration was so busy!! Who the heck travels to KK so early in the morning?!?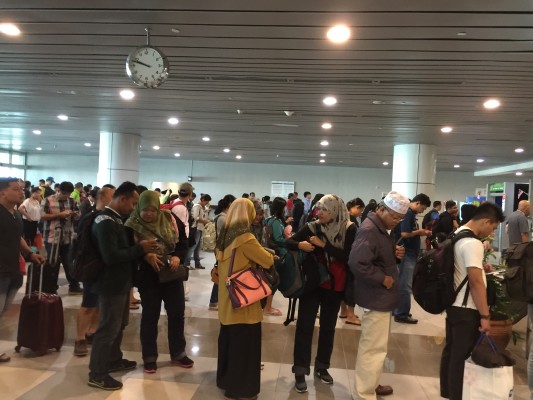 She whisked me for the famous KK befall noodles that was delicious.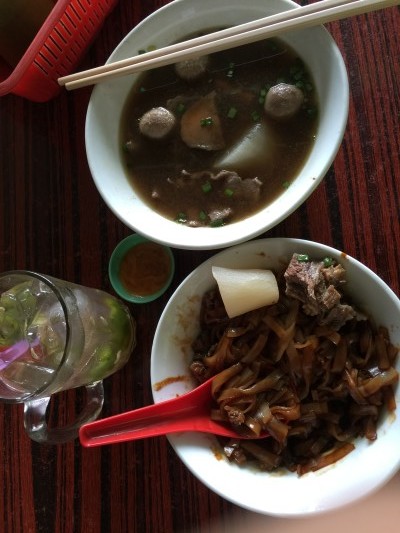 And thereafter, we were on the roll……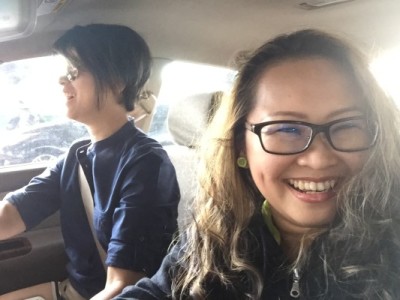 We went shopping……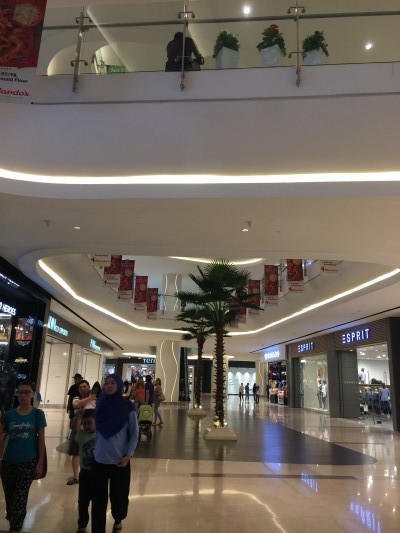 Had a massage…….(yes, if you look hard enough, you might be able to catch my naked body. Not that it is a lovely sight for viewing but you can be sure that if I had the body, I'd be flashing it all over the internet – KIDDING!!!!).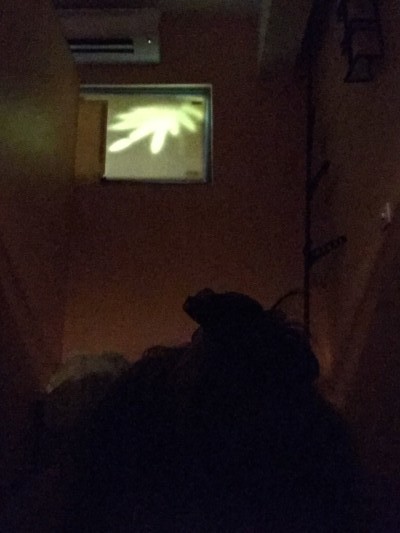 Before heading to the Naturally Plus office for my work…..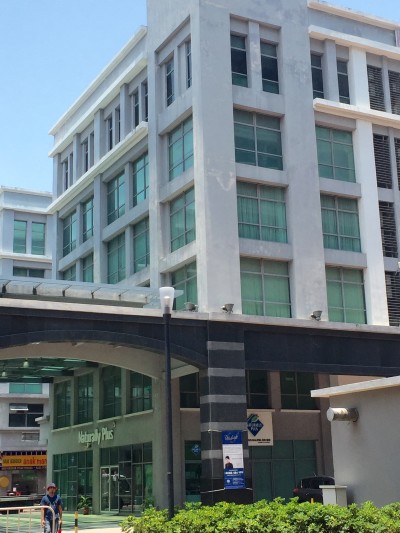 There, I shared how just how by sharing my story with sincerity to people and posting on Facebook every now and again, I built a huge chunk of passive income that continues to grow till today. Even better, I have my health back and wait till I tell you this!!!
The day before I went to KK, I dropped by at the ophthalmologist to get my eyes checked because I was told that I was at risk for Retinal Detachment but lo and behold, not only do I NOT have cataract, glaucoma nor retinal detachment but my eye power had decreased yet again!!! I have all the prescriptions to prove it!!! This is after a year plus of consuming 6-10 Super Lutein every day. Many times I do miss my Super Lutein admittedly because I am just so bad at taking these things but on average, I do take it as I was so worried about my eyes.
And not only that! My trigger thumb from daily 24/7 iphoning, after suffering in pain for a whole 3 months has mysteriously and very suddenly DISAPPEARED. I just cannot believe it!!! It is such a huge, huge relief!!! For months, I have been struggling to type with the phone, I could barely hold a pen to write, I could not pull my pillow or my blanket around with my right hand, I could not pull up my pants, even buttoning my pants and shirts were a challenge, and mornings were the worst when the thumb just could. not. move. OUCH.
But in just this KK weekend, everything has sorted itself out. I did take a higher dosage this weekend due to the crazy lack of sleep and super busy weekend.
The bad news is that I spent another RM4,000 ordering new prescription glasses with lower power. I could have gone back to my old Pradas but I was too lazy to bring it out to check and besides, it is so much more fun getting new glasses. I chose a unique Tom Ford's this time round. It almost looks UGLY but it's quirky and so it will differentiate me from everyone else. I just want to live in my hole happily. Please do not disturb.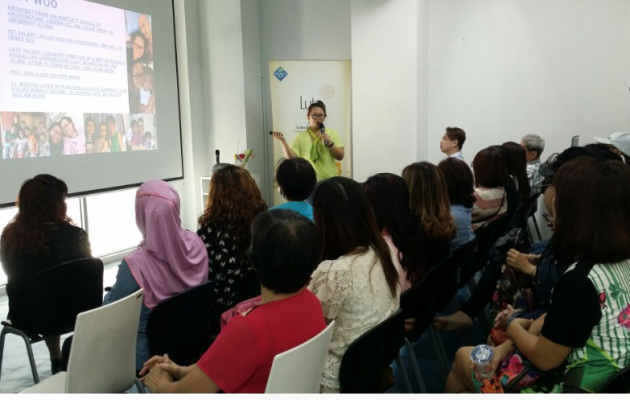 After the presentation and mingling with all my potential customers (We welcomed 10 new customers on the spot by the way. Perhaps more by now). Below is the big team leader from Singapore that I got to know for the first time. Nice helpful humble man.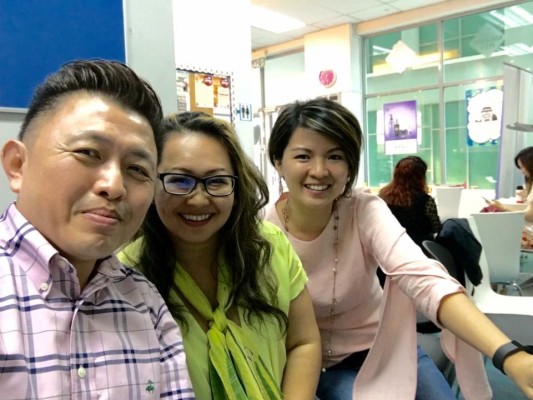 He brought us out for this wonderful dinner.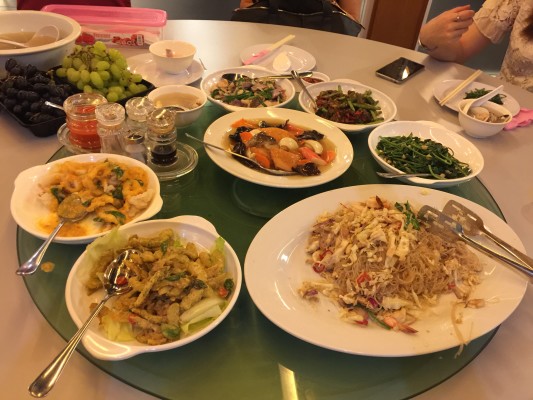 None of us had any rice because we are all educated about health people, yo!!! The clam soup was very nice!!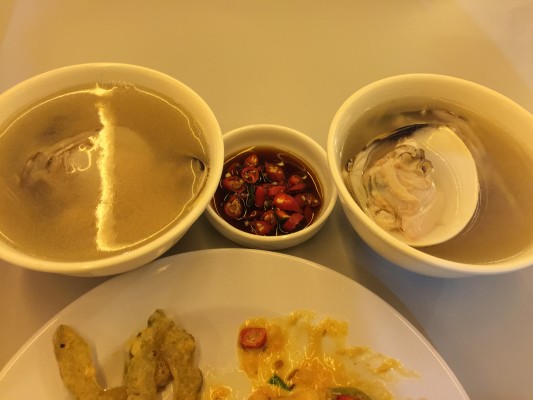 We had a late night with lots of chatter and after I returned to my hotel room, I had a guest come over. Ahem. The next morning, I was out and about to meet another great friend from KK and she brought me to this awesome blossom porkie place called OINK.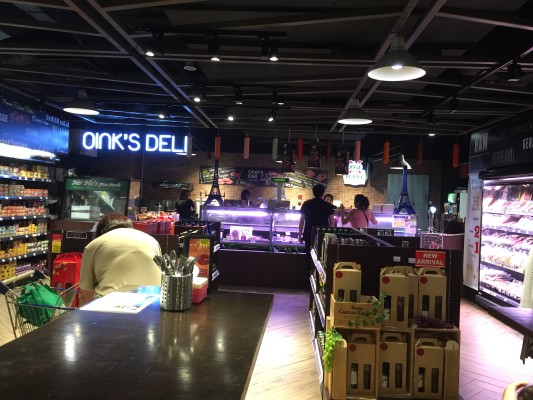 I had a ham sandwich and some bolognese pasta (both YUMMY!!) and tried for the very first time, bacon chips. Oh. My. Goodness. I wish I never tried!!!
Brought these two little darlings to ToysRus and had a wonderful time with them. Little A reminds me so much of my T2 – totally tiny princess diva gorgeous with a dimple and big boy T was truly lovable and very, very entertaining. He is so smart. I really enjoyed myself talking to him.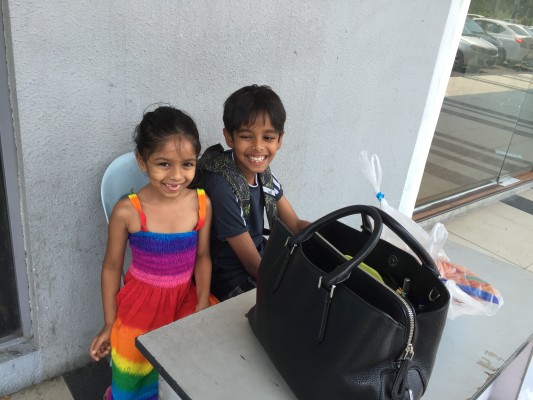 After all that, it was time to fly back to KL and I got to enjoy this little cheeky monkey. You see what a wonderful weekend it was for me!! THANK YOU!!!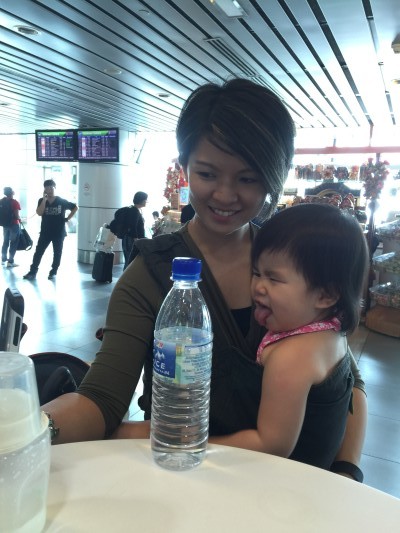 After I landed in KL, it was straight out with my own brood who missed me to bits and me them, and whilst waiting for dinner, T2 dug straight into her new toys from KK – the SHOPKINS, what else???? It is the current trend in 6 year olds, didn't you know???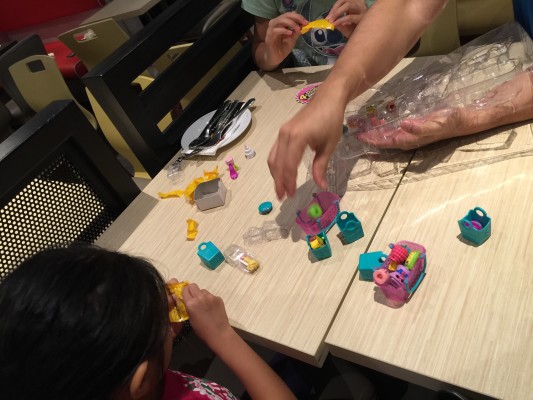 I learnt so much in the process talking to a myriad of people from all backgrounds from the moment I arrived in the morning till the next morning. It was INTENSE!!! So many meetings with so many people!!!
Sitting down to learn from a millionaire over dinner is always encouraging and I learnt a lot. I am so blessed. Thank you. Thank you. Thank you.
**************************************************************************
Who is Mamapumpkin?
Mamapumpkin spent 7 years in London committing crimes to gain her Bartlett BSc in Architecture. She spent 7 years as a Stay At Home Mom raising her children as documented in this Mamapumpkin blog since over 10 years ago and thereafter returned to the Corporate World stronger than ever. Her last job as Country Director of a British Railway Signalling organisation saw her getting ill with an aortal and mitral heart valve regurgitation and early stage cancer. Through her journey from working to not working to working again, she sets out to prove to all women that they can do anything and everything that they set out to do; as long as they have that fire of desire burning within and the drive to work hard. Even better with oodles of love, passion and integrity.
Despite being ill, she has grown a network marketing business from very little knowledge and experience in the otherwise infamously known MLM (Multi-Level Marketing) industry, racing from an income of ZERO to RM 100,000 monthly in merely 2 years. She is a firm believer of the MLM business model but realises the pitfalls too and understands how and why the majority of people would shy away (or zoom far away) from any MLM business.
She is now pondering the title of her new book, From Zero to 100,000 RM monthly in 2 years and has a sequel in the pipeline with the aim of helping real professionals succeed in the World of MLM. Always the giver, Mamapumpkin has supported orphans for over 30 years and has now extended her care to the sick, single mothers, and even struggling families. She believes that with the MLM business model, we can all have a life of our own desires to enable real contribution into the world.
A beautiful life without limits.
Mamapumpkin currently manages the
Homeschooling Hub Malaysia on Facebook
. She also runs
Working Women Malaysia
(not THAT kind of Working Women!),
Mamapumpkin - Creating A Life of Abundance
, and Funky Moms on Facebook to offer REAL support to all women who want career and life success. She is a living testimony that women really can have a lot. Being financially free has enabled her to travel the world anytime anywhere doing anything, and she spends most of her day to day with her children, reading and supporting other women.
For enquiries, please contact her at mamapumpkin at gmail dot com or WhatsApp her at +6012-2333840
Show your support and spread the love!