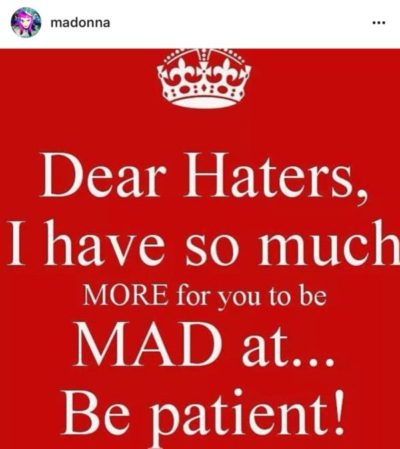 Without a doubt, I have been a hard core Madonna fan since I was 14. Yes, at RSGC it was Madonna all the way for me when my BFF was into Michael Jackson and Prince, and OK, I loved Boy George too. You know that Karma Chameleon guy? So when I saw this on Madonna's post, I was like YEAH!!! It is OK to have haters. It only means you have the ability to hit some nerves. Especially those that deserve it. SO what is the latest news on the hater list?
Hmmm. Let's see.
Shit. There is so much that I do not even know where to start. LOL.
OK, let's just talk about me instead. It is what I do best since I have very little talents as such. People who have time to hate obviously have a lot of time. I don't do hate.
What has happened since the last time I bought my own first Business Class ticket? This is no big deal by the way. Anyone can do it. Oh, yes. I took the family to Singapore for the long weekend to open some bank accounts and to meet up with some friends, chilled and had a great time holidaying. Came back needing another holiday because man, the beach was hot!! The Shangri-La Sentosa is really one of the best places to holiday with kids. We will definitely go back just to stay 5 days there without even leaving the resort as there is enough to entertain the kids there! Food was excellent and even my 5 STAR posh husband commented that the food was good and that we have not had such a good hotel buffet spread in a long time. I usually hate buffets. Like it is food left out in the open that's been prepared last century and touched by so many different hands. Ewe. Yet, the Shang in Singapore did win me over this time. And they did go over and beyond to make our stay truly memorable. Well done, indeed. I am not an easy person when it comes to design and service standards. I have traveled the world and have a good feel for what you should be getting for what price. The hotel is dated and is in need of a facelift so I suspect that would happen soon in phases. We are still in search of more WOW experiences. Many Asians still do not have a good understanding of what it is to WOW a customer. Which makes it easy for  the rest of us to succeed. Good and bad. Even on First Class on MAS, the facilities are excellent but the service? It has to match, yo.
I have finally found my new Manager to support my business. She is my old General Manager from the British company I used to work for and I am driving her to earn a 5 figure salary so I can retire from the tasks that I myself do not wish to perform. There is a lesson in this search for a Manager/PA/Kuli/whatever you want to call her, I don't care because when I started the search earlier this year, I was upfront with everyone I interviewed about the tasks at hand and what I was willing to pay. You can really see a person's potential from their actions thereafter if their attitude will serve what you are in search for or not. And strangely, we have come full circle. This very same GM that I myself interviewed and hired when I was still in the British company and agreed to her then 5 figure salary has come full circle to work for me again now. And because she has great attitude, she will go far. Everyone who works for me goes far. If they didn't have the right attitude nor the right ethics, they would be out of my organisation. People tend to feel uncomfortable when they are the only ones going against the grain, you know what I mean? Sometimes people bet on the right horses to get ahead and that is their right. The ladies who put their money on me to get them ahead have gone ahead but for others to say it is just their own career advancement that they are after to be with me and not me per se as they couldn't care two hoots about me, my goodness, is that even important? Why do people have so much to say? Why don't they just DO instead LOL.
So for everyone who is just USING me to get ahead, come-come-come, you are most welcome to use me. I am here to make your lives better. That is what I do. I retire women. I honestly do not do this to gain attention or want you to like me. I do not control what people say about me nor can I control how they feel about me. I just do what I do because I love what I do!! Whether anyone chooses to love me or hate me is up to them. It is separate entities what people feel about me and what I do for others. In fact, I have given and given still to be hated. And that is perfectly fine with me. This is the real world. I have learnt to suck it up and am quite the pro at it actually.
Coming back to great attitudes. After working with some amazing women in the last 2 years almost, I am truly touched that there are still good people in the world. They could jump ship and move to where the faster and bigger money is but these women, they have strong values. And I must say I am truly proud of them because they are the example to their children. When you live greed, you breed greed. When you live lies, you breed lies. When you live bitchiness to make your own selves feel better, you also breed little bitches. I am guiding my children to stay far, far away from such values. Nothing in this world is so big and so important that you have to hurt another person in order to get it. Nothing.
I lost 2 amazing friends to illness this month. These are loyal friends who will only turbo charge my blessings to greater heights. I am already very blessed and am finding more ways to spread the blessings. The things people say about me are so ludicrous that we could write a joke book out of it. Come on, ladies. Don't be so serious. Let's work hard towards our best health and spread kindness everywhere. Don't let all these petty gossip and bad mouthing of people here and there get to you. Don't let other bitches drag you down and pepper your lives with hatred and negativity. If you do not give them the permission to do so, you will be fine! Welcome abundance into your lives and hang out only with positive people that lift you and give you great energy. They are everywhere if you open your eyes and look. See the kindness and care in so many people around you. I have seen it myself so you can too. If we can just make that small move to start with our internal selves to plant positive seeds and positive thoughts, your souls will be enriched and grow positively and when that happens, your aura and your entire being will ONLY ATTRACT ABUNDANCE. This is a tried and tested recipe for success.
My mission is to spread sunshine. Join me or be my shadow.
**************************************************************************
Who is Mamapumpkin?
Mamapumpkin spent 7 years in London committing crimes to gain her Bartlett BSc in Architecture. She spent 7 years as a Stay At Home Mom raising her children as documented in this Mamapumpkin blog since over 10 years ago and thereafter returned to the Corporate World stronger than ever. Her last job as Country Director of a British Railway Signalling organisation saw her getting ill with an aortal and mitral heart valve regurgitation and early stage cancer. Through her journey from working to not working to working again, she sets out to prove to all women that they can do anything and everything that they set out to do; as long as they have that fire of desire burning within and the drive to work hard. Even better with oodles of love, passion and integrity.
Despite being ill, she has grown a network marketing business from very little knowledge and experience in the otherwise infamously known MLM (Multi-Level Marketing) industry, racing from an income of ZERO to RM 100,000 monthly in merely 2 years. She is a firm believer of the MLM business model but realises the pitfalls too and understands how and why the majority of people would shy away (or zoom far away) from any MLM business.
She is now pondering the title of her new book, From Zero to 100,000 RM monthly in 2 years and has a sequel in the pipeline with the aim of helping real professionals succeed in the World of MLM. Always the giver, Mamapumpkin has supported orphans for over 30 years and has now extended her care to the sick, single mothers, and even struggling families. She believes that with the MLM business model, we can all have a life of our own desires to enable real contribution into the world.
A beautiful life without limits.
Mamapumpkin currently manages the
Homeschooling Hub Malaysia on Facebook
. She also runs
Working Women Malaysia
(not THAT kind of Working Women!),
Mamapumpkin - Creating A Life of Abundance
, and Funky Moms on Facebook to offer REAL support to all women who want career and life success. She is a living testimony that women really can have a lot. Being financially free has enabled her to travel the world anytime anywhere doing anything, and she spends most of her day to day with her children, reading and supporting other women.
For enquiries, please contact her at mamapumpkin at gmail dot com or WhatsApp her at +6012-2333840
Show your support and spread the love!