Many a time, I come across people and I form an impression of them. First impressions really do last and usually are the real ones that tell a person. Does she look at you in the eyes when she talks? Does she ask you any questions or only know how to talk about herself? Does she offer help? Does she ignore? Does she pay attention? Does she ask you personal questions? Does she respect your privacy? Does she make you laugh? Does she lift you? Does she bring you down? Can you sense jealousy? Do you need to be on guard when you're with her? Does she have an agenda?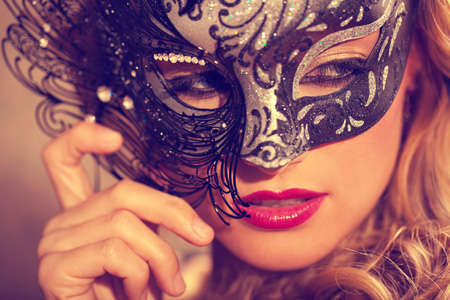 Some people, they are so genuine and radiate such sincerity that you can feel it in your bone. And then some, they are so sickeningly sweet and nice to you yet something tells you to be careful. How is that? Why is that? Trust your instincts. They have never failed me. I always give people the benefit of doubt but if they cannot cross the 5 year benchmark, they are probably not real. People usually cannot pretend for so long. And I kiss myself every time I prove myself right. Every single fucking time. And I have always been right!
Perhaps it is experience from learning from hanging out with adults all my life as a growing child. From the age of 8, I'd be hovering around my aunt and my mom (along with their huge variety of 'friends'), listening to all their conversations, solving problems, helping others, you name it. You learn a lot as a child. And then as a teenager, mom was truly ACE with relationships. She KNEW a good person from a not so good person upon first glance. I don't know how she does it. And even if I knew those people for months, Mom would still tell me he's no good or she's no good. And I would fight with her as a rebellious youth, how dare she condemn my friends, those who had stuck with me and gave me so much. How dare she!? Well, she was right all along…….she was always right. So bloody intuitive she was, my Mom. Oh, how I miss her.
Mom would always notice the little signs and in that, I picked it up too.
So I have this amazing friend who has been through so much in life that you cannot imagine that SHE has been through all that. She is the sweetest, gentlest, most soft spoken kampung girl. Yet, this tough bitch can fight white men and put people in prison, ok? Then I have another friend who has been raped and been through a roller coaster life of ups and downs yet today is so successful that you would never have imagined that she had been through so much in her life. Another Doctor friend, used to suffer from anorexia and bulimia. Come to think of it, I have quite a few friends who suffered from childhood insecurities which is why I hold such an affinity to help women. Women are always killing themselves. Why? They must learn to empower. We have so much power. My Mom was always a woman everyone else got jealous of. I do not know why. She was a good person. A really good person. And people hated her for being that. Women hated her because their husbands' ogled at her. Get a life.
So before you make a judgement about someone, know that behind the mask, could lie someone very, very different. Someone who is the least of your expectations. You never really know until you know. I am one such blessed person who wins the trust of many who dares to reveal their face behind the mask. And I will never tell. Because I am a fucking great friend like that.
**************************************************************************
Who is Mamapumpkin?
Mamapumpkin spent 7 years in London committing crimes to gain her Bartlett BSc in Architecture. She spent 7 years as a Stay At Home Mom raising her children as documented in this Mamapumpkin blog since over 10 years ago and thereafter returned to the Corporate World stronger than ever. Her last job as Country Director of a British Railway Signalling organisation saw her getting ill with an aortal and mitral heart valve regurgitation and early stage cancer. Through her journey from working to not working to working again, she sets out to prove to all women that they can do anything and everything that they set out to do; as long as they have that fire of desire burning within and the drive to work hard. Even better with oodles of love, passion and integrity.
Despite being ill, she has grown a network marketing business from very little knowledge and experience in the otherwise infamously known MLM (Multi-Level Marketing) industry, racing from an income of ZERO to RM 100,000 monthly in merely 2 years. She is a firm believer of the MLM business model but realises the pitfalls too and understands how and why the majority of people would shy away (or zoom far away) from any MLM business.
She is now pondering the title of her new book, From Zero to 100,000 RM monthly in 2 years and has a sequel in the pipeline with the aim of helping real professionals succeed in the World of MLM. Always the giver, Mamapumpkin has supported orphans for over 30 years and has now extended her care to the sick, single mothers, and even struggling families. She believes that with the MLM business model, we can all have a life of our own desires to enable real contribution into the world.
A beautiful life without limits.
Mamapumpkin currently manages the
Homeschooling Hub Malaysia on Facebook
. She also runs
Working Women Malaysia
(not THAT kind of Working Women!),
Mamapumpkin - Creating A Life of Abundance
, and Funky Moms on Facebook to offer REAL support to all women who want career and life success. She is a living testimony that women really can have a lot. Being financially free has enabled her to travel the world anytime anywhere doing anything, and she spends most of her day to day with her children, reading and supporting other women.
For enquiries, please contact her at mamapumpkin at gmail dot com or WhatsApp her at +6012-2333840
Show your support and spread the love!