Prevention of Age-related Macular Degeneration – AMD is very easy yet many people just take their eyes for granted because there is lack of education about the eyes. I am the first to admit that I knew NOTHING of eye diseases till I started consuming Izumio and Super Lutein. But I am so glad I did because it is a very serious thing losing your vision!!!
Firstly, what is Age-related Macular Degeneration? Someone with AMD, will lose a part of their vision like this below. The central part of their view gets distorted or blanked out altogether. Fun? Yes and no.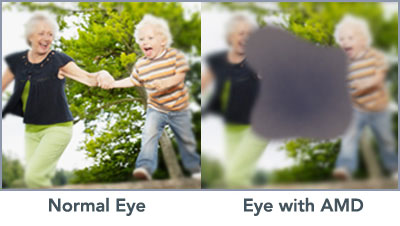 Fun as in, you get to guess what is missing?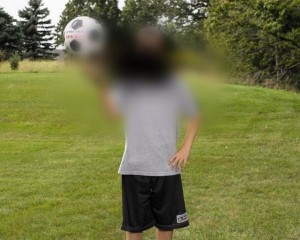 This is a cross section of your eye. Gosh, it is like being in High School all over again and studying my Biology. Did any of you memorise this? I remember I did!!! Hahahaha!!! I must've been nuts.
So if you look at the right side of this cross section, you will see a small bump called the Fovea Centralis and that, ladies and gentlemen, is your MACULA. It is a spot that attracts all the light that enters our eyes and focuses like a muscle that squeezes all the light that enters the eye so you can see a CLEAR image.
Unfortunately, because it is made out of cells like the rest of our body, free radicals will attack it just like it attacks any other part of our body.
What causes our body to have FREE RADICALS?
1. Bad Habits – such as eating bad food, sleeping late, drinking alcohol, smoking, you know, lifestyle habits.
2. Environmental Factors – Pollution, inhalation of paint and fumes, sun rays, radiation, etc.
3. Internal Factors – such as breathing and stress.
These FREE RADICALS can go ANYWHERE in our body to cause disease. And if they reach our macula, that is when we go uh-oh, we are on our way to playing guess the image.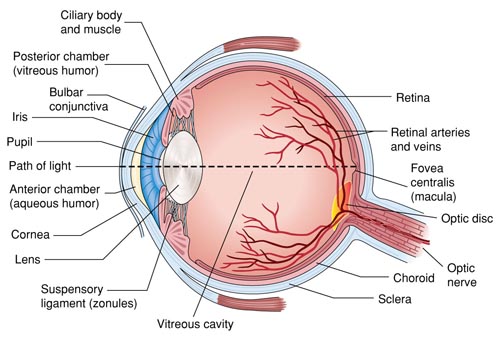 Now think about it. Do YOU want to lose your vision? Do you want to stop driving?
Here's how you can be at risk:
1. Smoke regularly
2. Be Caucasian. Prevalence of AMD in Caucasians is higher compared to African Americans and Latinos. Asians get it about the same after a certain age.
3. Have AMD genes. There are about 20 genes that will gear you towards AMD and if you are unfortunate enough to have one, all the more reason you should think about preventing age-related macular degeneration – AMD.
4. Go out into the sun a lot without protecting your eyes
5. Drink alcohol regularly
6. Eat lots of sugar till you become obese (like me, yikes!)
7. Having High Blood Pressure and Heart Disease will increase your AMD risk
Does that sound like fun? Do you think you are anywhere near getting AMD? If yes, here's what you can do:-
1. Do not smoke
2. Exercise regularly so the blood vessels in your eyes get their necessary circulation too
3. Maintain your blood pressure
4. Be conscious of what you eat and eat lots of healthy green leafy vegetables and fish
5. Take Izumio and Super Lutein. Duh. But of course!
Now the BAD thing about age-related macular degeneration – AMD, is that it comes without symptoms, just like lung cancer. I know because I have 3 terminal lung cancer patients, bless them all.
And that is freaking scary. AMD is categorised into 3 steps, early, intermediate and late. The first 2 steps have ZERO symptoms so basically, when you are in an advanced stage, it is almost too late. Then you start having injections into your eyes to prevent yourself from going blind.
The below are links about AMD and studies that show that Lutein and Zeaxanthin help the prevention of age-related macular degeneration – AMD. Super Lutein has THE BEST source of Lutein and Zeaxanthin in the entire global market as it is the Rolls Royce of eye products. You may find many more lutein products in the pharmacies and even in their own stores (know the pharmaceutical supplement brand that got in the New York Times lately that was slammed for sub-standard quality?) BUT do they have FloraGlo lutein? And not only do they have FloraGlo lutein, you have to make sure you are not getting just the lutein esters as those are not easily absorbed by the eyes so what for? Pay RM100 but nothing happens. Don't waste your money. Get something that has been proven to work. You could even consume Super Lutein for FREE if you wanted to. You just need to find enough people to join you in a GROUP BUY.
Facts about Age-Related Macular Degeneration from the National Eye Institute
USA Today about the conclusion of the AREDS2 Study on AMD
Age Related Eye Diseases 2 Trials on Lutein and Zeaxanthin
Super Lutein for the eyes yet as a by product heals the rest of your body
Doctor speaking about Lutein and Zeaxanthin naturally occuring in the Macular
More info about Super Lutein for the Eyes
**********************************************
After 7 years in London committing crimes to gain a Bachelor of Science in Architecture from The Bartlett, Mamapumpkin quit her full time job as the Country Director of a British Railway Signalling organisation in December 2014 due to the diagnosis of her double heart valve (aortal and mitral) regurgitation causing her to be extremely fatigued (insufficient oxygenated blood) and not being able to function as a normal human being. By the Grace of God, she was introduced to Izumio and Super Lutein and her health has rocketed since. She now pledges that it is the best thing that ever happened to her and earns a good living by sharing the benefits of Izumio and Super Lutein to the world.
Mamapumpkin also manages the Homeschooling Hub Malaysia on Facebook. Please LIKE the page and contact her for enquiries. She has just recently started Working Women Malaysia on Facebook to offer support to all women who want career and life success.
For information on Izumio and Super Lutein, please LIKE the Izumio Lutein Malaysia page on Facebook or email her at (mamapumpkin at gmail dot com) and she will be able to respond to all your queries. Or WhatsApp/Call her at 012-2333840.
There is also an Izumio and Super Lutein Resource Centre on Facebook that is strictly for her growing team of customers and medical advisers (yes, there are Doctors in there). This is a place where user sharing is discussed working towards everyone's best health. And of course, you will be guided towards your business success should you wish to do the Izumio business, a very viable business.
For more reading on her experience with Izumio and Super Lutein, please click on the following links:-
1. Izumio and Super Lutein for CANCER
2. Izumio and Super Lutein for Eczema
3. Izumio and Super Lutein heals Diabetes
4. Izumio and Super Lutein heals a Slipped Disc
5. Izumio and Super Lutein for KIDS
6. Izumio and Super Lutein for a Happy Family
7. Izumio and Super Lutein for WOMEN
8. Izumio and Super Lutein for EYES
9. My personal recommendation on Izumi and Super Lutein
10. The Izumio Super Lutein Business
11. My success with the Izumio and Super Lutein Business
12. Izumio and Super Lutein Business Expansion
13. My Earnings for April 2015 from sharing the Availability of Izumio and Super Lutein
14. Izumio and Super Lutein for Glaucoma
15. Izumio and Super Lutein have NOTHING to do with Alkaline Water (now known as active Hydrogen water)
16. It is all about KIZUNA – the bonds of friendship
18. Best Income Opportunity in Malaysia (even higher than a Director of a profitable oil palm plantation and an ex-United Nations Ambassador who are both in this with us)
19. Izumio and Super Lutein for the LUNGS
21. Prevention of Age-Related Macular Degeneration – AMD Eye Disease
Or do a SEARCH on this blog on the top right hand corner for IZUMIO and you should be able to find anything related to Izumio. Mamapumpkin talks about Izumio everyday. It is her life after her family.
**************************************************************************
Who is Mamapumpkin?
Mamapumpkin spent 7 years in London committing crimes to gain her Bartlett BSc in Architecture. She spent 7 years as a Stay At Home Mom raising her children as documented in this Mamapumpkin blog since over 10 years ago and thereafter returned to the Corporate World stronger than ever. Her last job as Country Director of a British Railway Signalling organisation saw her getting ill with an aortal and mitral heart valve regurgitation and early stage cancer. Through her journey from working to not working to working again, she sets out to prove to all women that they can do anything and everything that they set out to do; as long as they have that fire of desire burning within and the drive to work hard. Even better with oodles of love, passion and integrity.
Despite being ill, she has grown a network marketing business from very little knowledge and experience in the otherwise infamously known MLM (Multi-Level Marketing) industry, racing from an income of ZERO to RM 100,000 monthly in merely 2 years. She is a firm believer of the MLM business model but realises the pitfalls too and understands how and why the majority of people would shy away (or zoom far away) from any MLM business.
She is now pondering the title of her new book, From Zero to 100,000 RM monthly in 2 years and has a sequel in the pipeline with the aim of helping real professionals succeed in the World of MLM. Always the giver, Mamapumpkin has supported orphans for over 30 years and has now extended her care to the sick, single mothers, and even struggling families. She believes that with the MLM business model, we can all have a life of our own desires to enable real contribution into the world.
A beautiful life without limits.
Mamapumpkin currently manages the
Homeschooling Hub Malaysia on Facebook
. She also runs
Working Women Malaysia
(not THAT kind of Working Women!),
Mamapumpkin - Creating A Life of Abundance
, and Funky Moms on Facebook to offer REAL support to all women who want career and life success. She is a living testimony that women really can have a lot. Being financially free has enabled her to travel the world anytime anywhere doing anything, and she spends most of her day to day with her children, reading and supporting other women.
For enquiries, please contact her at mamapumpkin at gmail dot com or WhatsApp her at +6012-2333840
Show your support and spread the love!