OMG. I hate MLM RaRa events and was worried that this Naturally Plus Kizuna Event would be one of them. The first time I attended one was exactly at the Flamingo Hotel where a business associate from Jones Lang Wooton invited me to attend some function. I had no idea what it was but he kept saying come!!!! He somehow got me excited that it was some kind of party or something. I was single, young, with enough time to spare over the weekend, so I said OK. And then dragged my lawyer BFF along with me. Haha.
But when we arrived, the ballroom was filled with people, like 2,000 over people!!! I was scared!!! And then a group of Americans went on stage and started shouting. It was an AMWAY party. FuckKkkkkkk!!!! My friend and I made a dash out within 10 minutes of being there. Never again.
And look at me now? I'm part of a freaking network marketing company – LOL!! But I must clarify that this is different. I obviously see a real opportunity here as I've investigated every corner of it for an entire year before making this very calculated decision. I feel so sorry for the lady who introduced them to me as she had to wait that long. Well, to her it's no loss because that is our philosophy! I personally have not had to wait for new team members to join me in my crusade. It's a take it or leave it kind of thing. You either get it or you don't.
So back to the Naturally Plus Kizuna Event. The reason I wanted to attend it being a new-ish member (not even a year yet) of Naturally Plus was to learn more, see more and what more, it was about Kizuna – the Japanese ties of friendship that bind. It is a beautiful cultural philosophy that gels with my soul so I got everyone to go too. Who knows what it was really about but I'd been to the Naturally Plus events in Singapore previously and they were pretty impressive. Spaceships and people coming out of the floors kind of thing – LOL!
The first thing that I discovered at the event was that it was not going to be in English. The reason for this is that majority of Izumio and Super Lutein customers are Chinese speaking ever since the products entered the market 6 years ago. SHIATTTT!!!! Then how? The event was in Japanese and Mandarin. WTF!!! So they gave us these little gadgets and told us there would be a Bahasa translation. WTF!!! Bahasa?? Why not English??? Because there are more Bahasa users than English and it is likely that the English speaking users can also understand Bahasa. That's it. I'm boycotting all Naturally Plus events in Malaysia from here on unless they have it in English.
The BOSCH translator gadget was pretty cool though.
And when the Star Wars lights started shining and dancing around with the loud music, I just laughed. The Japanese are so fucking entertaining!
This is one row of my team below, all in blue jeans. The colour of Izumio yo! I think that should be our uniform. Hahahahaha!! Smart casual. There were people dressed to the nines in their smart business suits and there were old aunties dressed like old aunties. So professional smart casual would be the way to go for us. We are not desperate. We just want to change the world. Very simply.
One of my team members, Mom2Ashley, tried to get the emcee to get me on stage for some fun whilst he was looking for victims, but got herself selected instead. Hahahaha!!! That was so funny.
So since we couldn't understand half the event despite it being in Bahasa, we were like naughty school children playing in our own corner. And suddenly everyone started dancing. Hahahahaha!!!! Why ever not. This old uncle in front of me, little did I know that he was THE old uncle that I always hear about. Man, I should have gotten his autograph! He is a fruit seller whose son was very sick but refused to take Izumio and Super Lutein, but by the grace of God was convinced to take it and not stress his Dad out since his Dad was working hard just to let him afford to take it. Well, several weeks later, the son was A-OK and helping his Dad move tons of fruits from land onto lorry and today, this old uncle has a Doctor and a very successful leader UNDER him. Old Uncle doesn't do much. He continues his fruit business and shares with anyone and everyone he sees in his day to day job of selling fruits. But his income? WOW. I am humbled.
After the event, we of course, had to catch the USD10 million dollar millionaires for a celebrity pic. They were being rushed into a black heavy AUDI, but thankfully obliged. From L-R: Jula, alumni from my girls' old school, me, myself and I, Madame Michio Takito (a housewife who started this business 10 years ago), and the famous Masato Sakai (4 cancer survivor with the worst of colon cancer living with colostomy bags). These two Japanese leaders have earned more than USD 10 million from the Naturally Plus business just by helping people. She held my hand!!!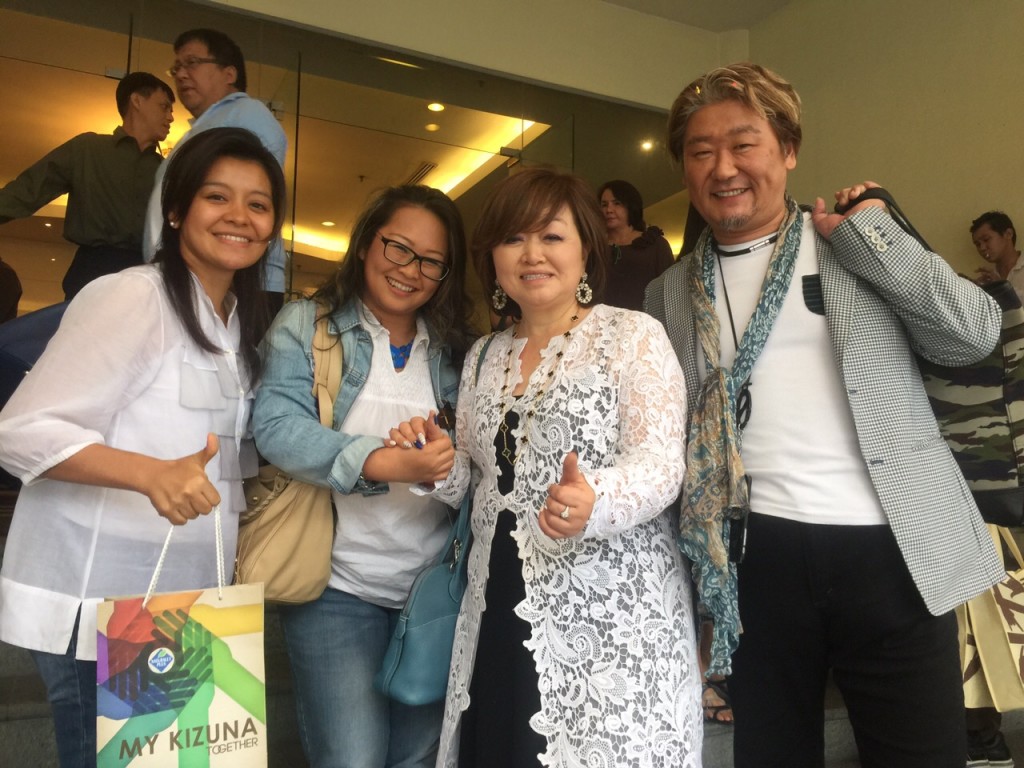 And when I got view of my May salary, I was the happiest girl because just from this one bottle of Super Lutein in November 2013, which is the first ever time I saw a bottle at Subang Parade (though I did not buy it till 12 month later – LOL!), I am now on my way to big places. Yeah….from just 1 month's salary, I could get more than a brand new Balenciaga Bag from KLCC. But I shan't. My immediate goal right now is to help the Children of Myanmar achieve their organic farm dream, and besides, I have promised Jula to wait for her so we can get Balenciaga together.
The power of Izumio and Super Lutein. The product is one thing. It is excellent. But the business system is such a fair one, so real and so achievable. The Japanese are amazingly clever. I repeat. I wonder how come I didn't end up with a Japanese Man instead!!! Yet the Hubs has had a Japanese girlfriend. Damn, he's smarter than me. Izumio and Super Lutein gives my family health, happiness, financial freedom, friendship and the power to give. I am so thankful to the Universe for guiding me here.
I mean, just look at this eczema picture below? You think people don't want to try such a good product that will eliminate all the toxins in your body and heal your health, balance your body back to equilibrium?
The company is always having good promotions and take really good care of me. I am blessed. This month, when you refer 3 new customers, you get to win an additional Japanese Yakuta from Japan. So if you know anyone who may be interested in this amazing opportunity, call me now on 012-2333840 and I will help you to help them. Don't wait. Why wait? Make the decision now that you want an amazing life and start working towards it. That was my experience of the Naturally Plus Kizuna Event.
********************************************************
Mamapumpkin quit her full time job as the Country Director of a British Railway Signalling organisation in December 2014 due to the diagnosis of her double heart valve (aortal and mitral) failure causing her to be extremely fatigued (insufficient oxygenated blood) and not being able to function as a normal human being. By the Grace of God, she was introduced to Izumio and Super Lutein and her health has rocketed since. She now pledges that it is the best thing that ever happened to her and earns a good living by sharing the benefits of Izumio and Super Lutein to the world.
Mamapumpkin also manages the Homeschooling Hub Malaysia on Facebook. Please LIKE the page and contact her for enquiries.
For information on Izumio and Super Lutein, please LIKE the Izumio Lutein Malaysia page on Facebook or email her at (mamapumpkin at gmail dot com) and she will be able to respond to all your queries. Or WhatsApp/Call her at 012-2333840.
There is also an Izumio and Super Lutein Resource Centre on Facebook that is strictly for her growing team of customers and medical advisers (yes, there are Doctors in there). This is a place where user sharing is discussed working towards everyone's best health. And of course, you will be guided towards your business success should you wish to do the Izumio business, a very viable business.
For more reading on her experience with Izumio and Super Lutein, please click on the following links:-
1. Izumio and Super Lutein for CANCER
2. Izumio and Super Lutein for Eczema
3. Izumio and Super Lutein heals Diabetes
4. Izumio and Super Lutein heals a Slipped Disc
5. Izumio and Super Lutein for KIDS
6. Izumio and Super Lutein for a Happy Family
7. Izumio and Super Lutein for WOMEN
8. Izumio and Super Lutein for EYES
9. My personal recommendation on Izumi and Super Lutein
10. The Izumio Super Lutein Business
11. My success with the Izumio and Super Lutein Business
12. Izumio and Super Lutein Business Expansion
13. My Earnings for April 2015 from sharing the Availability of Izumio and Super Lutein
14. Izumio and Super Lutein for Glaucoma
15. Izumio and Super Lutein have NOTHING to do with Alkaline Water (now known as active Hydrogen water)
Or do a SEARCH on this blog on the top right hand corner for IZUMIO and you should be able to find anything related to Izumio. Mamapumpkin talks about Izumio everyday. It is her life after her family.
**************************************************************************
Who is Mamapumpkin?
Mamapumpkin spent 7 years in London committing crimes to gain her Bartlett BSc in Architecture. She spent 7 years as a Stay At Home Mom raising her children as documented in this Mamapumpkin blog since over 10 years ago and thereafter returned to the Corporate World stronger than ever. Her last job as Country Director of a British Railway Signalling organisation saw her getting ill with an aortal and mitral heart valve regurgitation and early stage cancer. Through her journey from working to not working to working again, she sets out to prove to all women that they can do anything and everything that they set out to do; as long as they have that fire of desire burning within and the drive to work hard. Even better with oodles of love, passion and integrity.
Despite being ill, she has grown a network marketing business from very little knowledge and experience in the otherwise infamously known MLM (Multi-Level Marketing) industry, racing from an income of ZERO to RM 100,000 monthly in merely 2 years. She is a firm believer of the MLM business model but realises the pitfalls too and understands how and why the majority of people would shy away (or zoom far away) from any MLM business.
She is now pondering the title of her new book, From Zero to 100,000 RM monthly in 2 years and has a sequel in the pipeline with the aim of helping real professionals succeed in the World of MLM. Always the giver, Mamapumpkin has supported orphans for over 30 years and has now extended her care to the sick, single mothers, and even struggling families. She believes that with the MLM business model, we can all have a life of our own desires to enable real contribution into the world.
A beautiful life without limits.
Mamapumpkin currently manages the
Homeschooling Hub Malaysia on Facebook
. She also runs
Working Women Malaysia
(not THAT kind of Working Women!),
Mamapumpkin - Creating A Life of Abundance
, and Funky Moms on Facebook to offer REAL support to all women who want career and life success. She is a living testimony that women really can have a lot. Being financially free has enabled her to travel the world anytime anywhere doing anything, and she spends most of her day to day with her children, reading and supporting other women.
For enquiries, please contact her at mamapumpkin at gmail dot com or WhatsApp her at +6012-2333840
Show your support and spread the love!