Little did I know that I would come up so fast in this new venture of mine that has happened by default, but yes, it has been one helluva ride. I just cannot believe I am doing this crazy MLM business which is often frowned upon, shunned, placed in the scam box with other 'real' scams, and thrown into the fire by fierce sceptics. Like WTF, right? Why am I putting myself into this??? Me? The very scientific and logical internationally educated me?
Sometimes, you just have to probe a little further to realise that not everything is black and white and not everything can be solved by scientists. Like really.
It took me more than a year to research these products and even after subscribing to them and knowing it helped me (because I physically felt it and was so much better, AND it was recommended by my IJN cardiologist to continue taking them), I was still sceptical. I mean, I knew it was a good product but to share with others that it could help them with leukaemia? Come on…..And the products can help the body in so many ways? Come on……until I understood the fundamentals of the products and why it worked.
It is pure nutrition. When we consume the products, we are literally drinking water (with added Hydrogen in phenomenal concentrations, all good for the body, I can assure you) and eating fruit and vegetables (but only getting the carotenoids from it in very high doses, not the fibre). Together, they form a complete nutritional supplement which garners you to not require ANY other supplement. The products may appear costly at first but once you eliminate all the other possibly harmful (due to fillers and binding agents that cause problems to your kidneys and liver) drugs and supplements, eliminate the potentially hefty medical bills when hit with disease, calculate your costs of down time when you are ill, or to prevent yourself from a critical illness altogether, it makes it more worthwhile. What more, you could actually recuperate your costs on the products whilst consuming them making them a perfect win-win-win for every individual from age 6 months to 100 years old.
My confidence came when I first met the bald leukaemia girl who skipped school for 1.5 years to undergo chemo. When her father told me that she had healed within 8 months, had her gene chromosome reversed and stopped vomiting after every chemo session, I listened and went, "hmmmm……" The girl is happily back at school now with a full head of hair. Alhamdullilah.
It was only when I started having my own customers comprising leukaemia and cancer patients (including Stage 4 terminal patients) conveying to me themselves that they are feeling so much better that I now have full faith in Izumio and Super Lutein. After 6 months, I have seen enough for myself to know that Izumio and Super Lutein are really good for the body. Sometimes I introduce the products to new people and they say they have taken it before and it didn't work. My immediate response is that they were not advised appropriately because if you take sufficient dosage for your particular condition, it has a really high chance of helping you. Of course, everyone is different and has different pathways but out of a hundred people that the products help a certain condition, perhaps there is one who does not respond as positively. Such is life. Maybe that particular patient needs more time or an even higher dosage, or maybe the patient is allergic to Hydrogen. Who knows, right?
This week, I was told that I was the top person in Malaysia who's helped the most people for the last month. The company had no monthly deadlines for me, no monthly commitments, all I did was share the wonders of these supplement with everyone I met right here on this blog and very little on Facebook. I hardly approached any of my friends because I didn't want them to think that I was a product pusher. It is the last thing I want to do, to pressure anyone into taking the products or to even do the business. All I do is share my own experience with how the products have helped me in more ways than one, and share what it has done to my own customers. That's it. It's your call after that. Take it or leave it. I am not desperate for anyone to consume the products. With people I care more for, and I have only done this twice, I have gone a step further to try to make them see how the products or the business would help them. But if they do not respond, I can only do so much. Ultimately, you need to help yourself before anyone else can help you.
I was invited to attend a small company event and suddenly to my surprise was called up on stage to be presented with the following certificate and then made to talk! OMG!!! Completely unprepared!!!
I can't be bothered to hide my full name on the certificate because heck, I have nothing to hide. This is me, like it or not.
So I talked some crap as I usually do…….and the best part was that I had won several thousand worth of products. Beautiful products to make me more beautiful. SCORE!!!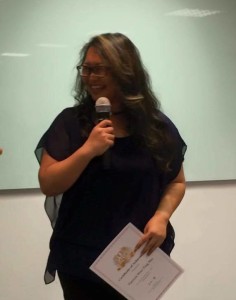 And I was so nervous standing on stage being confronted by these millionaires. Here I was, newbie, who knew hardly enough about the business, but suddenly feeling that maybe……just maybe……I could be a millionaire like them in a few years, let's make it a breaking record of under 3 years. I love to dream. Here I am talking nonsense again when the real purpose is to help others gain a better quality of life and be rid of pain, depression and hardship.
The audience was just under 200. I had never had such a large audience ever. But I was OK. Thanks to this Gayatri lady, I was OK. She spurred me on towards my first presentation not too long ago. Maybe it's the Hydrogen working on my brain, who knows. But now, my fear of facing a crowd is gone. So much so I can feel confident to travel to Melaka to hold a presentation or meet a crowd of 50 to explain why I do what I do.
Isn't life full of adventure? I never imagined myself to end up here. When the Hubs insisted I quit my job last year because I was not functioning as a normal human being due to my health issues, we did so on the basis that I would cut expenses due to the loss of a huge chunk of income, and for me to rest. We had to start saving money for my open heart surgery that would cost in the region of 150-200k RM. But after being on the products, I no longer suffer from tiredness. I am buzzing like never before and most of all, I am in a place that feels so at home.
It is my Mother's Birthday today (9th May) and I dedicate this to her:
Mama,
When you made me, it might have been unintentional but God already had a plan. You could have given me up so easily as I was a baby in demand, yet you fought to keep me when everyone else advised otherwise. You raised me as a Single Mom till I was 5 when you decided I needed a father figure. You made me 2 brothers to love me as backup. I know I can always count on them. You sacrificed your entire life to ensure I had a sound education and be stable enough to stand on my own 2 feet. You gave me such freedom and never pressured me to do anything yet insisted that I held strong family and dignified values. You threw me into the deep end many a time to teach me that I must take care of myself because without you, I only had myself to depend on. You built in me, strength. You grew in me, kindness. You forced upon me, empathy. After living and seeing so much of the world in my short time here, meeting and knowing more people than most in a lifetime, I shout with conviction that you are still the most incredible, magnanimous woman I have ever come across. Tok-Tok says the same about you because it's true. Where eyes failed to open, you taught me to see with colour and perspective. When hearts would normally go cold with revenge and hatred due to severe betrayal, you inflated mine with such unconditional love so I would forgive my worst enemies. Although I am frequently misunderstood by others, you blessed me with calm to let go of what people fail to understand. You have guided me to know what is truly important and given me the gift of intuition to make good decisions. Because of you, I loved myself enough to find my perfect partner in life. Life has been pretty easy and I really cannot complain about anything. Your years of suffering will never be forgotten as it has translated into my good life. I will always be grateful to you but no amount of gratitude will be enough to show you just how thankful I am to you, for all that you have done for me, for us, then and now. Yes, freaking now! I know you're with us, Mom. You keep following us everywhere. You help us get prime parking spots all the time, you stop the rain when we want sunshine, you make all our wishes come true. Is there life after death? Because I am so sure you are with us. Not in sight but your presence is felt more than ever, every single day, in every location. Even the girls feel you. You must be having a really great relationship with Allah as He is allowing you so much rope to play with. We miss you, but we're not crying about it. Your presence, I just cannot explain it to others, but it is all encompassing. Your laughter, your screaming voice, your warm smile, they still fill our days with so much meaning; even when you are not physically present. How come?!? Whatever the case, I'm sure you're having the time of your life watching Friends and pulling the Jackpot machine with your old bunch, toying with us kids every day, yet moving us into our right paths. Even T1 feels you, the girl who skipped a whole year of school is still doing so well. You're helping her, aren't you? Your favourite grandchild who exemplifies your soul in a smaller body. She is growing up so fine and I know you are so very proud of us. T2 is so very happy too. Thank you, Mom. Thank you. And Happy Birthday. You are 60 today.
Your only daughter x
PS. I hope I can live up to your legacy of helping as many people as possible. See you again real soon <3
**************************************************************************
Who is Mamapumpkin?
Mamapumpkin spent 7 years in London committing crimes to gain her Bartlett BSc in Architecture. She spent 7 years as a Stay At Home Mom raising her children as documented in this Mamapumpkin blog since over 10 years ago and thereafter returned to the Corporate World stronger than ever. Her last job as Country Director of a British Railway Signalling organisation saw her getting ill with an aortal and mitral heart valve regurgitation and early stage cancer. Through her journey from working to not working to working again, she sets out to prove to all women that they can do anything and everything that they set out to do; as long as they have that fire of desire burning within and the drive to work hard. Even better with oodles of love, passion and integrity.
Despite being ill, she has grown a network marketing business from very little knowledge and experience in the otherwise infamously known MLM (Multi-Level Marketing) industry, racing from an income of ZERO to RM 100,000 monthly in merely 2 years. She is a firm believer of the MLM business model but realises the pitfalls too and understands how and why the majority of people would shy away (or zoom far away) from any MLM business.
She is now pondering the title of her new book, From Zero to 100,000 RM monthly in 2 years and has a sequel in the pipeline with the aim of helping real professionals succeed in the World of MLM. Always the giver, Mamapumpkin has supported orphans for over 30 years and has now extended her care to the sick, single mothers, and even struggling families. She believes that with the MLM business model, we can all have a life of our own desires to enable real contribution into the world.
A beautiful life without limits.
Mamapumpkin currently manages the
Homeschooling Hub Malaysia on Facebook
. She also runs
Working Women Malaysia
(not THAT kind of Working Women!),
Mamapumpkin - Creating A Life of Abundance
, and Funky Moms on Facebook to offer REAL support to all women who want career and life success. She is a living testimony that women really can have a lot. Being financially free has enabled her to travel the world anytime anywhere doing anything, and she spends most of her day to day with her children, reading and supporting other women.
For enquiries, please contact her at mamapumpkin at gmail dot com or WhatsApp her at +6012-2333840
Show your support and spread the love!