Ok, you have to try this. They are absolutely DA BOMB!!!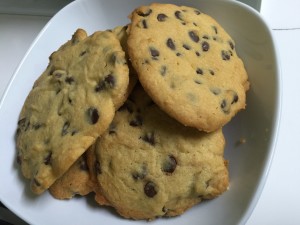 These are some pretty good Chocolate Chip Cookies that my 11 year old girl got from her classmate. It's tried and tested and tastes, oh, so delicious!!!! TRY IT!!! She has made it twice this week now and my pants are getting tight!!!
Ingredients
0.75 cups softened unsalted butter (or if you use salted butter then don't add salt later)
0.75 cups brown sugar
1 egg
3 tsps vanilla extract
2 cups all purpose flour
2 tsps corn starch
0.5 tsp salt (don't add this is you are using salted butter)
1 tsp baking soda
8 oz bittersweet chocolate cut into chunks (or just use store bought chocolate chips from Hersheys!!!)
Directions
Preheat oven to 180 degrees Celsius.
Cream butter and sugar till smooth. Add egg and vanilla essence. Stir in flour, corn starch, baking soda and salt. Stir in the chocolate chips. Drop tablespoons of dough onto a greased baking sheet and bake for 10 minutes or until golden brown around the edges.
Remove and let cool before gobbling them all down!!!
So there. I've shared a good recipe. You know how you have women you do not like sharing? What's with them? Some people say, oh, I cannot share because it's my business. I just cannot understand it. To me, I would share. I would share so the competition can get a piece of it and so I can become even better. Life is too short seriously. It's not just recipes. It is everything!!! Come on, have you come across such women who just do not like sharing??? Where do they get all their selfishness from??? Get a life.
This world could be such a happy place if it was devoid of selfish, insecure women. Ask yourself, am I one of those she is talking about? Do I share freely? Or do I protect my intellectual property with my life? There is thing called the Circle of Life and whatever you send out, you get back. Just remember that, ladies. Karma is a bitch so you better be nice to everyone. Just be nice. It costs you nothing and a smile on your face is everything.
And for goodness sake, please do not be nice just to serve your purpose. I've met many those as well!!!! Kill me already!!! My life is so simple that I just cannot comprehend all these women.
C'est la vie…..
I wish I was in Paris……where beautiful people lie.
**************************************************************************
Who is Mamapumpkin?
Mamapumpkin spent 7 years in London committing crimes to gain her Bartlett BSc in Architecture. She spent 7 years as a Stay At Home Mom raising her children as documented in this Mamapumpkin blog since over 10 years ago and thereafter returned to the Corporate World stronger than ever. Her last job as Country Director of a British Railway Signalling organisation saw her getting ill with an aortal and mitral heart valve regurgitation and early stage cancer. Through her journey from working to not working to working again, she sets out to prove to all women that they can do anything and everything that they set out to do; as long as they have that fire of desire burning within and the drive to work hard. Even better with oodles of love, passion and integrity.
Despite being ill, she has grown a network marketing business from very little knowledge and experience in the otherwise infamously known MLM (Multi-Level Marketing) industry, racing from an income of ZERO to RM 100,000 monthly in merely 2 years. She is a firm believer of the MLM business model but realises the pitfalls too and understands how and why the majority of people would shy away (or zoom far away) from any MLM business.
She is now pondering the title of her new book, From Zero to 100,000 RM monthly in 2 years and has a sequel in the pipeline with the aim of helping real professionals succeed in the World of MLM. Always the giver, Mamapumpkin has supported orphans for over 30 years and has now extended her care to the sick, single mothers, and even struggling families. She believes that with the MLM business model, we can all have a life of our own desires to enable real contribution into the world.
A beautiful life without limits.
Mamapumpkin currently manages the
Homeschooling Hub Malaysia on Facebook
. She also runs
Working Women Malaysia
(not THAT kind of Working Women!),
Mamapumpkin - Creating A Life of Abundance
, and Funky Moms on Facebook to offer REAL support to all women who want career and life success. She is a living testimony that women really can have a lot. Being financially free has enabled her to travel the world anytime anywhere doing anything, and she spends most of her day to day with her children, reading and supporting other women.
For enquiries, please contact her at mamapumpkin at gmail dot com or WhatsApp her at +6012-2333840
Show your support and spread the love!