As all of you know, I have started a new life saving business and am now working towards my monthly USD10,000 salary. It still follows slightly behind my last drawn salary (of which all savings went WHOOSHHHHH into my late Mother's death complications) but I have been determined to earn it all back because I have a commitment to my Children of Myanmar and I still want to go on nice holidays frequently. That is what makes this such an awesome business. If you are hardworking, they give you FOUR global holidays every year. Just like that. ON TOP OF YOUR SALARY. It's like 4 company trips in a year.
So it was my birthday last week and it was one of the happiest birthdays because I got to spend some time with my sister last Friday (Ahah! You didn't know I had one, did you?), I was loved lots by my three besties from home (including some wonderful presents), and my friends threw me an awesome Party. Actually, I organised it and they just came. Haha. There were about just over 20 of us and darn it, I didn't get the memo to wear red. My beautiful aunt made the effort to attend too, bless her, I love her so much.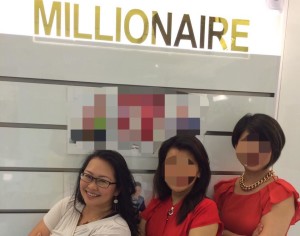 But my best birthday present?
I got a call from my big boss who told me that I am well positioned to earn the above salary (USD10k per month) by THIS YEAR ITSELF. 2015.
Heck, I've only been doing this business for 5 months. My last salary I had to work how many years to get? Trust me, it was at least 15-18 years. And now within 5 months I am almost earning that same salary? It is unbelievable. Only this type of business will get you there that quickly.
No wonder my big boss's son who just graduated from University in Melbourne has not gotten himself a job but just started this life saving business straightaway. Yes, but you have to be under this big boss's corporation to know how and he has been an incredible source of inspiration to me. I have learnt so much about humility and caring beyond my capabilities that I am now poised to break a world record. A world record???
Me??? MEEEEEE????
Yes, me……MAMAPUMPKIN, whether you hate her or love her, it is all about your perception, your mind and whether you truly know her. Fact of the matter is, I am still just me and I have not ever changed. The people whom I have known since my childhood, I think they pretty much know me and can tell you I am still the same old simple girl with certain values being raised by a very traditional Mom. Even when I carry an Hermes bag. (NOTE: I just had to add that paragraph in because recently I found out that some Facebook people who were removed from my Facebook Personal Page due to legal reasons just after my Mom's death, were upset and bitching. I did not personally inform them that they were going to be removed because I did not have the time to contact so many people. I even removed practically everyone from my secret MMPK group so what is the big deal? I've even removed childhood friends. It was a temporary measure that needed to happen whilst the lawyers sorted my Mom's estate matters. It was not personal. You have done no wrong, my silly girls. The thing is, people get upset without knowing the whole story. Yet they don't bother to ask. And then they go bitching about you that I am desperate for business and what not. Please get it right. I am NOT desperate for business. In fact, I will not admit any negative personalities into my organisation. If you were the CEO interviewing new staff, would you let through someone who was negatively slagging his old company off? So yes, please get that straight. I am NOT desperate for business. I will only grow my business in the most professional and ethical manner as every single customer of mine thus far can testify. *rolls eyes* Unhappy ladies at work again….)
I am sure that my Mother is orchestrating every bit of this success of mine. And I will be damn sure to continue her legacy in helping ALL my team members and business partners to get to exactly where I am.
When I was first told that I could earn a FREE 5 day holiday to Club Med Maldives if I shared successfully with 10 intelligent people, I laughed and said no way…….not within 3 months. But then I did that within 2 months. And then they said, hey since you've won one ticket, why not go for a second? I said, "Are you fucking NUTS?????!!!!!!" But then miraculously, I did another 10 smart ladies within the next month. I'm starting to see the trend. Now my boss is saying earn USD10,000 monthly and I'm thinking, yeah……it is so very achievable in this business.
My big boss in this life saving business earns RM150,000 per month (it's true, I've seen his payments from the company). I want to be like him (His big boss in Japan earns RM1 million per month – LOL!!!). And I can see now how he can freely offer us girls (I have a team of 100 girls) shopping money of a few thousand as incentive if we work hard to qualify for our next holiday. I myself have qualified for TWO TICKETS to Club Med Maldives and as a result of the Hubs not being able to get leave, my family cannot go. My big boss generously offered me to convert my tickets towards a bigger holiday to Japan instead (so I can join my working team of girls) and he would top up the balance for my Japan trip. He is kind and with the money he earns, he can afford it!!! But I declined. I told him no need. I want to earn the holiday to Japan myself and still go to The Maldives so I've appointed one lucky girl in my team to go with me FOR FREE!!! Anyone who is in my team who works hard will surely get rewarded and this girl coming with me has. Club Med Maldives, here we come!!!!!!!!!!! And then to Japan with even more successful smart girls.
Towards my monthly USD10,000 salary is such an unbelievable dream. When I first started this business, I didn't really take it seriously. When I started learning about it, I slowly saw the incredible potential it had. I think you must have a certain level of intelligence in order to understand the business. I started sharing it. And suddenly look at me now? I obviously have damn smart friends, no kidding. Forget the stigma of MLM. MLM is bad because you have dealt with unscrupulous people who have ruined the entire industry. But if you deal with professionals like us, we will not be cheating you for sure.
I am on my way towards earning a monthly salary of USD10,000. And what have I done? I don't even work a full 8 hours daily. I am still the maid of the house, I am still the chauffeur, I am still the chef and I am still the wife and Mom. How is this possible?????? Just like that, it's possible if you trust me and work hard like me. I can show you how every bit of the way.
Thank you, God. Thank you, Mom in Heaven. I will always, always love you both. And thank you to all of you who support me in getting there. I love you all so much!!!!!!
**************************************************************************
Who is Mamapumpkin?
Mamapumpkin spent 7 years in London committing crimes to gain her Bartlett BSc in Architecture. She spent 7 years as a Stay At Home Mom raising her children as documented in this Mamapumpkin blog since over 10 years ago and thereafter returned to the Corporate World stronger than ever. Her last job as Country Director of a British Railway Signalling organisation saw her getting ill with an aortal and mitral heart valve regurgitation and early stage cancer. Through her journey from working to not working to working again, she sets out to prove to all women that they can do anything and everything that they set out to do; as long as they have that fire of desire burning within and the drive to work hard. Even better with oodles of love, passion and integrity.
Despite being ill, she has grown a network marketing business from very little knowledge and experience in the otherwise infamously known MLM (Multi-Level Marketing) industry, racing from an income of ZERO to RM 100,000 monthly in merely 2 years. She is a firm believer of the MLM business model but realises the pitfalls too and understands how and why the majority of people would shy away (or zoom far away) from any MLM business.
She is now pondering the title of her new book, From Zero to 100,000 RM monthly in 2 years and has a sequel in the pipeline with the aim of helping real professionals succeed in the World of MLM. Always the giver, Mamapumpkin has supported orphans for over 30 years and has now extended her care to the sick, single mothers, and even struggling families. She believes that with the MLM business model, we can all have a life of our own desires to enable real contribution into the world.
A beautiful life without limits.
Mamapumpkin currently manages the
Homeschooling Hub Malaysia on Facebook
. She also runs
Working Women Malaysia
(not THAT kind of Working Women!),
Mamapumpkin - Creating A Life of Abundance
, and Funky Moms on Facebook to offer REAL support to all women who want career and life success. She is a living testimony that women really can have a lot. Being financially free has enabled her to travel the world anytime anywhere doing anything, and she spends most of her day to day with her children, reading and supporting other women.
For enquiries, please contact her at mamapumpkin at gmail dot com or WhatsApp her at +6012-2333840
Show your support and spread the love!