I was going through some old posts today following suit my dearest Makcik friend, and the floodgates burst open as I reminisced time with my little T1 and time with my beloved Mama. My Mom was really the best Mom ever, I love her so very much. She gave us anything and everything we wanted whenever we went shopping. She was always available whenever we had a problem and because she had lived so much, always gave us the best advice. She never pressured us to do anything and she was just perfect as a Mom. Really.
Here is one of my oldest posts when I first started as a blogger in 2006 :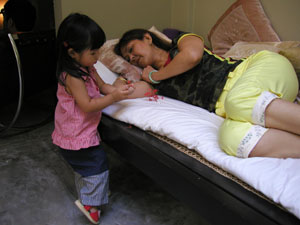 T1 placing flowers for my mother to find when she wakes up. My mother is ill and easilly tired. She is also T1's most favourite person in the whole wide world because she gets her way with her Nana ALL THE TIME. I represent the link between my daughter and my mother and moments like this are very, very special.
Show your support and spread the love!