That's what we are, the traveling family. My girls are so damn blessed!!!
T1 took her first flight at the tender age of 4 months to Langkawi beach. She also had her first swim there in a Hotel Penthouse jacuzzi. Soon after, she was jet setting to Australia sleeping on the flight bassinet at the age of 6 months and then to Hong Kong Disneyland and the Middle East, and then she flew FIRST CLASS to Melbourne when she was just 2!!! Bloody hell!!! At 2 I hadn't even had my first plane ride!!!
She has travelled all around the world to all continents except Africa and South America (which we intend to do soon), and of course, the North and South pole. She's well onto her 2nd or 3rd passport, I'm telling you. Lucky, lucky girl. T2 who came later hasn't been to so many places but still has travelled to Thailand, Australia and all over Europe which is way more than many. Oh, and of course to Myanmar to visit our dearest Children of Myanmar. Previously she was too young to go to Myanmar as the trucks there would have offloaded her on a bump (no safety belts and holes everywhere for a child to fly out of a truck!) but last year, she made her maiden trip to visit the children whom we are so passionate about.
Why do we travel? Travel is education!!! Not just for kids but adults alike. If you really want to learn about yourself, by all means travel solo!!! We even pull our kids out of school to travel because we believe in traveling way more than school. In fact, last year they were off school for the entire year plus because we went traveling. And this year, we are pulling them out from school again (despite T1 being in Secondary School – yikes!) for a week or two because we are traveling again.
We don't do the conventional touristy kind of traveling though. When we travel, we become part of the locals. The objective is to live like a local so we really learn and understand what other people in the world go through. How they live, how they think, how they love, how they eat, how they do things. There is no other way to open up your eyes to the world until you see how little children sleep on bare dirty floors filled with splinters and get wet from rain water because the roof leaks. And on the flip side, they get to experience 5 star luxury waking up to snow at their doorstep, butler service with limousine standards and amazing quality food fit for a King. It is all education. After seeing and experiencing so much richness, it makes the soul grow. You start having views on what you like, what you dislike, what you want to do and never do, and you start thinking about how you could contribute.
Traveling does not have to cost a lot. It could be based merely in our beautiful country, Malaysia. There is SO MUCH right here at our doorstep. And we do both, travel locally and abroad. Traveling should have no boundaries. It is about building friendships, enriching your recipe book, and adding to your life bank of memories.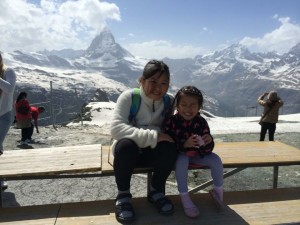 This year I have mostly travelled without the kids in the first half as I have been busy building the business, but the second half would see us traveling much more. Speaking of which, I better get on with the planning!!! I am still SO PROUD of myself for organising such a FABULOUS 6 week holiday with kids in Europe. It seemed such a daunting task and took me months of research and sourcing, but I did it. There is no greater satisfaction as everything that could go right went right. The ONLY hiccup on my entire holiday was getting messages from a bunch of women bitching about others to which some I replied when I felt like it and the rest I kept for till I returned. Otherwise, it was the most perfect holiday ever. Even better than our one month stint in New York.
This year we will be traveling to 2 new cities and I cannot wait. If you have not thought about traveling more often, do it!!! Take the road less travelled and your kids would inherit such richness that you would never imagine possible.
Camping on a Malaysian beach
Living in the Malaysian Jungle
Fishing and the Kampung Experience
Flying Kites and Building Sand Banks
Building Homes from Jungle Finds
Nature Walks and Tree House Visits
Painting your Own Fabric – Learning the Art of Batik
So much to do in Malaysia alone, seriously. The list is too long.
**************************************************************************
Who is Mamapumpkin?
Mamapumpkin spent 7 years in London committing crimes to gain her Bartlett BSc in Architecture. She spent 7 years as a Stay At Home Mom raising her children as documented in this Mamapumpkin blog since over 10 years ago and thereafter returned to the Corporate World stronger than ever. Her last job as Country Director of a British Railway Signalling organisation saw her getting ill with an aortal and mitral heart valve regurgitation and early stage cancer. Through her journey from working to not working to working again, she sets out to prove to all women that they can do anything and everything that they set out to do; as long as they have that fire of desire burning within and the drive to work hard. Even better with oodles of love, passion and integrity.
Despite being ill, she has grown a network marketing business from very little knowledge and experience in the otherwise infamously known MLM (Multi-Level Marketing) industry, racing from an income of ZERO to RM 100,000 monthly in merely 2 years. She is a firm believer of the MLM business model but realises the pitfalls too and understands how and why the majority of people would shy away (or zoom far away) from any MLM business.
She is now pondering the title of her new book, From Zero to 100,000 RM monthly in 2 years and has a sequel in the pipeline with the aim of helping real professionals succeed in the World of MLM. Always the giver, Mamapumpkin has supported orphans for over 30 years and has now extended her care to the sick, single mothers, and even struggling families. She believes that with the MLM business model, we can all have a life of our own desires to enable real contribution into the world.
A beautiful life without limits.
Mamapumpkin currently manages the
Homeschooling Hub Malaysia on Facebook
. She also runs
Working Women Malaysia
(not THAT kind of Working Women!),
Mamapumpkin - Creating A Life of Abundance
, and Funky Moms on Facebook to offer REAL support to all women who want career and life success. She is a living testimony that women really can have a lot. Being financially free has enabled her to travel the world anytime anywhere doing anything, and she spends most of her day to day with her children, reading and supporting other women.
For enquiries, please contact her at mamapumpkin at gmail dot com or WhatsApp her at +6012-2333840
Show your support and spread the love!