Uhuh. It's called the MMPK Weight Loss Reality.
Let me tell you a little about my body history.
I was born skinny. So skinny I was mistaken as a Giant's pencil. Wait. I was like T2!!! Just blow a whiff of air in my direction and I'd lose balance. Then puberty hit and by the time I was 14, I was c.h.u.b.b.y. Strangely though, this puppy fat very quickly turned into a lithe, athletic but petite frame of muscle. I'll let you know that I was a State Swimmer and a school sprinter. I was the yellow house girl's captain, very athletic at 42kg.
When I entered the work force, I was still a slim 45kg but by the time I found my one and only true love, HE made me balloon to 55kg!!! I was SO happy with him. WTF. And when you're happy, you're too busy enjoying life eating all the good food in the world. When T1 came along, I put on another 10kg. And when T2 came along, I put on another 10kg. So you know where we're headed here. I'm now the only woman in the world heavier than her husband.
Action required.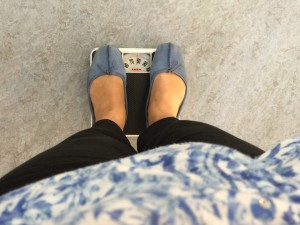 The MMPK Weight Loss Reality:
10 squats the moment I get out of bed. 10 squats whilst I brush my teeth.
A big breakfast. Anything and everything I want. Best time of the day, my routine date with the Hubs.
Lunch and Dinner – NO CARBS.
All Day – NO SUGAR.
At Home – NO MORE LIFTS. Always take the stairs 4 floors up no matter how many things I'm carrying. (Except Izumio)
Before Shower – 10 squats. 20 pushups. 50 jumping jacks.
That's it. A simple, realistic for me kind of lifestyle. I shall report back in 2 weeks what results this has produced. No starving rabbit diets, no strenuous overpowering workouts. Just living in moderation.
Who wants to join me on the MMPK Weight Loss Reality? You only have to commit for 2 weeks till 31 July.
Show your support and spread the love!