I earned my highest salary from Naturally Plus last month and so what is the first thing we did? We went on a shopping spree!!! Damn fail man…..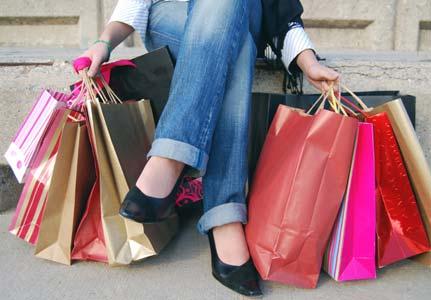 Actually, I was supposed to accompany a good friend to the famous designer, Calvin Thoo, to select a Baju Kurung for herself (and me too konon) because she had been invited to some big official function but due to location, we decided to shop in BSC instead. After school, all of us went shopping!!!
T2 needed a new swimsuit so off we went to Royal Sporting House to search for kiddy swimsuits. Both liked none of the kiddy swimsuits there and T1 said she wanted a SPEEDO swimsuit like the one she has now. Gosh. She talks like she's a state swimmer or something but actually she's just a village swimmer. Off we went to Mothercare where T2 fell in love INSTANTLY with a hideous pink princess print swimsuit. It was so princess-y *bulu standing* so I suggested she tried on a few before deciding and she picked the pink princess one, another pink swimsuit with a heart in the front and a rainbow coloured swimsuit. Funnily enough (PRAISE THE LORD!), she loved the rainbow one the best. So we got the rainbow one. She looked really good in it too. Good choice, T2.
Being the shopaholic that she is, she just HAD to buy other clothes but each time she chose something, I asked if she was really SURE that she was going to wear it because we have bought clothes before that she has not worn.
When we went to an accessory shop, again she wanted to buy accessories. This girl is such a shopaholic!!! I got her a tiny pearl necklace with a pearl star which she so loves. *Rolls eyes*. It cost me RM50. I fell in love with a red coral necklace myself but it was freaking RM500. Couldn't bring myself to get it at that price. Yet.
RM500!!! I did however get a colourful one for under RM150, something more within my range, and a few presents for some of my dearest September friends.
We had a pit stop at Just Heavenly where service was SO BAD and cakes not much better. The standard has really dropped since they first opened many years ago. So hard to find quality cakes these days. We also packed a few chicken rice orders from Alexis because Mommy was too lazy to cook on a Friday night. Hee.
And oh, after seeing T2 buy so much stuff, T1 wanted to get her birthday present from T2. T2 told me today earlier that she had wanted to surprise her sister with a new pair of rollerblades. I thought that was plenty sweet. My heart melted. For all the fights that they have, they still truly love each other like crazy.
Other than that, I have been busy monitoring my spreadsheets till nightfall and now I shall go watch SUITS with my better half. Hee. Life is good.
Show your support and spread the love!