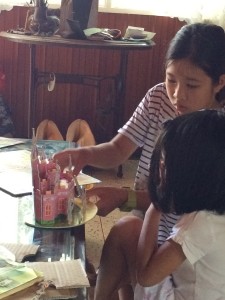 Guess who THAT is? Gee. I hope I don't get caught for child labour but T1 is THE best PA I could ever have. She is ever obliging and if she ever gets too tired of helping her Mama, I will bribe her with some cash. This girl has had so much hands on experience in life in her 10 years that she is well equipped to go far. She can survive in this world. She can think. She can fend for herself. I feel that my first half of my job is done with her. Next will be the boys part. Damn!
When I used to be out of action due to my illness, she would cook and clean and care for her younger sister. When T2 needs help with homework, T1 handles it all. If I need anything doing, T1 is all up for the job. She is great. She comes out with good solutions too without me asking. Sometimes I will give her a task and she will suggest why I don't do it in another way. Whenever I have a problem, she solves it. She always makes me feel that my life is so damn worth living. She is my Mother reincarnated. She has my Mother's incredible soul. And for that, she is so, so loved.
T1 – she's my mini adult PA. She really is!!!
Show your support and spread the love!