We visited the Muzium Istana this week which was the Old Agong's Palace in Kuala Lumpur, not the current one opposite my home that cost 997 billion RM. The girls have been on school holiday hence my silence. Hurry up already!!!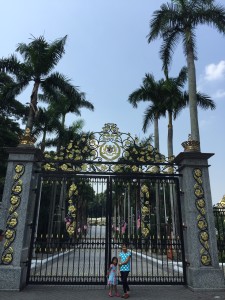 I brought my girls today to see where some of our tax money has gone. It was a lovely experience. T2 was so excited that she'd finally get to see a real palace and said she liked her own bedroom more actually after seeing the princess's bedroom. T1 on the other hand was paying close attention to where our tax money had gone. Big ass rooms, several dining rooms, a dental room?
Me on the other hand, I was more interested in the history of the building, built in 1928 by a Chinese man called Chan Wing.
Chan Wing started life as a laborer in a tin mine in Malaya. He was a dedicated and honest worker. He then worked for Loke Yew, a rich businessman, as a bookkeeper. This opportunity allowed him to learn about the world of finance which proved to be useful later in his life. He went back to work in the tin mine as he knew that his fate was there. His big break came when he partnered with four of his clansmen to form a syndicate (kongsi) to mine for tin. The lease of land they obtained was just next to the successful Sungai Besi Mine. They believed that there would be big tin there.
Can you guess what my first thought was when we entered the main gates?
It was, "Fuck. You mean we have to walk up that entire driveway in the hot sun?" OK, back to the story……
However, after nine months of digging, they were no closer to their fortune. In fact, they were almost bankrupt, just like the three other "kongsis" who had worked on the same plot of land earlier. Even the foreigners had given up but Chan Wing persisted as he was so sure that if he were to dig just a bit deeper, he would find it and within his very last week before everything ran out, he struck tin.
Can you imagine, they were almost out of funds to proceed any further when their lucky break hit.
They heard his victory cry "Sek Mai Ah" (tin ore in Cantonese) just as the partnership was about to give up. Thus the Hong Fatt (abundant prosperity) Tin Mine was formed. It became the largest and deepest open cast tin mine in the world. Today that area is known as The Mines where we attend National Achiever's Congress meetings and ride on canal boats. Hong Fatt Tin Mine made so much money that they were able to open their own bank, Kwong Yik Bank Corporation, in 1913. Chan Wing's earlier experience as a bookkeeper with Loke Yew had paid off.
Below you will see the grounds just outside the main door but on a separate level, there is a vast garden so large that you could play soccer on it. Beautiful, beautiful space to live in. I would just need a trishaw man to wheel me around.
Chan Wing went on to build his mansion on this beautiful plot of land that is now the old King's Palace (Istana Negara). The building was completed in 1928 and Chan Wing was reputed to have lived there with all his eight wives. This part excited me the most because my rich grandfather in Teluk Intan also had 6 wives (or whatever you wanted to call them).
Chan Wing and family lived there till the Second World War in 1941 when the Japanese invaded Malaya. They had to leave Malaya as he was known to be one of the biggest contributors to the China War Relief Fund and as such, was high on the wanted list of the Japanese Imperial Army.
It was a pity we couldn't take photos inside the palace.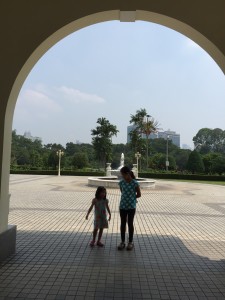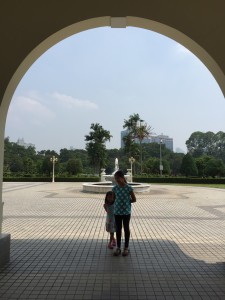 After Merdeka, the government bought over the property and eventually some renovations were made.
But dental room seriously???
If you would like to visit, bring all your ICs along if you do not want to pay tourist rates and I would recommend going after October because an exhibition section is currently closed for renovations.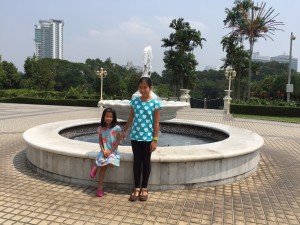 We had a nice hour there and would have stayed longer if the little monkey didn't complain of hunger. You would have thought that I'd starved her for days. We headed off to a nearby restaurant and had a great meal of steamed fish and vegetables with tofu and lemon chicken.
Next, I'll be taking them to Carey Island to visit the Mah Meri Tribes. We didn't organise any big holidays for this school holiday because they are already going to Sydney and Niseko soon and I am off to Nagoya/Tokyo in 3 weeks. I hope my boss doesn't drag me to New York now as it sounds too stressful with all this traveling! We visited Kong-Kong in Kota Bharu recently and that was superb as we got to eat so many different types of food, all these new places that Kong-Kong brought us too. YUMMEHHHH!!!!!
**************************************************************************
Who is Mamapumpkin?
Mamapumpkin spent 7 years in London committing crimes to gain her Bartlett BSc in Architecture. She spent 7 years as a Stay At Home Mom raising her children as documented in this Mamapumpkin blog since over 10 years ago and thereafter returned to the Corporate World stronger than ever. Her last job as Country Director of a British Railway Signalling organisation saw her getting ill with an aortal and mitral heart valve regurgitation and early stage cancer. Through her journey from working to not working to working again, she sets out to prove to all women that they can do anything and everything that they set out to do; as long as they have that fire of desire burning within and the drive to work hard. Even better with oodles of love, passion and integrity.
Despite being ill, she has grown a network marketing business from very little knowledge and experience in the otherwise infamously known MLM (Multi-Level Marketing) industry, racing from an income of ZERO to RM 100,000 monthly in merely 2 years. She is a firm believer of the MLM business model but realises the pitfalls too and understands how and why the majority of people would shy away (or zoom far away) from any MLM business.
She is now pondering the title of her new book, From Zero to 100,000 RM monthly in 2 years and has a sequel in the pipeline with the aim of helping real professionals succeed in the World of MLM. Always the giver, Mamapumpkin has supported orphans for over 30 years and has now extended her care to the sick, single mothers, and even struggling families. She believes that with the MLM business model, we can all have a life of our own desires to enable real contribution into the world.
A beautiful life without limits.
Mamapumpkin currently manages the
Homeschooling Hub Malaysia on Facebook
. She also runs
Working Women Malaysia
(not THAT kind of Working Women!),
Mamapumpkin - Creating A Life of Abundance
, and Funky Moms on Facebook to offer REAL support to all women who want career and life success. She is a living testimony that women really can have a lot. Being financially free has enabled her to travel the world anytime anywhere doing anything, and she spends most of her day to day with her children, reading and supporting other women.
For enquiries, please contact her at mamapumpkin at gmail dot com or WhatsApp her at +6012-2333840
Show your support and spread the love!