Can you believe it? Last week was the first time ever that T2 had school exams. It was a her mid term exam or whatever you call it. There was a schedule for when the exam papers were sat, another schedule for what will be tested. Freaking hell. Stressnyaaaaa!!!! How was she going to do an exam when she couldn't even read?
So I just let it be……….
The weekend before her exam week, we went to watch Cinderella. It was such a fun and light movie but most importantly, my little princess loved it. She just loves all these airy fairy princesses. As long as she doesn't turn out like one unless it comes with the perks, I'm good. I can be the wicked stepmother. I would be perfect.
And then the day before her Ejaan and Bahasa exam, which is the weakest of all her subjects, we spent the entire afternoon after school playing Pictureka. It's quite a fun game actually. It was my first time playing it and little missy was actually quite fast and on the ball. She even beat me! But she didn't beat T1 because T1 had played it so many times already and literally memorised the game. Unfair disadvantage.
And on one of the days when I woke up from a nap and came out, she was seated on the floor watching TV with her iPad on her lap. This is after us telling her that this is EXAM WEEK so no TV and iPads!!!!!
She just quickly closes the iPad and sniggers and when I tell them to turn the TV off, they do it without noise. They got that few hours whilst I was asleep anyway. For free! Cheeky bums.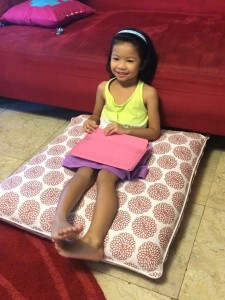 How much screen time do your kids get at home? T1 isn't addicted to the screens at all. She somehow prefers books. She's just such a sensible girl, that one. But T2, OMG. She LOVES her princess stories on the iPad and the TV. If I allowed it all day, she would probably be on it all day. But I am on my gadgets all day too so who does she learn from, right? The children always follow the parent. Generally T2 will spend at least an hour daily on her gadgets, exam or not. She has an excuse to eat whilst she watches as she calls it multi-tasking, a win-wn situation. Because the Hubs comes home late from work every single fucking night, the girls eat first at about 530pm and I will join them. He will roll in around 9pm and gets to wash all the dishes after that as punishment. Already he gets to work at 8am after dropping the kids off at school…..
Chis. Life of a Stay At Home Mom again.
Show your support and spread the love!