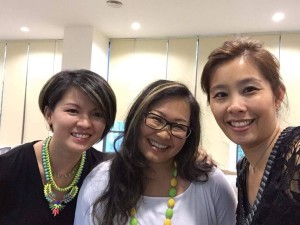 I would make a good rapper! The Gangster Angels – we have posed several times in the Charlie's Angels pose and it is hilarious!!! But that day we couldn't because we didn't have anyone else to take the photo for us as we were the last ones left behind.
So the real reason I come up with titles like that is because I love talking crap and there is a reason for me to crap and because the crap is really crap, I need to think of crappy titles that don't really mean anything really because after all it is all about crapping and rapping.
I have been SO BUSY!!! That I have busy juice oozing out of my ears!!!
In the last 7 days, I have moved 100 boxes of Izumio from the office into my home single-handedly. It was funny when my Father-in-Law asked me to be careful about security because the people who moved the boxes into my home for me KNOW that I have a lot of loot in my house to steal and considering that these boxes are $$$, it is a gold mine. He was rather shocked when I told him that I was the delivery boy. So his Daughter-in-law has muscle. The father-in-law came and went for a whirlwind weekend visit and by now, my boxes are down to 20 and I am DREADING going to the office again to collect more boxes. I am so tired. I want to retire already!!!
But I know why I am tired. I think it is because I increased my Izumio dosage to 10 a day and it is a freaking lot, it's like drinking money. And the sudden increase in Hydrogen is causing my body to have a reaction and my whole heart problem is back making me extremely tired again. I have been stealing naps daily this week since I began the 10 a day Izumio. It's crazy. I want to stop but I really shouldn't.
We had a very successful presentation over the weekend from the Doctor who gave our guests a Women's Health Talk. Darn, I forgot to post it here or you could have attended as well! It was very informative and super fun as my Aunt was the emcee for the ice-breaker and we had a great time. Look out for our next Health Talk by an Eye Doctor (Ophthalmologist, did I spell it right?).
My diet is failing miserably because I have been super hungry and stressed so it is hard resisting things like T2's birthday cake and after school keropok lekor.
I brought the girls out shopping yesterday for their concert shoes and almost bought a new wallet for me but thank GOD, I resisted. Strangely out of all the wallets I touched and felt, I fell in love with the Kate Spade one the most. It was just over RM1,000 but I didn't get it. The Hermes one was RM12,800 and I didn't get it either. Ferragamo I didn't like. Prada I didn't like. I didn't make it to LV or Chanel yet but it's not important.
I love observing my 2 girls shopping styles. They both had to get black Mary-Jane shoes for the concert and T2 got a pair of RM180 shoes from Clarks whilst T1 got a pair of RM25 shoes from Bata. I kept encouraging T1 to get more expensive shoes, or to choose anything she wanted anywhere but she kept saying she didn't want to waste money. I am so proud of her. T2, well, she doesn't understand the concept of money yet. She just loves SHOPPING!!!
My boss is finally back from the USA so it's going to be a busy next few days and then my cousins from Australia come. Gosh!!! It is NON-STOP!!! Before I can even do my laundry I bet I'll be flying off to Japan!!! FREAK!!! Someone please give me a chill pill to slow down!!!
Recently, a dear friend of mine got doomed with a health issue. Another friend of a friend, just passed away before he could introduce Izumio to him. It is crazy. People are getting hit with disease left right centre. Dear God, please pray that all my patients and my family only improve our health day after day.
OK I have to run! Watch out for my next crapping session!
**************************************************************************
Who is Mamapumpkin?
Mamapumpkin spent 7 years in London committing crimes to gain her Bartlett BSc in Architecture. She spent 7 years as a Stay At Home Mom raising her children as documented in this Mamapumpkin blog since over 10 years ago and thereafter returned to the Corporate World stronger than ever. Her last job as Country Director of a British Railway Signalling organisation saw her getting ill with an aortal and mitral heart valve regurgitation and early stage cancer. Through her journey from working to not working to working again, she sets out to prove to all women that they can do anything and everything that they set out to do; as long as they have that fire of desire burning within and the drive to work hard. Even better with oodles of love, passion and integrity.
Despite being ill, she has grown a network marketing business from very little knowledge and experience in the otherwise infamously known MLM (Multi-Level Marketing) industry, racing from an income of ZERO to RM 100,000 monthly in merely 2 years. She is a firm believer of the MLM business model but realises the pitfalls too and understands how and why the majority of people would shy away (or zoom far away) from any MLM business.
She is now pondering the title of her new book, From Zero to 100,000 RM monthly in 2 years and has a sequel in the pipeline with the aim of helping real professionals succeed in the World of MLM. Always the giver, Mamapumpkin has supported orphans for over 30 years and has now extended her care to the sick, single mothers, and even struggling families. She believes that with the MLM business model, we can all have a life of our own desires to enable real contribution into the world.
A beautiful life without limits.
Mamapumpkin currently manages the
Homeschooling Hub Malaysia on Facebook
. She also runs
Working Women Malaysia
(not THAT kind of Working Women!),
Mamapumpkin - Creating A Life of Abundance
, and Funky Moms on Facebook to offer REAL support to all women who want career and life success. She is a living testimony that women really can have a lot. Being financially free has enabled her to travel the world anytime anywhere doing anything, and she spends most of her day to day with her children, reading and supporting other women.
For enquiries, please contact her at mamapumpkin at gmail dot com or WhatsApp her at +6012-2333840
Show your support and spread the love!