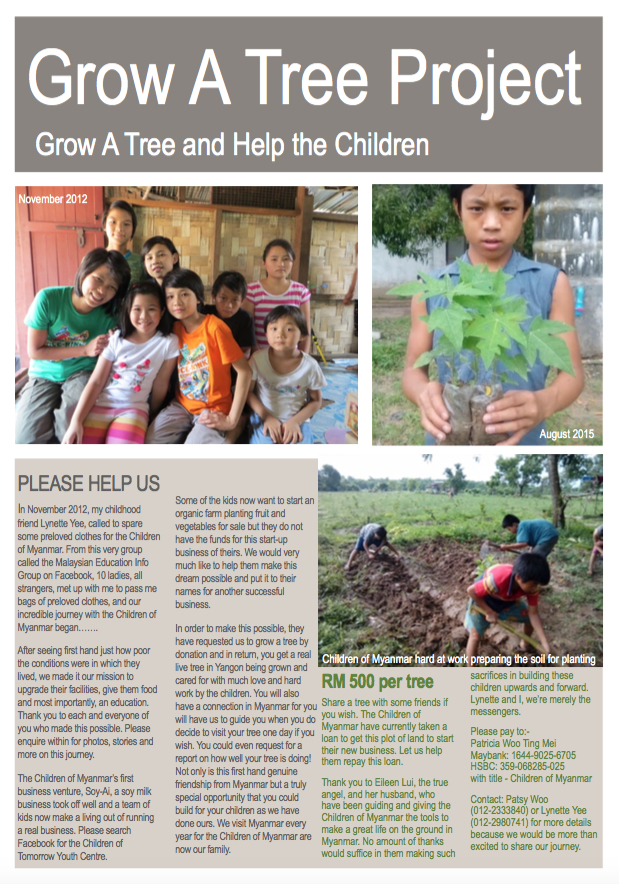 Grow A Tree in Myanmar
How many of you would like to teach your kids about leaving a legacy? The Children of Myanmar need our help and we are in search of corporate sponsors and kind individuals to help kick start their organic farm programme in the next 30 days.
1. Name a tree after your kids and get updates on your tree's progress.
2. Get to know the Children of Myanmar who are caring for your tree.
3. Visit the Children of Myanmar and visit your tree one day.
4. Where would this tree take you and your family? The Children of Myanmar have taken us to magical places and have given us more than we could imagine.
These Children of Myanmar are a part of our family and hold a very dear place in T1's heart. Her birthday is coming up on 13 September next month together with Haslinda Halim's Medina, and T1 has asked that all birthday presents if anyone were thinking of getting her one, to go into this cause. Please feel free to share a tree with others or buy a few trees.
Our journey with the Children of Myanmar have blessed us in more ways than one. From that special top, to the complete upgrade of their facilities, to ensuring their food supply, to paying their rent, to educating them with courses and classes, to starting an actual business that they self-run today!! Please do a search on the top right if you are interested to know more about our journey with the Children of Myanmar – just type Children of Myanmar in the Search Box.
We will not stop supporting them till every one of them are on their feet and able. We began with a purpose and we are intent on following it through till they are all working adults able to fend for themselves and are emotionally strong. They have come so far, we absolutely CANNOT stop now.
PLEASE help us to help them. My childhood friend, Lynette Yee, whom I have known since I was 15, will be personally bringing the money there for the kids so you can be assured that your money is going to the right place.
"We make a living by what we get but we make a life by what we give."
PS – if you are unable to give, could you please share it with many others in hope that someone out there will?
Show your support and spread the love!