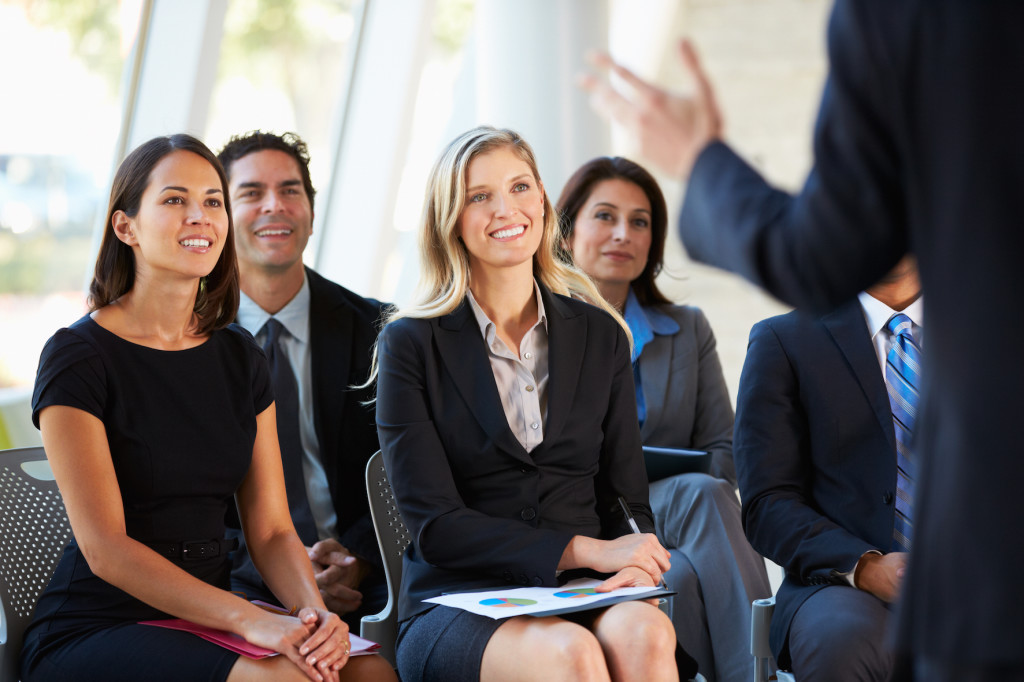 This year, I gave my first ever presentation to a public audience. I thought I was going to hyperventilate, have an asthma attack and die. But I made it. Just. Barely. It helped that I had a translator which gave me time to think of the next thing I was going to say. Hahaha. Damn. I really need practice till giving a great presentation becomes second nature to me.
So I've been asked again to present to a larger audience over the next 2 weeks and I am shitting in my pants again. I have no reason to because who cares, right? I am not vying for any popularity contest but there is pressure because I am such a perfectionist. An anally retentive one at that. Haiz. How? I learnt this crazy OCD trait whilst working in the UK for an equally anally retentive OCD architect whom I will forever be grateful to. And you see, THAT is the beauty of working for tough people because they teach you the skills to excel.
And all this while instead of working on my presentation, I am dreaming of my big boss in New York because he keeps sending me fucking pictures of the team in New York and it's making me miss New York City like crazy. I am so jealous!!! But he assures me that my ass will be there next year for a few weeks as we grow the Hubs network in New York. OMG I cannot wait. I haven't even gone to Japan, let alone Sydney and I am already dreaming of New York.
The opportunity is just huge.
So back to presentations, I learnt so much about presentations by attending the National Achievers Congress this year and then more because it showed me what worked and what didn't. These are some tips for myself in giving a great presentation soon and I am going to keep practising until I become a pro.
1. Prepare and Go Early
Always finalise your presentation and run it through several times before going live. The last thing you want is to find that the projector isn't compatible with your laptop, or you've accidentally placed the wrong picture of your daughter having a poo in the potty by mistake on your professional slides. Going early also gives you the opportunity to inhale the space and absorb the energy of it to give it your best shot. Imagine arriving late and being whisked on stage all panting? You might even have wet spots on your armpits or underboobs without you knowing!!
2. Wear something Comfortable
That means no high heels and tight tops and bottoms because the last thing you want whilst giving your presentation is to feel a wedgie or have painful feet. Worst, you may trip in front of the audience or rip your silk top! I swear I went to visit the Bloomberg Office today in my Max Mara silk top and it was feeling rather……fitting. WTF. Time to lose weight, girl. I think I will just wear a Japanese Guni Sack dress for my presentation. Shall I put my hair up or leave it down? It's getting rather long this hair of mine, like I could potentially strangle someone with it. Also, don't wear anything too distracting because you want your audience to look at your presentation not the clown or slut of the century.
3. Practice. Practice. Practice.
Why ever not? Of course, if you are already a pro in giving talks then by all means go impromptu but me? I'm a beginner at this so I will need a little practice. Whether I actually get to practising or not is another story due to the lack of free time but I certainly know that I MUST practice. So perhaps I could practice my talk in the shower or something? Memorising the flow of the presentation would be a good thing so I don't get stuck!
4. Engage your Audience (More Visuals, Less Words)
How would one do that? Firstly, you need to have a certain level of EQ in order to gauge your audience's interest in what you have to say. If they look like they are falling asleep, make sure you have some tricks up your sleeves to wake them up! I always get irritated when I see slide shows with lots of words because it is difficult to read the words and listen to the speaker at the same time, so always, the speaker who speaks without the help of words works best because then the audience's attention would be on what the speaker is saying rather than reading the words on the slides. Pictures also paint a thousand words so why bother with words! Show pictures then tell them about the picture.
5. Keep within TIME
If you have an hour for the presentation, make your actual presentation shorter so you have some time for questions. The objective of a presentation is to get a point across and this can be done as short or as long as you like. In spreading the love of Izumio and Super Lutein, I take less than 5 minutes, so I'm not sure why everyone else goes into such detail of it and get it all complicated when it could actually be quite simple. Like I say, there are many ways to skin a cat. You just need to decide and prioritise. So for my presentation, I will keep it to 20 minutes and hopefully cover enough for the audience to ask some smart questions (because they are the best!).
6. Speak Expressively
Can you imagine someone speaking in monotone? I think I'd just fall asleep…..Zzzzzz…….but when you have a loud, clear voice (not a screaming, screeching one, there is a difference!), it makes the entire presentation come alive. Again, I got to compare many speakers at the NAC and could immediately identify who was good and who was better. Make sure your voice can engage the audience and sound like music to their ears. If you can hold their attention, you've got it made. Your voice could literally be the keyboard on a piano or an electronic synthesiser.
7. Make a GREAT first impression
OK, I havent figured out yet how I will be doing this but within your first 5 minutes, you should have made a great first impression to make the audience decide if they were staying or leaving. How does one do that? Content? At the NAC, Joel Comm danced in with some cool music but no I will not be doing that! Any ideas? I could just be boring I suppose and be myself. Huhuhu.
8. Spread the JOKES!
This is an absolute must. Memorise a set of jokes to be dropped the moment you think you need it especially when the topic is getting a bit heavy and eyelids are starting to droop. Or even when everyone is fine, what is the harm in some light cheer? It would be great if I were a natural comedian but I am not, so I am going to have to memorise some jokes. Sad but true!
So wish me luck, people!!!
The late Steve Jobs always took 2 days to prepare for a presentation. Did you know that? I probably have the drive there to prepare if I'm lucky……
**************************************************************************
Who is Mamapumpkin?
Mamapumpkin spent 7 years in London committing crimes to gain her Bartlett BSc in Architecture. She spent 7 years as a Stay At Home Mom raising her children as documented in this Mamapumpkin blog since over 10 years ago and thereafter returned to the Corporate World stronger than ever. Her last job as Country Director of a British Railway Signalling organisation saw her getting ill with an aortal and mitral heart valve regurgitation and early stage cancer. Through her journey from working to not working to working again, she sets out to prove to all women that they can do anything and everything that they set out to do; as long as they have that fire of desire burning within and the drive to work hard. Even better with oodles of love, passion and integrity.
Despite being ill, she has grown a network marketing business from very little knowledge and experience in the otherwise infamously known MLM (Multi-Level Marketing) industry, racing from an income of ZERO to RM 100,000 monthly in merely 2 years. She is a firm believer of the MLM business model but realises the pitfalls too and understands how and why the majority of people would shy away (or zoom far away) from any MLM business.
She is now pondering the title of her new book, From Zero to 100,000 RM monthly in 2 years and has a sequel in the pipeline with the aim of helping real professionals succeed in the World of MLM. Always the giver, Mamapumpkin has supported orphans for over 30 years and has now extended her care to the sick, single mothers, and even struggling families. She believes that with the MLM business model, we can all have a life of our own desires to enable real contribution into the world.
A beautiful life without limits.
Mamapumpkin currently manages the
Homeschooling Hub Malaysia on Facebook
. She also runs
Working Women Malaysia
(not THAT kind of Working Women!),
Mamapumpkin - Creating A Life of Abundance
, and Funky Moms on Facebook to offer REAL support to all women who want career and life success. She is a living testimony that women really can have a lot. Being financially free has enabled her to travel the world anytime anywhere doing anything, and she spends most of her day to day with her children, reading and supporting other women.
For enquiries, please contact her at mamapumpkin at gmail dot com or WhatsApp her at +6012-2333840
Show your support and spread the love!