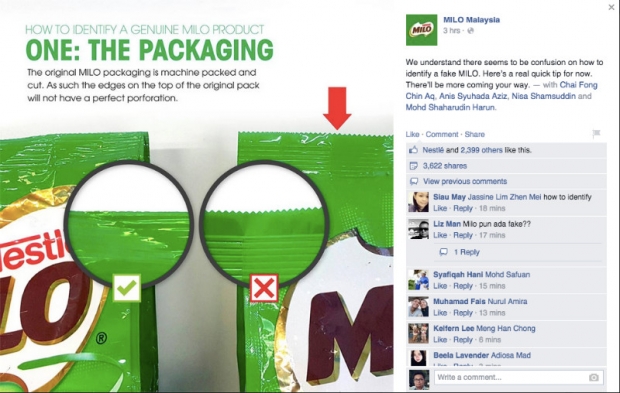 Fake Milo in Malaysia, well, are you surprised? Not that Milo is good for you in the first place even if it is from the original source. If people were to take time to question and visit the food factories or know people in the food industry, then they will know why. So many people are ignorant about their health and I was one of them. I just didn't care. Look where that has brought me.
The authorities have found people in Negri Sembilan packaging fake Milo. The Milo was probably stolen and mixed with God knows what, they are investigating anyway, and taking the samples to the laboratories. First and foremost, how did it happen? Was it stolen? Was there someone who knew the recipe and reproduced it? Who cares. Just stop drinking that lovely, lovely drink Milo if you do not want to be at health risk. It will be tough for me as I love Milo and I have it every day. Heh. DESPITE knowing how bad it is for me!!!
What more at the coffee shops and mama shops…..they're probably worst there! Stick to water. And I even have the fake Milo in Malaysia right there in my kitchen. Freaking pisses me off. Fake Milo in Malaysia. Well done.
So how do you tell if your Milo is fake or not? One way is through the packaging – see image above. The jagged edged packaging is fake and I get my groceries from BV Village Grocers. Another way is the taste and colour. Check out Milo Malaysia's Facebook page for more information. Stay off the Milo if you care about your health. Stick to real Cocoa. No fillers.
Show your support and spread the love!