This morning, we headed off to our favourite breakfast place, Huckleberry at Damansara Heights and shit, it was FULL HOUSE!!! Darn it. I was so looking forward to showing the girl where Dada and Mama have breakfast every morning after dropping them off at school. We headed down to the croissant cafe instead followed by a full morning of deliveries and then attended a preview of Disney's Descendants Movie at GSC Nu Sentral.
Just so you know, the movie will be showing on Astro Disney this coming Sunday, 13th September (T1's birthday!) starting at 11am followed by several repeats thereafter. Catch it! Catch it!
Disney's Descendants is about the children of the old Disney characters, specifically Jafar of Aladdin, Maleficent, Cruella De Vil of 101 Dalmatians, The Evil Queen from Snow White, Cinderella's son, Cinderella's Fairy Godmother, Beauty and The Beast's son, Sleeping Beauty's daughter and one of the Snow White dwarf's son. It was hilarious.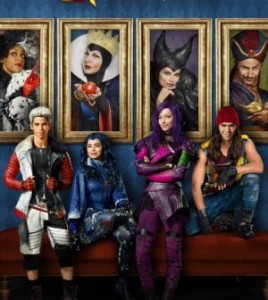 Disney's Descendants is a story about good over evil and how being good always wins. Yay, me! It is about friendship, true love, tests, loyalty and best of all, bitches – my favourite!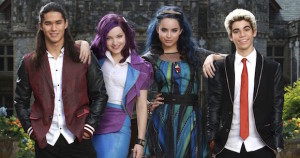 I actually fell asleep at the movie because I was bored and tired as well. But T2 LOVED IT!!!! In fact, her new colour is now purple, deep purple just like MAL, Maleficent's daughter, and she wants to be just like her. OMG, is this the end of Elsa then??? *Jumps clapping hands in glee*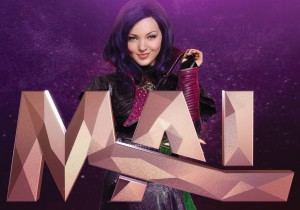 The girls were supposed to dress up just like the characters but at the 11th hour, you can tell they didn't do a very good job though I was quite pissed that the organisers didn't even acknowledge T1's effort. She was wearing tons of chains including Madonna crosses like a rock chick with biker leather wrist bands and a purple pullover. I thought she passed the part but they were obviously too busy to notice. The photo below doesn't show it because she only put on her gear later. Oh well.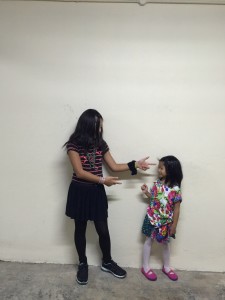 After the movie, we went bed sheet shopping and I learnt something new about thread counts. Apparently, you don't just look at the thread count to assess the quality of your sheets i.e. higher thread count did not mean better sheets as proven by the sales girl. She showed me a 900 thread count sheet costing over a thousand RM versus a 600 thread count sheet that cost under RM600 and the 600 thread count sheets felt so much softer. Of course, I chose the cheaper one even though the thread count was less!
We had a late lunch at Melur & Thyme, a place I probably will not return to. Not so hygienic, OK food, I don't know. We had a duck and roti jala dish, a club sandwich (this was OK), and some nachos with salsa dip. Really nothing to shout about for the prices. I think my taste buds are just too sophisticated and I am always comparing value versus price, but I feel I am qualified to do so!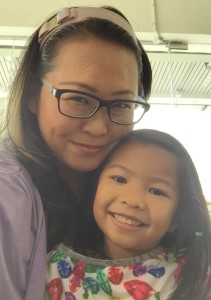 Here's me and T2 showing off my new Ferragamo hair band, bought a few last week, huhuhu, because I can!
**************************************************************************
Who is Mamapumpkin?
Mamapumpkin spent 7 years in London committing crimes to gain her Bartlett BSc in Architecture. She spent 7 years as a Stay At Home Mom raising her children as documented in this Mamapumpkin blog since over 10 years ago and thereafter returned to the Corporate World stronger than ever. Her last job as Country Director of a British Railway Signalling organisation saw her getting ill with an aortal and mitral heart valve regurgitation and early stage cancer. Through her journey from working to not working to working again, she sets out to prove to all women that they can do anything and everything that they set out to do; as long as they have that fire of desire burning within and the drive to work hard. Even better with oodles of love, passion and integrity.
Despite being ill, she has grown a network marketing business from very little knowledge and experience in the otherwise infamously known MLM (Multi-Level Marketing) industry, racing from an income of ZERO to RM 100,000 monthly in merely 2 years. She is a firm believer of the MLM business model but realises the pitfalls too and understands how and why the majority of people would shy away (or zoom far away) from any MLM business.
She is now pondering the title of her new book, From Zero to 100,000 RM monthly in 2 years and has a sequel in the pipeline with the aim of helping real professionals succeed in the World of MLM. Always the giver, Mamapumpkin has supported orphans for over 30 years and has now extended her care to the sick, single mothers, and even struggling families. She believes that with the MLM business model, we can all have a life of our own desires to enable real contribution into the world.
A beautiful life without limits.
Mamapumpkin currently manages the
Homeschooling Hub Malaysia on Facebook
. She also runs
Working Women Malaysia
(not THAT kind of Working Women!),
Mamapumpkin - Creating A Life of Abundance
, and Funky Moms on Facebook to offer REAL support to all women who want career and life success. She is a living testimony that women really can have a lot. Being financially free has enabled her to travel the world anytime anywhere doing anything, and she spends most of her day to day with her children, reading and supporting other women.
For enquiries, please contact her at mamapumpkin at gmail dot com or WhatsApp her at +6012-2333840
Show your support and spread the love!