So I really flew to The Maldives on Business Class and had the best time ever for FIVE WHOLE DAYS!!! Not a single kid on the entire island of which the company booked the whole damn island!!!!
THANK YOU, NATURALLY PLUS!!!!
And to make things so damn cool, I have so far won 2 holiday tickets to Japan (but since we will already be going to Japan as a family later in December, I will give this holiday away to 1-2 lucky friends!! Because hmm…..I'm onto winning my 3rd Japan ticket now. Heh). I would much rather give this ticket away than exchange it for products because going on a holiday with friends is just so much more fun. I brought a friend along to the Maldives and it was just perfect.
The best news after this is that I was just told that I made the World Leadership Invitation to Sydney!!! SYDNEY!!! I have been to Perth and Melbourne but never to Sydney. Plus we will be having our annual celebrations at the Sydney Opera House itself. No other public organisation has managed to get approval to host an event there apart from Governmental organisations and the Izumio company is definitely not part of the Government, hahaha. Is that awesome or what? And people are still suggesting that Izumio is a scam? Get real.
The absolute best news of all is that my hubs will also get a free holiday to Sydney together with me. That is a big deal because this trip is one that you cannot just win. You have to be invited hence the title, World Leadership Invitation. Hee. OK back down to Earth I come. Let's talk about The Maldives…..Paradise on Earth:
When I was first told that we were going to fly Air Lanka to the Maldives, I was like THE FUCKKKK?????? Is it SAFE???? I started asking everyone to pray for me because I am not ready to die and be part of an air crash, so pray they did. Little did I know that I would be traveling Business Class (there was no First Class) and heck, service on Air Lanka was excellent!! Dare I say it was better than flying MAS because the crew were really professional and spoke perfect English. They wore lovely peacock sarees, food was great (Curries always go well with me though I actually had a seafood platter for one of the meals, and lots of champagne *gulp*), and the chair could recline into a flat sleeping position but not only that, it had a massage function. Yeah, baby……the chair vibrated. LOL!!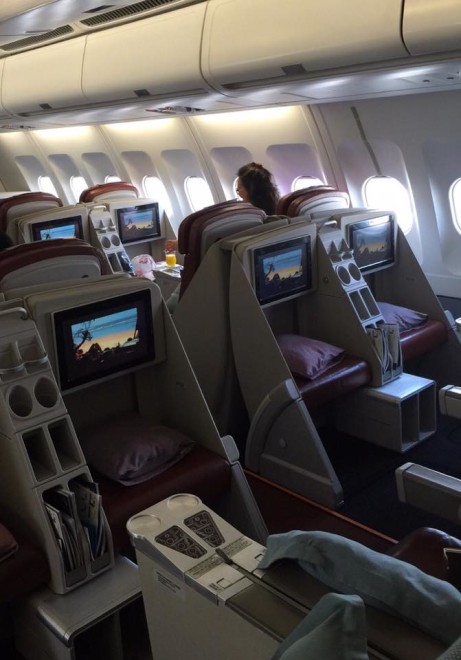 Lucky me, got to sit all alone. I could've played musical chairs by myself. After pretty much a 14 hour journey that involved KLIA at 6am in the morning, followed by a flight to Colombo, then transit before the next flight to Male, and then finally a speed boat to Club Med, I finally saw the Indian Ocean. I was terrified of falling into the deep blue sea but the speed boat had a window (which doesn't help much if the boat capsizes) but at least it protected us from getting wet!
It was a fast speed boat and at a distance, I thought I saw a shark trailing us!!! Can you see? Look hard!!!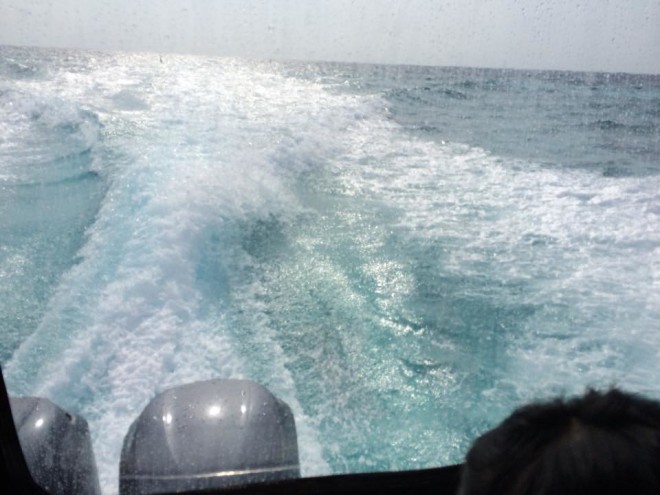 And then finally, we were greeted with the most amazing welcome from the Club Med Team and the Naturally Plus Team, which doesn't show in the pic below as it was colourful and noisy and super fun. I missed the picture opportunity because I was being entertained as a privileged guest!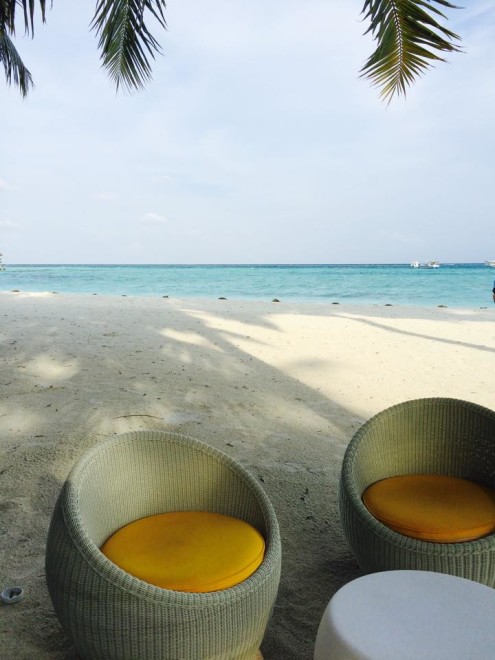 The Maldives was just perfect. It was so beautiful that I struggle with words to describe it.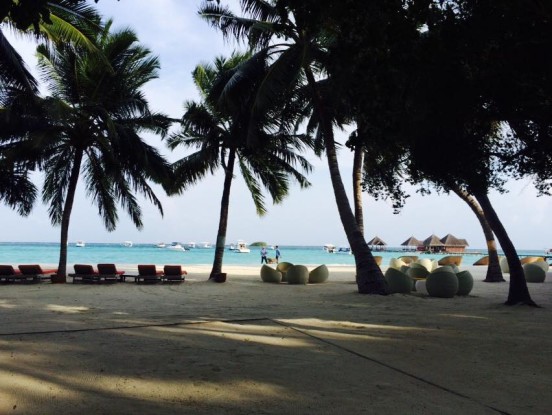 I could have sat in the tub all day with a book or even without just staring out into the sea. All day. Because so much action happened in the waters. Either you see huge turtles swimming by, or baby sharks, or colourful fishes, we even saw a big fish fighting for it's life from an even bigger fish (teenaged shark?) and lost. RIP fishy.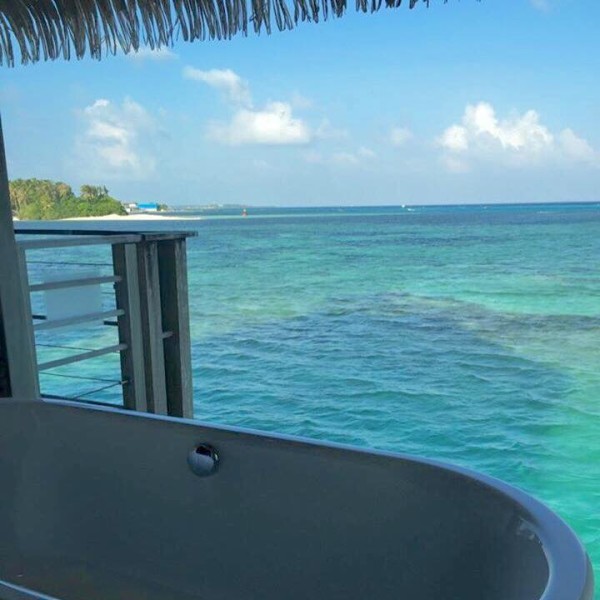 The company had organised so many activities for us, and Club Med itself had so many activities lined up, we were spoilt for choice. Honestly, I could have done nothing and sat in my room all week and would have still been very happy.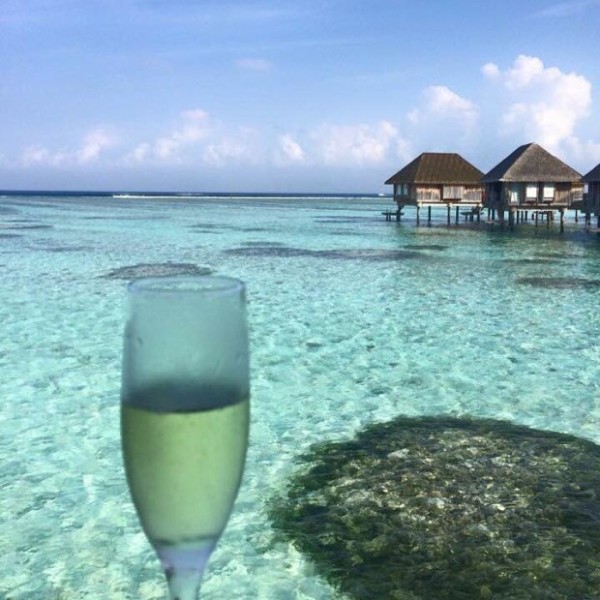 The waters were so clear!!! And if you looked beyond, it was blue, not green. Colourless beneath you, then blue, then dark blue when you get deeper. We took the opportunity to check out the spa that was offering a promo for USD59 for a 50 minute massage. Dang! We had already paid USD34 for a 50 minute massage at Colombo Airport just because we had to experience what an INDIAN massage felt like. At the airport, it was LOUSY. If you're ever at Colombo airport, there is a massage place there beside Coffee Bean, don't go there if you're a massage pro like me. You will not appreciate it.
The Club Med Spa at Maldives had much better Balinese girls to offer a proper massage so we went every day. We were on holiday, what the heck.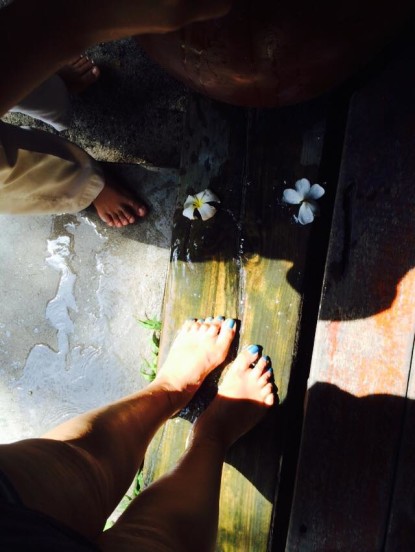 We had our massages in open air rooms shielded by bamboo blinds. Surprisingly, it wasn't hot or maybe there was air-conditioning and I didn't realise it?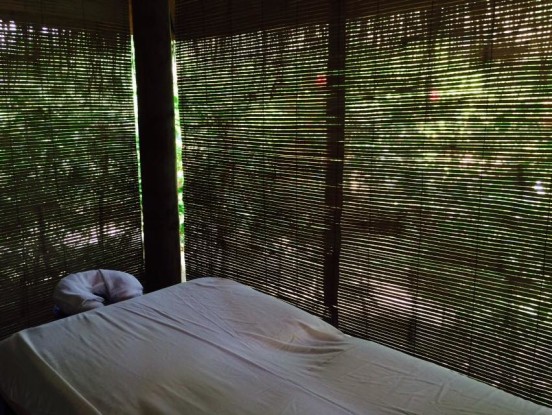 We had 5 whole days on an island all to ourselves that we could walk round and round and round the entire island and the worst thing about it? Guess!! Guess!!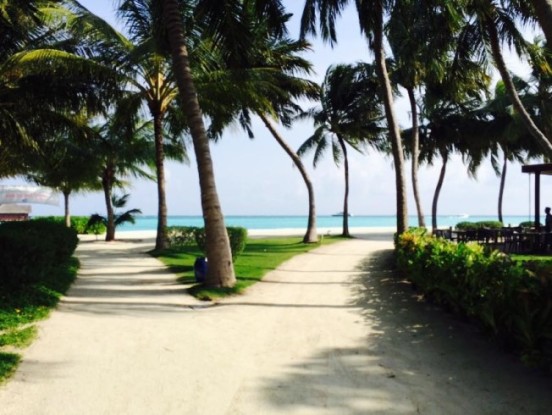 The WIFI was shaitttttssssss…….it was hilarious as we were caught once or twice daily searching for good WIFI spots (practically non existent) so much so that I have decided that my next holiday destination MUST have good WIFI. Only if I am with my entire family will I forego the WIFI. It is horrible when you cannot get in touch with your family when you are miles away on a deserted island!!! I needed to know that the Hubs remembered to pick the girls up from school daily!!!
This was one of the WIFI spots, in an air-conditioned lounge but seriously, the signals were lousy. A complete waste of time. At least I got to finish up 1.5 books whilst at The Maldives.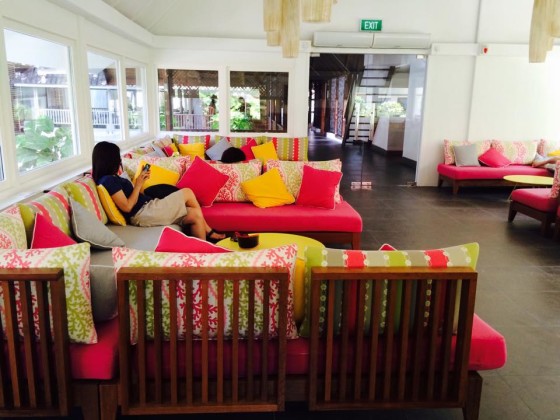 S
So since I didn't have WIFI, I did morning YOGA by the beach……I even went to the GYM, OK????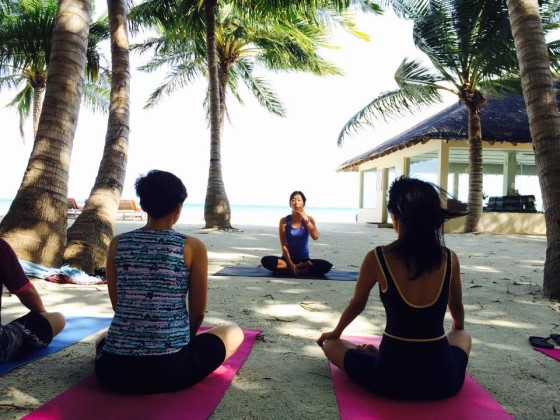 Had fun playing games to keep the body moving, did some snorkelling, did not participate in the TEAM TELEMATCH (hehe, we were like naughty students hiding from it)…..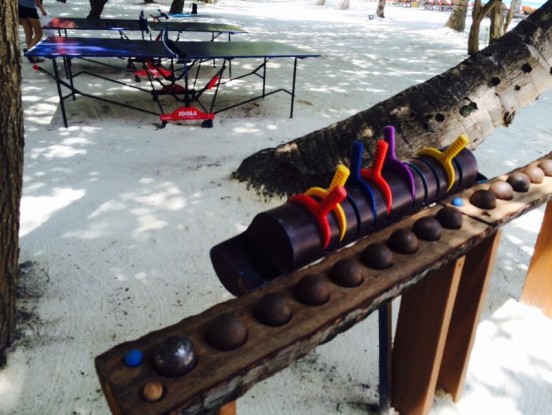 But I did overdo it on my last day there, I went out into the sea, we had to take a test before being allowed to go out into the sea. When I first heard we had to take a swimming test, I was quite shocked. What test is it? What for? We have life jackets, right? Why do we need a test? Apparently currents are so incredibly strong that even with a life jacket, you could be 200 metres away from the boat within seconds. OK, so the test involved swimming back and forth in the sea for 25 metres against the waves and following the waves and the strategy was to glide with the waves so you save up your energy for the swim back. Initially I told them, "Aiya….I was a State Swimmer in my teens, surely I can pass a swimming test!!"
Then I remembered, I was a State Swimmer almost 30 years ago. This meant stamina now….Errrr…..Hmm…Gee….. Suddenly, I wasn't so sure if I even wanted to take the test!!! What if I didn't make it??? Because apparently so many people couldn't make it!!! Fuck!! Where would I hide my face???
But I psyched myself up for it and shit, it was not easy. The waves are BIG and STRONG!!! It's like you keep swimming and swimming with all your might but you do not move!!!!! *pengsan*
Due to pride, of course I passed. I used my thunder thighs to kick with all my might and I had to because my legs were super short so I had to kick doubly triply hard. Dammit. And then when we were really out in the ocean with the life jacket, I realised that within seconds, I was almost 100 metres away from the boat. SHIT!!!! I kept swimming and swimming but I wasn't moving!!!! Well, it was the same for everyone else so what the boat did was sail towards the people every few seconds since the people kept moving farther and farther away all the time. So damn tiring.
After that ocean experience, we settled for the swimming pool where we did Aqua Aerobics followed by team water polo followed by water dancing. I got completely sun burned and by evening, I was in coma.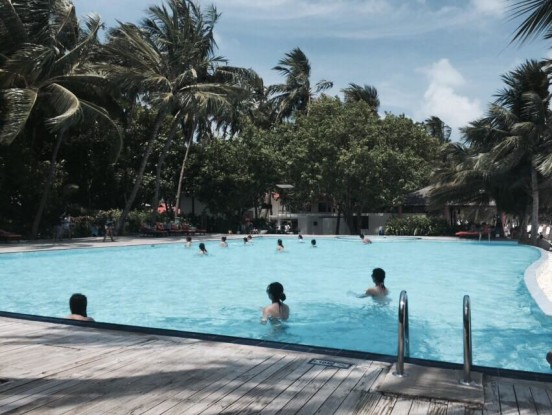 Which was a real bummer because that very evening, there was a beach party and dinner outdoors at the beach!!! And all I could think of was, fuck, I need my bed. See how beautiful the setting was? Not a good shot but believe me, it was really beautiful. Very romantic and at that point, I was missing my family like crazy…….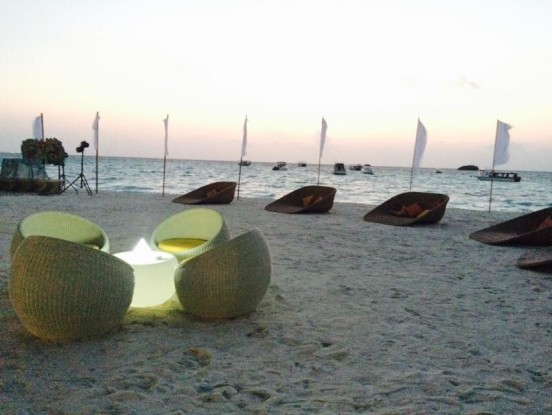 The wind was strong that evening and I was wondering if we would be attacked by flying food, flying tables even, but thankfully they managed to keep everything under control. They were evidently very experienced in hosting beach parties. The night sky with stars was just blue with shimmers of glint. Oh. My. God. If only I had my DSLR with me then.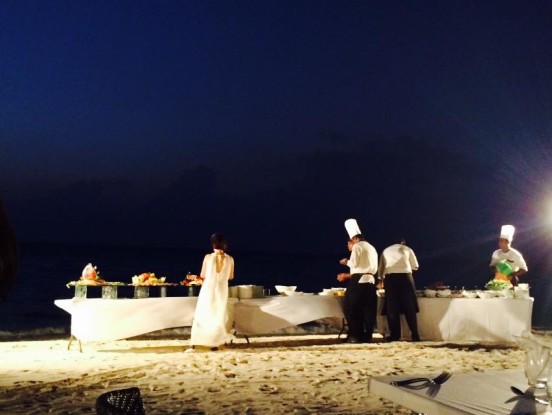 The next day, there was a foam bubbles party which I refused to participate in though I kept thinking how much my kids would have loved it. LOL!! Everyone got into the bubbles pit and started splashing foam and bubbles on each other and the music was blasting.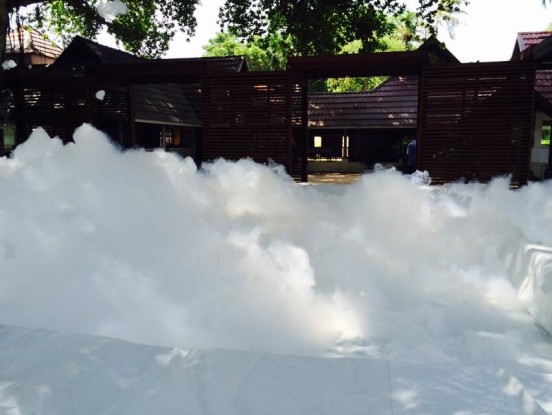 That night, there was a very good show by the Club Med Team. Actually, there was a show by them every single night but that night was special. We danced and parties the night away and I again had a really good workout dancing non stop.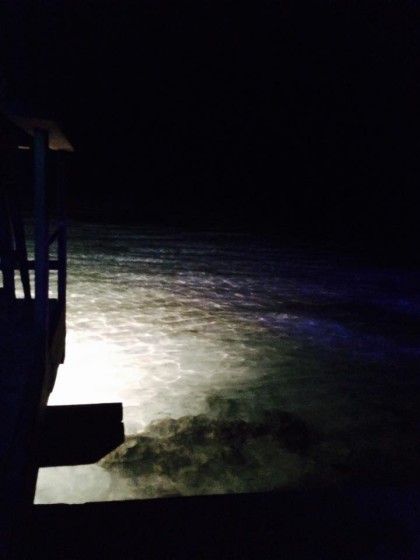 There was this huge tree at the centre of the resort that we passed by every day and it brought back memories of my departed best friend, Samantha. Sometimes, I feel her following me. Just like my Mom. I still find it amazing how I get a good parking spot every single time ever since she passed. Really spooky weird.
Here's the tree by day and by night……
On our final day at Club Med, I chilled with my big boss with our feet up. He told me about a RM40 million project he was offered by someone which he declined. He is a retired business man. Doing this project would mean taking charge of construction again and he would probably only see the full amount after 10 years. He said he was much happier doing the Izumio business. He travels the world just to meet people and save lives, or help them with their suffering. Not just health ailments and pain, but from financial sufferings too. There is a single Mom in the States who held 4 jobs squatting at her relatives home. She is half Malaysian. My big boss is working to get her out of her misery and by doing this business, she has managed to drop 2 of her jobs. She has also been promised a free holiday back to Malaysia with her daughter. Stories like that inspire me. He says, all we have to do is to keep sharing with sincerity. That is our job.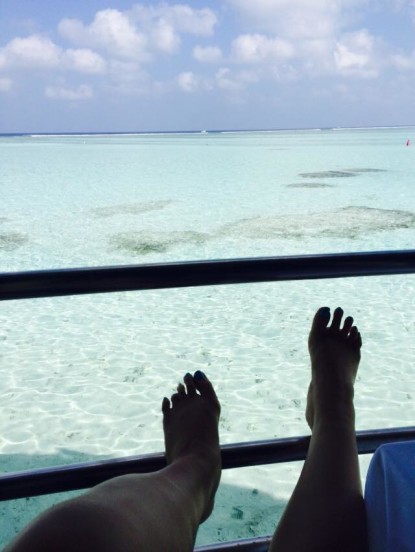 And whilst we discussed about life, health and financial freedom (he earns RM39,000 plus a WEEK!!!), he tells me that I will get there one day too and doing such a meaningful business, is worth more than its weight in gold. With such money, he will set up a charity foundation to help the needy. With money, you can save even more lives. He is making a difference in this world and I will be his first loyal scout to assist.
He told me that when he was in the States, one of the guys offered to buy him a branded bag because he uses a Naturally Plus freebie bag but he politely declined. He says wearing an expensive bag does not mean you are rich. He likes his freebie bag thank you very much! Even if he goes around dressed like an old Ah Pek, he has enough money to buy a sports car with cash, or fly his family of 5 to Paris for a week of shopping at his whim. But he doesn't. His aim in fact is to invest RM1 million next year back to his team members in helping them succeed. I just happen to be a lucky team member. Damn bloody lucky.
We watched the baby sharks beneath our feet as we discussed more life events and stories. So inspiring hearing all his old uncle stories. He is such a sharp man. He calculates numbers in split seconds like he's just blinking his eyes whilst I go blank and whip out my phone calculator, and even then, can't quite get it right. Duh.
We talk about people. We talk about family. We talk about the future. Next year, I will be going to Italy for sure. And Turkey. And who knows where else. Oh, maybe America. So much traveling, and soon the Hubs can retire from his work and the kids may have to start skiving school. If they want to follow Mommy, that is.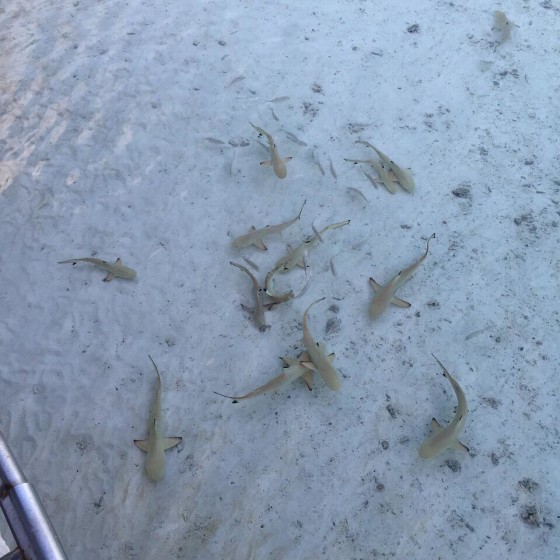 Such a perfect holiday at Club med Maldives. I have better photos but they're all stuck on my phone and I am too lazy to move them over. This should do for now. Before we left the island, we saw this yacht just before hitting the airport and it reminded me of Tok-Tok's yachts. How I miss those sailing days with Mom. 3-4 times a year just setting sail in the hot-hot sun. What were we thinking?!?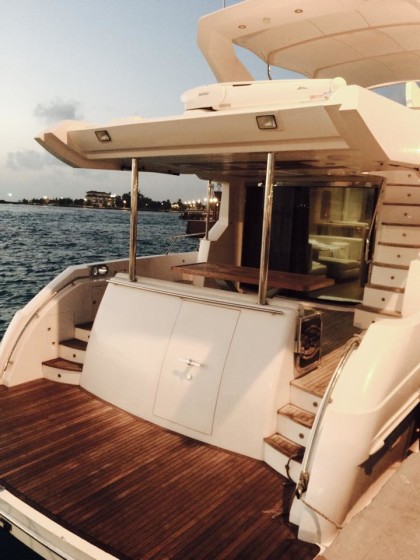 And after another 14 hour journey and making lots of new friends, I was greeted by this sunrise in KL.
It said Welcome Home……..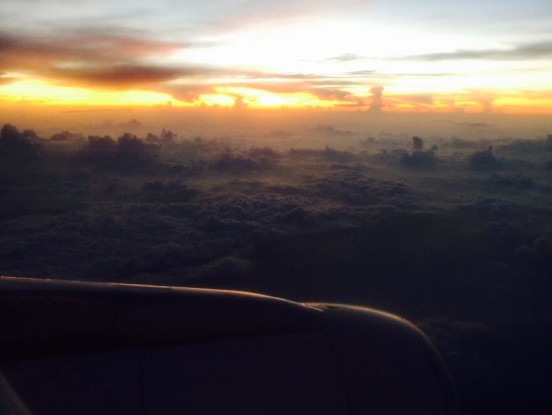 Can you believe it? A perfect holiday all paid for by Naturally Plus. Next up, Japan. And all because I share about the fact that Izumio and Super Lutein exists in the market and is yours if you want it. Several people have told me that they have done this business and taken these products when it first came into Malaysia several years ago but they not only not work but they failed in the business. Unfortunately, the early years people who started distributing the products knew nuts. They had no clue what the products actually were and what the products could do. Such powerful products, yet they missed such a Golden Opportunity. They were not educated about it. They never bothered to research it. So they failed. How would you even begin to see a difference if you cannot even commit to the correct dosage for any one particular ailment? I am truly blessed. If you can see how powerful the products are in preventing you from further medical bills, you will realise that they are actually not so expensive. Especially not when you can refer 1 or 2 people to try them out.
Seriously, eliminate all your other vitamins and unnecessary purchases, and paying RM222 per bottle becomes very affordable. And if you want to consume it for free, you can too! Just ask me how. It is seriously such a damn good product. If you had someone critically ill, you would even pay RM3,000 per bottle if you knew it would help.
So yeah, from pushing Izumio trolleys around to help others have access to Izumio……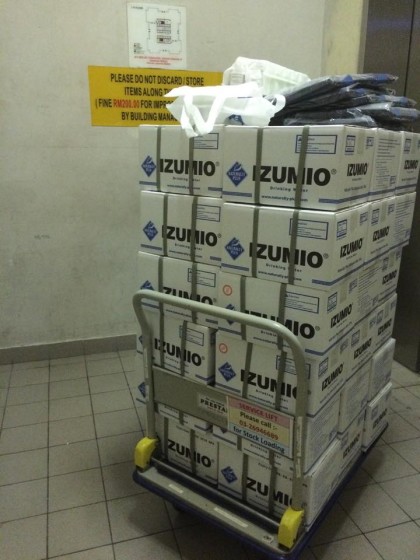 ………….it brought me to Club Med Maldives. Not a bad deal at all. Especially considering all the bonuses I've been paid for it. Heh. London, Germany, Netherlands, Arizona, Australia, Myanmar…..I'll be bringing Super Lutein to you real soon.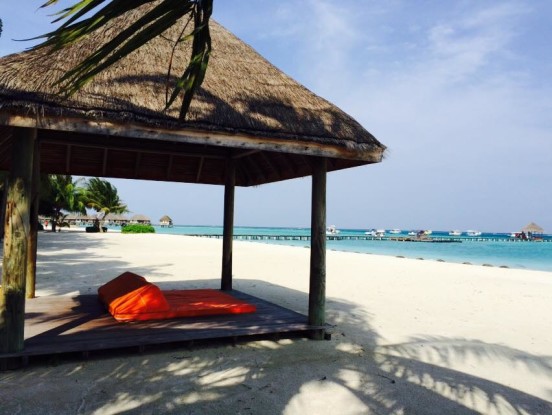 ****************************************
For more product information, please LIKE the Izumio Lutein Malaysia page on Facebook or email me at (mamapumpkin at gmail dot com) and I will be able to respond to all your queries. Or WhatsApp/Call me at 012-2333840.
We also have an Izumio and Super Lutein Resource Centre on Facebook that is strictly for my growing team of customers, business associates and medical advisers (yes, there are Doctors in there). This is a place where user sharing is discussed working towards everyone's best health. And of course I will guide you towards your business success should you wish to do the business.
For more reading on my experience with Izumio and Super Lutein, please click on the following links:-
1. Izumio and Super Lutein for CANCER
2. Izumio and Super Lutein for Eczema
3. Izumio and Super Lutein heals Diabetes
4. Izumio and Super Lutein heals a Slipped Disc
5. Izumio and Super Lutein for KIDS
6. Izumio and Super Lutein for a Happy Family
7. Izumio and Super Lutein for WOMEN
8. Izumio and Super Lutein for EYES
9. My personal recommendation on Izumi and Super Lutein
10. The Izumio Super Lutein Business
11. My success with the Izumio and Super Lutein Business
12. Izumio and Super Lutein Business Expansion
Or just go do a SEARCH on my blog on the top right hand corner for IZUMIO and you should be able to find anything related to Izumio. I talk about Izumio everyday. It is my life after my family.
*************************************
Mamapumpkin quit her full time job as the Country Director of a British Railway Signalling organisation in December 2014 due to the diagnosis of her double heart valve (aortal and mitral) failure causing her to be extremely fatigued (insufficient oxygenated blood) and not being able to function as a normal human being. By the Grace of God, she was introduced to Izumio and Super Lutein and her health has rocketed since. She now pledges that it is the best thing that ever happened to her and earns a good living by sharing the benefits of Izumio and Super Lutein to the world.
Mamapumpkin also manages the Homeschooling Hub Malaysia on Facebook. Please LIKE the page and contact her for enquiries.
**************************************************************************
Who is Mamapumpkin?
Mamapumpkin spent 7 years in London committing crimes to gain her Bartlett BSc in Architecture. She spent 7 years as a Stay At Home Mom raising her children as documented in this Mamapumpkin blog since over 10 years ago and thereafter returned to the Corporate World stronger than ever. Her last job as Country Director of a British Railway Signalling organisation saw her getting ill with an aortal and mitral heart valve regurgitation and early stage cancer. Through her journey from working to not working to working again, she sets out to prove to all women that they can do anything and everything that they set out to do; as long as they have that fire of desire burning within and the drive to work hard. Even better with oodles of love, passion and integrity.
Despite being ill, she has grown a network marketing business from very little knowledge and experience in the otherwise infamously known MLM (Multi-Level Marketing) industry, racing from an income of ZERO to RM 100,000 monthly in merely 2 years. She is a firm believer of the MLM business model but realises the pitfalls too and understands how and why the majority of people would shy away (or zoom far away) from any MLM business.
She is now pondering the title of her new book, From Zero to 100,000 RM monthly in 2 years and has a sequel in the pipeline with the aim of helping real professionals succeed in the World of MLM. Always the giver, Mamapumpkin has supported orphans for over 30 years and has now extended her care to the sick, single mothers, and even struggling families. She believes that with the MLM business model, we can all have a life of our own desires to enable real contribution into the world.
A beautiful life without limits.
Mamapumpkin currently manages the
Homeschooling Hub Malaysia on Facebook
. She also runs
Working Women Malaysia
(not THAT kind of Working Women!),
Mamapumpkin - Creating A Life of Abundance
, and Funky Moms on Facebook to offer REAL support to all women who want career and life success. She is a living testimony that women really can have a lot. Being financially free has enabled her to travel the world anytime anywhere doing anything, and she spends most of her day to day with her children, reading and supporting other women.
For enquiries, please contact her at mamapumpkin at gmail dot com or WhatsApp her at +6012-2333840
Show your support and spread the love!