I have actually never thought of giving my children any form of supplements prior to the discovery of Izumio and Super Lutein but since then, I have worked hard to research the best supplements for children available in Malaysia, and have concluded that I have indeed made the right choice in Izumio and Super Lutein for my children. Why? Simply because they are not like ANY of the kiddie supplements you see on pharma shelves but are purely nutrition in the true sense of the word.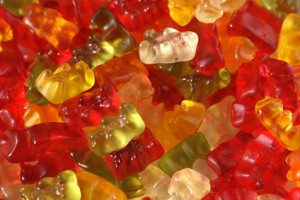 Why most kiddie supplements are bad:
Kiddie supplements are usually laden with SUGAR to entice the children (a BAD start) but worse than that, not only do they contain fillers and additives more often than not, they are usually made from artificially produced vitamins. We want our children to eat real vitamins, those that come from the food source, not those that are made in a lab!
Why Hydrogen and Fruit and Vegetable Carotenoids are the safest, preferred choice if you require nutrient supplementation:
Izumio is water loaded with a very high content of Hydrogen, a proven antioxidant that helps with the cleansing of free radicals from the body. Hydrogen has been effective with brain and neuron related defects as well as many other diseases including diabetes, high blood pressure, clogged arteries, pain, Parkinson's Disease, Alzheimer's, mitochondrial disease, rheumatoid arthritis, etc and the reason it is so effective is because it being the smallest molecule in the Universe, is able to penetrate cell mitochondria and DNA to heal – something conventional drugs cannot do as effectively.
Super Lutein is pure and natural carotenoids still in it's liquid form from colourful fruit and vegetables WITHOUT any fillers or additives or binding agents. Why would you want supplements without fillers and additives as opposed to practically every other kiddie supplement out there? Because fillers and additives add load to the child's kidneys and livers, same for adults too, so just imagine a child. Wherever possible, fresh quality food as much as possible, but more often than not, this is not always practical.
Each portion of 3 capsules is equivalent to 4 portions of fruit and 5 portions of vegetables in 6 colours/types of the carotenoids being alpha and beta carotene, lycopene, crocetin, lutein and zeaxanthin. Not only are these carotenoids brilliant for the brains as they are naturally occurring in the brain even more so than DHA, but they are extraordinarily fabulous for the eyes (what with all kid's gadget times these days), and provide a super immunity booster to the child's immune system. Of course, children need to get sick and of course, they do get sick, but with sufficient nutrients, they get sick less and their recovery time is much quicker. Done and tested. Think of every child disease there is from the common cold to leukaemia to chicken pox to dengue. Children who take Izumio and Super Lutein are much more resilient to catching diseases and visibly stronger than those who don't, even if they eat consistently healthy and have no other known problems, making Izumio and Super Lutein the best supplements for children in Malaysia.
Just think, all those famous brands that even celebrities promote on the shelves of your local pharmacist, they are synthetically produced Vitamin C. Like hello? Why in the world would you feed your kid that? Ok-OK, I shan't be arrogant but seriously, you are adding unnecessary toxic substances to a little body and over time, they will have impact. The damage versus the perceived goodness is not worth it. If you were to compare bang for buck, you are wasting your money. In Super Lutein, the Vitamin C comes from organic Blackcurrants, just the pigments which is essentially the carotenoids. In plants, these pigmentstaion is what protects plants from diseases. Do your research.
Personally, I have never been happier about my kids state of health ever since they started on Izumio and Super Lutein because even when more than half the classroom is down with something, they come out of it without scars. Not even a sniffle whilst the rest are being hospitalised and vomiting with fever. It is a true blessing in every family!!!
Why do Kids get Sick?
We have fussy kids who refuse vegetables or don't eat enough. We have kids who are born with naturally low immunities which we need to reinforce. Babies who are injected with lung enhancement jabs or premature babies are at risk of having low immunities. Also those who are not born gently who may have their spines slightly out of alignment. If your kid is frequently sick, you MUST pay attention to his diet. He is not getting enough nutrients of some sort and there may be a defect in the body, for example, he is not absorbing the nutrients that is added into his body for whatever reason.
All bodies can be healed. All bodies can be self-healed. Even little bodies. I know a few Moms who have gone through tireless years of trying to heal their children from various conditions and have succeeded. So you see, it is possible if you are willing to walk the long ten mile. Most people give up but seriously, if your child is always catching the common cold, try Izumio and Super Lutein. Allow these amazing nutrients to heal your child's body slowly but surely………..with the absolute best supplements for children in Malaysia.
More on Izumio and Super Lutein and Children can be found HERE and HERE.
**********************************************
After 7 years in London committing crimes to gain a Bachelor of Science in Architecture from The Bartlett, Mamapumpkin quit her full time job as the Country Director of a British Railway Signalling organisation in December 2014 due to the diagnosis of her double heart valve (aortal and mitral) regurgitation causing her to be extremely fatigued (insufficient oxygenated blood) and not being able to function as a normal human being. By the Grace of God, she was introduced to Izumio and Super Lutein and her health has rocketed since. She now pledges that it is the best thing that ever happened to her and earns a good living by sharing the benefits of Izumio and Super Lutein to the world.
Mamapumpkin also manages the Homeschooling Hub Malaysia on Facebook. Please LIKE the page and contact her for enquiries. She has just recently started Working Women Malaysia on Facebook to offer support to all women who want career and life success.
For information on Izumio and Super Lutein, please LIKE the Izumio Lutein Malaysia page on Facebook or email her at (mamapumpkin at gmail dot com) and she will be able to respond to all your queries. Or WhatsApp/Call her at 012-2333840.
There is also an Izumio and Super Lutein Resource Centre on Facebook that is strictly for her growing team of customers and medical advisers (yes, there are Doctors in there). This is a place where user sharing is discussed working towards everyone's best health. And of course, you will be guided towards your business success should you wish to do the Izumio business, a very viable business.
For more reading on her experience with Izumio and Super Lutein, please click on the following links:-
21. Izumio and Super Lutein – The Naturally Plus Business
1. Izumio and Super Lutein for CANCER
2. Izumio and Super Lutein for Eczema
3. Izumio and Super Lutein heals Diabetes
4. Izumio and Super Lutein heals a Slipped Disc
5. Izumio and Super Lutein for KIDS
6. Izumio and Super Lutein for a Happy Family
7. Izumio and Super Lutein for WOMEN
8. Izumio and Super Lutein for EYES
9. My personal recommendation on Izumi and Super Lutein
10. The Izumio Super Lutein Business
11. My success with the Izumio and Super Lutein Business
12. Izumio and Super Lutein Business Expansion
13. My Earnings for April 2015 from sharing the Availability of Izumio and Super Lutein
14. Izumio and Super Lutein for Glaucoma
15. Izumio and Super Lutein have NOTHING to do with Alkaline Water (now known as active Hydrogen water)
16. It is all about KIZUNA – the bonds of friendship
18. Best Income Opportunity in Malaysia (even higher than a Director of a profitable oil palm plantation and an ex-United Nations Ambassador who are both in this with us)
19. Izumio and Super Lutein for the LUNGS
21. Prevention of Age-Related Macular Degeneration – AMD Eye Disease
Or do a SEARCH on this blog on the top right hand corner for IZUMIO and you should be able to find anything related to Izumio. Mamapumpkin talks about Izumio everyday. It is her life after her family.
**************************************************************************
Who is Mamapumpkin?
Mamapumpkin spent 7 years in London committing crimes to gain her Bartlett BSc in Architecture. She spent 7 years as a Stay At Home Mom raising her children as documented in this Mamapumpkin blog since over 10 years ago and thereafter returned to the Corporate World stronger than ever. Her last job as Country Director of a British Railway Signalling organisation saw her getting ill with an aortal and mitral heart valve regurgitation and early stage cancer. Through her journey from working to not working to working again, she sets out to prove to all women that they can do anything and everything that they set out to do; as long as they have that fire of desire burning within and the drive to work hard. Even better with oodles of love, passion and integrity.
Despite being ill, she has grown a network marketing business from very little knowledge and experience in the otherwise infamously known MLM (Multi-Level Marketing) industry, racing from an income of ZERO to RM 100,000 monthly in merely 2 years. She is a firm believer of the MLM business model but realises the pitfalls too and understands how and why the majority of people would shy away (or zoom far away) from any MLM business.
She is now pondering the title of her new book, From Zero to 100,000 RM monthly in 2 years and has a sequel in the pipeline with the aim of helping real professionals succeed in the World of MLM. Always the giver, Mamapumpkin has supported orphans for over 30 years and has now extended her care to the sick, single mothers, and even struggling families. She believes that with the MLM business model, we can all have a life of our own desires to enable real contribution into the world.
A beautiful life without limits.
Mamapumpkin currently manages the
Homeschooling Hub Malaysia on Facebook
. She also runs
Working Women Malaysia
(not THAT kind of Working Women!),
Mamapumpkin - Creating A Life of Abundance
, and Funky Moms on Facebook to offer REAL support to all women who want career and life success. She is a living testimony that women really can have a lot. Being financially free has enabled her to travel the world anytime anywhere doing anything, and she spends most of her day to day with her children, reading and supporting other women.
For enquiries, please contact her at mamapumpkin at gmail dot com or WhatsApp her at +6012-2333840
Show your support and spread the love!