BYOB Damansara Kim is truly a labour of love by a passionate Mom………..TOTALLY.
What exactly is BYOB – Bring Your Own Boob? Bring Your Own Banana? Bring Your Own Buddy? Bring Your Own Bake? Bring Your Own Booze? It is exactly……BRING. YOUR. OWN. BOTTLE.
Not the alcoholic kind of bottle but an EMPTY bottle.
What for?
BYOB will refill all your empty bottles with almost everything you use in your household such as dish washing liquid, laundry liquid, hand soap, shower gel, floor cleaners, toilet cleaners, you name it.
This is their entrance at Damansara Kim, a very accessible and easy to find little shop.
Quietly located at Jalan SS20/11 (Same row as Euro Deli), PJ, it is literally across the highway from Taman Tun Dr Ismail and the lovely Mom who owns the shop is contactable on 012-245 5480 if you need more directions. Oh, and you might want to make an effort to pay for the road side parking right in front of the shop because they do come round to fine you as I have learnt the hard way. I didn't even see those machines but no excuse.
See the robot above? It was made with 100% fully recyclable materials – an old dustbin, old tin cans, petrol bottles, etc etc etc. Don't you think he is so cute!? Awesome!
Check out these prices below. Compare them to your current household detergents. My loot has lasted all of 6 months and I paid something ridiculous like under RM50 for hand liquid soap, shower gel, stain remover, floor cleaner, dish washing liquid, toilet cleaner, cannot remember what else now. Sorry.
But the point actually is not to save money but to save the planet. After all, what do you think we will be leaving behind for our future generations to come? It may not affect you in your life time but it will start to impact your kids and their future lineage, for sure. Unless you think the world will come to a crumbling end real soon?
Come on, people. Get responsible and lead by example. Make your next household detergent purchase at BYOB to save our planet.
I loved how everything in the BYOB store was DIY, such as the lighting made with old Campbell Soup cans……
Prices of stuff above and below for your research and planning. Only cash please. As for the quality of the products from BYOB, they have generic stuff from wholesale suppliers the same as what you get from your regular supermarkets except that here, the unnecessary chemicals are removed from the mixtures enabling it to be more biodegradable so less harmful towards our Planet Earth. Thus, they will tend to have less soapy suds and less fragrance, might even feel more dilute. However, they also have an 'organic' range that is certified natural and plant based that is imported from Australia which is of course, more expensive. The real objective is to RE-USE your bottles. In return, you save cost from packaging and marketing and branding AND help preserve our environment.
They have everything including laundry stuff, pet stuff and car stuff so you have no excuse. Just GO. The bottles that house all these household products are usually made from very strong quality plastic and can last hundreds of years. The more we buy from supermarkets, the more the big boys make them and the more plastic we have filling up this world.
I go to the BYOB at Damansara Kim branch because the passionate Mom I was talking about? The labour of her love is right there. She runs the shop, has 2 young girls like me, runs an entire household without a maid, and still makes time to grow organic crop in her garden. That, to me, is amazing. She totally deserves all the sales she can get from doing a good thing and I am making it my mission to educate you lot to become more green. Start caring about the environment, people. It will affect you one day and if you do not care, it is going to come back to bite you. Just mark my words.
Just look at those colours and the plants in recycled water bottles? So, SO pretty………..
And this is she! That passionate Mom I was talking about…….a good heart always works with me.
Whilst I made my order, my kids entertained themselves exploring the cool, recycled everything shop. All furniture at the shop is also recycled and DIY.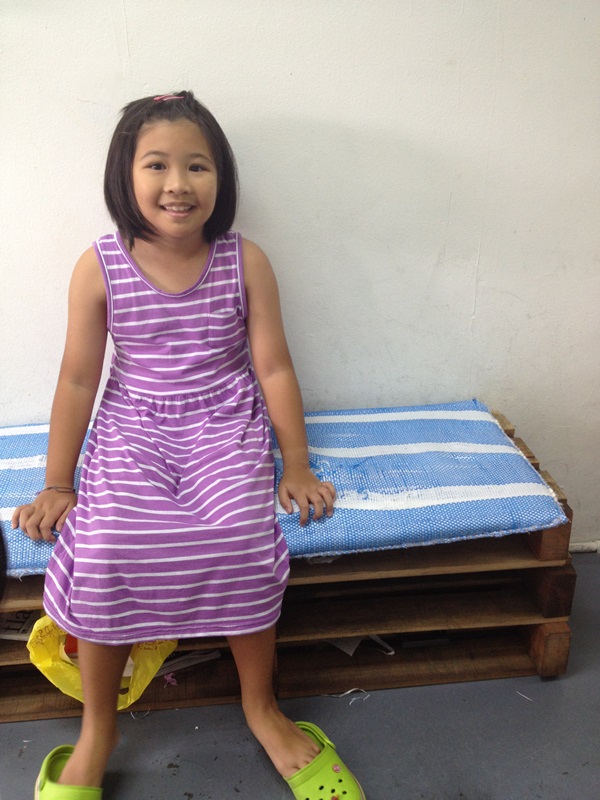 Below are the containers for the liquids……simple tap on tap off system.
More storage on them liquids…..it's a kids playground in there!
Lots of supply to move for a good cause.
On the walls are reminders – Do you want your kids to swim in this? Please google the Yamuna River in New Delhi. Look at the imagery. Show your kids. Tell them that if they do not look after our planet, we would all be swimming in this shit one day. It's true.
Where do all our garbage go? Nowhere. So please stop creating more and more garbage! If you are not sure, again please consult Mr Google and youtube with your kids – Where do our garbage go? The problem with Landfills.
It really isn't a case of out of sight out of mind because believe you me, there are severe consequences that will affect our children and grandchildren and beyond.
Every time, Tok-Tok goes to a beach or a hillside, we go on a garbage picking session. Seriously. You should do that with your kids too. Lead by example. Nobody likes picking garbage but do it anyway because once you set a trend, the rest will follow. People need to be educated that we should never throw garbage on the street anyway and in the first place, stop consuming bloody garbage! If you can do away with more plastic, do away with it. STOP.
Plastic really is our worst enemy. It takes 450 years to get rid of them in its entirety. So can you just imagine? Do the math. Do we really need more plastic? Stop buying anything plastic if you can help it.
Not only is plastic a nuisance, it kills our entire ecology system slowly but surely. Then what? It will ALL affect us. Maybe not us directly, but certainly our children and grandchildren and beyond.
These kids below? They are taught about the ways in which to preserve the environment because they know that it is their world that they will see in the future.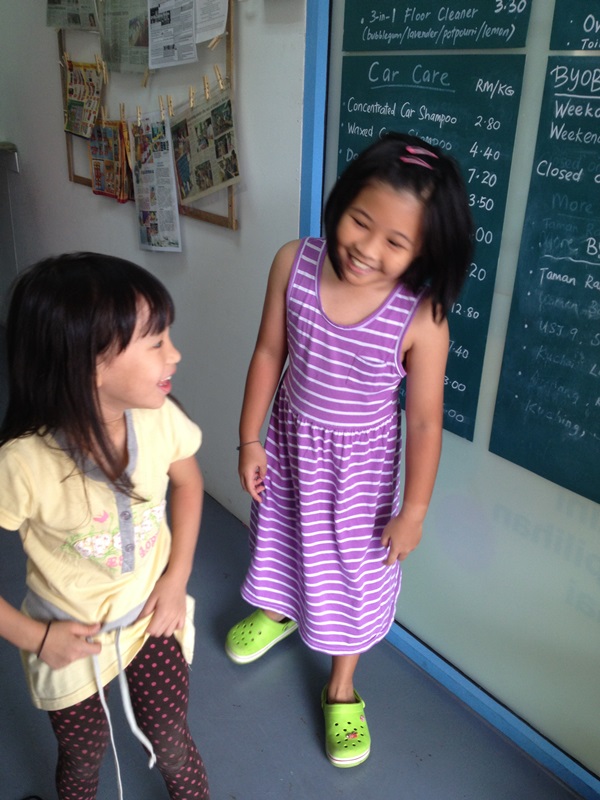 Join us in our activist stance in preserving our beautiful planet. Do good. Stop adding to world problems. Do your bit. Go get your household detergents from BYOB Damansara KIM – a labour of love by a passionate Mom. Go. GO!!!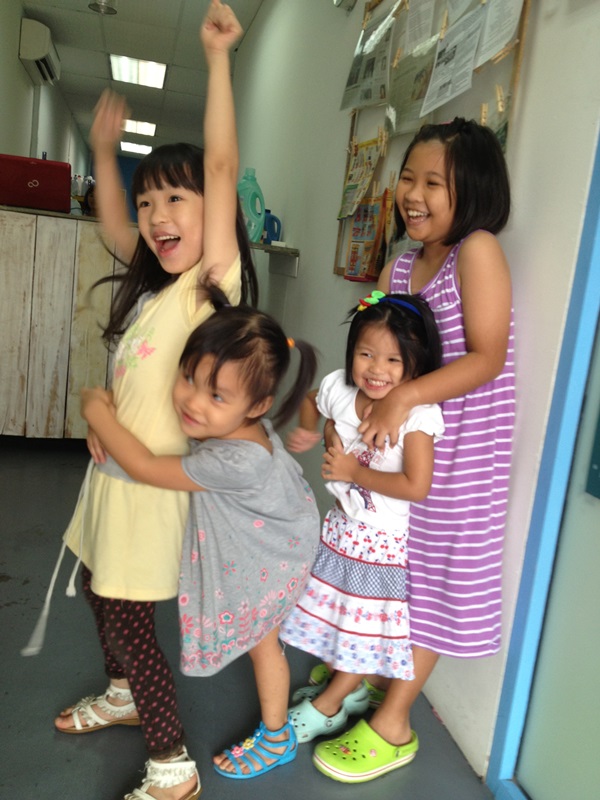 When we care, others start caring too. And in this circle of life, everything comes full circle.
**************************************************************************
Who is Mamapumpkin?
Mamapumpkin spent 7 years in London committing crimes to gain her Bartlett BSc in Architecture. She spent 7 years as a Stay At Home Mom raising her children as documented in this Mamapumpkin blog since over 10 years ago and thereafter returned to the Corporate World stronger than ever. Her last job as Country Director of a British Railway Signalling organisation saw her getting ill with an aortal and mitral heart valve regurgitation and early stage cancer. Through her journey from working to not working to working again, she sets out to prove to all women that they can do anything and everything that they set out to do; as long as they have that fire of desire burning within and the drive to work hard. Even better with oodles of love, passion and integrity.
Despite being ill, she has grown a network marketing business from very little knowledge and experience in the otherwise infamously known MLM (Multi-Level Marketing) industry, racing from an income of ZERO to RM 100,000 monthly in merely 2 years. She is a firm believer of the MLM business model but realises the pitfalls too and understands how and why the majority of people would shy away (or zoom far away) from any MLM business.
She is now pondering the title of her new book, From Zero to 100,000 RM monthly in 2 years and has a sequel in the pipeline with the aim of helping real professionals succeed in the World of MLM. Always the giver, Mamapumpkin has supported orphans for over 30 years and has now extended her care to the sick, single mothers, and even struggling families. She believes that with the MLM business model, we can all have a life of our own desires to enable real contribution into the world.
A beautiful life without limits.
Mamapumpkin currently manages the
Homeschooling Hub Malaysia on Facebook
. She also runs
Working Women Malaysia
(not THAT kind of Working Women!),
Mamapumpkin - Creating A Life of Abundance
, and Funky Moms on Facebook to offer REAL support to all women who want career and life success. She is a living testimony that women really can have a lot. Being financially free has enabled her to travel the world anytime anywhere doing anything, and she spends most of her day to day with her children, reading and supporting other women.
For enquiries, please contact her at mamapumpkin at gmail dot com or WhatsApp her at +6012-2333840
Show your support and spread the love!