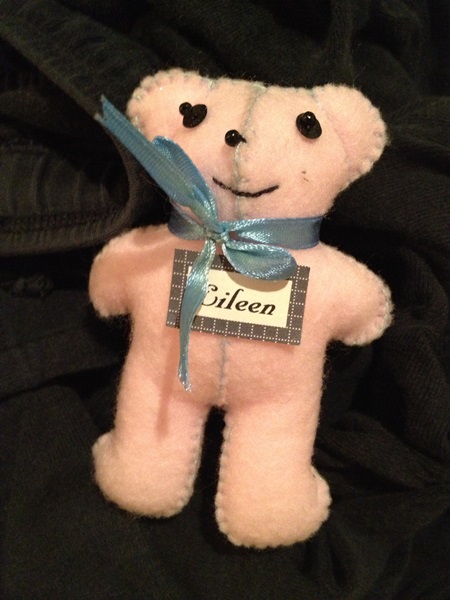 12 years ago, I had the most spectacular wedding. Just yesterday, I was reminded by a foreigner that my wedding was the best wedding that she'd attended *smiles with glee*. She was not the only person who shared that sentiment and that gives me assurance that everyone who attended my wedding that day had a jolly excellent time. Perhaps ex-boyfriends were not feeling as jolly but that is why they are ex. Heh.
My beloved mother, who was so excited that her first born and only girl was getting married, toiled for months before September 2001, sewing the above teddy bears from scratch. We had bought loads of coloured felt, embroidery thread of all colours and ribbons to tie around the teddies necks and sequins and beads for the eyes. Mom had some little elf helpers in her teddy team and I loved it. The home would be filled with teddies in progress, teddy jokes and laughter, teddy cursings but lots of teddy love and we had printed just over 200 name tags for the teddies as wedding favours. What would anyone want with a little teddy, one might ask? They were meant to be potpourri scented squishies to be placed in your underwear drawers or wherever you saw fit. I loved those teddy bears and wish and wish and WISH I had kept some.
On wedding day, they were all taken home but I KNOW that many people were not appreciative of it and would have just chucked it into the bin or somewhere else and then forgotten as some normally do with wedding favours but these were favours that were hand sewn from scratch full of love. Do you know how many months my mother slaved over teddy bears till she was all teddy beared out??? She said she didn't want to see a teddy bear for the next 10 years!!!
So yeah. I loved my wedding teddy bears. If you attended my wedding and still have my wedding teddy bear, if you do not have a use for it, can I please have it back? My kids saw this picture and asked why I did not save any for them!
Show your support and spread the love!