Since some of you asked to see her essay, here it is! Don't ask me why they liked it but, haha, they obviously did!
The Brief:   Tell us about a moment of opportunity which changed the life of your family, community, country, continent or the entire planet.
Written By T1 (aged 8, birth date: 13 September 2004)
Opportunities
What is an opportunity? An opportunity is a favourable time or moment. Here are some examples:
1. Ice-Cream – I was eating ice-cream in a shop when my sister said, "I am full." I volunteered to eat it up!
2. Rocket Launch – My father received an invitation from his astronaut friend in the US saying that he wanted my father and his family to see his rocket being launched!
3. Enjoying Simple Things – I took the opportunity to look out of the car window to see the view and enjoy the cool breeze.
We all have opportunities! It depends on whether we see them and grab them.
Myanmar Chapter 1
It began with an SOS call for clothes from a friend in Myanmar who said that orphanages there needed clothes! My mum said, "OK!" and we started finding out what to do. The 1st step was to see who wanted to give away their old clothes that could fit ages 6 to 23. The 2nd step was to collect them from all the families in KL and since Myanmar had no postmen, the 3rd step was to go there ourselves to visit the orphanages!
Myanmar Chapter 2
When we went, I learnt that not everyone is as fortunate as us Malaysians. I saw that they did not have any beds, shoes, food, clothes and they did not even have a proper home. They slept on the bare, splintered floors, walked barefoot on mud and rocky roads, and starved for hours and sometimes days because they did not have enough money to buy food! The children never felt at home because they had to move houses every time they could not pay their rent. If you were a landlord, if they didn't have any money to pay rent, would you be kind enough to let them stay longer or would you kick them out?
Myanmar Chapter 3
I brought them clothes on my first trip to Myanmar. On my second trip, we helped them raise funds to buy food, fix their broken well so they could have clean (sort of!) water, build them a new floor, bought them mats, slippers and blankets, build a new wall because one of their walls had collapsed in winter, and build a new ceiling since the old one had holes and every time it rained they got wet! Later, we will educate them to give them a brighter future.
We did this through a Children's Bazaar which we organised in KL on 7th April 2013. I spent a month sewing hand-made tissue pouches together with my Nana and Godmother, and sold them for RM10 each. We made 100 and they sold out! Whilst in Myanmar, I also drew some sketches about Myanmar together with the orphanage kids and we framed our drawings to sell for RM50 each! It was hard work as I worked from 10am to 3pm sharing my story on Myanmar and asking people to buy.
Myanmar Chapter 4
Most of all, we gave them love. My Aunty Eileen visits the 3 orphanages every weekend to spend time with them, teaches them children English, does art and craft, and plays with them. They love her and loved all the things that they got, the new floor, ceiling, well, wall, the food, and not having to move house all the time. Every time I go there now, they give me GREAT hospitality and they can speak a bit of English and I can count in Myanmar!
Conclusion
Baby steps like that changed the lives of the 3 orphanages in Myanmar. If everyone did a little bit first, our family lives would change, and then the community, and then the country, and then the continent, and then finally EARTH! So just put some effort in to change the world. It will become a better place. No more global warming, no more starvation, no more droughts, no more pollution, no more crime, and so on. No more dying people.
THE END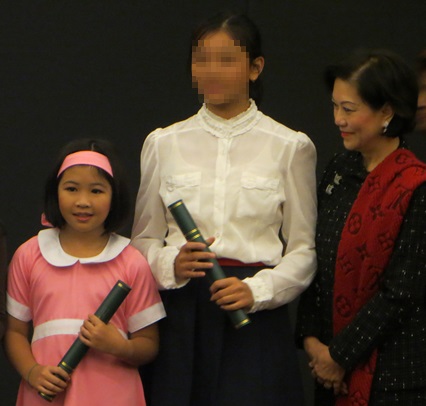 **************************************************************************
Who is Mamapumpkin?
Mamapumpkin spent 7 years in London committing crimes to gain her Bartlett BSc in Architecture. She spent 7 years as a Stay At Home Mom raising her children as documented in this Mamapumpkin blog since over 10 years ago and thereafter returned to the Corporate World stronger than ever. Her last job as Country Director of a British Railway Signalling organisation saw her getting ill with an aortal and mitral heart valve regurgitation and early stage cancer. Through her journey from working to not working to working again, she sets out to prove to all women that they can do anything and everything that they set out to do; as long as they have that fire of desire burning within and the drive to work hard. Even better with oodles of love, passion and integrity.
Despite being ill, she has grown a network marketing business from very little knowledge and experience in the otherwise infamously known MLM (Multi-Level Marketing) industry, racing from an income of ZERO to RM 100,000 monthly in merely 2 years. She is a firm believer of the MLM business model but realises the pitfalls too and understands how and why the majority of people would shy away (or zoom far away) from any MLM business.
She is now pondering the title of her new book, From Zero to 100,000 RM monthly in 2 years and has a sequel in the pipeline with the aim of helping real professionals succeed in the World of MLM. Always the giver, Mamapumpkin has supported orphans for over 30 years and has now extended her care to the sick, single mothers, and even struggling families. She believes that with the MLM business model, we can all have a life of our own desires to enable real contribution into the world.
A beautiful life without limits.
Mamapumpkin currently manages the
Homeschooling Hub Malaysia on Facebook
. She also runs
Working Women Malaysia
(not THAT kind of Working Women!),
Mamapumpkin - Creating A Life of Abundance
, and Funky Moms on Facebook to offer REAL support to all women who want career and life success. She is a living testimony that women really can have a lot. Being financially free has enabled her to travel the world anytime anywhere doing anything, and she spends most of her day to day with her children, reading and supporting other women.
For enquiries, please contact her at mamapumpkin at gmail dot com or WhatsApp her at +6012-2333840
Show your support and spread the love!