Whilst in Yangon, we did an art project with the kids. The objective was to learn a little bit more about them, to bring something back to thank the Children of Malaysia who were going to be working hard to raise more funds for the Children of Myanmar, and ultimately to part with the special artwork that the Children of Myanmar have done; just so they can have these funds to continue survival.
My T1, blends in with the Children of Myanmar like a duck takes to water. She loves them a whole lot more than her own school friends, she says, and it's not hard to understand why. These kids, they are so giving and loving and do not move around in Toyota Alphards with drivers and a bevy of Filipino maids, whilst sticking their noses mostly into their iPads or what not technology gadgets that they all possess. Nope. These kids are simple. They are happy if they have food. It doesn't even matter if it is plain rice. So unlike the Malaysian kids, eh?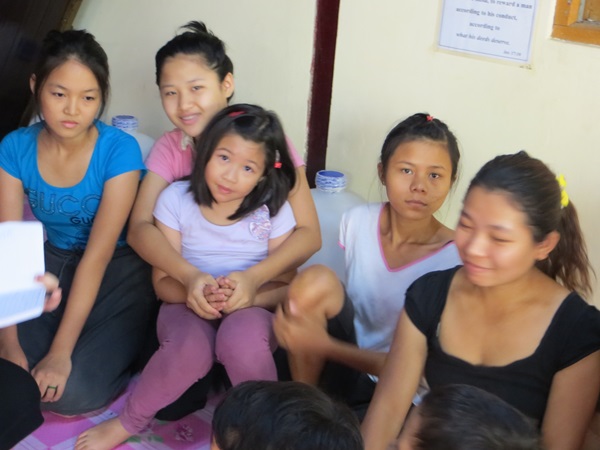 .
We started with T1 giving a short presentation on her drawing of HOME. She drew this in less than an hour at our hotel room in Yangon. Her speech went like this:-
Hi, my name is T1 and I am from Malaysia. I am 8 years old. This is my drawing of HOME. It is a HAPPY place, the face is HAPPINESS. The water shows life, the trees are nature, the bed is comfortable. The sun is bright with light, the people in it are my friends and family……this is my HOME. I love my HOME and I would like to share my HOME with you.
When she stopped, the Children of Myanmar CLAPPED!!!
To be honest, I prompted her about the friends and family part. Her initial speech (whilst she practised in the hotel room) showed her FAMILY in the picture and I reminded her that many of these kids had no family and really, their family were each other, so she changed it to the 4 people in her drawing being her friends and family instead. At least she was sensitive enough to do that.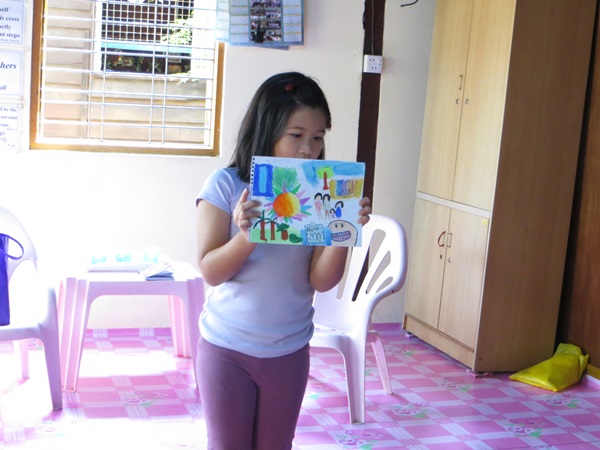 .
They then scrutinised her drawing up close and passed it around.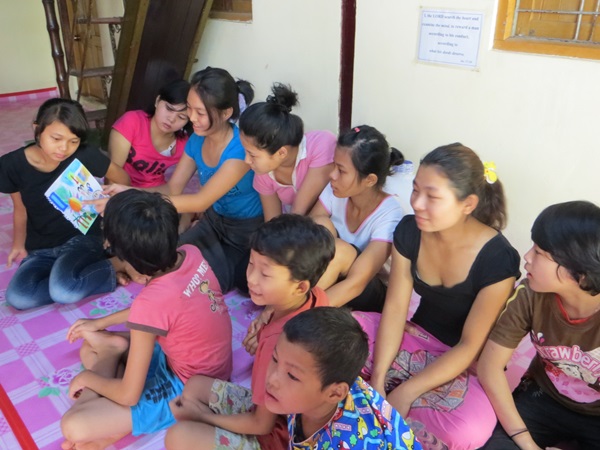 .
Then T1 passed some art block paper around so the Children of Myanmar could draw their own versions of HOME. I told them that they could draw their past home, their current home or the home they see in their future…….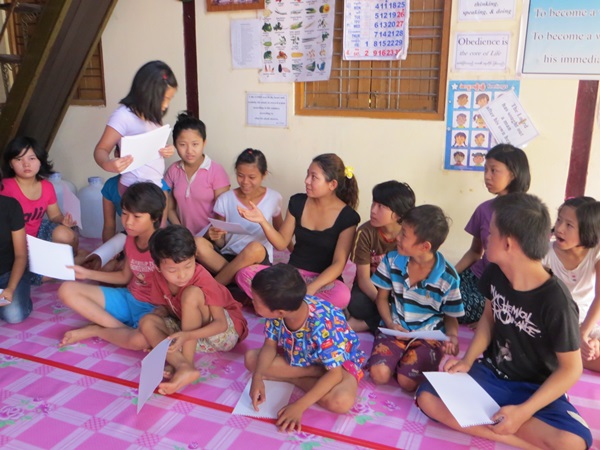 .
They got cracking……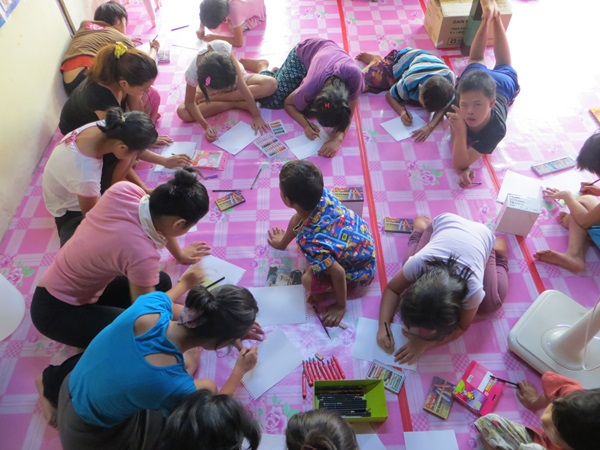 .
It was wonderful seeing them get to work.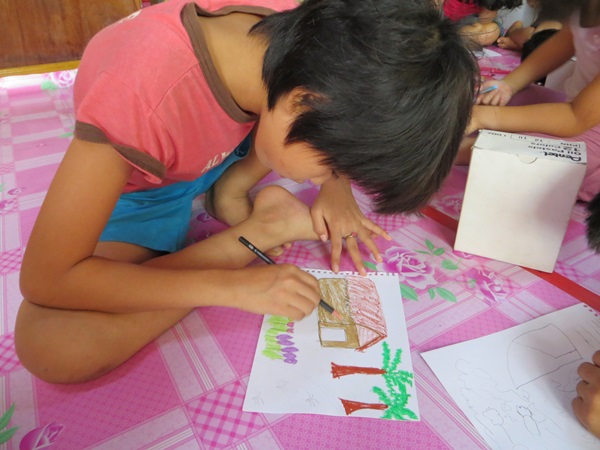 .
Each had their own little story to tell and the most wonderful thing is that all their drawings will be up for sale at the Kids for Kids event in Bangsar Village 1 next Sunday, 7 April 2013; so if you would like to own a piece of these children, hop on down to Bangsar Village and join us for a day of love, hope and empowerment.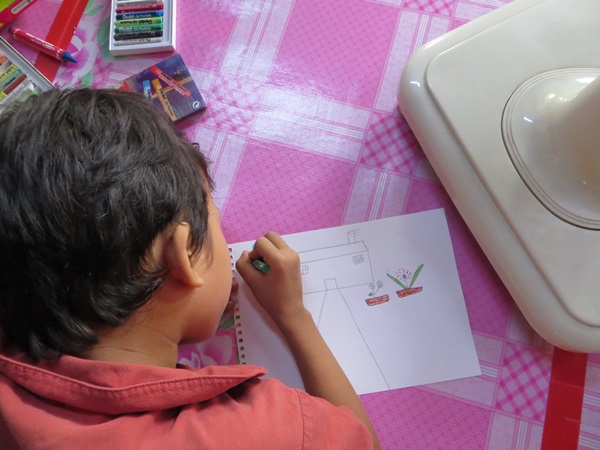 .
Below is David. David is born dumb and cannot talk. He mostly grunts but smiles a lot. His idiosyncrasies include changing clothes many times a day and drinking other people's water.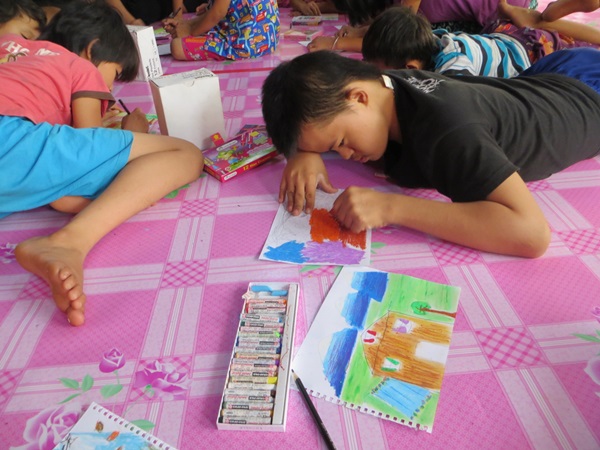 .
Colour started showing on their white paper…..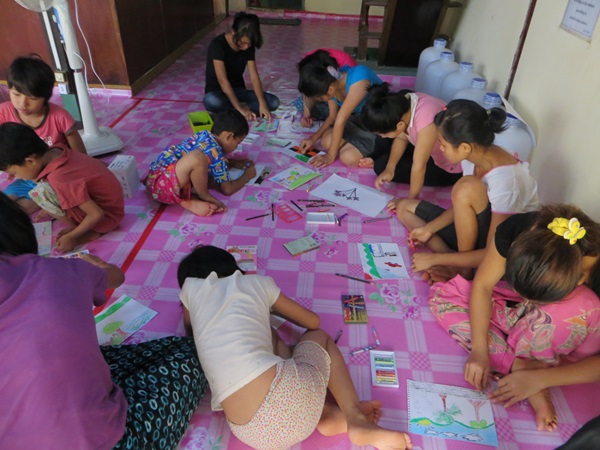 .
Even as they worked on their pieces, there were smiles…..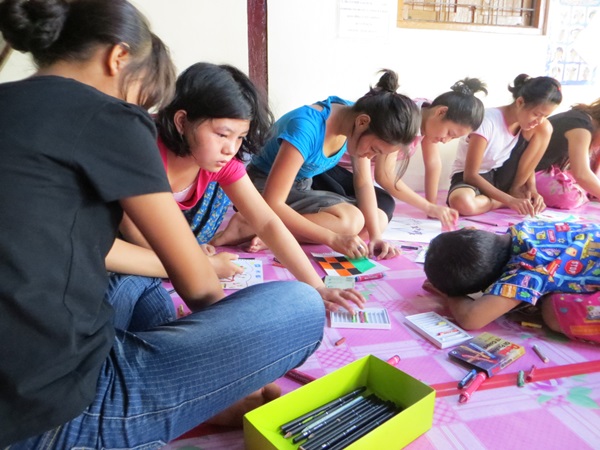 .
And once they were done, I got them to present their work. They were shocked but readily complied.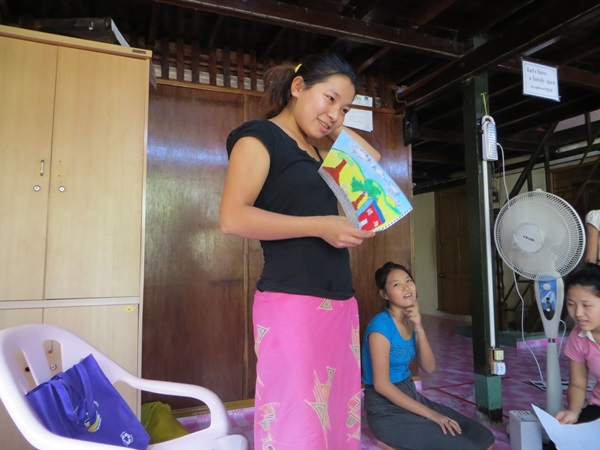 .
And did an amazing job standing solo explaining their drawings. It reminded me of being in architecture school all over again. I grilled them thoroughly, making them think and use their brains, asking them tough questions.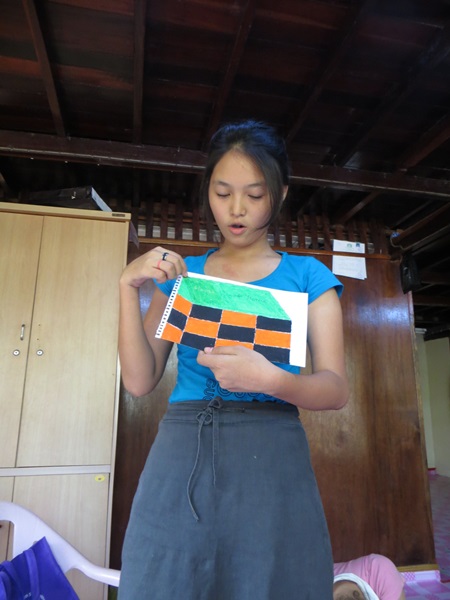 .
It was good to make them think. These are smart kids with so little opportunity. We want to give them an opportunity.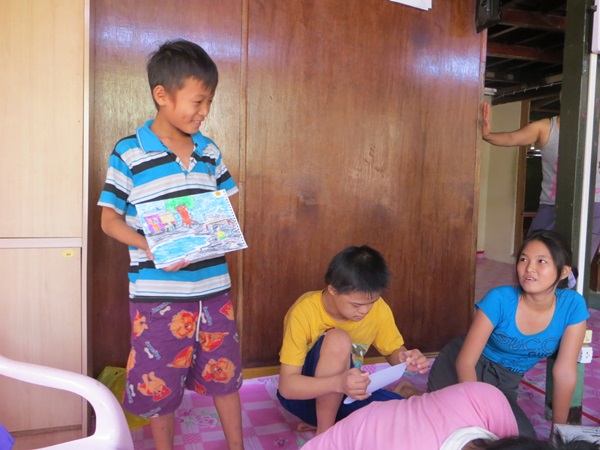 .
The young kids were as smart as the older kids, and to think that some of them were child soldiers in the past…..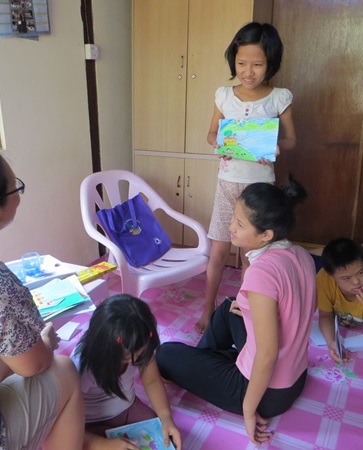 .
Some drawings brought out pain….the pain of always having no water made this girl draw a prominent well in her home. Another girl had the pain of loss, the loss of her entire family to war.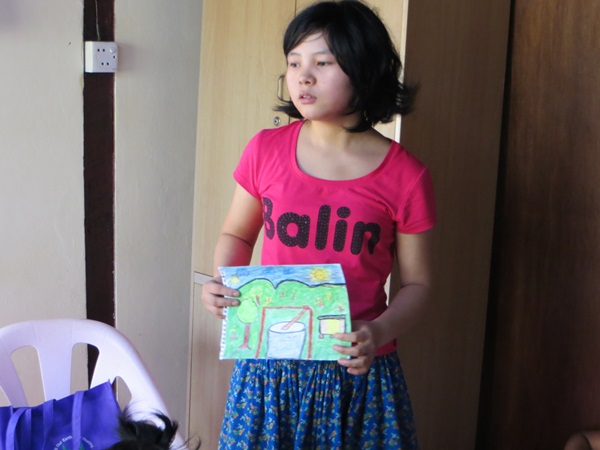 .
Innocent children. T1 presented another drawing and this time, it was the Children of Myanmar's turn to grill her.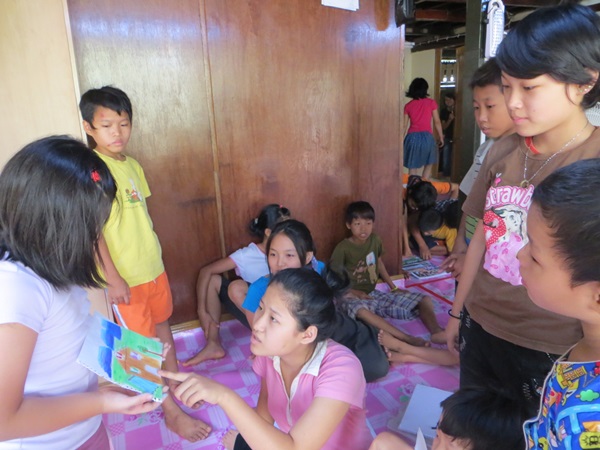 .
This is David again.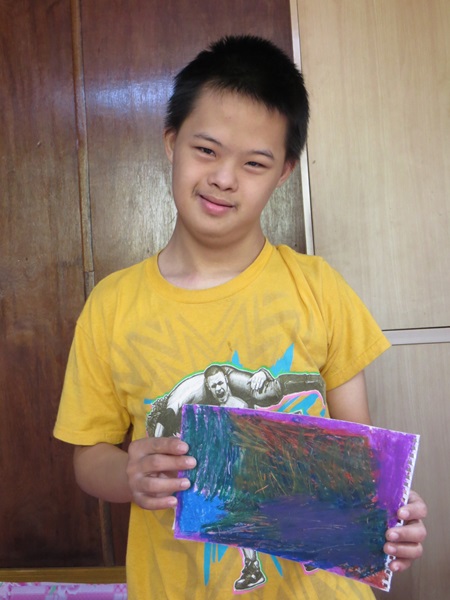 .
After the drawing and colouring session on HOME, we proceeded to make home made cards from flowers. These flowers have been plucked from their gardens outside a month ago and pressed in lots of books for almost a month. The time had come for them to stick them onto cards for sale at our Kids for Kids event in Malaysia.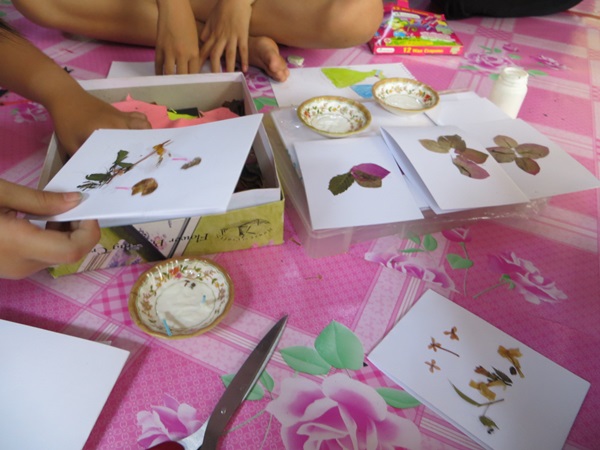 .
It was a tedious, methodical, time intensive and laborious process – I kid you not. First, the flowers needed to be plucked and pressed. Then, flowers being so extremely fine and delicate, had to be glued onto the cards. No easy task, I can assure you!!! I did one or two and I got FED UP!!! Obviously, I have no patience!!! So when I saw how the Children of Myanmar crafted these amazingly beautiful cards (come and see them for yourself, some of them are REALLY beautiful and can be framed up as art pieces), I was in awe and realised that they were worth their weight in gold. Knowing how much effort went into them, I would completely pay top dollar. Seriously. And after all, it is but to feed and educate them.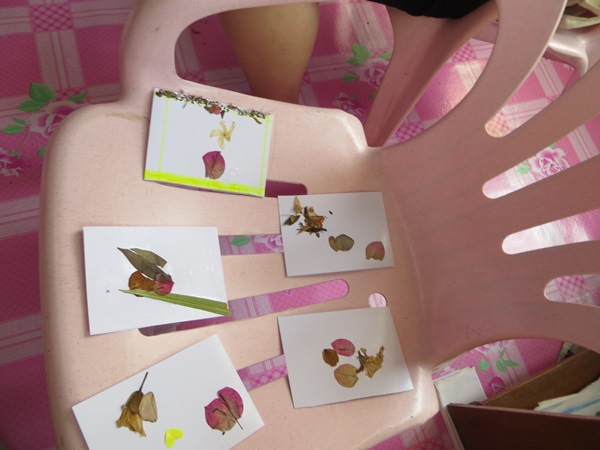 .
We had a short break for lunch and the kids were treated to lunch by Eileen! It is such a treat for them every time Eileen brings them food as it is always something special opposed to their usual measly white rice meals. Eileen parts with half of her salary every month just to share with the Children of Myanmar……..how many people do you know who do that?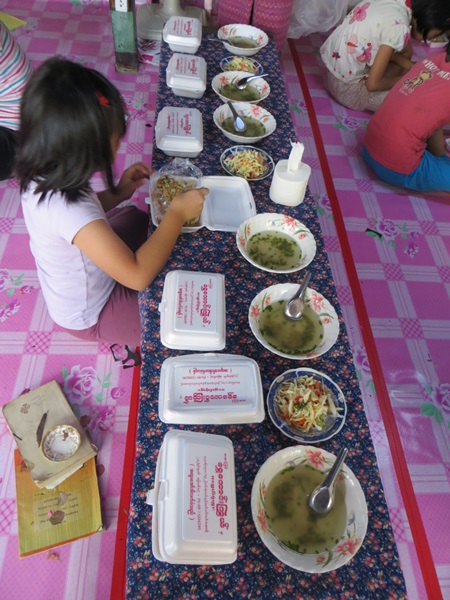 .
After they ran out of flowers, they resorted to paper and stickers instead. These roses below were all hand crafted.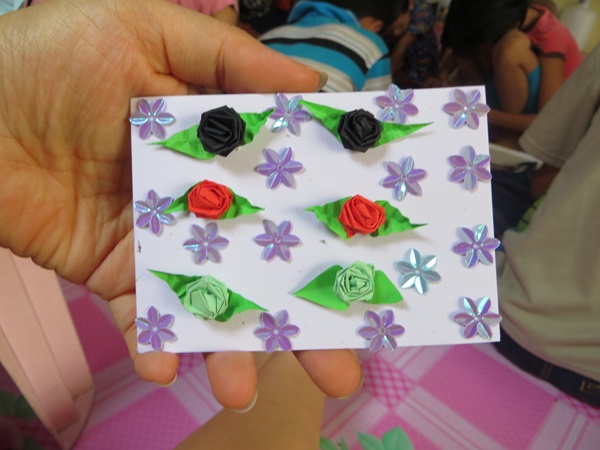 .
Would you buy these cards? Not only are they made with so much love, the proceeds will ALL go back to feeding these children and if there is access, educating them. It takes 10 bags of rice (25 kg each) to feed 30 kids for a month. We have a total of 280 kids.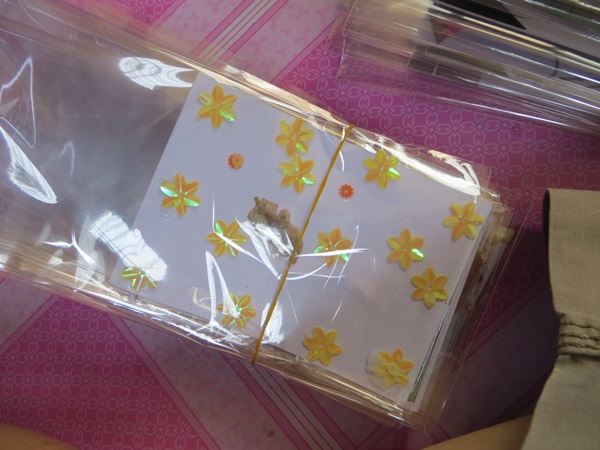 .
The kids spent 8 hours that day itself working on these cards. It took a lot longer, of course, to make the 200 cards that we plan to sell next Sunday. Please come and support us and them by buying their cards and art work.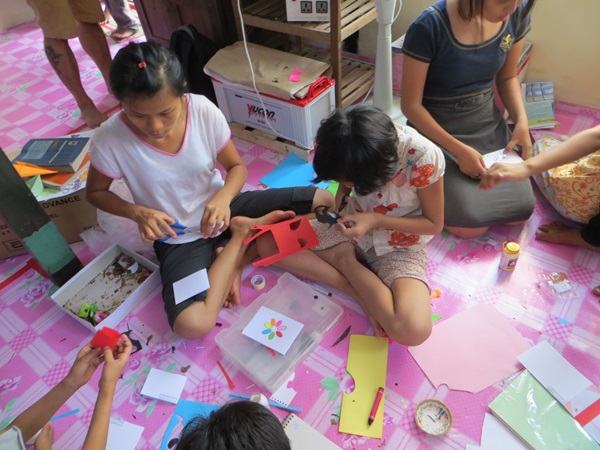 .
You could end up with this boy's card….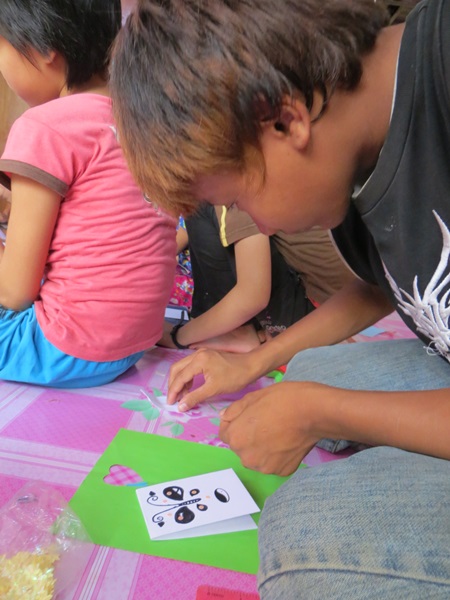 .
Or this card which to me, depicted hunger and the scarcity of meat and chicken in their meals.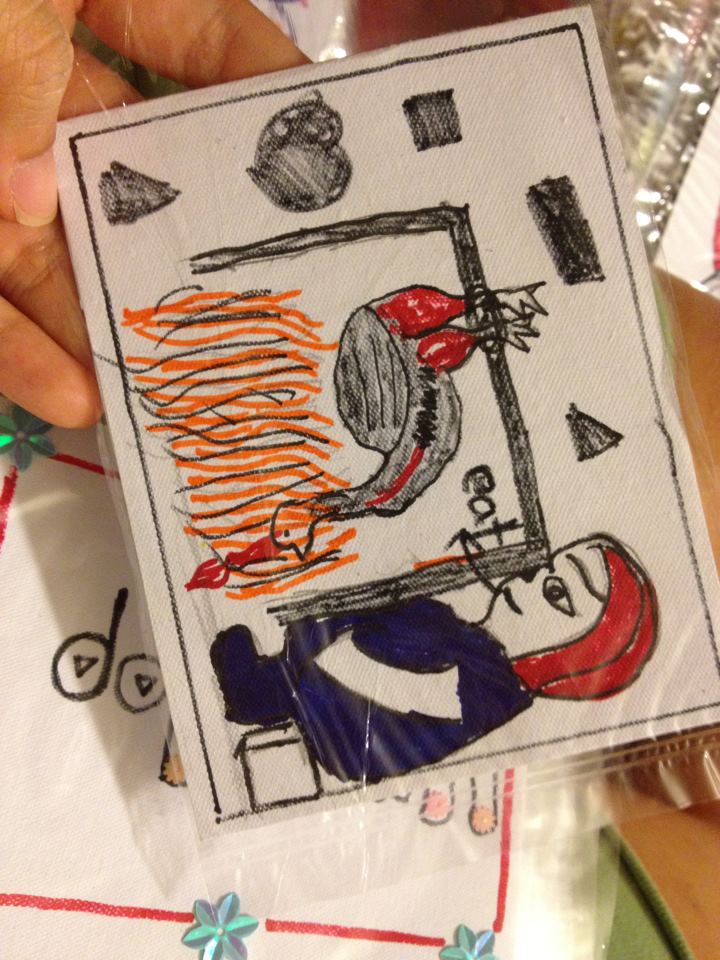 All cards are ONE OF A KIND and MADE WITH LOVE.
I almost feel pain parting with these special, special work specially crafted by the Children of Myanmar.
**************************************************************************
Who is Mamapumpkin?
Mamapumpkin spent 7 years in London committing crimes to gain her Bartlett BSc in Architecture. She spent 7 years as a Stay At Home Mom raising her children as documented in this Mamapumpkin blog since over 10 years ago and thereafter returned to the Corporate World stronger than ever. Her last job as Country Director of a British Railway Signalling organisation saw her getting ill with an aortal and mitral heart valve regurgitation and early stage cancer. Through her journey from working to not working to working again, she sets out to prove to all women that they can do anything and everything that they set out to do; as long as they have that fire of desire burning within and the drive to work hard. Even better with oodles of love, passion and integrity.
Despite being ill, she has grown a network marketing business from very little knowledge and experience in the otherwise infamously known MLM (Multi-Level Marketing) industry, racing from an income of ZERO to RM 100,000 monthly in merely 2 years. She is a firm believer of the MLM business model but realises the pitfalls too and understands how and why the majority of people would shy away (or zoom far away) from any MLM business.
She is now pondering the title of her new book, From Zero to 100,000 RM monthly in 2 years and has a sequel in the pipeline with the aim of helping real professionals succeed in the World of MLM. Always the giver, Mamapumpkin has supported orphans for over 30 years and has now extended her care to the sick, single mothers, and even struggling families. She believes that with the MLM business model, we can all have a life of our own desires to enable real contribution into the world.
A beautiful life without limits.
Mamapumpkin currently manages the
Homeschooling Hub Malaysia on Facebook
. She also runs
Working Women Malaysia
(not THAT kind of Working Women!),
Mamapumpkin - Creating A Life of Abundance
, and Funky Moms on Facebook to offer REAL support to all women who want career and life success. She is a living testimony that women really can have a lot. Being financially free has enabled her to travel the world anytime anywhere doing anything, and she spends most of her day to day with her children, reading and supporting other women.
For enquiries, please contact her at mamapumpkin at gmail dot com or WhatsApp her at +6012-2333840
Show your support and spread the love!