FINALLY!!! I am giving a moment to update you with the THIRD orphanage that we support in Yangon……
This was the first sight when our truck stopped.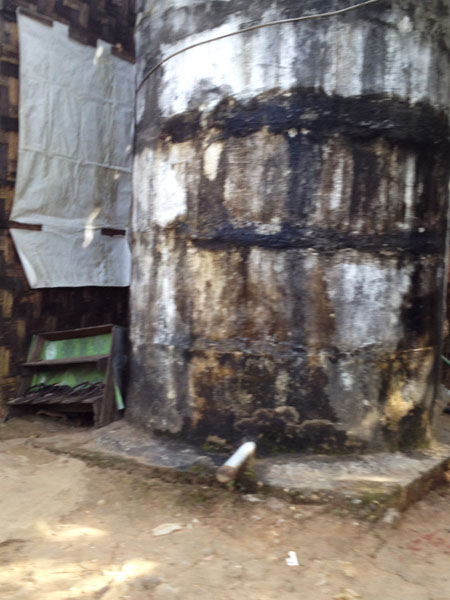 T1 had to be lifted down – too short. Even I needed help. Definitely too short.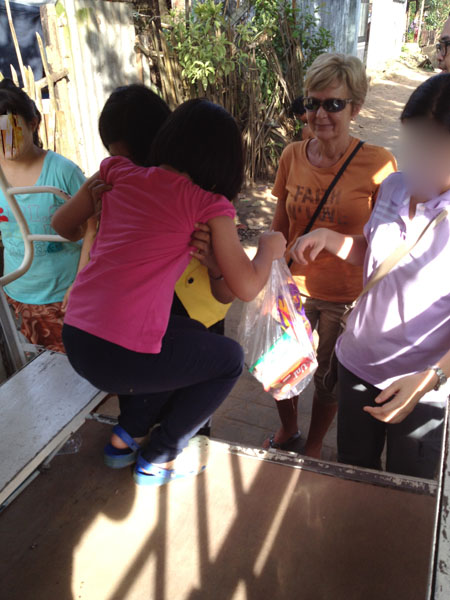 We walked along this corridor…..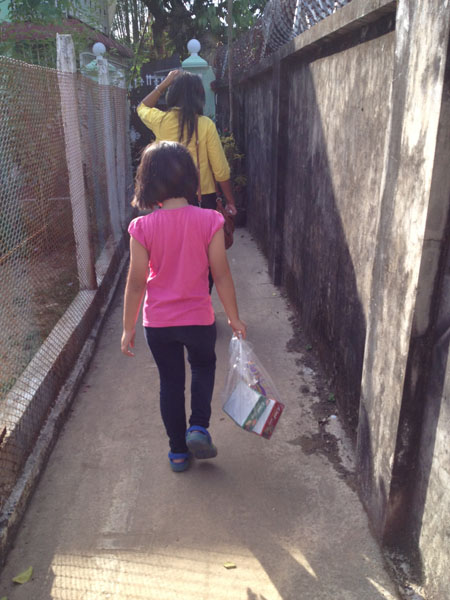 To get here.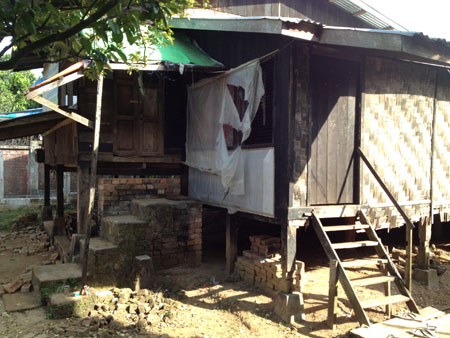 When this beautiful girl saw us, she started carrying out chairs from inside so we could sit down. So humble are these children of Myanmar. How many of our Malaysian kids do that? I'm serious. When a guest comes over, are your kids the first to offer them a drink or a seat without you prompting? The reality is more like, "Come here to say hello!"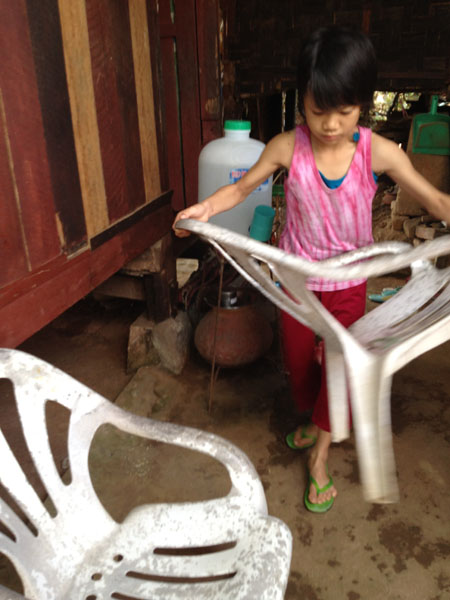 We brought them 2 huge bags of rice that we women COULD NOT LIFT. We also gave them 6 months rental for their little shacks.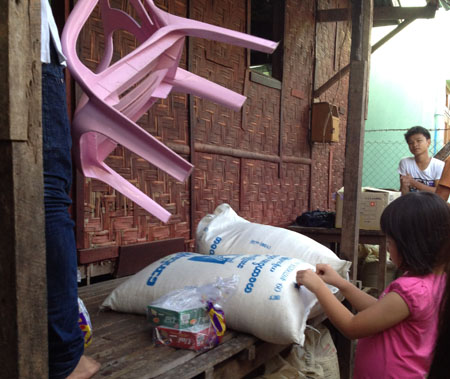 The stairway that led to their home…..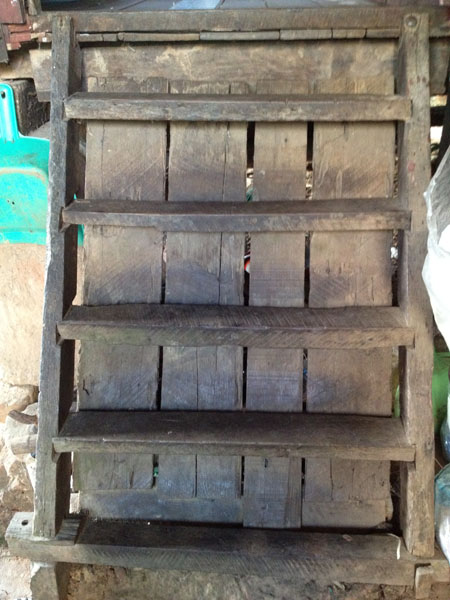 Their kitchen.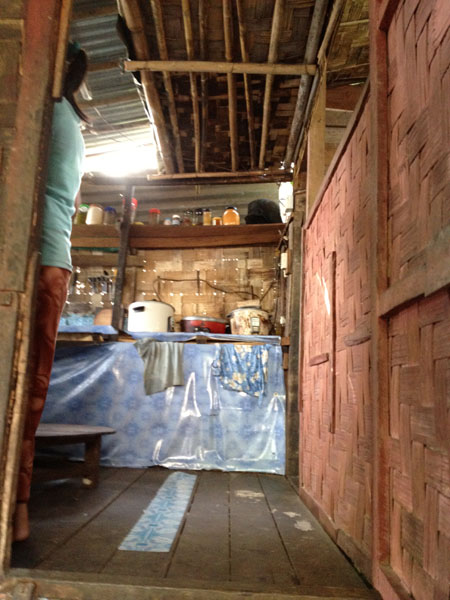 Laundry area and washrooms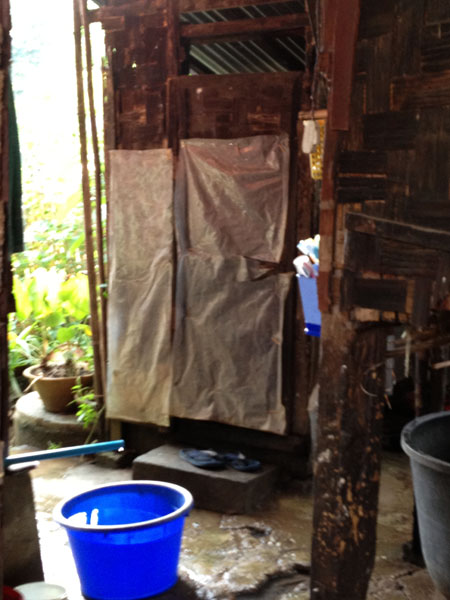 Drinking water – Lilypad brand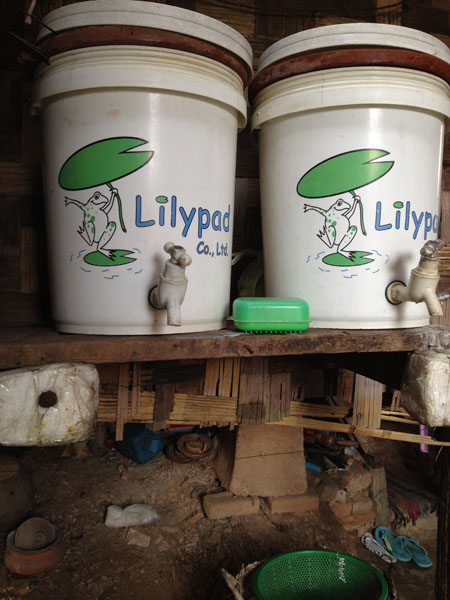 Clothes out to dry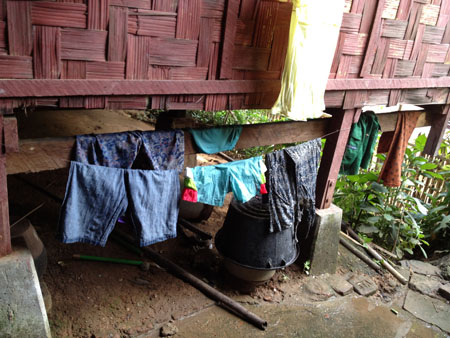 Despite the language barrier, children got along perfectly. It was truly a 2 Nations 1 Heart moment…..(and I must give due credit to the genius who came up with that tagline, my flower girl at my wedding, a young teenager called Melanie Lim!)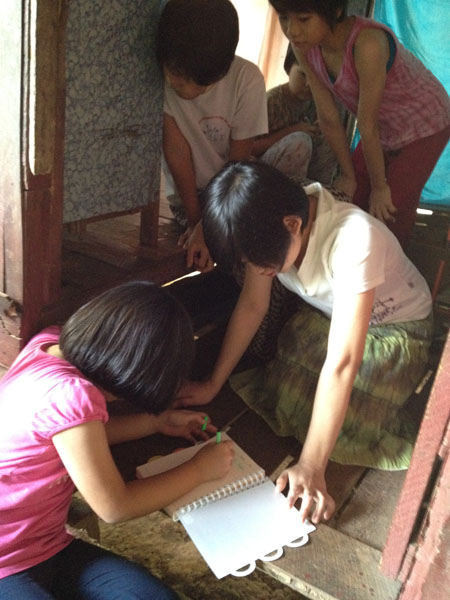 The kids exchanged addresses…..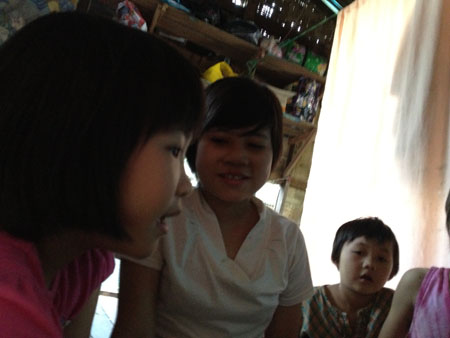 We then took a short walk to the boy's house.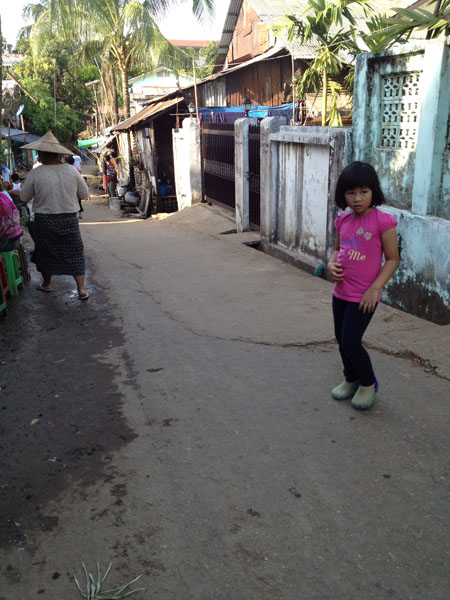 This is where the boys live. They have a bare house with one sink. They sleep on the floor.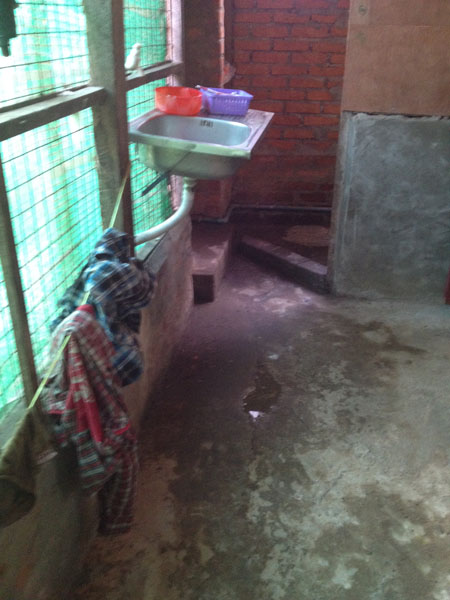 At least they brush their teeth!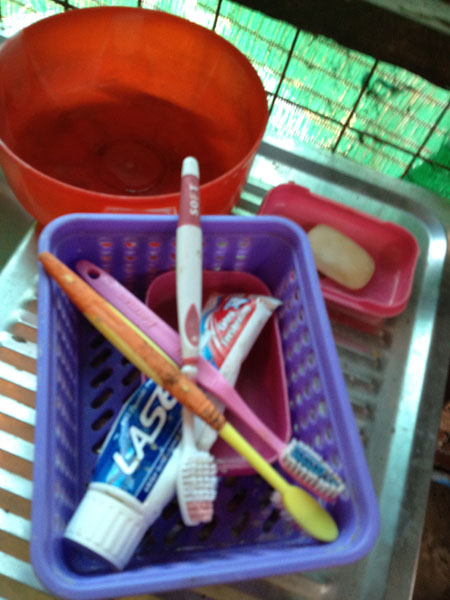 They had leaking roofs though…..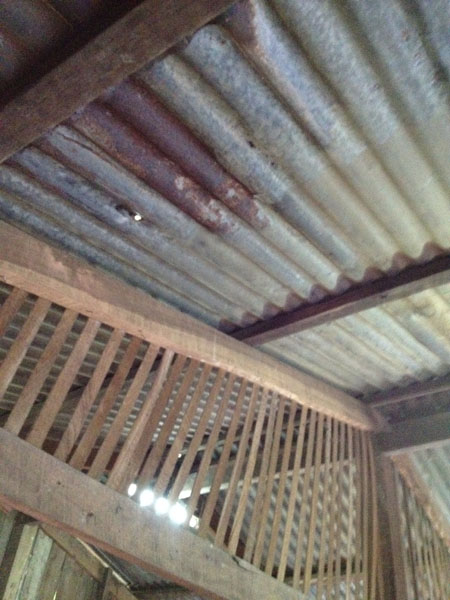 As it was getting late, we got going. That was the 3rd orphanage visit of the day with stops to shop for rice and supplies.
Walking back to the truck seemed like forever since we had an early start…..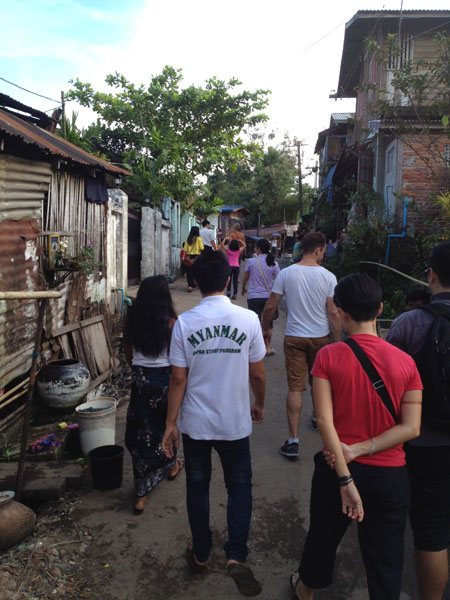 Until we saw a Myanmar lady carry goods on her head. This is very common in Myanmar…..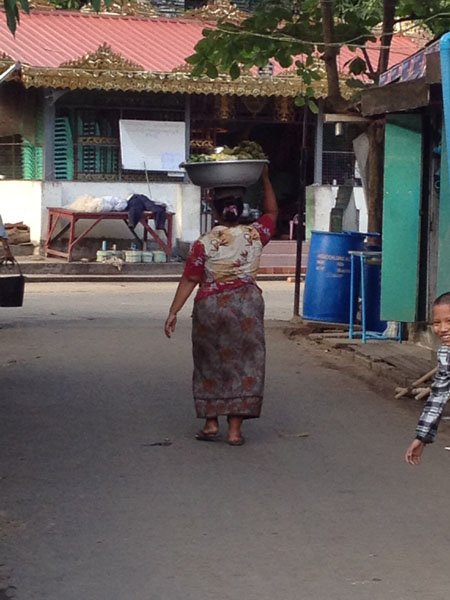 Children bathing on the streets…….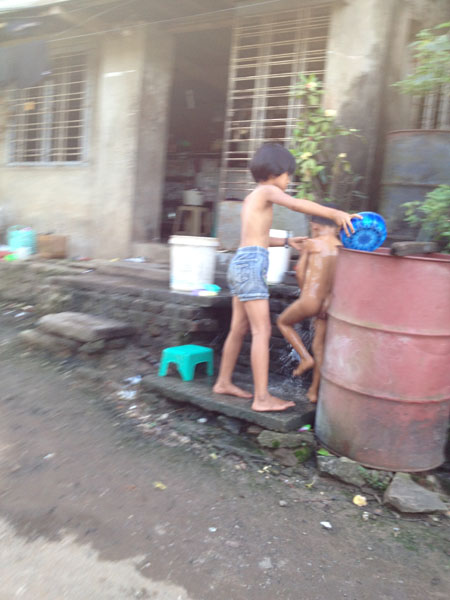 Did I tell you how I love the people of Myanmar?
HELP IS NEEDED FOR THE CHILDREN OF MYANMAR – Exactly 3 weeks before T1 and I return to see the children and give them money. If you can spare a little, please do.
My bank details below:-
Name: Patricia Woo
************************
HSBC Bank Malaysia Bhd, Menara Milenium Branch
Savings Account: 359 – 068285 – 025
Swift Code: HBMB MYKL
************************
Maybank2U
Savings Account: 1644 – 9025 – 6705
Swift Code: MBBE MYKL
************************
PayPal Account: patsywoo at gmail dot com
************************
For more posts on our journey with the Children of Yangon:
Our visit to Yangon Orphanage 1
Getting Clean Water Finally…..
Playing with the Children of Myanmar
Humbled by Sacrificial Love and Selfless Giving
The Children of Myanmar Need Your Help
Taking the Myanmar kids to watch Jason MRaz
**************************************************************************
Who is Mamapumpkin?
Mamapumpkin spent 7 years in London committing crimes to gain her Bartlett BSc in Architecture. She spent 7 years as a Stay At Home Mom raising her children as documented in this Mamapumpkin blog since over 10 years ago and thereafter returned to the Corporate World stronger than ever. Her last job as Country Director of a British Railway Signalling organisation saw her getting ill with an aortal and mitral heart valve regurgitation and early stage cancer. Through her journey from working to not working to working again, she sets out to prove to all women that they can do anything and everything that they set out to do; as long as they have that fire of desire burning within and the drive to work hard. Even better with oodles of love, passion and integrity.
Despite being ill, she has grown a network marketing business from very little knowledge and experience in the otherwise infamously known MLM (Multi-Level Marketing) industry, racing from an income of ZERO to RM 100,000 monthly in merely 2 years. She is a firm believer of the MLM business model but realises the pitfalls too and understands how and why the majority of people would shy away (or zoom far away) from any MLM business.
She is now pondering the title of her new book, From Zero to 100,000 RM monthly in 2 years and has a sequel in the pipeline with the aim of helping real professionals succeed in the World of MLM. Always the giver, Mamapumpkin has supported orphans for over 30 years and has now extended her care to the sick, single mothers, and even struggling families. She believes that with the MLM business model, we can all have a life of our own desires to enable real contribution into the world.
A beautiful life without limits.
Mamapumpkin currently manages the
Homeschooling Hub Malaysia on Facebook
. She also runs
Working Women Malaysia
(not THAT kind of Working Women!),
Mamapumpkin - Creating A Life of Abundance
, and Funky Moms on Facebook to offer REAL support to all women who want career and life success. She is a living testimony that women really can have a lot. Being financially free has enabled her to travel the world anytime anywhere doing anything, and she spends most of her day to day with her children, reading and supporting other women.
For enquiries, please contact her at mamapumpkin at gmail dot com or WhatsApp her at +6012-2333840
Show your support and spread the love!