As promised, this is the second orphanage that we visited. It is essentially a monastery and because the rule of thumb of monasteries is that you can never turn a person in need away, the monastery has collected 180 kids who now live there cramped like smelly sardines because I suspect they do not bathe daily, and another 50 kids from around the neighbourhood come daily to attend 'school' which is run by volunteers and I am so, so proud to say that my friend, the ever selfless Eileen, sacrifices her weekends to teach these kids English and whatever else. This very weekend, I believe they were discussing and interpreting the Michael Jackson song, Hold My Hand.
Back to Yangon, the sight as we approached the monastery……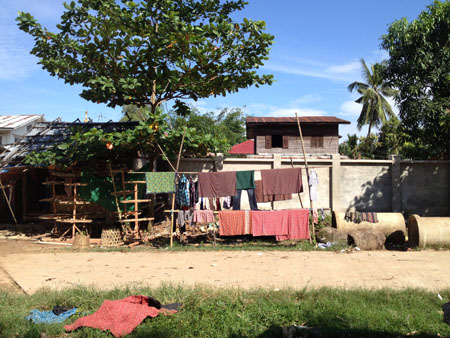 .
When we entered, I asked "what in the world are these logs for?"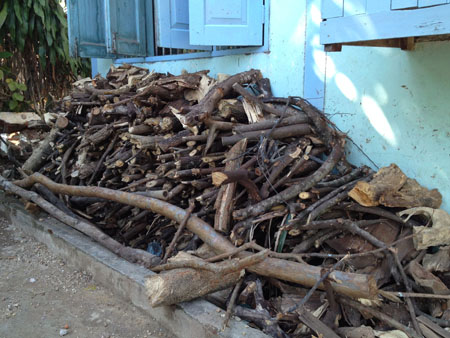 For when there is no electricity…… O_o
Electricity outages are very common in Yangon. They can last for up to two to three days. The logs are also used for cooking or to keep the kids warm in the winter months, like now when their wall just collapsed. This wall below collapsed literally last week right smack in the coming ends of winter. I'll shit myself if the floor collapses before I get money to them to get it renovated.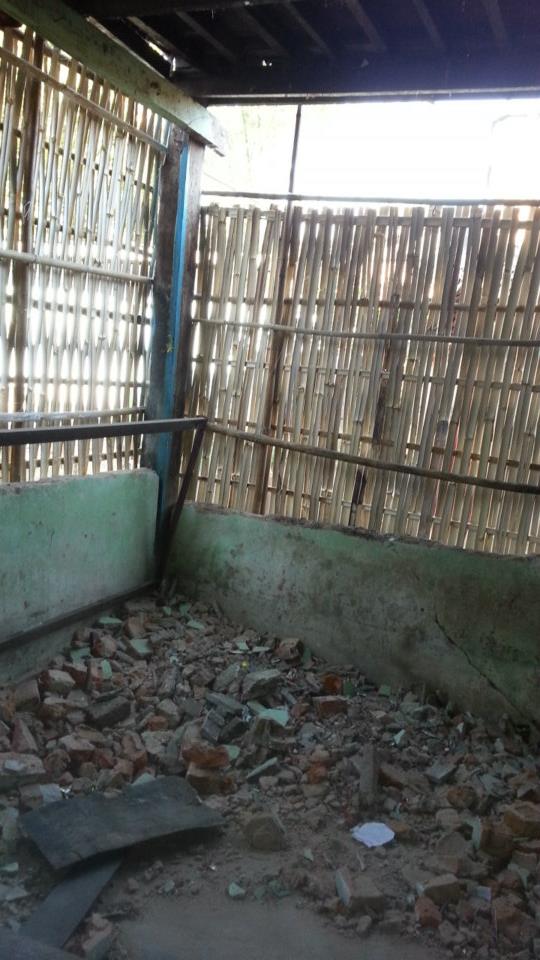 .
Outside, kids play freely in trash laden soil….what is a dustbin anyway?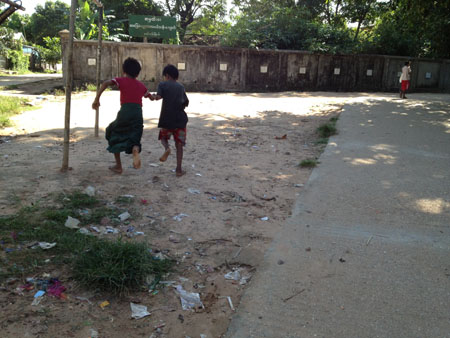 .
Inside, kids play freely bare feet and barely clothed.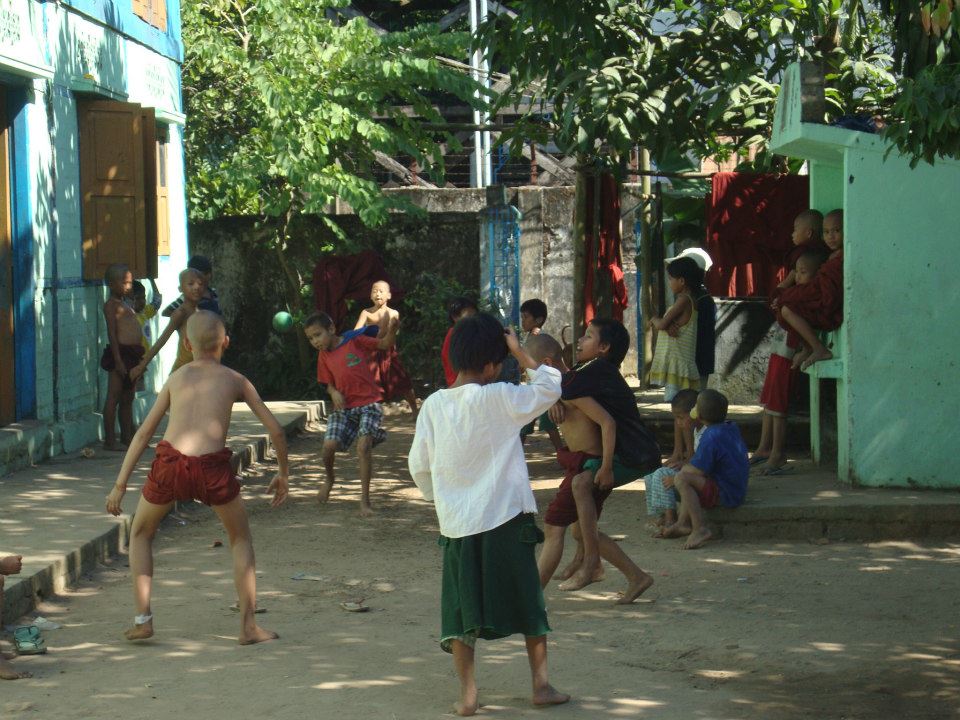 .
Despite the poverty, hunger and discomfort, they still smile.
How much we have to learn from them. On a slight tangent, T1 wanted some ice-cream this evening and asked the Hubs to help her get it from the freezer. Because the freezer was so full, he had some difficulty finding her ice-cream. When he finally brought out some ice-cream, she said, "No, not this one, Dada! The Vanilla cone ones…" which is when the Hubs got annoyed. He told her that she was already lucky that she had ice-cream and yet she was not happy enough to have just any ice-cream but had to have ice-cream of her choice. It is true. My kids are spoilt.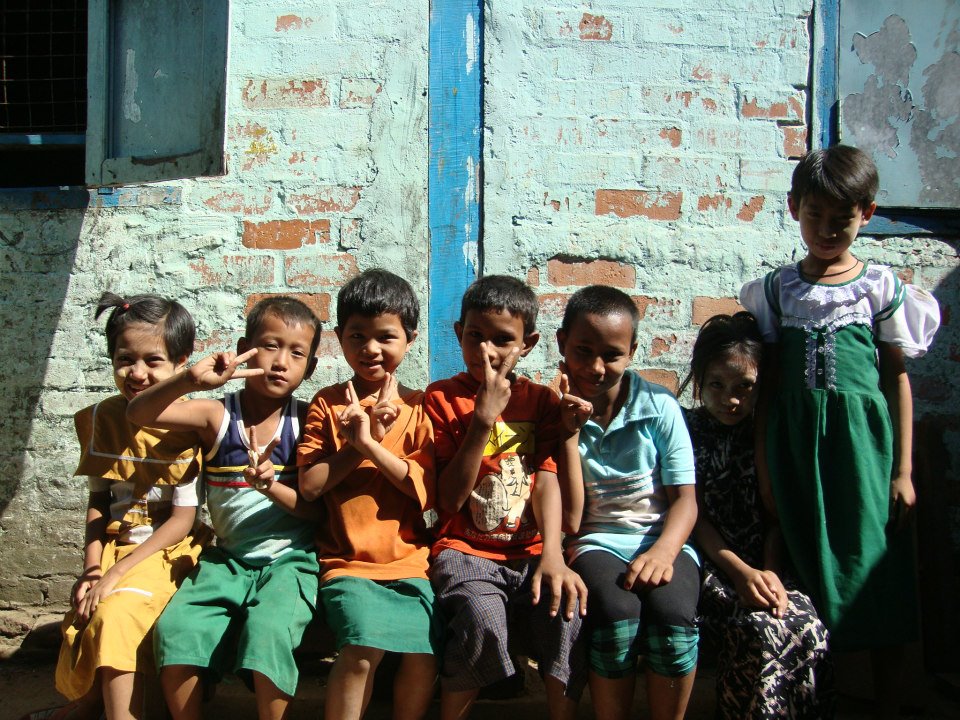 .
This is a well of water that is used for their baths.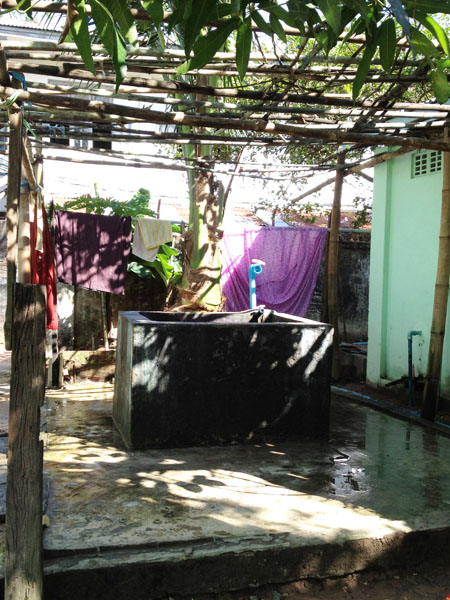 .
And this below is the well that is spoilt and needs repairing. Repairing it will cost USD1500. They need this well repaired so that the water the kids drink won't cause them diseases. It is an open well. Just imagine what can go in there??? There is a system to clean the water but it does not work currently………so this is one of the reasons why I am raising RM50,000 to bring back to Yangon.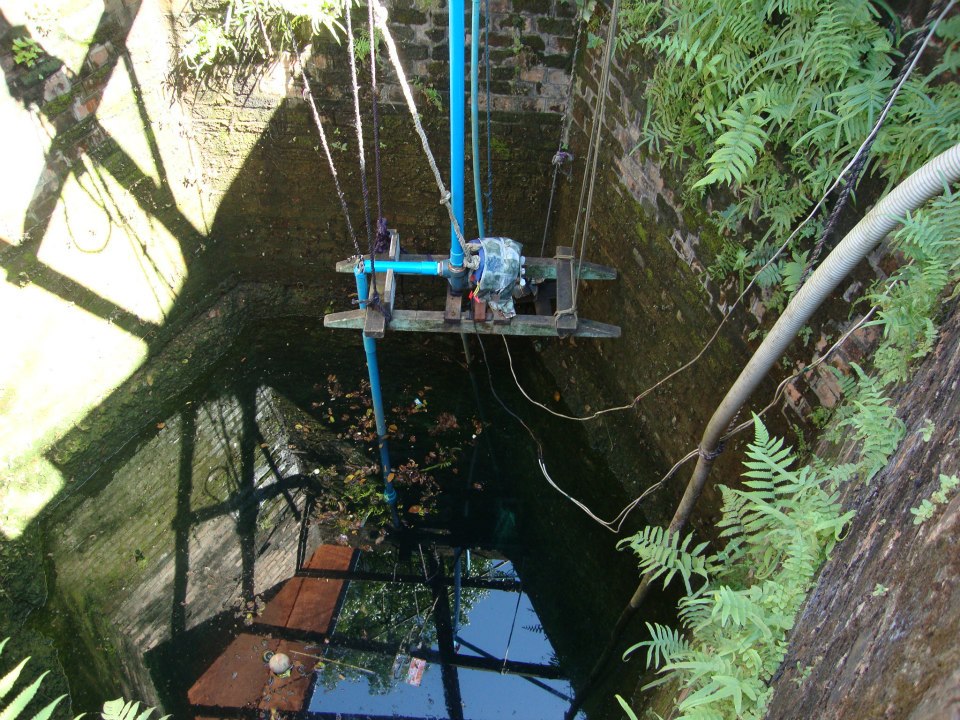 .
This is where their drinking water comes out straight into their mouths or into cups from that disgusting, filthy well.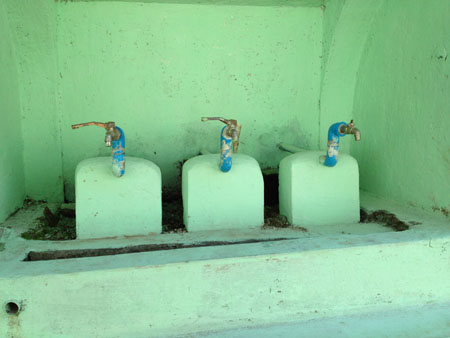 .
And if you had diseases such as this? Cleaning the wound with that water does not help. Drinking dirty water does not help either. We're not even talking about sterile water here to clean the wounds. Are you kidding? What is sterile water? Any water is good enough for them. So really, that well needs to be fixed.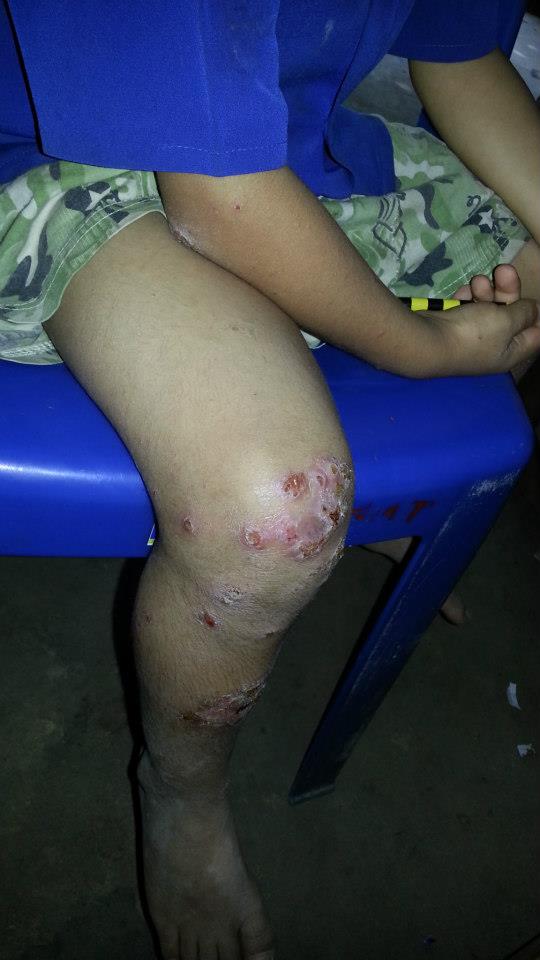 .
These below are the kids lifetime belongings. Each kid is allocated one chest although I don't remember seeing 180 chests so I'm guessing some share. They sleep on the bare floor without blankets or mattresses or pillow.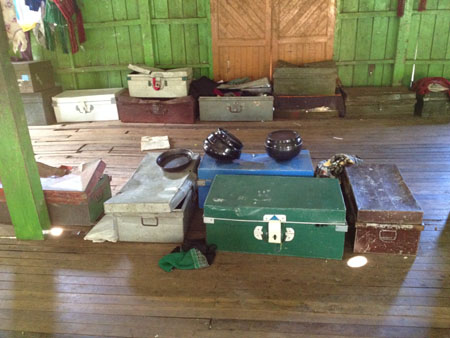 .
In a space as big as this with mosquitoes feasting on them every night. 180 kids.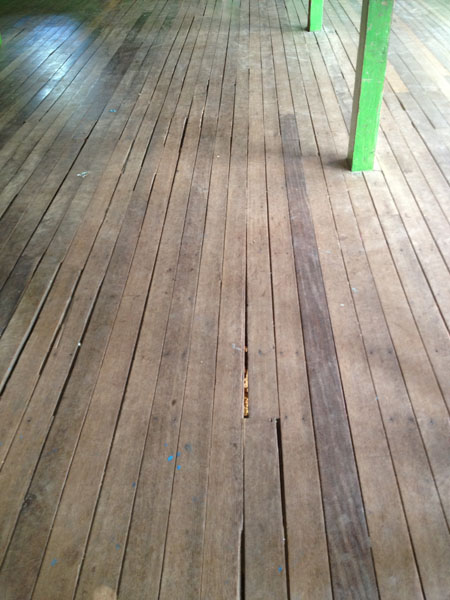 .
It's not exactly the cleanest floor to sleep on but hey, at least it's not the drain. The space is used as school space during the day or chilling space. In the evenings, they push all the tables and chairs aside to make space for little horizontal bodies. It only takes one kid to suffer from allergies or asthma (like me and T1) to experience a broken barrage of non-stop, overflowing snot throughout the night in that kind of sleeping conditions. Mind you, they have no tissue, so what do they do? Wipe snot all over their clothes is my guess and then because they are all cramped in brotherhood slumber, snot gets passed around……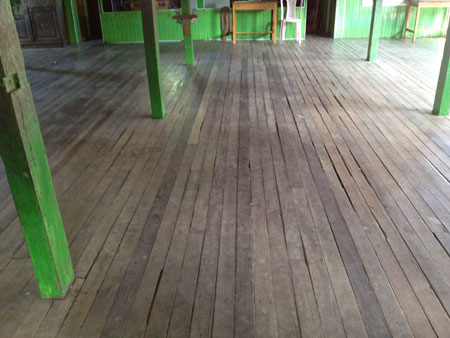 .
The timber that holds the floor is old. Some of the planks are rotting and the structure that holds the floor up wasn't exactly designed by Ove Arup New York, so it is likely to fail at some point. That would be my architectural two cents.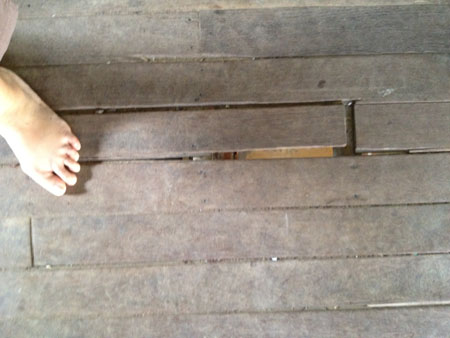 .
The timber is from untreated wood that will see the end of time soon.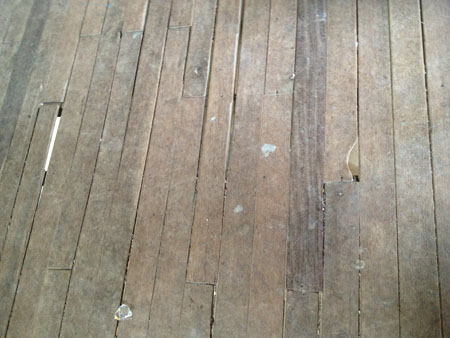 .
So I really, REALLY need to help them get this floor fixed. The fact that the weight of 100 kids load on this floor probably doesn't help. I urge you to please donate RM10 if you can so that these kids can be safe. It is an accident waiting to happen and they are innocent.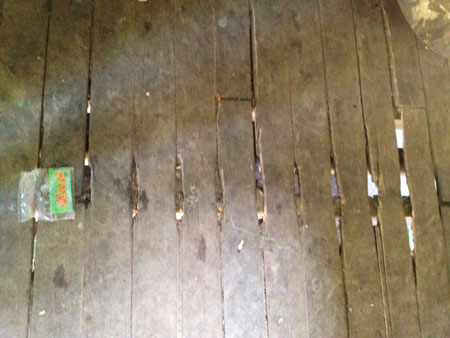 .
This is the roof above. It has holes too and when it rains, water drips down onto those sleeping little bodies.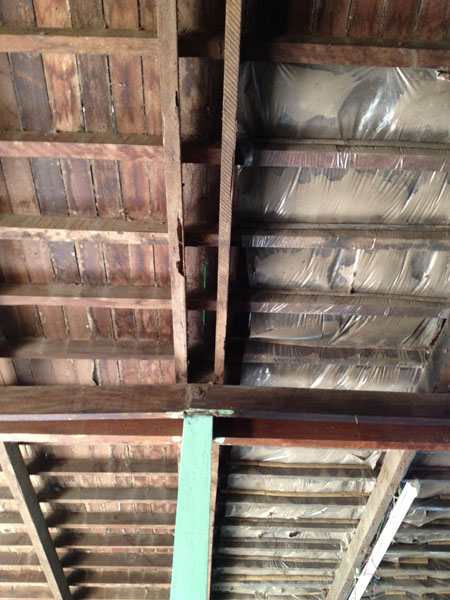 .
Another view of the ceiling.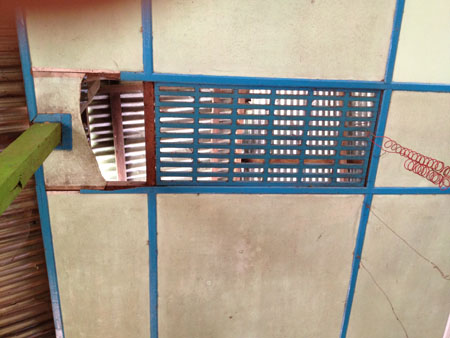 .
Just look at how their home is put together. If a typhoon struck, they'd be finished. So I googled typhoon in Yangon out of curiosity just to check if they are in any danger from typhoons. The last typhoon that hit Yangon was in the year 2008! And 15,000 people died. Ho Hum.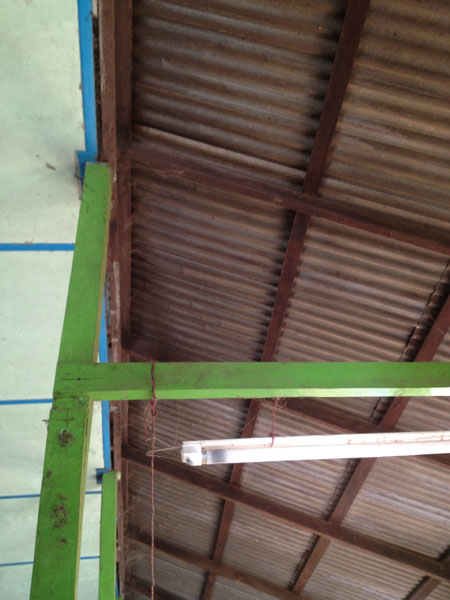 .
Look! A reflexology foot massage board made from inverted bottle caps. And since they all go bare feet, they need to clean their feet before they sleep, right? Just look at those rugs. How often do you think they get washed?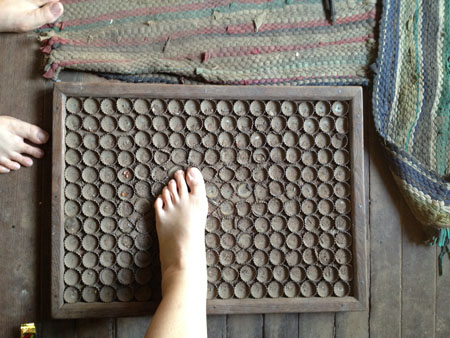 .
And here's they cook and go wee-wee and poo-poo……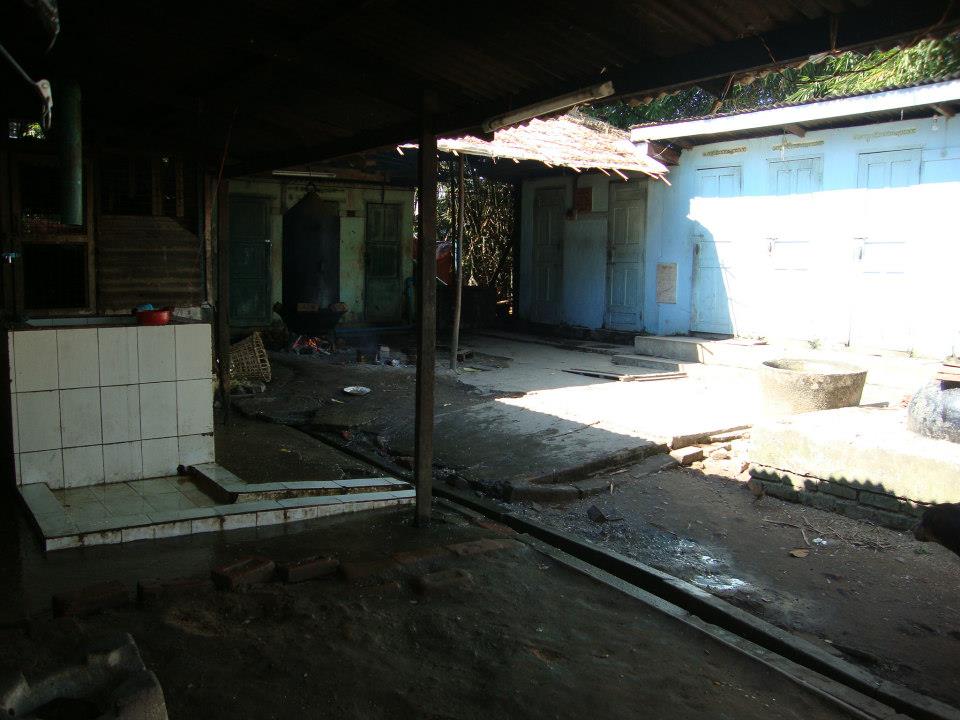 .
Their playground…..it is in this exact space that T1 played with the kids except that she had RM180 Chameleon Crocs on whilst they were all bare feet. They must've thought she was a princess!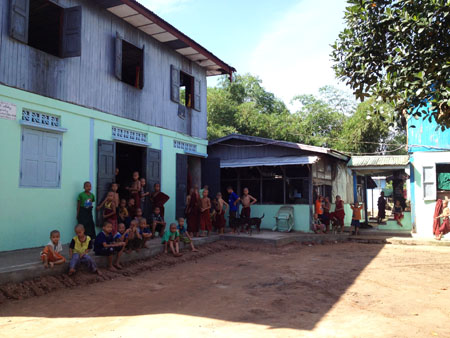 .
And it is these same kids, who played with her, gave her plastic toy eggs and a prized possession of a real traditional top, one made with a real nail and carved wood attached to a string.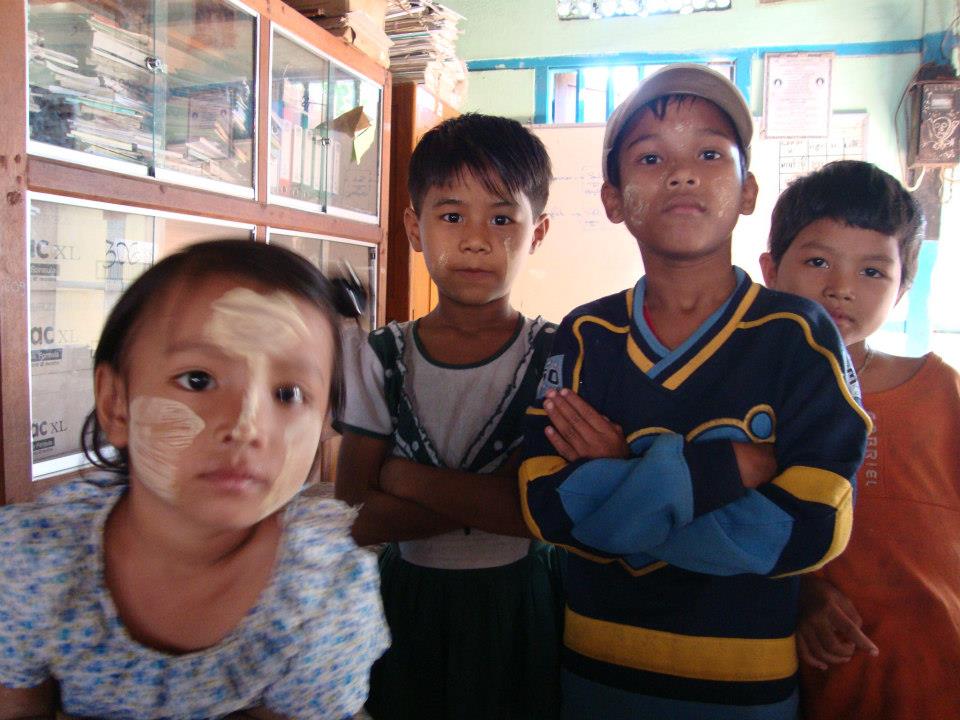 Last week at school, the teacher introduced the iPad generation kids to some Traditional Games and T1 excitedly told her class that she not only knew how to play some of them but actually had them at home. The teacher asked if she could bring them to school to show the rest of the kids. She brought THE TOP, her congkak set, her five stones set and a set of bottle caps. She knows how to play hop scotch too so I think I'll play that with her again this Chinese New Year in Kota Bharu when we can draw squares on Kong-Kong's driveway.
If there is one random act of kindness that you would like to offer this month, please give some money to the Children of Myanmar. I am committed to building their lives till they can sustain themselves. Please help me help them.
Just RM10 into my bank account and an email (mamapumpkin at gmail dot com) informing me of your name and contact details.
HELP IS NEEDED FOR THE CHILDREN OF MYANMAR
My bank details below:-
Name: Patricia Woo
************************
HSBC Bank Malaysia Bhd, Menara Milenium Branch
Savings Account: 359 – 068285 – 025
Swift Code: HBMB MYKL
************************
Maybank2U
Savings Account: 1644 – 9025 – 6705
Swift Code: MBBE MYKL
************************
PayPal Account: patsywoo at gmail dot com
************************
For more stories on our journey with the Children of Myanmar:-
Our visit to Yangon Orphanage 1
Playing with the Children of Myanmar
Humbled by Sacrificial Love and Selfless Giving
The Children of Myanmar Need Your Help
Taking the Myanmar kids to watch Jason MRaz
Thank you for construction has begun!
Calling the Media to spread this please?
Dedicating our lives to the Children of Myanmar
Organising 2 Nations 1 Heart MAD Project Myanmar
Incredible Support for the Children of Myanmar
The Psychology of Giving – Children of Myanmar
So much progress after 4 months!!!
More help and inspiration for the Children of Myanmar
**************************************************************************
Who is Mamapumpkin?
Mamapumpkin spent 7 years in London committing crimes to gain her Bartlett BSc in Architecture. She spent 7 years as a Stay At Home Mom raising her children as documented in this Mamapumpkin blog since over 10 years ago and thereafter returned to the Corporate World stronger than ever. Her last job as Country Director of a British Railway Signalling organisation saw her getting ill with an aortal and mitral heart valve regurgitation and early stage cancer. Through her journey from working to not working to working again, she sets out to prove to all women that they can do anything and everything that they set out to do; as long as they have that fire of desire burning within and the drive to work hard. Even better with oodles of love, passion and integrity.
Despite being ill, she has grown a network marketing business from very little knowledge and experience in the otherwise infamously known MLM (Multi-Level Marketing) industry, racing from an income of ZERO to RM 100,000 monthly in merely 2 years. She is a firm believer of the MLM business model but realises the pitfalls too and understands how and why the majority of people would shy away (or zoom far away) from any MLM business.
She is now pondering the title of her new book, From Zero to 100,000 RM monthly in 2 years and has a sequel in the pipeline with the aim of helping real professionals succeed in the World of MLM. Always the giver, Mamapumpkin has supported orphans for over 30 years and has now extended her care to the sick, single mothers, and even struggling families. She believes that with the MLM business model, we can all have a life of our own desires to enable real contribution into the world.
A beautiful life without limits.
Mamapumpkin currently manages the
Homeschooling Hub Malaysia on Facebook
. She also runs
Working Women Malaysia
(not THAT kind of Working Women!),
Mamapumpkin - Creating A Life of Abundance
, and Funky Moms on Facebook to offer REAL support to all women who want career and life success. She is a living testimony that women really can have a lot. Being financially free has enabled her to travel the world anytime anywhere doing anything, and she spends most of her day to day with her children, reading and supporting other women.
For enquiries, please contact her at mamapumpkin at gmail dot com or WhatsApp her at +6012-2333840
Show your support and spread the love!