My little T2, still as little and tiny as ever, my baby girl, will be 4 in exactly a month. Shit. That's 30 days, which means I need to get my act together to organise some birthday do for her. She has never had one but now that she's at school, she has specifically said that she wants to bring some chocolate cupcakes to school. And we must bring some party packs too, Mommy! 
I shall oblige. I shall totally oblige. After all, her big sis had a birthday bash every single year since the day she was born. Heck, she even had a party BEFORE she was born……
So yes, my little T2, you can definitely have some cupcakes for your birthday AND party packs. Whatever you wish.
How fast she has grown. Still as clingy as ever to Mama, but such a little Chilli, as her Grandfather calls her.
My absolute favourite time with her is when I pick her up from school everyday. Her standard questions every day –
"What's for lunch/dinner/breakfast today, Mommy?" She still mixes up those 3 meals but everyday, she does mean lunch.
Her next question everyday without fail: "What is Kakak wearing?" Errr…..like the heck I know! (nor care). Why does she ask? She wants to check how observant I have been, I kid you not. So if I were to guess some outfit such as black T-shirt and shorts, she would take the opportunity to say, "Wrong!!! She is wearing an orange shirt!!" and starts cackling in fits of little girl cheer.
OK – whatever. It is obvious that she loves her Kakak. Memorises her outfit of the day although that can't be too hard since she probably has 7 different outfits in total. After picking her up daily, we go home for lunch and then I get back to work and when it is time again, we go out together to pick T1 up.
T1's school has this huge field and T2 loves running around in it. I love her having the space to explore since we do not have a garden at home but the heat, OMG, the heat kills me!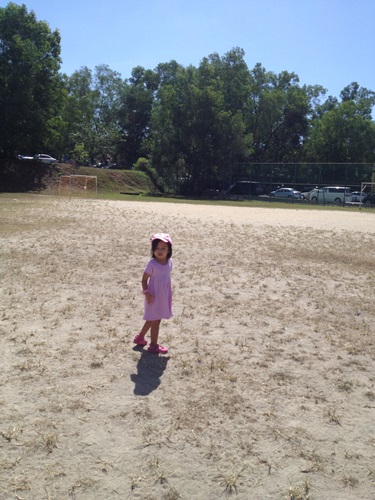 But she is so happy despite the heat, like the caged puppy let loose from it's kennel. Bless, my deprived child.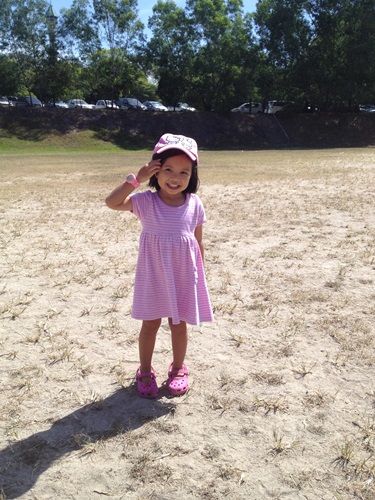 Another deja vu moment DAILY on our way home is, "Is the goat out today, Mommy???"
Goat?
Yes, goat.
A REAL goat.
One with a little goatie, one that bleats.
Right outside my neighbourhood on the way home from school. Literally walking distance from home, right in the city centre of KL. Can you believe it? There is a goat! Someone keeps a freaking GOAT.
It is the highlight of my girls' day every day to see this goat. Sometimes he appears, sometimes he doesn't, but every time, they look out for him. I wonder what his name is.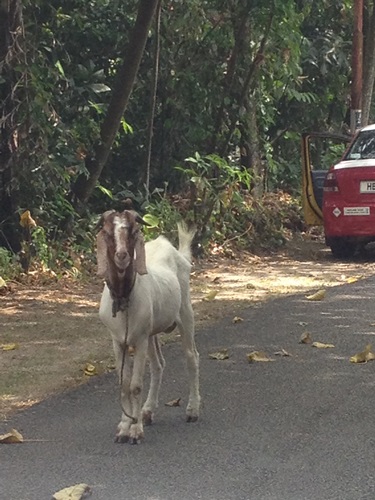 Mehhhhhhhh…………..MEHHHHHHHHHH…………………..
Precious Moments with My 2 Girls.
Today, T2 asked me why I opened the car window and I replied that there was a bug in the car and I wanted it to fly out. Her story started…..
"You know, I think the bug likes the car and he doesn't want to go out because he likes the air-cond in here. It's nice and cold but it's hot outside. You see? He is not flying out. I'm telling you, Mommy, he is not flying out. He likes to be cold. He likes the air-cond. Like me. Actually, I wish I was a chicken then Daddy can put me into the freezer. I can play with my chicken friends in the freezer."
At which point I cracked up laughing…..
"CHICKEN??? Don't you worry, T2. When we go to Europe in winter, you would be able to feel what it's like being in a freezer."
"Yaaaaa, when??? How many more years are we going to Paris?"
"9 months, T2. Not years. Months. And why do you want to be a chicken?"
"So you can eat me, Mommy!"
"But if I ate you, there would be no more T2!!! And I love my T2!!!"
"It's OK, Mommy. You can always make another T2. And another. And another. And another……"
I learn from my kid, you know?
Show your support and spread the love!