Because I am such an extremely busy woman, most of my quality time with the kids is spent in the car whilst I am their driver. T1 on her observation on the election flags:
T1: Mommy, the trees are PAS, the sky is BN and the best is DAP, all the colourful cars around us.
*******************************
One day, I was busy with work (as always) and T2 was being a pest around me asking me a million and one things and I could not concentrate. You know how it is, when you're writing or reading an intense contract, the key is focus and I just couldn't focus with that little voice asking so many things. Eventually, Kakak called her over:
Kakak: T2!!! Apa you buat??? Don't disturb Mami. Mari sini lipat baju.
T2: Me tak mahu lipat baju….(and scrunge her little face up in disapproval)
*******************************
My little T2 just loves going out. I'm not sure why she loves going out. The Hubs and I, we love staying home! But this girl is happiest when she's out and about. The other day when I was on leave, I'd brought her out for almost an entire day – exhausting for me. We went to do Mommy's exercise class, then had a Japanese lunch with a business associate, then met up briefly with Nana as Mommy had to pass something to a new member of staff and Nana happened to be at the same location, then went to school to pick Che-Che up, then had dinner at the Daily Grind and Boost Juice for dessert. When we got home, T1 flung her arms in the air and exclaimed super dramatically, "Ahhhh……today was such a FUN day, Mama!!!"
*******************************
One thing that drives me completely ballistic is when T2 runs up and down the corridor we have at home because there is a glass shelf filled with books and I am terrified of her accidentally falling into it or just tripping over herself and falling flat onto our marble flooring. It is not uncommon to hear me yelling in my home, "T2, please WALK!!! WALK!!! I said WALK!!!"
And you will hear this over and over because these kids, they have selected hearing. Or maybe their ears are just SO filled with wax and God knows what else, that they fail to listen. I don't know. I haven't had time to check.
But one fine day after my screaming at her to W….A….L….K……, she stopped in her tracks and started walking slow motion like the running man robot and proudly announced, "Mama, look. I'm walking. I'm walking…..",
It was definitely done to M.O.C.K. me.
********************************
One of my de-stressors every day is to play Scramble just before I knock off. Sometimes I do this at whim but yeah, I'm a Scramble addict and my kids KNOW this. They know that if they so much as whimper a single sound whilst Mama is on her iphone playing a round of Scramble, they would be dead. In a flash. Dead.
So every time now when I'm on my Scramble game, there would be dead silence but the moment the game is over and the Scramble game recording cheers and claps, my T2 will excitedly ask, "Mama win?? Did you win???"
Then she would quickly pull my phone towards her sight to double check my win as my head on the game will start shaking from side to side like a true Indian and T2 would go, "Awwwwww……..Mama win!!! I'm so proud of you, Mama……"
Nice to know someone is. Proud of me, that is.
********************************
In the past, we've given away so many toys. 6 XL sized large black garbage bags filled to the brim with toys to the Lighthouse kids. Bags and bags of soft toys to some other kids. So I don't understand why we still have SO MANY TOYS!!! I don't even BUY toys. Yish. People keep giving us toys.
So recently, I've hinted to the kids that we were going to do another big give-away. They hardly even play with all these toys. It's like, there's just too much to choose from, you know? There are so many kids who would appreciate these toys much, much more. Besides, my kids are always playing make believe and pretend and making up their own silly willy games anyway so who needs toys?
But as soon as I said let's start packing up, T2 was quick to defend her toys, "No, Mama! You cannot give away our toys because they won't fit in the car. There is too much toys. Can't fit. Better to keep them here la….." Her English is still quite kokak but what to do, we set her a bad example at home; although we've explained to her the difference between many and much and the ones and las but she chooses to think we're the idiots instead.
**********************************
One day, whilst we were at a playdate and T2 and her friend were playing with umbrellas, her friend's umbrella broke and could not close. Hard as the two little 3 year olds tried, they were getting frustrated that they were going to get wet. Pretend wet. But still, pretend wet was still a very serious matter.
So I offered to fix it for them. It was a simple task of putting the fabric loop back onto one of the metal pins but 3 year old fine motor skills didn't quite cut it. Voila! I returned the umbrella back to her friend who just took it and looked at it to check if this aunty had indeed fixed it. What a miracle! T2 was quick to quip to my surprise, "Can you please say THANK YOU, AUNTY!!!" in an authoritative tone to her friend which I thought was hilarious.
**********************************
T2 and her plenty excuses…..this girl talks so much you wouldn't believe it for if you met her, she's as quiet as a mouse. I kid you not. If she wants to be carried, she would say she is tired. If you ask her how she can be tired since you've walked even more than her already, she will come up with all sorts of reasons to prove why she would be tired and needs to be carried.
Despite me not paying much attention to her in her 3 years of life, she has observed and sponged up from her learnings through her sister and her environment. She is good at putting 2 and 2 and 2 together logically and quite impresses me!
She is also Miss Bossy Boots (gosh, I swear all this is genetic and comes down the blood train from Nana) and complains about the painter painting the ceiling and making such a mess on the floor, and then when our car runs over the paint our wheels would be white, and who is going to clean our wheels. Later when we exit the car, she quickly runs to check our wheels and indeed it is white and she would tell me that I have to take the car very soon to the car wash to get the paint washed off or we would have white wheels forever!
She's also very tarik harga. When her boy classmates says hi or bye to her, she completely ignores them and sometimes even looks away. This gets really embarrassing if said kid's parents are with them thinking what a little spoilt brat with no manners this tiny girl is. Le sigh.
She will only layan those whom she likes and there are very, very few. I'm really not sure how she discerns her friends but I've noticed when it comes to adults, she is more drawn to those with gentle, soft voices much more than the booming voice types.
Oh, my little T2. Love her and yet, she drives me up the beanstalk.
********************************
I leave you with T2's cute alphabet scribbles…..as she writes this, she sings the alphabet song over and over again to remind herself which alphabet comes next.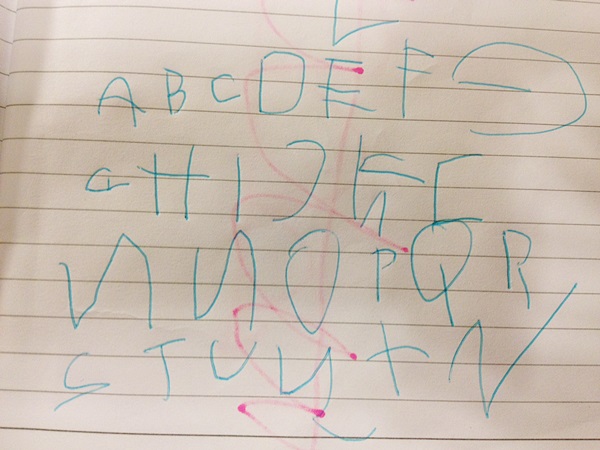 **************************************************************************
Who is Mamapumpkin?
Mamapumpkin spent 7 years in London committing crimes to gain her Bartlett BSc in Architecture. She spent 7 years as a Stay At Home Mom raising her children as documented in this Mamapumpkin blog since over 10 years ago and thereafter returned to the Corporate World stronger than ever. Her last job as Country Director of a British Railway Signalling organisation saw her getting ill with an aortal and mitral heart valve regurgitation and early stage cancer. Through her journey from working to not working to working again, she sets out to prove to all women that they can do anything and everything that they set out to do; as long as they have that fire of desire burning within and the drive to work hard. Even better with oodles of love, passion and integrity.
Despite being ill, she has grown a network marketing business from very little knowledge and experience in the otherwise infamously known MLM (Multi-Level Marketing) industry, racing from an income of ZERO to RM 100,000 monthly in merely 2 years. She is a firm believer of the MLM business model but realises the pitfalls too and understands how and why the majority of people would shy away (or zoom far away) from any MLM business.
She is now pondering the title of her new book, From Zero to 100,000 RM monthly in 2 years and has a sequel in the pipeline with the aim of helping real professionals succeed in the World of MLM. Always the giver, Mamapumpkin has supported orphans for over 30 years and has now extended her care to the sick, single mothers, and even struggling families. She believes that with the MLM business model, we can all have a life of our own desires to enable real contribution into the world.
A beautiful life without limits.
Mamapumpkin currently manages the
Homeschooling Hub Malaysia on Facebook
. She also runs
Working Women Malaysia
(not THAT kind of Working Women!),
Mamapumpkin - Creating A Life of Abundance
, and Funky Moms on Facebook to offer REAL support to all women who want career and life success. She is a living testimony that women really can have a lot. Being financially free has enabled her to travel the world anytime anywhere doing anything, and she spends most of her day to day with her children, reading and supporting other women.
For enquiries, please contact her at mamapumpkin at gmail dot com or WhatsApp her at +6012-2333840
Show your support and spread the love!