Working for what you want
My girls are incredibly spoilt. They're not bad girls and in fact they're very good girls by far, but they're highly pampered and get things very easily. They can adapt to unfavourable situations yet if they can milk it, they will. Thus I've decided that from here on, I will stop being free with anything that they want. We will start a barter rule. Unfortunately, this doesn't work so easy with T2 who really won't do what she does not want to do.
Unless you call the Police Man from the Bangsar Police Station.
Mostly, she will weigh the pros and cons and make a firm decision that rather than go to bed early, she would forego that chocolate scoop of ice-cream.
Today, T1 asked for some new pipe cleaners for craft after seeing some wonderful colours at a friend's place. I told her she had to work for it by cleaning the underside of every chair and stool in our home, then wash one toilet. For reference, we have 4 dining chairs (because I threw 4 out due to old age), 4 teak stools, 6 swivel office chairs, 4 children chairs and stools and 4 random stools including the piano stool.
T1 happily delegated some of this work to her willing assistant.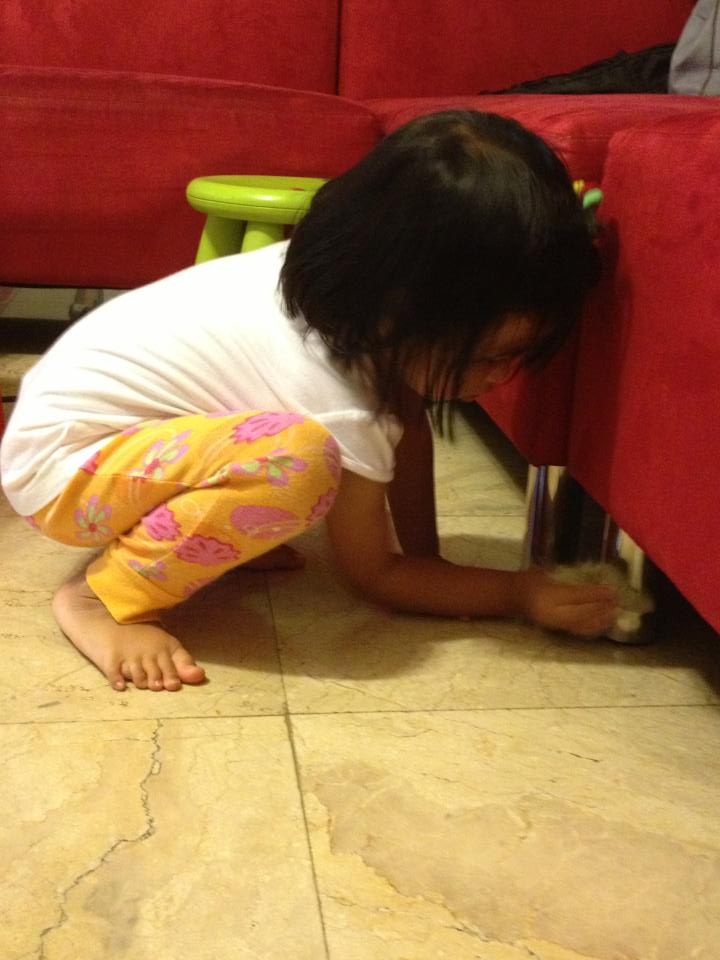 After they finished wiping the legs and undersides of all the chairs/stools, they proceeded to the toilet (which happened to be quite clean already because our helper had just cleaned it this morning!) but still they found corners which were not spanking clean – according to T1. I had yelled out to them, "Why are you cleaning the guest toilet when Kakak just cleaned it this morning??!!!!"
And T1 insisted that there were still dirty bits. She chose not to clean my master bath where there was a whole lot more cleaning to be done. T2 set out to wipe the toilet walls and T1 proceeded to wipe the toilet blinds (so now we know where my helper cheats) and under the sink.
After an hour of cleaning, they were showered and hungry for dinner.
I'm beginning to like this shit!
So I called the Hubs to make a special trip to the store to get them their rainbow pipe cleaners. Aren't they a lucky bunch? Work an hour and get paid immediately.
Next project – delayed gratification. The questions is how we define the term delayed.
Show your support and spread the love!