As far as I can remember, my birthdays have always been extremely well celebrated. Whether there is anything grand or special or not happening, it has always been extremely special. I do not know what I have done to deserve such blessings but I remember the year, my awesome Mom organised me a surprise birthday party…….the lengths she had to go through to get all my friends phone numbers from my phone. She didn't even know exactly who all my friends were as she only knows who she knows, right? But she managed to spy with some other close friends to get the in-list and voila. We even had friends from the UK surprising me right here in KL after our usual special family dinner.
I remember her telling me to dress up that night because my Mom, she knows how lazy I am and how, even if it was my family birthday dinner, I could still go out looking like a maid. And thank God, I dressed up! Because ALL my friends from near and far were there!!! Bless her. I will always remember that birthday.
There is another friend I met from T1's first school who up till today, always gets me out to surprise me with a birthday celebration and a cake. I see her once or twice a year these days because the kids are now in different schools but without fail, for the last 4 years, she's naturally called a Mommy gathering and it will always come with my birthday cake.  She did it again this year and I hadn't seen her since forever. So now I know, when there is another call from her around my birthday time, I will know what it is for.
I've had other similar type birthdays here and there, some more wild than others. I once had a party in a lift in the UK. I've also had birthdays at very special places. And I've had birthday celebrations that last an entire month over several years already. That is when you know you really got to put a halt on the cake as everyone wants to buy you cake.
Not so long ago, I celebrated my birthday with the children of Shelter Home and my friend, Debs, had brought a huge cake for all of us. Bless her, that was a surprise too, and what a wonderful surprise that was.
This year, my birthday hasn't arrived yet, but the presents have started pouring in. Someone sent me surprise flowers and wrote my birthday message in Bahasa and even addressed me appropriately – Puan Sri, which completely gave her away. I really have amazing people around me. Thank you.
I received a very peculiar birthday present amongst them and just had to share it with you.
It was an envelope for T1. Huh? My birthday how come envelope for T1???
Anyway, inside the envelope was a note to T1 which said:
Dearest T1,
This cheque is in support of your 2 Nations 1 Heart initiative because I believe in you.
Love, Aunty XXX (who happens to be quite the porn star)
I loved it. I loved that my birth date was written on the cheque so I had to get a picture of it. I love that my girl was the recipient of a beautiful message – one that made her smile so wide (and it wasn't even HER birthday). I loved that we continue to add to our Myanmar fund to really see amazing things happen with the Children of Myanmar. In such a short time. Once those kids are up and running, we move on with happy hearts.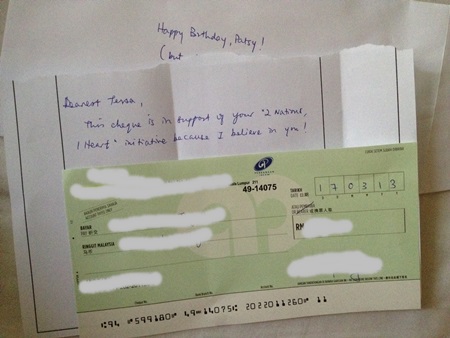 HAPPY DAYS!!!!!
Show your support and spread the love!