Every Sunday morning, Publika at Solaris Dutamas closes off its roads to cars from 7am to 10am to allow children to cycle, skate, run/walk, scoot, do cartwheels on a 1.2km track in a safe environment.
I cannot think of a greater way to spend a family Sunday morning.
They even rent out bicycles of all sizes (including those with training wheels and tandem bikes!)
FOR FREE!!!
We have been there half a dozen times now (thanks to Godpa Soorya who started this initiative and has now abandoned us) and have loved every minute of it.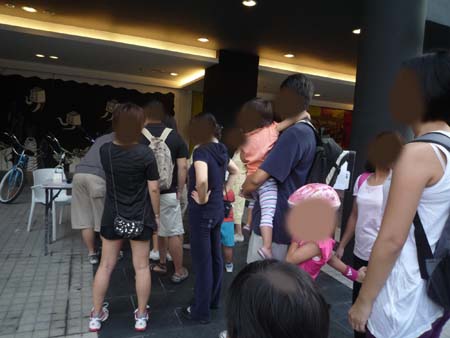 The queue to rent a bike. You go around to find the bike you want. Each bike has a number. Queue to put your name down for that particular bike (and your phone number) and voila, the bike is yours for half an hour.
.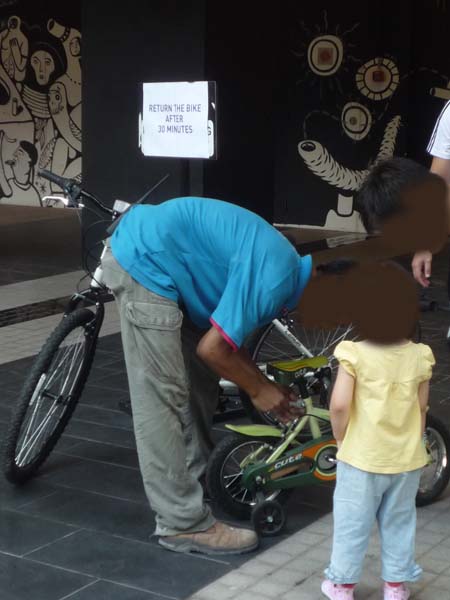 If the bike is too short or too tall, there are bike assistants there to assist. They even pump your bike tires if it feels too flat for your liking.
.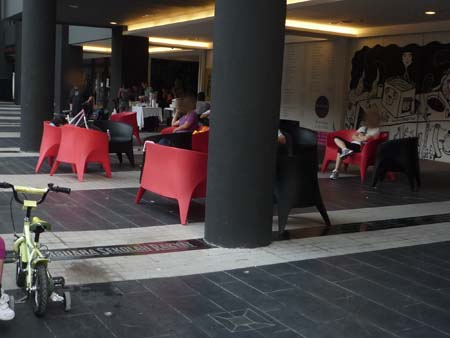 For the lazy ones who do not want to cycle and want to EAT NASI LEMAK instead, there is a table kiosk set up in the shade where you can get some early morning grub. If you wait a bit later, the bakery and some breakfast joints open up at the back on the path of your cycling track. You can literally cycle, stop for brekkie and continue cycling……
.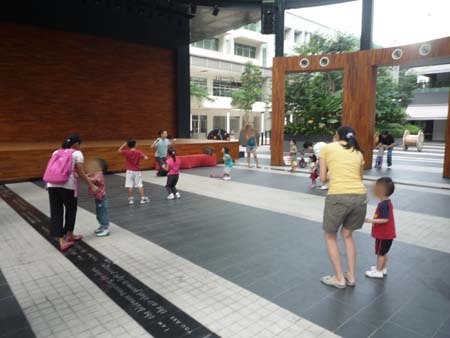 To warm up bright and early, there is an aerobic instructor with blasting music to get your heart pumping. Only kids usually participate as the adults are too shy-shy….(Kajagoogoo…..gosh, age revealing).
.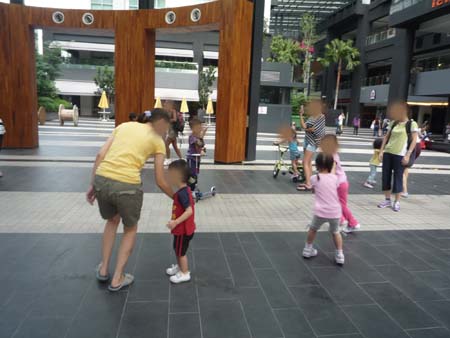 But look, there is ample space to cycle for kids even if you don't follow the cycling track.
.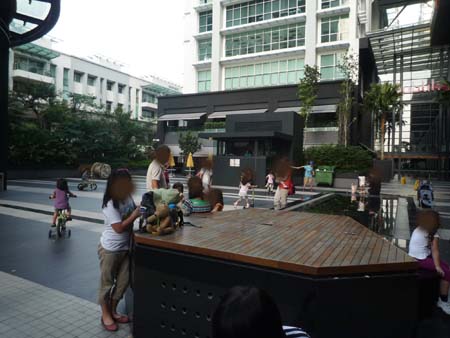 Many parents hang out here watching their kids cycle around the Publika courtyard.
.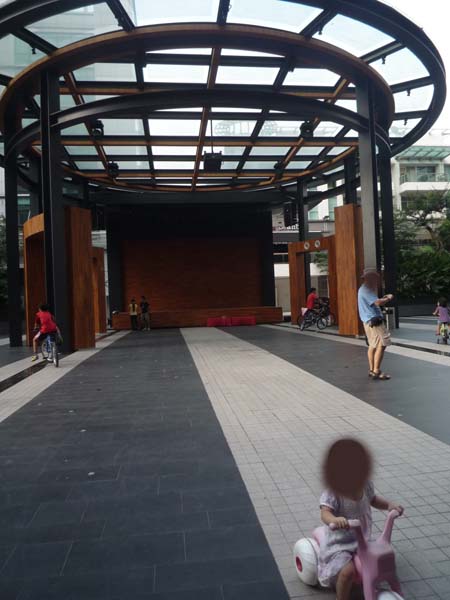 This is where T2 usually cycles although sometimes she insists on going on the track. Argh!
.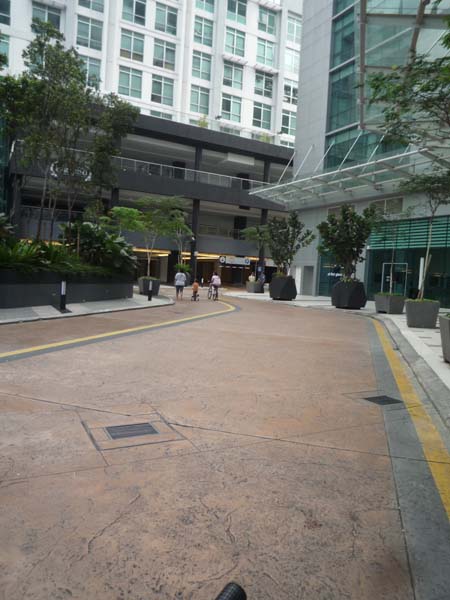 The track starts off here……just off the courtyard and begins with a gruelling slope UPHILL.
.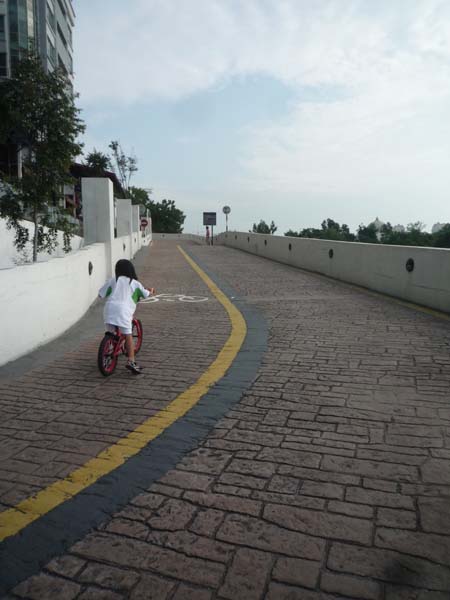 But thanks to my past trainer, I can cycle all the way up with my eyes closed. And fast! Thank you.
.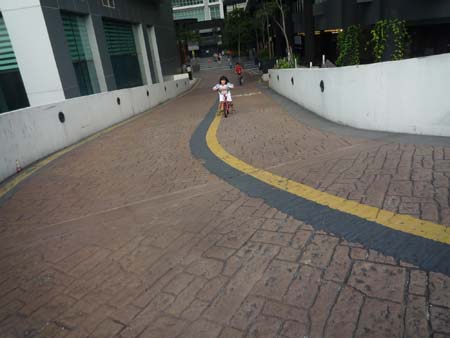 T1 is still working on it. She can do half way cycling, then she has to stop and push her bike for the remaining slope. The day she gets there will be a day to celebrate!
.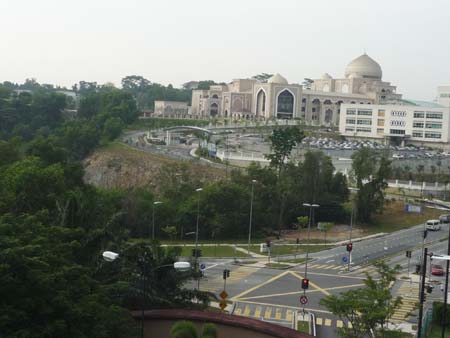 The view of the Palace new Syariah Courts that you get nowhere else. Of course, it is most beautiful when you are there at sunrise……except that the chances of us catching it are quite slim.
.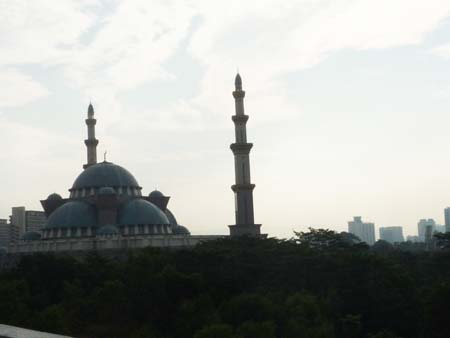 The view of the majestic Jalan Duta Mosque……sorry bad picture but this mosque has a special story and I know because I had to research it for one of my projects.
.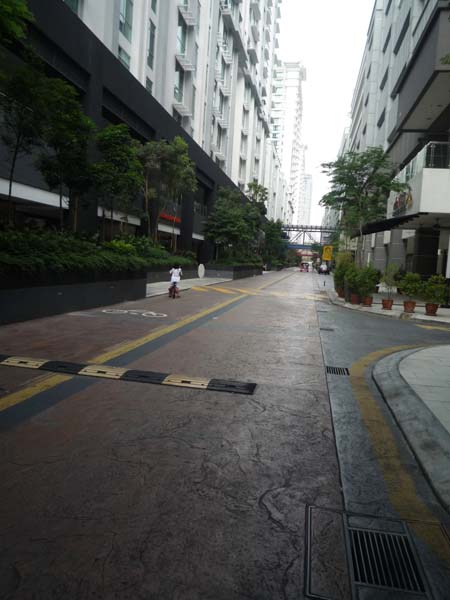 After the hill, this is Leg One of the track.
.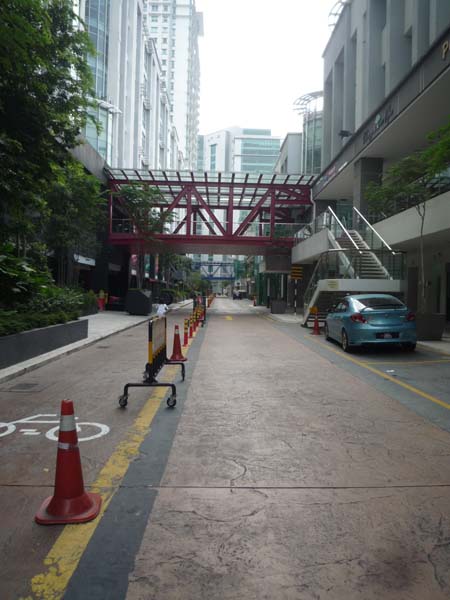 Further up the track…….
.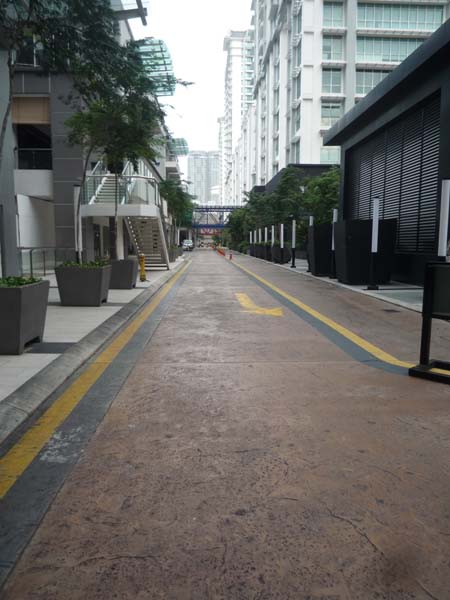 After cycling downhill, you will pass by Plan B and Chawan and hit Leg Two of the track.
.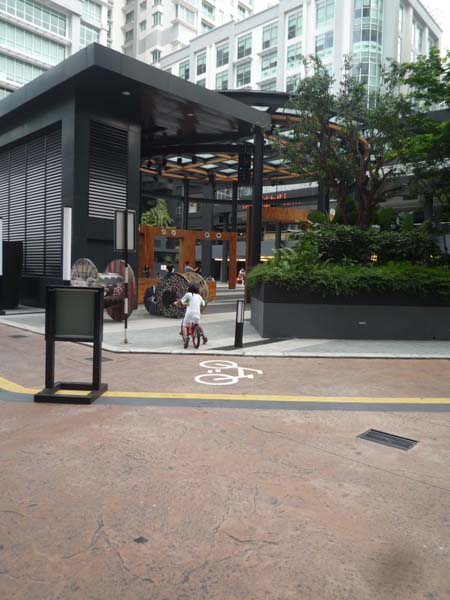 Before you arrive at the Publika Courtyard with the blasting music again…..
After our track work, we cycle around the courtyard to cool down. I usually do 4 laps of 1.2km within half an hour or less. My target is to do 5 laps next but it's hard with kids so I'm waiting for the opportunity where both kids will decide to just cycle around the courtyard and not interfere with my very serious cycling.
When T2 decided to do the tracks, it's nightmare time for me because she will only go a quarter of a quarter of the way and then, "Mommy, push??? Mommy, push please??? I'm tired….."
And do you know how back-breaking it is to bend over to push her in her hideous pink tricycle for 1.2km of the way???
After the cycling workout, we usually head up to the Publika Playground.
Or to the Marmalade playground……….
After a bite, we spend another hour or so just relaxing and watching the kids play at the playground.
Spiderman climbs a hill……..
Then makes us all climb it!
Bouncing away on the see-saw……despite being weightless.
Trying hard to master the Monkey Bars……
Wheelie Sundays at Publika? I highly recommend it. And if you come? Please come say hello.
**************************************************************************
Who is Mamapumpkin?
Mamapumpkin spent 7 years in London committing crimes to gain her Bartlett BSc in Architecture. She spent 7 years as a Stay At Home Mom raising her children as documented in this Mamapumpkin blog since over 10 years ago and thereafter returned to the Corporate World stronger than ever. Her last job as Country Director of a British Railway Signalling organisation saw her getting ill with an aortal and mitral heart valve regurgitation and early stage cancer. Through her journey from working to not working to working again, she sets out to prove to all women that they can do anything and everything that they set out to do; as long as they have that fire of desire burning within and the drive to work hard. Even better with oodles of love, passion and integrity.
Despite being ill, she has grown a network marketing business from very little knowledge and experience in the otherwise infamously known MLM (Multi-Level Marketing) industry, racing from an income of ZERO to RM 100,000 monthly in merely 2 years. She is a firm believer of the MLM business model but realises the pitfalls too and understands how and why the majority of people would shy away (or zoom far away) from any MLM business.
She is now pondering the title of her new book, From Zero to 100,000 RM monthly in 2 years and has a sequel in the pipeline with the aim of helping real professionals succeed in the World of MLM. Always the giver, Mamapumpkin has supported orphans for over 30 years and has now extended her care to the sick, single mothers, and even struggling families. She believes that with the MLM business model, we can all have a life of our own desires to enable real contribution into the world.
A beautiful life without limits.
Mamapumpkin currently manages the
Homeschooling Hub Malaysia on Facebook
. She also runs
Working Women Malaysia
(not THAT kind of Working Women!),
Mamapumpkin - Creating A Life of Abundance
, and Funky Moms on Facebook to offer REAL support to all women who want career and life success. She is a living testimony that women really can have a lot. Being financially free has enabled her to travel the world anytime anywhere doing anything, and she spends most of her day to day with her children, reading and supporting other women.
For enquiries, please contact her at mamapumpkin at gmail dot com or WhatsApp her at +6012-2333840
Show your support and spread the love!