Who might that be then???
My smart alec daughter, T1, is a smart alec. If she had been raised in my time, she would have just gotten a big slap across her face for every single retort she makes and believe me, sometimes, I feel like doing the same. However, the Hubs reminds me that the apple doesn't fall far from the tree and that she picks it up from me! He says it's genetic and to give her a break.
Hrrrmph.
For example, if I asked her when she would be off to take a shower after school, her answer would be, "NEVUHHHH!!!"
*rolls eyeballs*
A few weeks ago, she came home excitedly from school explaining that the class flew to Mexico that day and they had to buy tickets and get their passports stamped etc etc etc. She said it was SO FUN at school every day now since moving on to the International Syllabus.
The approach is entirely different and the kids get to leave the classroom to explore the school grounds, they play fun games practically every day, they play pretend and role play, it's all good fun and it even retains better in their brain, all the learnings.
She said that one of her friends asked the teacher if they needed money to pay for their tickets to Mexico and the teacher laughed. He said, "At this school, all your flight tickets are already paid for." Well, they better be after what we pay for school fees! But the reality is that their REAL trips to Europe are over and above – *wails*
A week later, she came home and told me that she and her class flew to Mexico again that day, on a Boeing 747, and I said, "Again???" wondering why the heck they were always flying to Mexico. The girl gave me an exasperated sigh and rolled both her eyeballs AND head a full big circle and exclaimed in frustration, "Do you honestly think we can learn all about Mexico in ONE DAYYYYYYY??????????"
Then she continued telling me about Mexico, how the pollution is very bad in Mexico and that traffic jams are so bad that they have a rota system where only certain number plates can go in on certain days to ease traffic, and that Mexico is a very old city inhabited by the Mayan tribes in the past etc. It was an amazingly interesting story and I commended her and her teacher for it because I myself was learning!
Then T1 asked in shock, "You mean you don't know all this???"
MAN!!! Did she deserve a slap???
I told her how LUCKY she was that she was able to have a good education, something so many kids don't have, and no, I did not know all this because in MY time, we did not learn about Mexico. All we learnt was about Malaysia and her neighbouring countries.
This girl is on the way to thinking that she is way cleverer than her own mother…….and I keep reminding her that being clever means JACK if you do not know how to be a good person, one who is kind and well mannered, one who is helpful and gracious, one who knows how to listen and empathise, one who is humble and hardworking…….the list goes on!
Every time I ask her for a favour, she will reply, "Yes, Your Majesty….." and runs off to get whatever it is I am asking for. She does this so often that now even T2 follows suit and and says, "Yes, Majesty…." whenever I ask HER to get something.
*roll eyeballs again*
Below, the two monkeys practise how to bow and curtsey to the QUEEN.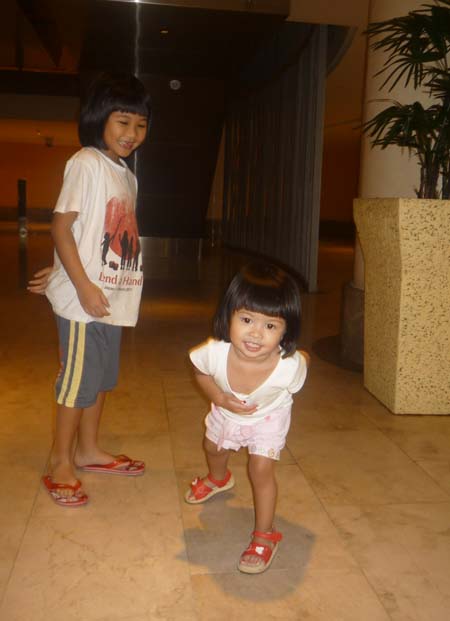 It's all fun and games for them…….
So where do we draw the line between kids retorting what they think are funny remarks but which to some could be considered as borderline rudeness???
I was brought up traditionally so any smart alec remarks were not allowed. Having said that, I am like that all the time with the Hubs, my kids, my friends……LOL. So to penalise them for their smart alec retorts seem harsh yet I don't want them growing up being rude. How?
I have to admit, some of the things they say are truly quite funny. How?
I'm actually being firm on the traditional values because as children, they need to know where the line is. If they want to go be smart alecs to other people later, so be it. But at least they know where the line is and should they cross it someday, they might just get punched for it. But at least I've done MY job.
**************************************************************************
Who is Mamapumpkin?
Mamapumpkin spent 7 years in London committing crimes to gain her Bartlett BSc in Architecture. She spent 7 years as a Stay At Home Mom raising her children as documented in this Mamapumpkin blog since over 10 years ago and thereafter returned to the Corporate World stronger than ever. Her last job as Country Director of a British Railway Signalling organisation saw her getting ill with an aortal and mitral heart valve regurgitation and early stage cancer. Through her journey from working to not working to working again, she sets out to prove to all women that they can do anything and everything that they set out to do; as long as they have that fire of desire burning within and the drive to work hard. Even better with oodles of love, passion and integrity.
Despite being ill, she has grown a network marketing business from very little knowledge and experience in the otherwise infamously known MLM (Multi-Level Marketing) industry, racing from an income of ZERO to RM 100,000 monthly in merely 2 years. She is a firm believer of the MLM business model but realises the pitfalls too and understands how and why the majority of people would shy away (or zoom far away) from any MLM business.
She is now pondering the title of her new book, From Zero to 100,000 RM monthly in 2 years and has a sequel in the pipeline with the aim of helping real professionals succeed in the World of MLM. Always the giver, Mamapumpkin has supported orphans for over 30 years and has now extended her care to the sick, single mothers, and even struggling families. She believes that with the MLM business model, we can all have a life of our own desires to enable real contribution into the world.
A beautiful life without limits.
Mamapumpkin currently manages the
Homeschooling Hub Malaysia on Facebook
. She also runs
Working Women Malaysia
(not THAT kind of Working Women!),
Mamapumpkin - Creating A Life of Abundance
, and Funky Moms on Facebook to offer REAL support to all women who want career and life success. She is a living testimony that women really can have a lot. Being financially free has enabled her to travel the world anytime anywhere doing anything, and she spends most of her day to day with her children, reading and supporting other women.
For enquiries, please contact her at mamapumpkin at gmail dot com or WhatsApp her at +6012-2333840
Show your support and spread the love!