LOTS of photos and this is only Part 1 – HuHu.
The first misconception of The Danna is that the resort does not have a beach because their poor website that really doesn't do the resort any justice gives this impression! So allow me to confirm that there really IS a beach and here it is. It was literally less than a hundred meters away from our bedroom.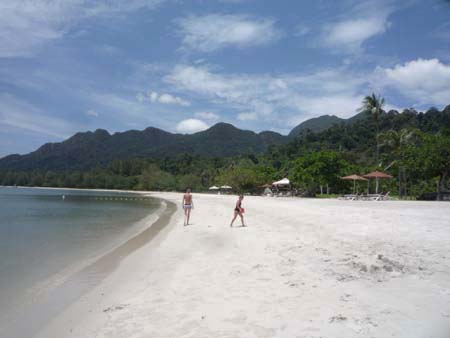 .
Another misconception is that it is a big white block of a building that has a marina nearby. Literally today, when someone asked me about my stay there, she then said she was shocked when she saw my pictures as the impression she got was completely different from the website when she was booking her trip to Langkawi last year. Mind you, even I have crap pictures but The Danna website does not show you her true essence, which I promise you is so, SO much more. The resort should just hire a better marketing team to get it right – they have the potential of being Langkawi's Number One! Maybe they don't need the extra business…….?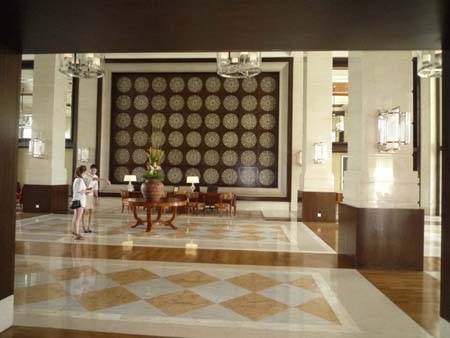 The above is the main lobby of The Danna. Over the school holidays, my family and I spent a week there and we had THE most fabulous time. We didn't do much in Langkawi. We didn't have to. We were completely content just chilling at The Danna for the week.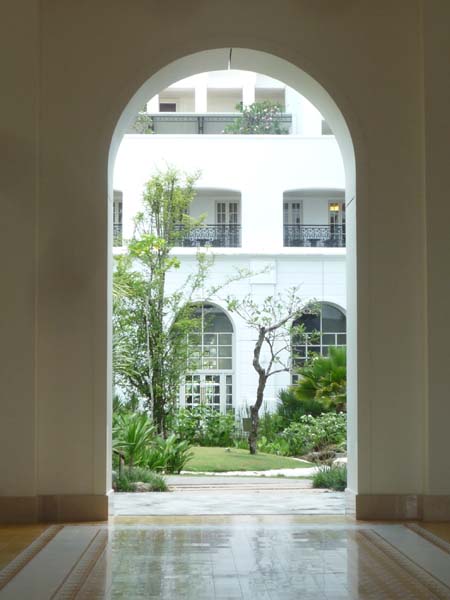 The first thing that hits you about The Danna is its vast, tall, TALLLLLLLLLLLLL double, triple, quadruple, I don't know how manyple height space. KABOOM!!! I promise you, it takes awhile to sink in, the big space. You could embrace it in a minute but we were there all week, and we still basked in all its glory and really wowed the grandeur of its simplicity.
.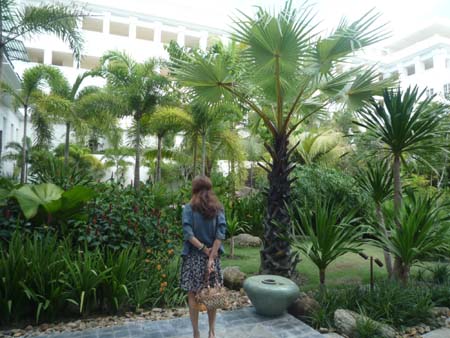 There is an internal courtyard that allows a crisp laser of light to cut right through from the main entrance straight out to the sea. I truly take my hats off to the lady architect who designed the space (correct me if I'm wrong). Kudos. The detailing of the entire resort is amazing.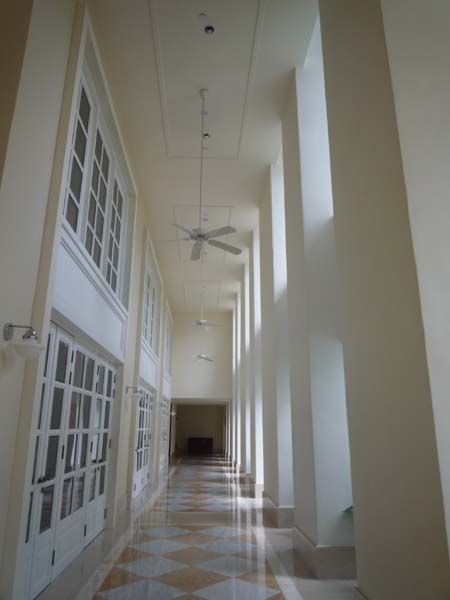 Even corridors such as the above are tall and grand needing extra long fans to circulate the fresh air that travels…..
.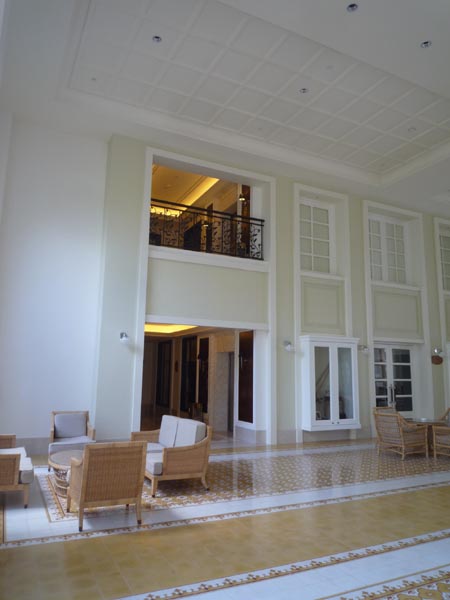 We were like ants on Earth. How they ever get to clean that ceiling I do not wish to know.
.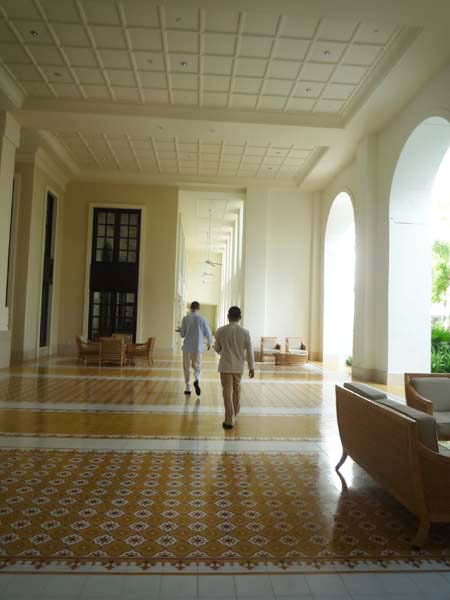 Well servicing waiters with a smile at all times but this time I got their behinds. Oh, hush!
.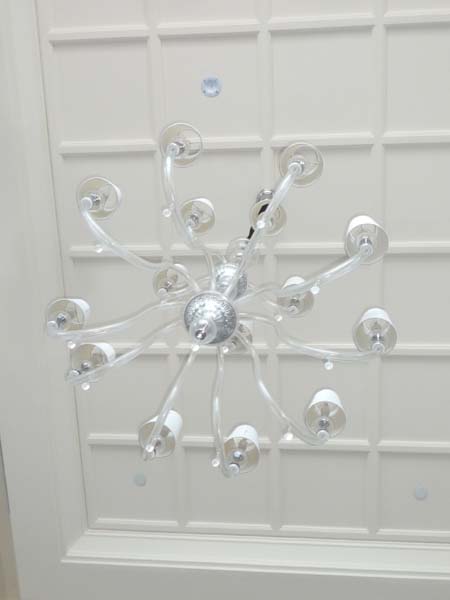 I kept wondering if ceilings and lights ever got cleaned as they were so high! They do look pretty clean, right?
.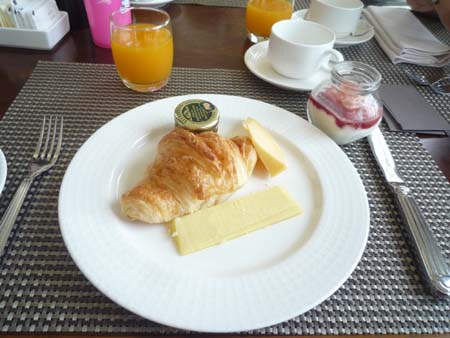 As we'd taken the first MAS flight out, we arrived just in time for breakfast. That was what T2 had for breakfast, not me. I had something much larger! We were on holiday, yo!
.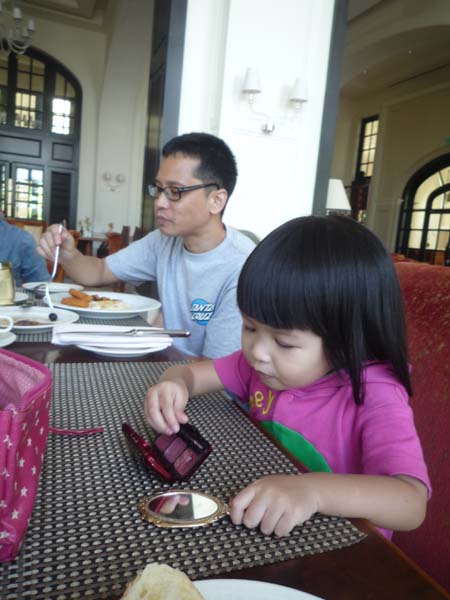 After her breakfast (that's her in her Barney outfit which she wore to sleep the night before!), she entertained herself with MY lip gloss.
.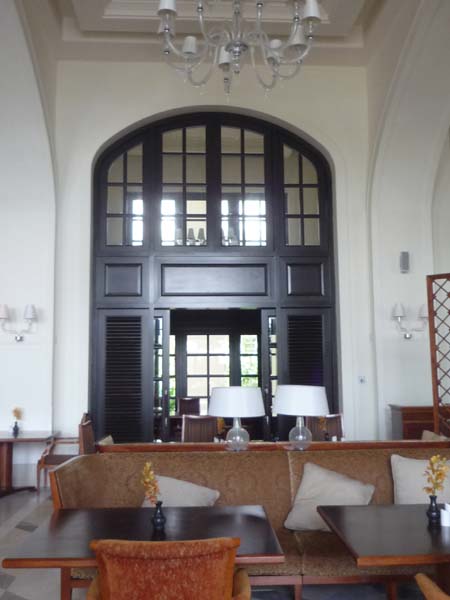 Doors and openings are all so tall! Please excuse me as I go on and on about the heights. It could be that I am extremely short that the height is magnified from my rose tinted low shades.
.
After breakfast, we walked out to the breakfast deck to inhale the sea and devour the beauty surrounding us.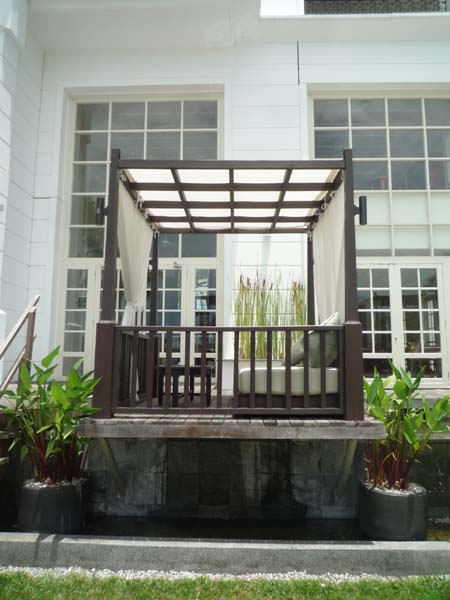 .
And the kids squealed that they wanted to go swimming now. Like NOW!!!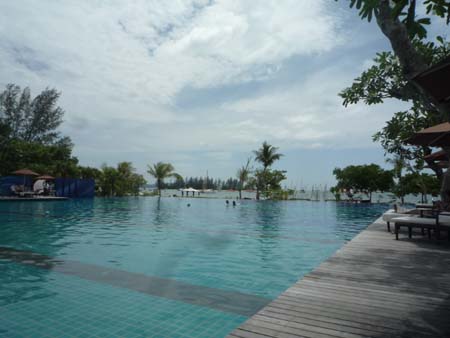 We offered all sorts of excuses, of course.
There are sharks in there in the morning!
There is a special rule that we have to take turns in the pool!
This pool is not for children, period.
These chairs looked pretty but were hardly used……I never even got to try them myself. They looked sort of more apt for honeymooners? I kept imagining them closing the hoods (like the IKEA egg chair) and having little nookies within.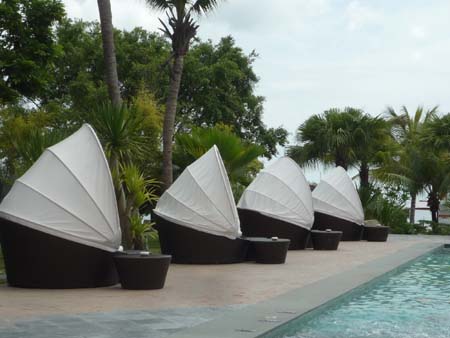 .
I cannot get a single decent picture with my girl so I've accepted that this is us.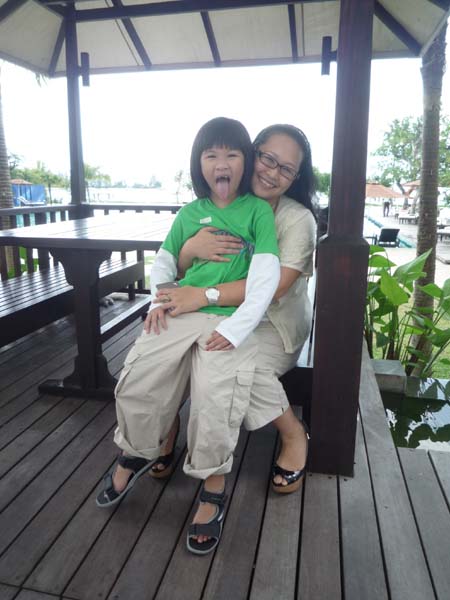 .
We finally decided to freshen up in our suite and these are the views that caught my eye. The internal courtyard…..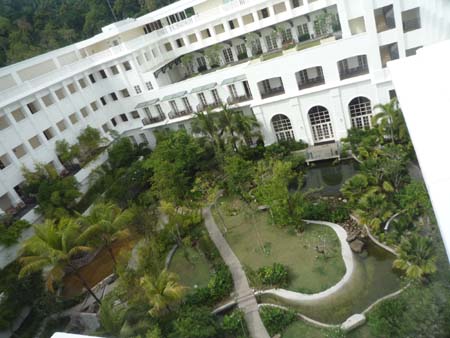 .
Rooms with gardens……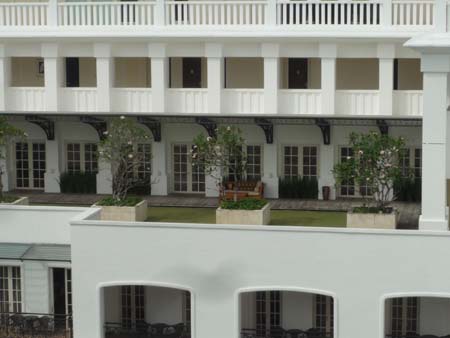 .
Rooms with private gardens……..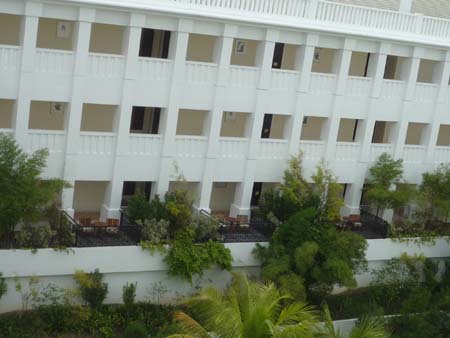 .
Now this reminded me of a monastery for the long corridors of white against the backdrop of green lush forest and a white sky. Purity. The resort does offer a sense of calm……..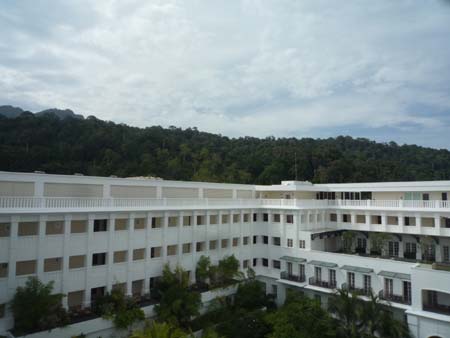 .
Balustrading….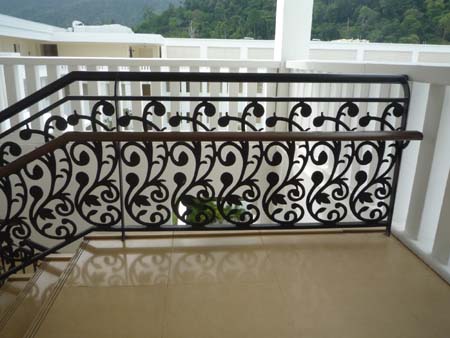 .
There was a Koi Pond on the way to our rooms along this timber deck……..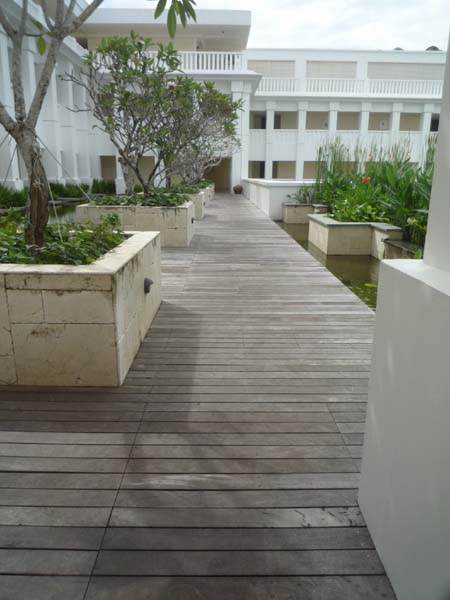 .
And this was the corridor right outside our rooms…….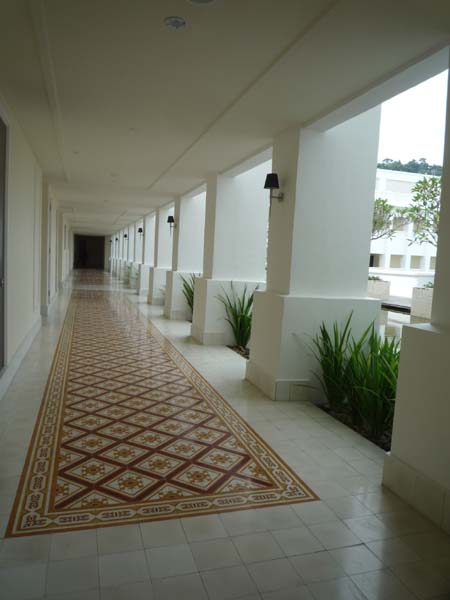 .
As for the rooms, I'll put that in another post but here's a sneak peak. T1 ran to the jacuzzi and excitedly said, "Mom! The bathroom is bigger than my bedroom!!"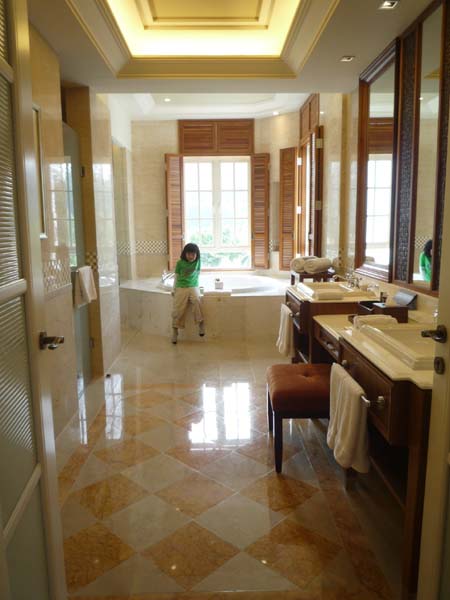 .
Despite the lies, we still found ourselves by the pool within 10 minutes. Bah. No rest at all…..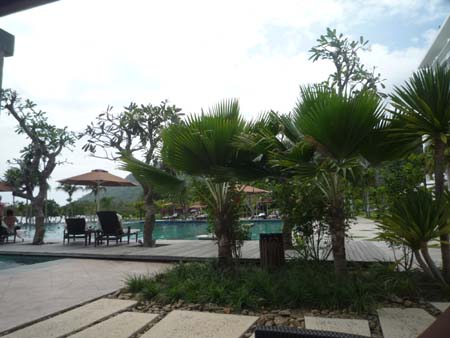 .
But thankfully, T1 met a girl her age and didn't need much entertainment from us.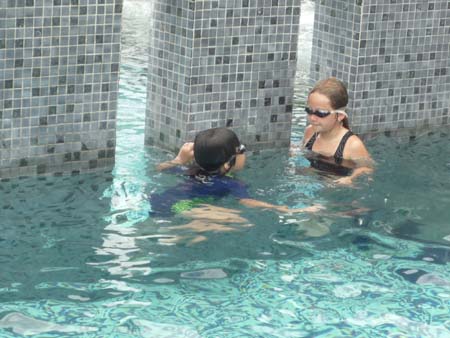 .
Did you hear me say YAY!!!???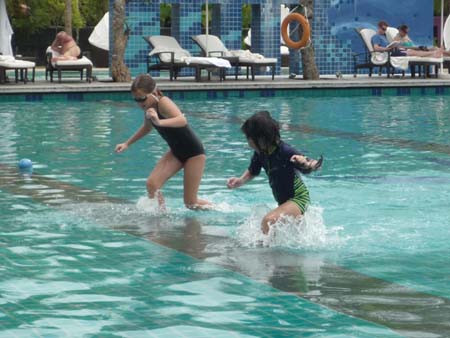 .
Soon after, we got to test The Danna's F&B and I'd readily give it a thumbs up! We had a half and half customised pizza and a club sandwich. It was good!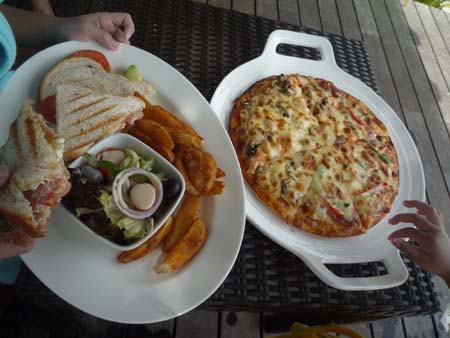 .
After all that swimming and playing and lunch, someone fell into food coma.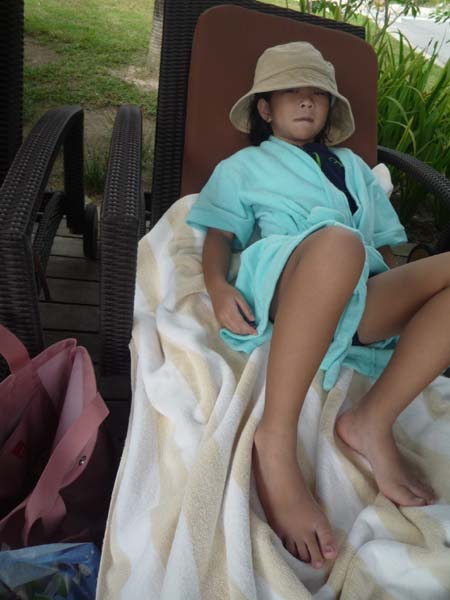 .
It is a great pool. Lots of interesting areas within the pool that made it the focal point of the entire resort. The kids LOVED the pool and so did we. It was big enough that every guest had their own space and lots of different levels for people of all heights to be comfortable with. And then the little fountains and bubble jet sprays all around……plus the openings where kids could weave in and out. Great architect, I'm telling you! Being trained as an architect myself, I was truly impressed.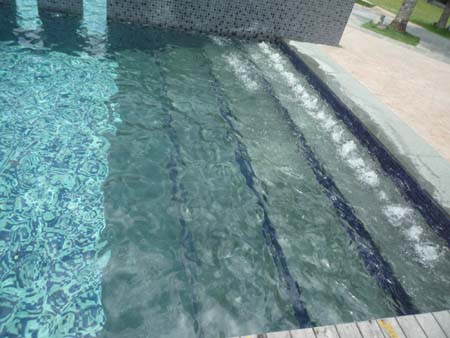 .
Another thing I loved was that the deck chairs were subtly 'swimming' on water. If it got too hot and you were too lazy to move, all you needed to do was reach below for some H2O. Splash-Splash and Voila!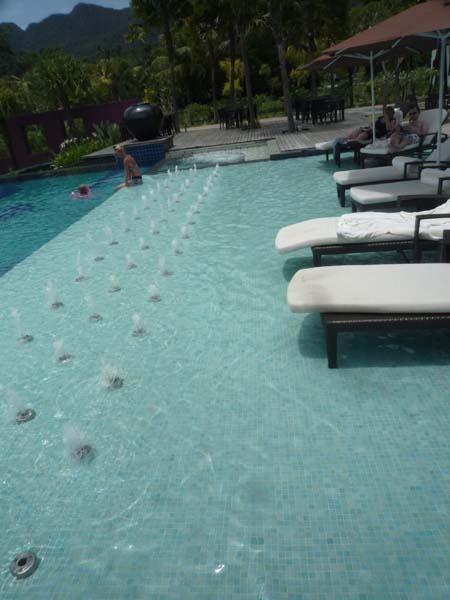 .
Not only did the pool have water, the entire resort was enveloped with water. Feng Shui must be damn good.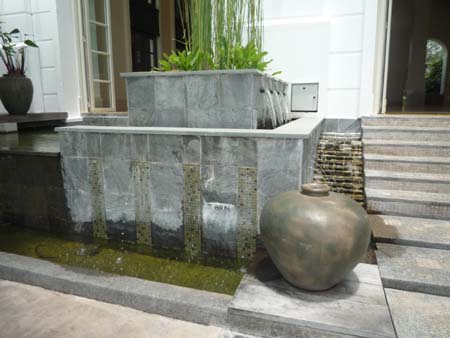 .
ANOTHER thing I loved was that these women carrying purple baskets walk around the poolside and at first I thought they were handing out cold towels to guests but it turned out they were there for giving massages by the poolside. We were also surprised by cold iced water with fresh lemon and cut cold watermelon served all on the house. We didn't order it. Little details like this maketh a special experience.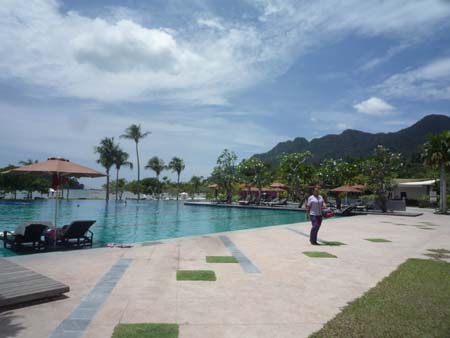 .
Whilst the kids had their shower after that long swim, I made my way to the sky level to luxuriate in some spices……..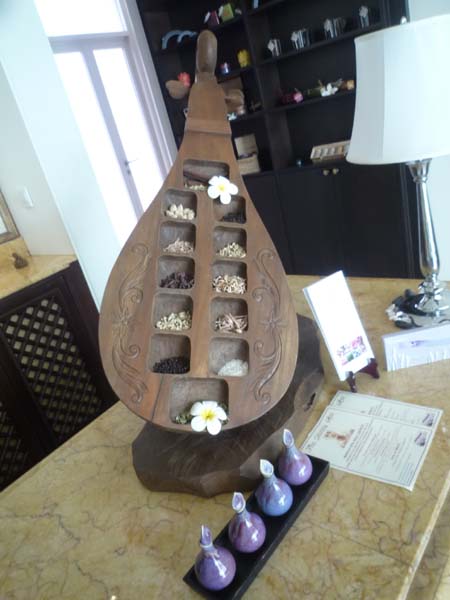 .
And the massage was very good.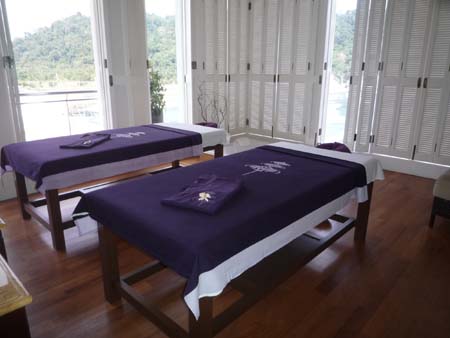 The End.
Stay put for Part 2.
**************************************************************************
Who is Mamapumpkin?
Mamapumpkin spent 7 years in London committing crimes to gain her Bartlett BSc in Architecture. She spent 7 years as a Stay At Home Mom raising her children as documented in this Mamapumpkin blog since over 10 years ago and thereafter returned to the Corporate World stronger than ever. Her last job as Country Director of a British Railway Signalling organisation saw her getting ill with an aortal and mitral heart valve regurgitation and early stage cancer. Through her journey from working to not working to working again, she sets out to prove to all women that they can do anything and everything that they set out to do; as long as they have that fire of desire burning within and the drive to work hard. Even better with oodles of love, passion and integrity.
Despite being ill, she has grown a network marketing business from very little knowledge and experience in the otherwise infamously known MLM (Multi-Level Marketing) industry, racing from an income of ZERO to RM 100,000 monthly in merely 2 years. She is a firm believer of the MLM business model but realises the pitfalls too and understands how and why the majority of people would shy away (or zoom far away) from any MLM business.
She is now pondering the title of her new book, From Zero to 100,000 RM monthly in 2 years and has a sequel in the pipeline with the aim of helping real professionals succeed in the World of MLM. Always the giver, Mamapumpkin has supported orphans for over 30 years and has now extended her care to the sick, single mothers, and even struggling families. She believes that with the MLM business model, we can all have a life of our own desires to enable real contribution into the world.
A beautiful life without limits.
Mamapumpkin currently manages the
Homeschooling Hub Malaysia on Facebook
. She also runs
Working Women Malaysia
(not THAT kind of Working Women!),
Mamapumpkin - Creating A Life of Abundance
, and Funky Moms on Facebook to offer REAL support to all women who want career and life success. She is a living testimony that women really can have a lot. Being financially free has enabled her to travel the world anytime anywhere doing anything, and she spends most of her day to day with her children, reading and supporting other women.
For enquiries, please contact her at mamapumpkin at gmail dot com or WhatsApp her at +6012-2333840
Show your support and spread the love!