I miss both my Nannies, I really do. My British Nanny was a friend of T2's old British teacher at one of those play schools and really one in a million. Everyone would ask me, where on Earth did I find myself a British Nanny??? She was a great girl, worked in many fields and had always worked, even as a kid thus very hard working. Her last job in the UK was a dental surgeon's assistant and she was due back to go to University to study Dentistry. She also had studied nursing and was a qualified nurse and had done child psychology and worked with children at play schools in the UK. Thus she was the perfect Nanny…….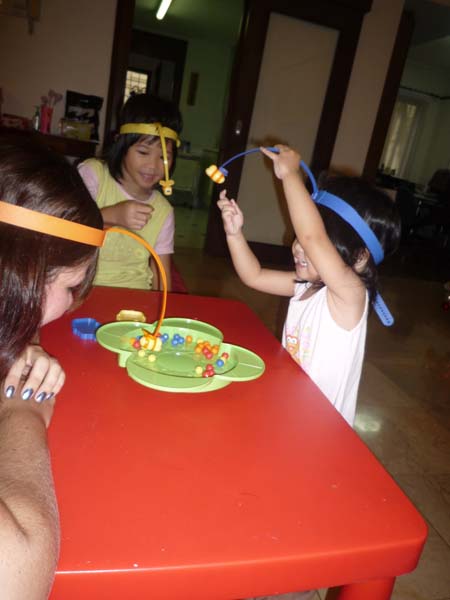 What I really loved about her was that she was very creative. Compared to many of the straight A students and high ranking adults that we get here in Malaysia, she was way more creative than most of them. And you know, with children, you NEED to be creative in order to manage them best. There are only 3 people in this entire world who can control my kids and make them do what they don't want to do and that is Nana, Uncle Ben and my British Nanny. Even I can't do it. These 3 people, think on their feet and can snap up with such wonderful ideas that can get the kids to do things I cannot get them to do. It's a talent, I'm telling you!
It also makes me think about our education system. My British Nanny came from a typical English school where there was no pressure, no need to get A's, and yet, she has turned out to be extremely smart and is able to think out of the box. I don't think our education system gives much practise for our kids to think in various lengths and dimensions. Thus as parents, we need to challenge them for if we don't, they join the flock of graduates who only know how to read and do work. They will always be followers.
A Very senior engineer from the UK recently told me that he interviewed 15 local graduates (of which 2 came from abroad) together with the HR of the company and not a single one of them could answer the most basic of questions. None of them could think on their feet, only one! They were applying as management trainees……so sad. SO SAD. How to compete on an international platform then?
So my point is, if a kid who follows the British Ed system, who's allowed lots of play and in the end doesn't end up being a Doctor or a Lawyer or an Engineer blablablbalblabla……..she might still just end up smarter than our local Doctors and Lawyers and Engineers. I kid you not.
**************************************************************************
Who is Mamapumpkin?
Mamapumpkin spent 7 years in London committing crimes to gain her Bartlett BSc in Architecture. She spent 7 years as a Stay At Home Mom raising her children as documented in this Mamapumpkin blog since over 10 years ago and thereafter returned to the Corporate World stronger than ever. Her last job as Country Director of a British Railway Signalling organisation saw her getting ill with an aortal and mitral heart valve regurgitation and early stage cancer. Through her journey from working to not working to working again, she sets out to prove to all women that they can do anything and everything that they set out to do; as long as they have that fire of desire burning within and the drive to work hard. Even better with oodles of love, passion and integrity.
Despite being ill, she has grown a network marketing business from very little knowledge and experience in the otherwise infamously known MLM (Multi-Level Marketing) industry, racing from an income of ZERO to RM 100,000 monthly in merely 2 years. She is a firm believer of the MLM business model but realises the pitfalls too and understands how and why the majority of people would shy away (or zoom far away) from any MLM business.
She is now pondering the title of her new book, From Zero to 100,000 RM monthly in 2 years and has a sequel in the pipeline with the aim of helping real professionals succeed in the World of MLM. Always the giver, Mamapumpkin has supported orphans for over 30 years and has now extended her care to the sick, single mothers, and even struggling families. She believes that with the MLM business model, we can all have a life of our own desires to enable real contribution into the world.
A beautiful life without limits.
Mamapumpkin currently manages the
Homeschooling Hub Malaysia on Facebook
. She also runs
Working Women Malaysia
(not THAT kind of Working Women!),
Mamapumpkin - Creating A Life of Abundance
, and Funky Moms on Facebook to offer REAL support to all women who want career and life success. She is a living testimony that women really can have a lot. Being financially free has enabled her to travel the world anytime anywhere doing anything, and she spends most of her day to day with her children, reading and supporting other women.
For enquiries, please contact her at mamapumpkin at gmail dot com or WhatsApp her at +6012-2333840
Show your support and spread the love!