30/12/12 – NEW POSTS FOR THIS BLOG ARE AFTER THIS POST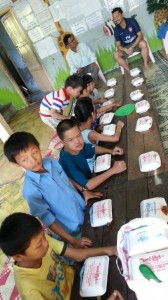 HELP NEEDED FOR THE CHILDREN OF MYANMAR
These are the kids from one of the Myanmar orphanages that T1 and I met whilst in Yangon. This photo was taken this Christmas day and it was such a big deal for them because they got to eat something special. See the take-away boxes? Doesn't it look like our take-away chicken rice boxes from the stalls? How many of us go to the stalls for Christmas?
To top it off, they each got a Christmas present!!
Wait. Hear this.
It was one egg each.
For Christmas.
Now you and I, we can probably eat eggs anytime we want, yes? Unless, we're allergic to eggs, of course. But to these kids, eating an egg was special. It was a treat.
For Christmas.
I'm upset right now because we were just informed that these same kids above are about to be evicted from their home and need to find a new home within the next two months. They need RM12,000 for a year's rent which they do not have. In Myanmar, you have to pay your whole year's rent upfront and right now, it is a landlord's market.
I was planning to raise funds before I returned to Yangon in March 2013 for my birthday so that another orphanage could repair their well for clean drinking water and renovate their flooring so it doesn't collapse on them. Now, rentals too, until they can afford a house – RM3m for a house!! Bloody ridiculous!!! It's not even for a mansion!!!
The kids do not know yet, of course. We wanted them to enjoy their Christmas.
One egg.
One egg each. Can you please highlight this reality to your kids?
In March, T1 and I will visit Yangon again to bring the kids more money and books and stationery. My aim is to raise RM50,000 – a REALLY tall order in the span of less than 3 months.
But I can do it. I'm sure I can do it. For the Grace of God, I can do it.
HELP is NEEDED FOR THE CHILDREN OF MYANMAR
Last month, we hand carried 120kg worth of clothes, just me, T1 and my childhood friend. Next year, I hope Air Asia will be kind enough to spare us the extra baggage cost. It is after all for a good cause and none of the baggage was ours. We brought our own belongings on board the plane.
The picture below show us organising the clothes at the hotel room in Yangon before delivery on my last trip. Can you spot T1?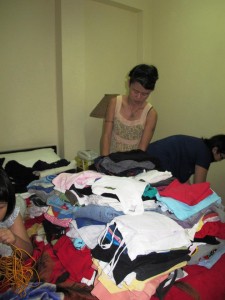 The money will go towards supporting 280 kids in Yangon who belong to 3 parent-less homes. I have met these kids myself. T1 has played with them. We have communicated with them. We want to help them. We want to improve their lives.
Despite living in horrible conditions, we want to ensure that they have a home to sleep in at all times and are fed. Further down the line, we want to ensure they get an education and then start making a living, so they can start taking care of the rest.
Below, a drawing of a broken heart by one of the kids during an art class. My friend in Yangon, the most amazing person on planet Earth, she sacrifices her weekends to spend time teaching the kids anything and everything – English, Math, Art, Life Skills, Cooking etc.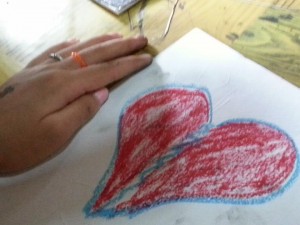 For the immediate future, the RM50,000 would go towards:-
1. Rental for one home for an entire year – RM12,000
The picture below is the home that 25 kids live in. They are the same ones about to be evicted by February 2013. Within the next 2 months, they need to find a new home. They sleep on the bare floor and if you can see the stuff at the back left, it is all their belongings. Everything they own is there, tucked away in a tiny corner of the room. 25 kids. These poor kids, they have to move every time their landlord kicks them out or if they cannot pay their rent. I wish some kind soul would just buy them a house and be done with all this moving! It is so disruptive for kids!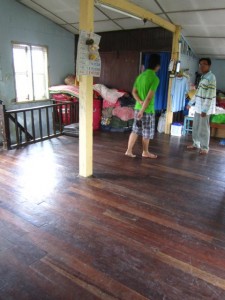 2. Fixing of water well so kids have clean drinking water – RM5,000.
When it rains, it stinks. The children at this home below are all boys who may or may not become monks one day. They drink their water from a well and currently, it is dirty and spoilt. The well needs to be fixed so that the kids can at least have decent drinking water.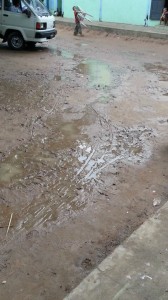 3. Fixing of timber flooring, roof and structure so sleeping area doesn't collapse and kids will no longer get wet when it rains – RM20,000
At this home, 130 boys cramp onto this floor below like sardines. Can you see the holes on the floor? There are holes in the roof too. This is home to 230 kids in total.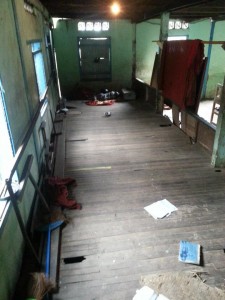 4. Feeding the Children of Myanmar – it costs RM6,000 per annum plus minus to feed one kid (inclusive water, gas etc). We have 280 kids. Their meal consists of rice noodles or bread for breakfast every morning, and for lunch and dinner, it is rice and one dish. That's more than RM1.5 million per annum. If there is any fruit at all, it is from the backyard banana tree.
But bless my friend in Yangon, she regularly brings them treats or cooks for them, such as below, she cooked them spaghetti! It was their first time ever eating spaghetti. She pays for all this out of her own pocket. I would like to help her help the kids so she doesn't have to be so burdened financially. May God bless her and her family forever and ever.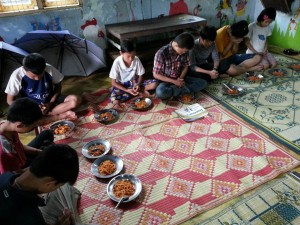 I am committed to the Children of Myanmar. T1 and I will continue to serve them and improve their lives. It is the least we can do after what they've done to ours. If you would like to contribute to the Children of Myanmar, please transfer any amount of funds in helping me raise my first RM50,000 towards the Children of Myanmar.
HELP IS NEEDED FOR THE CHILDREN OF MYANMAR
My bank details below:-
Name: Patricia Woo
************************
HSBC Bank Malaysia Bhd, Menara Milenium Branch
Savings Account: 359 – 068285 – 025
Swift Code: HBMB MYKL
************************
Maybank2U
Savings Account: 1644 – 9025 – 6705
Swift Code: MBBE MYKL
*************************
When transferring any funds, please email me with your name and full contact details and the amount offered to mamapumpkin at gmail dot com. Please refrain from being anonymous as that would drive me crazy. I can swear your gift of love to secrecy but I don't want to go crazy doing my accounts.
I welcome every little bit of help that I can get, even RM10 or RM1 as every little bit adds up and rest be assured you will be seeing the progress and life improvements that you are making towards these kids lives right here and on my FB page.
Thanking you in advance from both T1 and myself, and without a doubt, the Children of Myanmar.
HELP is NEEDED FOR THE CHILDREN OF MYANMAR
See more pictures here how the children of Myanmar have to work.
See this report on how kids are recruited and tortured for the army.
**************************************************************************
Who is Mamapumpkin?
Mamapumpkin spent 7 years in London committing crimes to gain her Bartlett BSc in Architecture. She spent 7 years as a Stay At Home Mom raising her children as documented in this Mamapumpkin blog since over 10 years ago and thereafter returned to the Corporate World stronger than ever. Her last job as Country Director of a British Railway Signalling organisation saw her getting ill with an aortal and mitral heart valve regurgitation and early stage cancer. Through her journey from working to not working to working again, she sets out to prove to all women that they can do anything and everything that they set out to do; as long as they have that fire of desire burning within and the drive to work hard. Even better with oodles of love, passion and integrity.
Despite being ill, she has grown a network marketing business from very little knowledge and experience in the otherwise infamously known MLM (Multi-Level Marketing) industry, racing from an income of ZERO to RM 100,000 monthly in merely 2 years. She is a firm believer of the MLM business model but realises the pitfalls too and understands how and why the majority of people would shy away (or zoom far away) from any MLM business.
She is now pondering the title of her new book, From Zero to 100,000 RM monthly in 2 years and has a sequel in the pipeline with the aim of helping real professionals succeed in the World of MLM. Always the giver, Mamapumpkin has supported orphans for over 30 years and has now extended her care to the sick, single mothers, and even struggling families. She believes that with the MLM business model, we can all have a life of our own desires to enable real contribution into the world.
A beautiful life without limits.
Mamapumpkin currently manages the
Homeschooling Hub Malaysia on Facebook
. She also runs
Working Women Malaysia
(not THAT kind of Working Women!),
Mamapumpkin - Creating A Life of Abundance
, and Funky Moms on Facebook to offer REAL support to all women who want career and life success. She is a living testimony that women really can have a lot. Being financially free has enabled her to travel the world anytime anywhere doing anything, and she spends most of her day to day with her children, reading and supporting other women.
For enquiries, please contact her at mamapumpkin at gmail dot com or WhatsApp her at +6012-2333840
Show your support and spread the love!