Do you know how when you enter some branded stores in KL and if you're not dressed to the nines with your 3 carat diamond ring on, and if the store employees don't know who you are, you might just get snubbed or ignored? Well, that didn't happen to me at Ferragamo at the Pavilion.
The bunch of girls there were the loveliest, most patient, humble team. I had T2 with me and we lasted almost 2 hours in there. T2 didn't mind because as you know, she loves shopping. Period. Put T2 in a store that has shoes, bags or clothes, and she's quiet. Oh, and hair accessories. She is truly a girly girl. T1 on the other hand would be bored to death and beg to be in a book store instead.
How does anyone spend 2 hours at Ferragamo? When I was single and working to earn good money, I used to hop downstairs at KLCC to buy my staple Ferragamo shoes but this took no more than half an hour. I saw, I liked and I signed. Ferragamo had REALLY good quality shoes for women then.
I'll tell you why I loved the staff at Ferragamo Pavilion so much. They catered to T2's requests as well as mine without a single hint of a smirk, nor a sigh and did it for 2 whole hours ALL SMILES. I can bet your sweet ass that not every branded store has that kind of service. Even my own heart paced as T2 tried on their high heels, I kept thinking to myself, "May the Good Lord be kind to us when T2 accidentally scratches or breaks one of their brand new shoes and not so much that Ferragamo would just charge us for it but more so what Daddy would say!"
For such great service, I'd already decided I'd buy 3 pairs of shoes since I needed a classic black pair of court shoes for work, a beige pair and a navy pair. I wanted a blue bag too but the budget did not permit it in a day. The Hubs would have asked the Pavilion to clamp the security bars down on me. Hey, my old Ferragamo shoes are still as good as gold today from 15 years ago I kid you not!!! The only slight problem is err….that I can no longer fit into any of them because my feet have grown a whole size bigger after my 2 madams.
Below is two thirds of the shoes I tried on. Only. Every other customer who walked in must have thought I was a shoe nut case. And a shining example to my little T2 at that. Hmmm.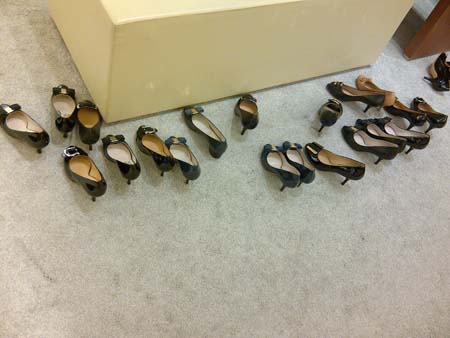 For first class service, I must go back to get a new bag from them. Oops. I didn't say that. I won't do the shoes any more though because I've discovered that the shoes from Ferragamo now are not of the same quality of the Ferragamo shoes I had back in the day. Very different in fact. They are now lighter, thinner, and well, not so durable I would expect.
I gave a brand new pair of red Ferragamo sandals to my brother's girlfriend once and then they broke up! I am now more stingy with presents!
If only KL had a Loubie store……
******************************************************
Just for the record, my cousins and I walked into Prada at the Pavilion last week and we were the only customers at the store yet the two gentlemen who were by the door doing some stock calculations (or whatever it is they were doing) not only did not greet us (which is OK, I don't expect to be greeted) but when we wanted to go behind them to look at some bags, they didn't budge nor offer to help nor did they look at us or anything!!! They even saw us eyeing a bag beyond our reach at higher level but no offer to assist at all.
And of course, due to such crap service, I subtly convinced my cousin not to make a hasty investment and to look further. And the moment we exited the store, my male cousin who was just following us around (as bodyguard) commented that they were so rude in there. Hah! So I wasn't the only one who thought so!
Might as well buy Prada from Italy where it's really cheap.
**************************************************************************
Who is Mamapumpkin?
Mamapumpkin spent 7 years in London committing crimes to gain her Bartlett BSc in Architecture. She spent 7 years as a Stay At Home Mom raising her children as documented in this Mamapumpkin blog since over 10 years ago and thereafter returned to the Corporate World stronger than ever. Her last job as Country Director of a British Railway Signalling organisation saw her getting ill with an aortal and mitral heart valve regurgitation and early stage cancer. Through her journey from working to not working to working again, she sets out to prove to all women that they can do anything and everything that they set out to do; as long as they have that fire of desire burning within and the drive to work hard. Even better with oodles of love, passion and integrity.
Despite being ill, she has grown a network marketing business from very little knowledge and experience in the otherwise infamously known MLM (Multi-Level Marketing) industry, racing from an income of ZERO to RM 100,000 monthly in merely 2 years. She is a firm believer of the MLM business model but realises the pitfalls too and understands how and why the majority of people would shy away (or zoom far away) from any MLM business.
She is now pondering the title of her new book, From Zero to 100,000 RM monthly in 2 years and has a sequel in the pipeline with the aim of helping real professionals succeed in the World of MLM. Always the giver, Mamapumpkin has supported orphans for over 30 years and has now extended her care to the sick, single mothers, and even struggling families. She believes that with the MLM business model, we can all have a life of our own desires to enable real contribution into the world.
A beautiful life without limits.
Mamapumpkin currently manages the
Homeschooling Hub Malaysia on Facebook
. She also runs
Working Women Malaysia
(not THAT kind of Working Women!),
Mamapumpkin - Creating A Life of Abundance
, and Funky Moms on Facebook to offer REAL support to all women who want career and life success. She is a living testimony that women really can have a lot. Being financially free has enabled her to travel the world anytime anywhere doing anything, and she spends most of her day to day with her children, reading and supporting other women.
For enquiries, please contact her at mamapumpkin at gmail dot com or WhatsApp her at +6012-2333840
Show your support and spread the love!