Recently, at my Eat Well Class, I was supposed to design a Dream Board or whatever you want to call it…..some people call it a Mood Board, some people call it a Pin Board, it's essentially a board put together of nice things, all the nice things that you want in life in the shorter or longer term. The belief is that if you see and visualise your board every day, it will remind you of all the things that you want and to stay focused in achieving what you really want.
So off we headed to the shops, a RM100 investment to buy 2 A2 boards (one for myself and one for my T2), some pins for the board, ribbons and magazines. Why magazines? Because we have NONE at home. NONE.
We spent a lovely afternoon just creating and cutting and pasting. It was so fun, a real Mommy-Daughter project. I did my thing, she did hers and there was no clash-over. It was awesome.
This is the result of hers which completely blew me away because I was expecting something totally different, one filled with cool toys and gadgets, cool clothes and shoes, cool holidays and cool stuff. Y'know??? Stuff that a typical 8 year old would want and desire!! But no. My T1, who's obviously way mature beyond her years, did this: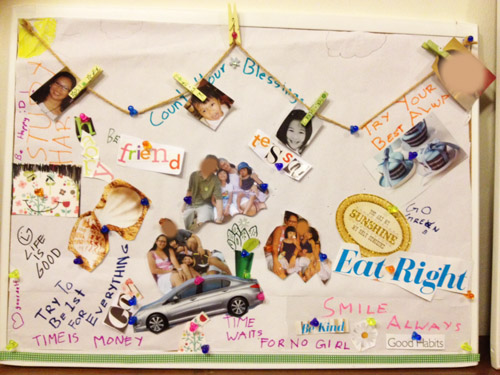 In it are phrases such as:-
Be Kind (MY ABSOLUTE FAVOURITE!!!!!!!!!!!!!!!)
Count Your Blessings (which she saw from Mama's phone on WhatsApp and copied)
Smile Always (which Daddy should learn!)
Life is Good (I think she got it from LG but it really belongs to San Francisco Coffee)
Good Habits (learnt from Eat Well Class – T1 has followed me to them on occasion)
Eat Right (again from Eat Well Class)
Try Your Best Always (something Nana instilled in me so I've passed it down)
Be Happy (something I try to drill into people in general)
Study Hard (something I nag her to do every month)
Be Friend (this was supposed to be Befriend Everyone but she couldn't find the right phrase from the magazines, this is something I teach her because there are girls in school who bully her whom she doesn't like but I tell her that she should be friends with them any way because she'd win them over with her kindness one day. When people do bad things to you, they usually have a problem and they want a reaction from you so don't react. Just be nice. If things get seriously out of hand, tell a teacher and/or tell Mommy. Mommy will charge in to chop their heads off. *grins*)
Go Green (from school no doubt)
Time Waits for No Girl (she learnt the idiom Time Waits for No Man in school but customised it to her own)
Time is Money (must be from hearing Daddy moan and groan – LOL)
Try to Be 1st For Everything (that's her natural inborn competitive streak)
Love Yourself (I taught her that when she was 3 years old)
T1 says the top part isn't yet finished as she is still to draw and colour in clouds and rain and rainbows. Without the rain, how can you get a rainbow, right??? Amazing. I am truly amazed that my girl is thinking in such a way that I never expected. I certainly wasn't when I was eight.
She also has the car with the green leaves coming out of its exhaust that she drew and pasted herself. Seashells are a representation of the beach, which she loves and of course, she loves blue cupcakes and her family. She truly LOVES her family.
Honestly, this puts me to absolute shame because in my own dream board, there is a picture of a 3 carat diamond ring, HAHAHA…..!!!!
Go google Dream Boards and get one started today!
**************************************************************************
Who is Mamapumpkin?
Mamapumpkin spent 7 years in London committing crimes to gain her Bartlett BSc in Architecture. She spent 7 years as a Stay At Home Mom raising her children as documented in this Mamapumpkin blog since over 10 years ago and thereafter returned to the Corporate World stronger than ever. Her last job as Country Director of a British Railway Signalling organisation saw her getting ill with an aortal and mitral heart valve regurgitation and early stage cancer. Through her journey from working to not working to working again, she sets out to prove to all women that they can do anything and everything that they set out to do; as long as they have that fire of desire burning within and the drive to work hard. Even better with oodles of love, passion and integrity.
Despite being ill, she has grown a network marketing business from very little knowledge and experience in the otherwise infamously known MLM (Multi-Level Marketing) industry, racing from an income of ZERO to RM 100,000 monthly in merely 2 years. She is a firm believer of the MLM business model but realises the pitfalls too and understands how and why the majority of people would shy away (or zoom far away) from any MLM business.
She is now pondering the title of her new book, From Zero to 100,000 RM monthly in 2 years and has a sequel in the pipeline with the aim of helping real professionals succeed in the World of MLM. Always the giver, Mamapumpkin has supported orphans for over 30 years and has now extended her care to the sick, single mothers, and even struggling families. She believes that with the MLM business model, we can all have a life of our own desires to enable real contribution into the world.
A beautiful life without limits.
Mamapumpkin currently manages the
Homeschooling Hub Malaysia on Facebook
. She also runs
Working Women Malaysia
(not THAT kind of Working Women!),
Mamapumpkin - Creating A Life of Abundance
, and Funky Moms on Facebook to offer REAL support to all women who want career and life success. She is a living testimony that women really can have a lot. Being financially free has enabled her to travel the world anytime anywhere doing anything, and she spends most of her day to day with her children, reading and supporting other women.
For enquiries, please contact her at mamapumpkin at gmail dot com or WhatsApp her at +6012-2333840
Show your support and spread the love!