Last week, I had to wake at a God forsaken hour of 4am to catch the first flight out to Singapore, my birth land. It has been more than 10 years since I last visited the plastic city known for it's lion head and still remember very clearly how that visit went. We weren't married yet then…..
I suppose I should really bring the kids down for a trip since there is much to do for kids in Singapore and it'll be fun.
Anyway, back to my business trip – so much planning went into it as I had never had a business trip in more than 10 years!!! Do I bring the iPad or the laptop? Do I bring a jacket? Do I wear high heels? Do I bring spare shoes? Do I bring spare clothes? Do I bring snacks? Do I bring an extra bag? Do I bring extra cash? Do I bring extra make-up? Do I bring the ipod? Ladidadida………..
Believe it or not, I wore a pair of high heels that weren't very high but because I wasn't used to walking in anything else but err….slippers, I thought, better bring a spare pair of flats JUST IN CASE. And because of that, I carried not one but 2 bags to Singapore. A handbag and a laptop bag where I threw in the spare flats for good measure, all wrapped neatly in a shoe dustbag. Heh.
By the time I boarded the plane at KLIA, my feet were already hurting…….just think about it – Drive to KL Sentral, walk from parking lot to ERL Train. From ERL Train, walk to International Departures Lounge. From International Departures Lounge, walk to MAS Business Lounge. From MAS Business Lounge, walk to Boarding Gate. From Boarding Gate, walk to plane. Ouch-Ouch-OUCH!!!!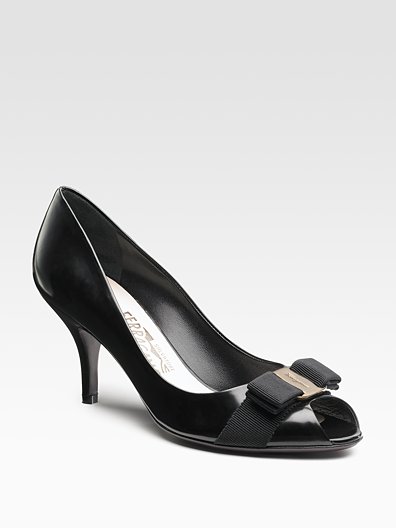 But because I didn't want to change and then change again, I told myself, let me go meet those Singaporean Government officials first, THEN change when I can relax once and for all. At least I got a foot breather on the plane.
But when we arrived at Singapore, it was walk to the baggage and immigration, then walk to the taxi counter, then walk to the taxis, then because we were early for the meeting, we decided to walk the streets of Little India to have a bite except that none of the restaurants were open at 1030am. More side walk walking in FerraFuckingGamo low heels in search for anywhere where we could just sit and give my feet a rest and wanting to pee in a grotty side walk coffee shop with sweat drenching my poor, poor navy silk DVFs and I was BITCHING with white tissues glued to my face because they'd automatically stick as my face became the backdrop of a sweat waterfall……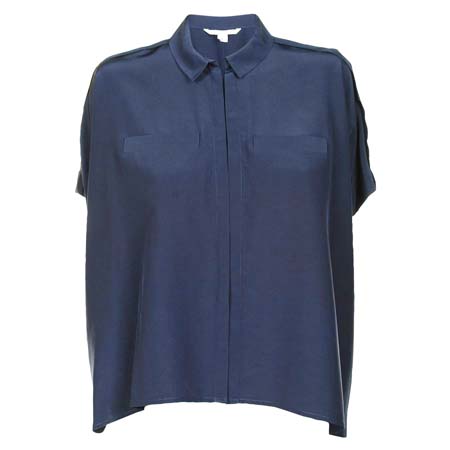 So. Not. Cool.
It reminded me of my birthday last year when Paik Ling made me walk in super high biker chick heels in Bangkok……
When it was finally time, I found myself at the client's office and excused myself to freshen up for 10 minutes. There was not much I could do with the red wet face as I was so HOT that the sweat just continued to squirt out. There was NOTHING I could do about my drenched navy DVFs and decided to wing it as the wet look. At least I was wearing a bra. Heh. And as for the pain from the Ferrafuckinggamo's? I just had to grit my teeth and SMILE my biggest megawatt smile. My hair looked like shit too, certainly not freshly coiffed from A Cut Above. SIGH. So un-Singaporean……
See? Still smiling!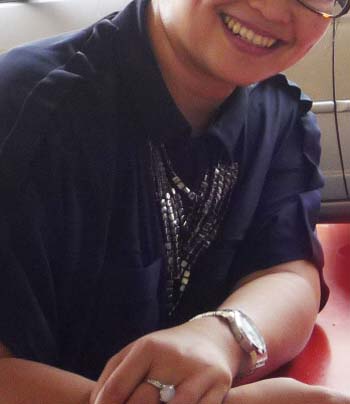 Anyway.
Meetings aside.
Changi Business Lounge.
They had chairs with those feet massagers and after the whole morning in Ferrafuckinggamos, I switched to my flats but still, the pain was there despite the 5 plasters (with bright coloured Mickey Mouse illustrations) on my foot and surround. Those massage thingies called out to me and I thanked God I'd worn stockings.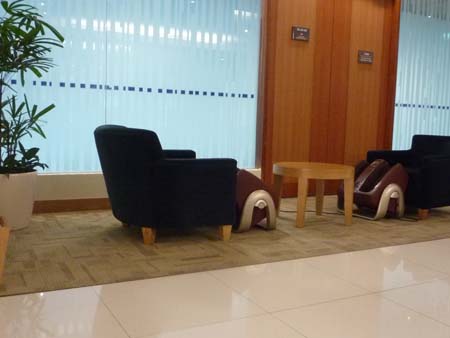 After 15 minutes of having my feet squished, the lounge lady approached me and asked if I would like to have a full body massage instead and relax. Wow. Really?
She escorted me into the room where this awaited me.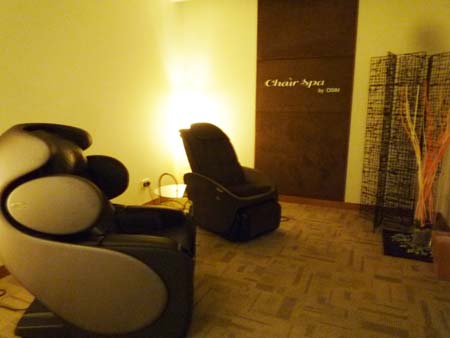 Oh.
I was hoping it was a 3 hour spa kind of thing with REAL HANDS but nay…….
Maybe in First Class eh?
Nevertheless, I enjoyed having my body squished and squashed by those Osim chairs.
Rule Number One for ANY Business Trip? Travel prepared.
Bring a spare pair of comfy shoes. Bring a spare change of clothes. Bring a hair brush and your make-up. Bring a laptop. Bring all your necessary chargers. Bring anything you think you may need in an emergency – like a bed.
**************************************************************************
Who is Mamapumpkin?
Mamapumpkin spent 7 years in London committing crimes to gain her Bartlett BSc in Architecture. She spent 7 years as a Stay At Home Mom raising her children as documented in this Mamapumpkin blog since over 10 years ago and thereafter returned to the Corporate World stronger than ever. Her last job as Country Director of a British Railway Signalling organisation saw her getting ill with an aortal and mitral heart valve regurgitation and early stage cancer. Through her journey from working to not working to working again, she sets out to prove to all women that they can do anything and everything that they set out to do; as long as they have that fire of desire burning within and the drive to work hard. Even better with oodles of love, passion and integrity.
Despite being ill, she has grown a network marketing business from very little knowledge and experience in the otherwise infamously known MLM (Multi-Level Marketing) industry, racing from an income of ZERO to RM 100,000 monthly in merely 2 years. She is a firm believer of the MLM business model but realises the pitfalls too and understands how and why the majority of people would shy away (or zoom far away) from any MLM business.
She is now pondering the title of her new book, From Zero to 100,000 RM monthly in 2 years and has a sequel in the pipeline with the aim of helping real professionals succeed in the World of MLM. Always the giver, Mamapumpkin has supported orphans for over 30 years and has now extended her care to the sick, single mothers, and even struggling families. She believes that with the MLM business model, we can all have a life of our own desires to enable real contribution into the world.
A beautiful life without limits.
Mamapumpkin currently manages the
Homeschooling Hub Malaysia on Facebook
. She also runs
Working Women Malaysia
(not THAT kind of Working Women!),
Mamapumpkin - Creating A Life of Abundance
, and Funky Moms on Facebook to offer REAL support to all women who want career and life success. She is a living testimony that women really can have a lot. Being financially free has enabled her to travel the world anytime anywhere doing anything, and she spends most of her day to day with her children, reading and supporting other women.
For enquiries, please contact her at mamapumpkin at gmail dot com or WhatsApp her at +6012-2333840
Show your support and spread the love!