Ever since I started pondering about home schooling, we've met a bunch of Moms who share EXACTLY the same philosophy as us and at this moment, we are at school yet not at school. It's a heck of a lot of money to pay for school that we are not taking so seriously but what to do? T1 does gain from going to school (solving emotional problems, social skills, team work) but she is dumbed down by the school too! (don't answer the teacher back! and getting marks that don't mean nothing). Thus we need to strike a good balance in creating the best environment for her growth. Hard frigging work but totally worth the effort.
Every day, after school, we've started doing projects. It is led by her always and I put aside an hour or two just to help her with it (if necessary). We don't study for school. If she gets 50% for an exam, so be it. She has never though and is still thriving despite the lack of revision. It'll probably be just a matter of time though……that 50% mark, haha….
Today's project was a trial run for the best Malaysian Home Made Volcano.
T1 loves Science and she's always wanted to become a Doctor or a Scientist. A mad one. She'd had it all planned out. She'd be the Paediatrician, T2 would be an Obstetrician, Daddy would be the Receptionist and Mama would be the Nurse assisting her. Perfect. Discounts only for Uncle Ben and Nana. This Doctor dream began when she was 3 years old and it was a real dream………until she went to Kidzania.
That totally killed it.
I'm sure she'll go through many ambitious ambitions before settling to be a Chief Executive Officer of the Home. Heh. Whatever makes her happy.
But today, she was a Geologist.
She got all her ingredients together:-
1 bottle or canister
3 heaped tablespoons baking soda
A few drops of food colouring
1 tiny teaspoon of dish washing liquid
Something to make your volcano with – this could be cardboard, playdoh, clay, wet sand, paper mache…….
We used home made playdoh. You can find a range of recipes on the net but once we've perfected the best playdoh recipe, we will post it.
******************************************************************
Trial Run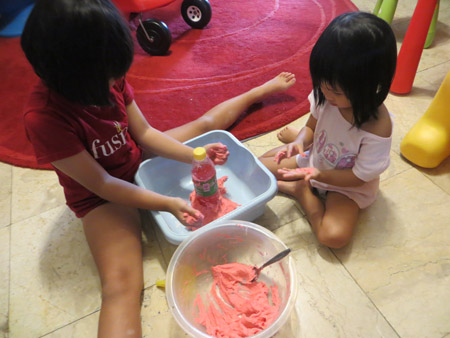 It had to be a pink volcano, of course, because T2 dictated it as such.
.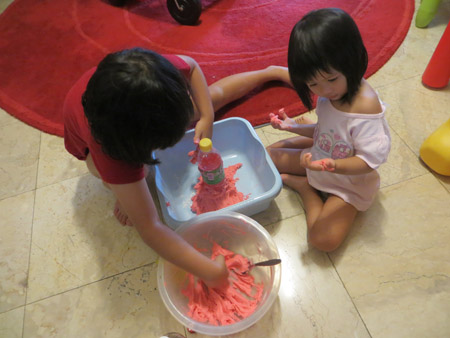 When I saw T2 exploring her fingers filled with goo and gunk, I started getting worried. It only takes a second for a 3 year old to smear her fingers on your Persian carpet or your Van Gogh canvas. Then start painting her own canvas with your walls as the backdrop.
.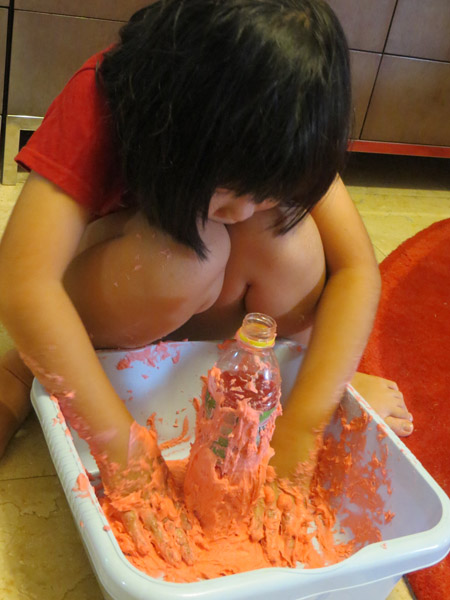 And when I saw how passionate T1 was getting with building her volcano, I said, "Right. That's it. T2, let's go wash our hands. NOW."
.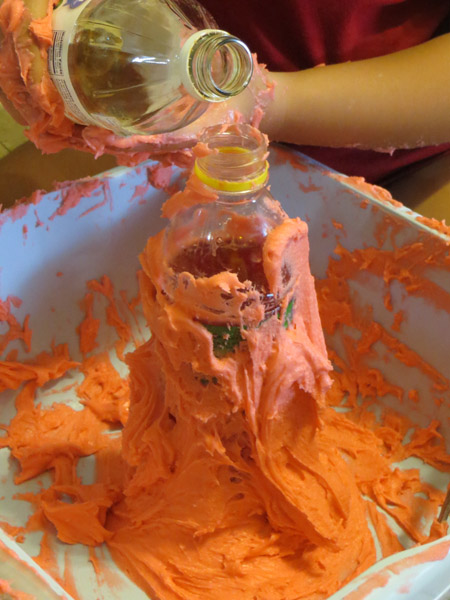 The final moment…….they kind of ran out of playdoh to build a proper triangular conical shaped kind of volcano but since this was just a trial run, it passed the Director of Projects.
So how did we do it?
We filled the bottle 3/4 full with warm water and blended in 3 heaped tablespoons of baking soda and a few drops of food colouring. Add in a dash of dish washing liquid. Stir it all in. Get ready for the action. Pour clear vinegar into the volcano and watch froth bubble out.
After doing this a few times, we experimented and found that a better way would be to add in more baking soda AFTER the vinegar has been added in. By doing this, there is actually suspense as the baking powder dissolves, forms a chemical reaction and then suddenly bursts out with froth, pulsating (OK, I exaggerate) and flowing out like real hot lava…….almost like an ejaculation, y'know?
EEEEP!!! Did I just say that? PG13!!! CENSORED!!!
I just googled the word. THE word. OMG. *faint*
So, the camera man wasn't fast enough in capturing the most exciting part of the experiment because it was THAT exciting and BOTH girls were screaming in ecstasy! So excited. It was my first time ever too, creating a home volcano, so yeah, pretty exciting……
This was the end result after the eruption.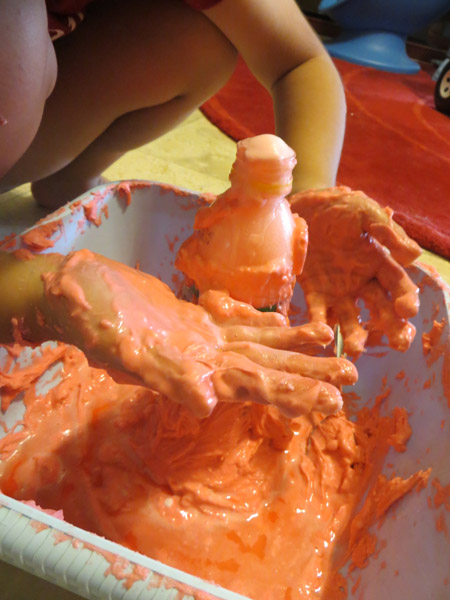 Was it painful washing up? Home made playdoh comes off easy enough. Alternatively, do this outdoors!!!
So do you want to know why and how this chemical reaction happens??? Check back when we do our Best Malaysian Home Made Volcano soon!!!
**************************************************************************
Who is Mamapumpkin?
Mamapumpkin spent 7 years in London committing crimes to gain her Bartlett BSc in Architecture. She spent 7 years as a Stay At Home Mom raising her children as documented in this Mamapumpkin blog since over 10 years ago and thereafter returned to the Corporate World stronger than ever. Her last job as Country Director of a British Railway Signalling organisation saw her getting ill with an aortal and mitral heart valve regurgitation and early stage cancer. Through her journey from working to not working to working again, she sets out to prove to all women that they can do anything and everything that they set out to do; as long as they have that fire of desire burning within and the drive to work hard. Even better with oodles of love, passion and integrity.
Despite being ill, she has grown a network marketing business from very little knowledge and experience in the otherwise infamously known MLM (Multi-Level Marketing) industry, racing from an income of ZERO to RM 100,000 monthly in merely 2 years. She is a firm believer of the MLM business model but realises the pitfalls too and understands how and why the majority of people would shy away (or zoom far away) from any MLM business.
She is now pondering the title of her new book, From Zero to 100,000 RM monthly in 2 years and has a sequel in the pipeline with the aim of helping real professionals succeed in the World of MLM. Always the giver, Mamapumpkin has supported orphans for over 30 years and has now extended her care to the sick, single mothers, and even struggling families. She believes that with the MLM business model, we can all have a life of our own desires to enable real contribution into the world.
A beautiful life without limits.
Mamapumpkin currently manages the
Homeschooling Hub Malaysia on Facebook
. She also runs
Working Women Malaysia
(not THAT kind of Working Women!),
Mamapumpkin - Creating A Life of Abundance
, and Funky Moms on Facebook to offer REAL support to all women who want career and life success. She is a living testimony that women really can have a lot. Being financially free has enabled her to travel the world anytime anywhere doing anything, and she spends most of her day to day with her children, reading and supporting other women.
For enquiries, please contact her at mamapumpkin at gmail dot com or WhatsApp her at +6012-2333840
Show your support and spread the love!