My kids are privileged kids. They truly are. They're not millionaire kids but they're privileged kids. They lead a comfortable life, have nice toys and clothes and get a lot of attention. So much so that when a friend asked me to ask T1 what she wanted from New York, she said nothing. She said she already had everything. And she does!
It's hard not being spoilt when you are a privileged kid because not only does everything come so easy, life is SO COMFORTABLE!!! Thus it is important for them to realise that not every kid is so lucky like them so I bring them to the orphanages in hope that they will make friends. Real friends. For if I allowed them to only mingle with their school friends, they would live their lives in bubbles. They have friends outside of school too but there's nothing like getting to know people who have more humble lives. In fact, they might make better friends not having the option of being clouded by the distractions of today's world.
Last month, we visited a home near my house in Bangsar and the kids thoroughly enjoyed themselves. We will go back there again soon but this month, a friend of ours invited us to join them to visit another home in PJ that housed about 60 kids.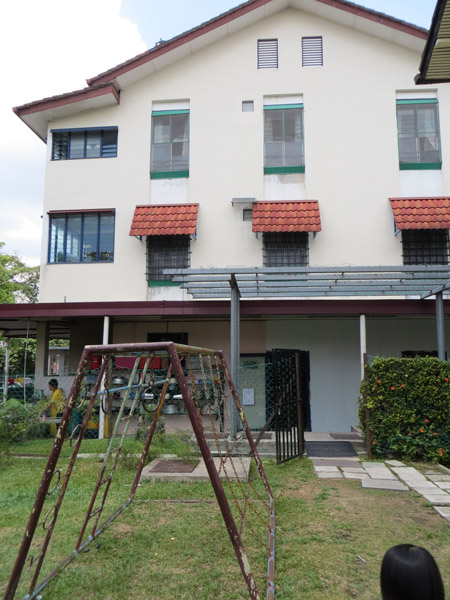 It is a big home with several adjacent bungalows joined together to form one big community centre run by a church. The kids range from as young as 3 right up to 18 and they all go to school, apart from the little tot of course. They all have their own duties and rules to follow. When the bell rings, everyone rushes down to the assembly area for their meals where they queue up to collect their food. They all have their own plates with their names written behind them and they all have chores.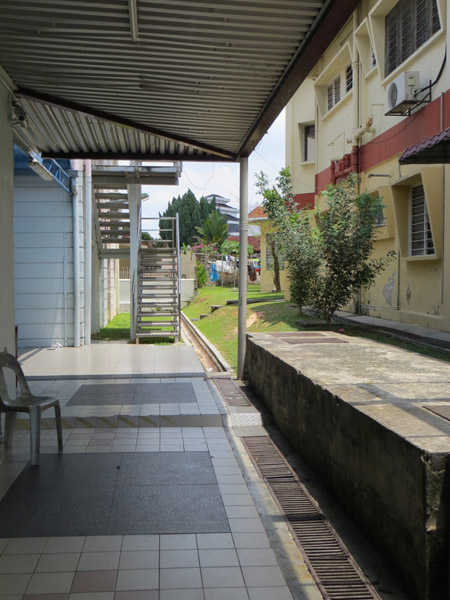 On the day that we went, we brought the kids lunch and cupcakes and delivered supplies that they needed.
They even had an aquarium! Albeit it wasn't cleaned very often, it was still a nice thing to have for kids just love watching fishes, don't they?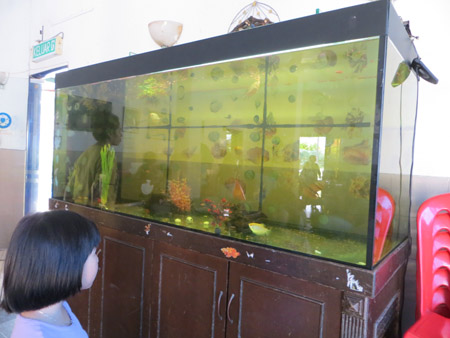 I found it funny how the boys were served before the girls but didn't question as I was busy watching T2. T1 was busy handing out their lunch. If you looked closely below, you would spot her little head. The boy in white held a guitar after lunch and I asked him if he could play. He said, I'm trying. He was 16. I told him, "The next time I come, I want you to play me something, OK?" He smiled and said OK. So sweet.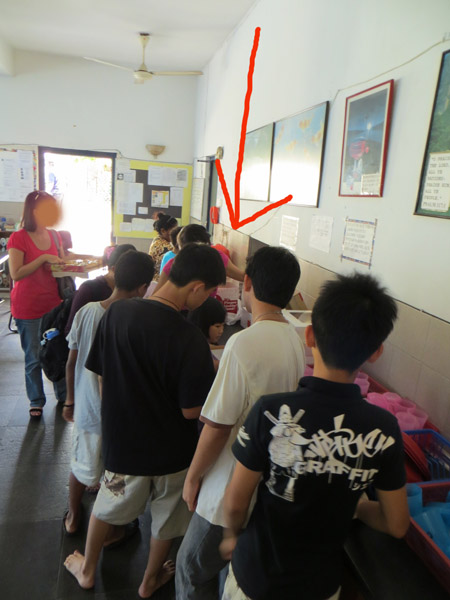 Next, the girls…….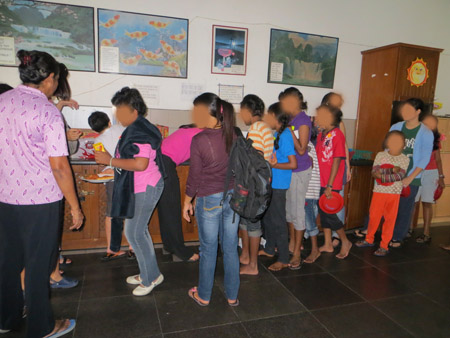 See this little boy? He sits on 3 stacked chairs. I told T2….see this little boy? He is little just like you and he doesn't have a Mommy or a Daddy. T2 just gave me a blank look. The boy in blue beside him? He isn't actually an orphan but an Orang Asli boy who was put here in care so that he actually gets to go to school. He was the loveliest boy and had the most charming eyes. I loved him and had a conversation with him.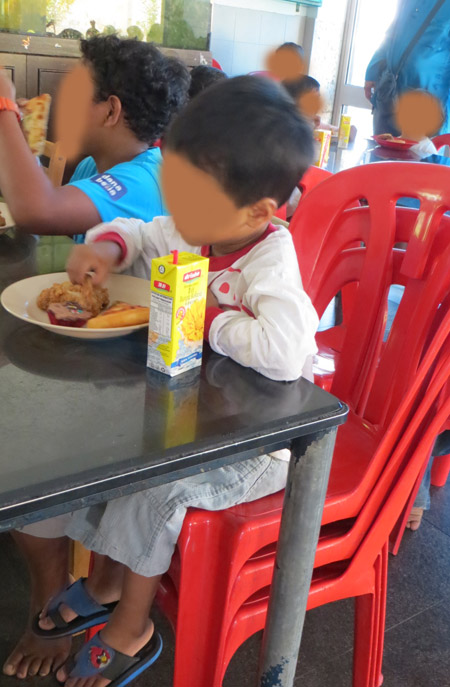 T1 was in charge of handing out the cupcakes after lunch. The cupcake has a story all in itself but I will leave that for another post. I was initially planning to just BUY the kids Bisou cupcakes but all because of this woman called Paik Ling, we ended up BAKING them, all 200 cupcakes!!! OK, so 20 went into our own tummies before they got delivered. They were SMALL cupcakes OK?
When we arrived, all the kids rushed to our car to ask whose birthday it was! And here I was thinking, man……in the month of August alone, we had spent close to RM300 on Bisou cupcakes! OK, it was T2's birthday but still…..every time we're in BV, easily we'd pick up a box of cupcakes, just because……..which explains my size, of course. OK. No more cupcakes. Promise. Got that? That's a PROMISE!!! OK, if I do have any, it'll be one bite per week. Fair?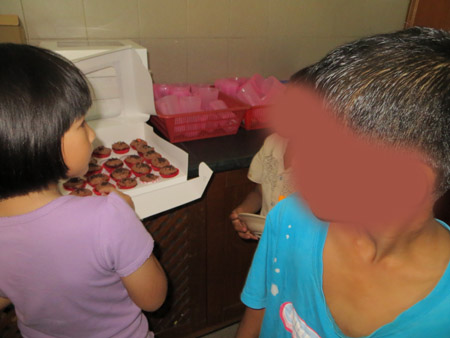 After T1's job of handing out food, she finally go to sit down to eat and whilst I would have liked for her to have sat with the kids, there was no more space so she sat with her sister instead.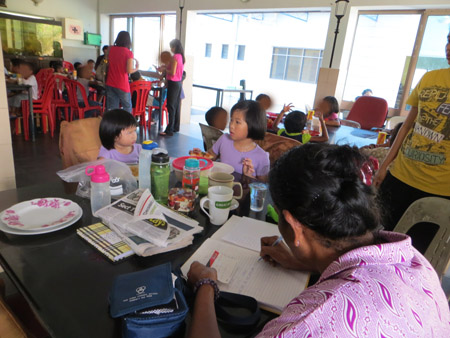 After lunch, T1 handed out Ang Pows (or Duit Raya!) to the kids. T2 had her stack of Ang Pows to hand out too but she was so slow that by the time she wanted to hand them out, everyone already had an Ang Pow. I thought of just giving them away anyway but then some would get double and some not. Luckily some kids came home from school or whatever activity they had outside and the Ang Pows were distributed evenly.
Here, my pouty T2, disappointed that she didn't get to hand out Ang Pows……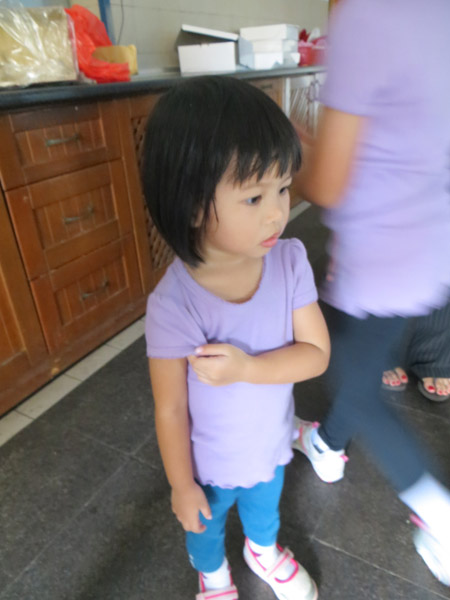 She wandered off outside and was amazed that the pots were SO BIG!!! That's what it takes to feed 60 kids!!! 7 chickens to feed them all per meal.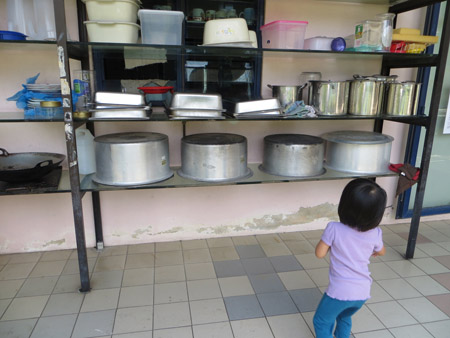 I asked T2 to turn around for a pic and she lifted up her shirt.  o_O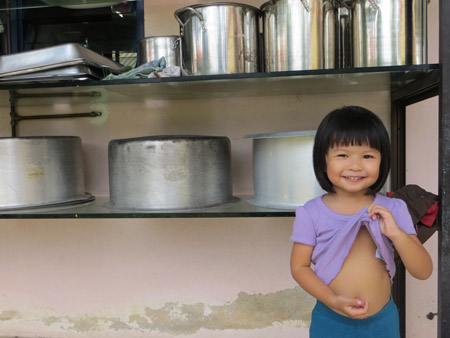 When lunch was over, the warden gave instructions for some of the kids to collect their laundry. There are 4 wardens who live there to care for the kids, 1 chef and an Indonesian helper. They are still stretched and I could tell they were stressed. It isn't easy caring for 60 kids every day. Heck, I already go mad with 2.
I took the opportunity to boot T1 off to help one of the kids with the laundry. It was hilarious because the poor girl has never done laundry in her entire life! She wasn't sure what to do!!! See the separate pails below? They all belong to different kids who are in charge of laundry for the day.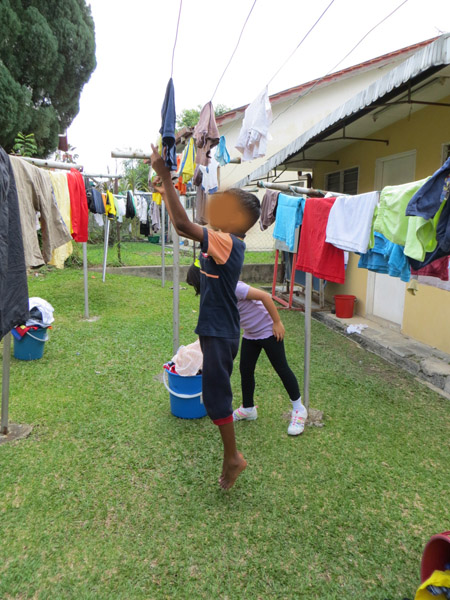 I yelled out, "Pick the clothes off the line! Ask him what to do!"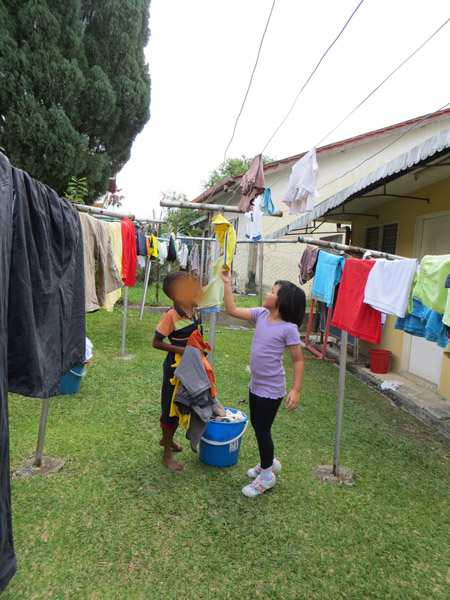 She could barely even reach the laundry line, haha……
…….but she eventually got the hang of it and turned it into a game. My girl, she is all play and everything must be FUN for her.
So that marks the day T1 did her first laundry collection. I was very proud of her.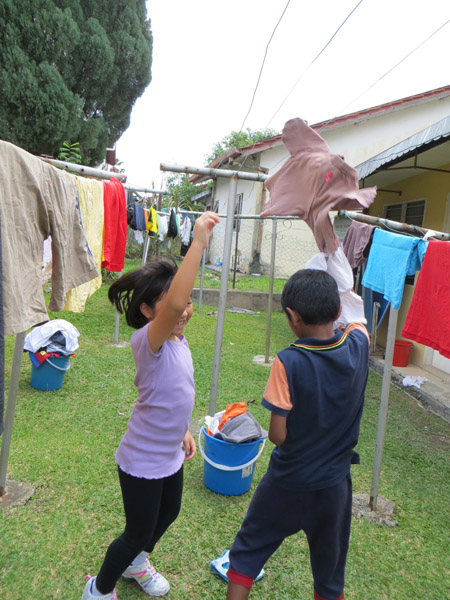 Some time this month, we will visit another orphanage again. Will anyone be interested to join us?
**************************************************************************
Who is Mamapumpkin?
Mamapumpkin spent 7 years in London committing crimes to gain her Bartlett BSc in Architecture. She spent 7 years as a Stay At Home Mom raising her children as documented in this Mamapumpkin blog since over 10 years ago and thereafter returned to the Corporate World stronger than ever. Her last job as Country Director of a British Railway Signalling organisation saw her getting ill with an aortal and mitral heart valve regurgitation and early stage cancer. Through her journey from working to not working to working again, she sets out to prove to all women that they can do anything and everything that they set out to do; as long as they have that fire of desire burning within and the drive to work hard. Even better with oodles of love, passion and integrity.
Despite being ill, she has grown a network marketing business from very little knowledge and experience in the otherwise infamously known MLM (Multi-Level Marketing) industry, racing from an income of ZERO to RM 100,000 monthly in merely 2 years. She is a firm believer of the MLM business model but realises the pitfalls too and understands how and why the majority of people would shy away (or zoom far away) from any MLM business.
She is now pondering the title of her new book, From Zero to 100,000 RM monthly in 2 years and has a sequel in the pipeline with the aim of helping real professionals succeed in the World of MLM. Always the giver, Mamapumpkin has supported orphans for over 30 years and has now extended her care to the sick, single mothers, and even struggling families. She believes that with the MLM business model, we can all have a life of our own desires to enable real contribution into the world.
A beautiful life without limits.
Mamapumpkin currently manages the
Homeschooling Hub Malaysia on Facebook
. She also runs
Working Women Malaysia
(not THAT kind of Working Women!),
Mamapumpkin - Creating A Life of Abundance
, and Funky Moms on Facebook to offer REAL support to all women who want career and life success. She is a living testimony that women really can have a lot. Being financially free has enabled her to travel the world anytime anywhere doing anything, and she spends most of her day to day with her children, reading and supporting other women.
For enquiries, please contact her at mamapumpkin at gmail dot com or WhatsApp her at +6012-2333840
Show your support and spread the love!