The answer is yes. I am that busy.
Some people think, if I'm so busy then why do I agree to bring boxes and boxes of supplies to Yangon for the orphanages? How come I have time to make comments on Facebook? Why do I stress myself and bring my kids out to have fun? Why don't I just quit my job?
WTF. Please get busy busy-ing your own lives rather than questioning mine. Thank you very much.
This blog has taken a huge back seat whilst work picks up and my role at work increases. It's also school holiday time so I owe my kids to spend it with them. I choose my priorities.
I've been traveling a little this month and man, traveling is exhausting. Work is exhausting. Kids are exhausting. BUT.
LIFE IS GOOD!!!
There is so much to be thankful for – kids are happy, we have great food every day (if you saw what the kids in Myanmar eat, we are Kings! And in fact, we now eat less, buy less for what can be saved can be shared), we have our health (just started increasing our vegetable and fruit intake by 5 times! Costs too, unfortunately, but better pay for healthy food than hospital bills and sufferings later), we're going to have the BEST family time together over Christmas (just me and my little family of four because the rest of the gang are off to ChiangMai AGAIN), and I am meeting more and more amazing people every day. So blessed.
We've booked our tickets for Yangon next year because we pledged to go back. This time we have a bigger task. Bringing boxes of clothes there was a piece of cake. The plan for our next trip is to bring more stationery and books and raise USD10,000 for the children of Myanmar. This money will be used to renovate the monastery floor where 180 children sleep.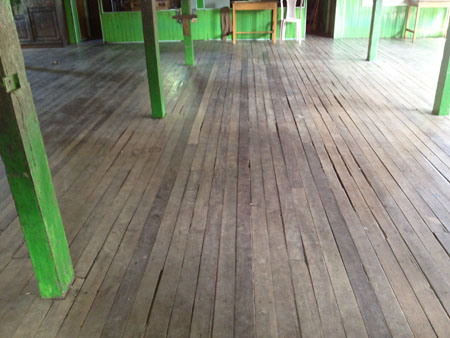 Kids sleep on this bare floor. All 180 of them. No mats. No pillows. No blankets. Just mosquitoes.
The roof of this monastery has holes. When it rains, water drips down. When there is a thunderstorm, well, your guess is as good as mine. The floor has holes too and the timber is rickety and very old. The children sleep bare on the floor – no mattresses, no mats, no pillows, no blankets. Just lots of mosquitoes and timber splinters. Plans are already underway for buying them mats and mosquito nets from earlier donations. (They are now bought already! Including blankets and slippers for the kids!)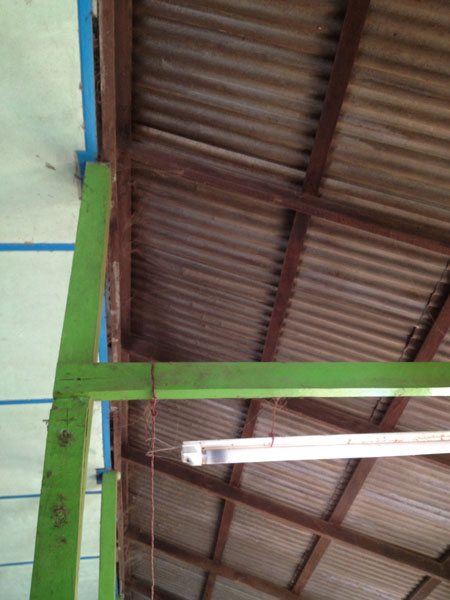 The Leaking Roof – see how old the timber structure is?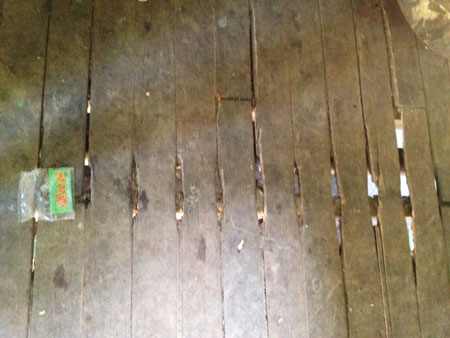 Close Up of the timber flooring. We need money to repair these floors before a child falls through!
So yeah. The first step is to revamp the structure and flooring of this sleeping space. It is also where they study during the day. When it is time to sleep, all the furniture will be stacked into one corner and they will all lie down.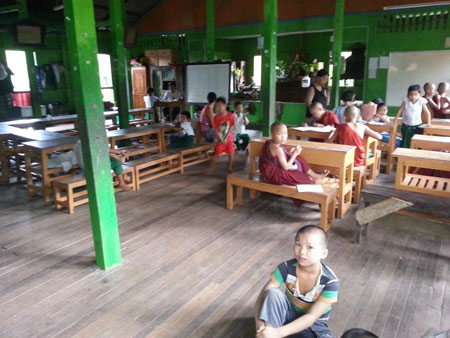 Another thing that is being repaired is the well at the back so the kids get clean water to drink. The funds for this (USD1500) have been kindly donated by a lovely, WONDERFUL Scottish lady who now lives in Yangon whom we had the pleasure of meeting. Thanks, Izzy! The kids have no slippers (They do now!) so when they go into their play yard (see below), it is mud and it stinks. They then go back inside to step into that same floor they sleep on…..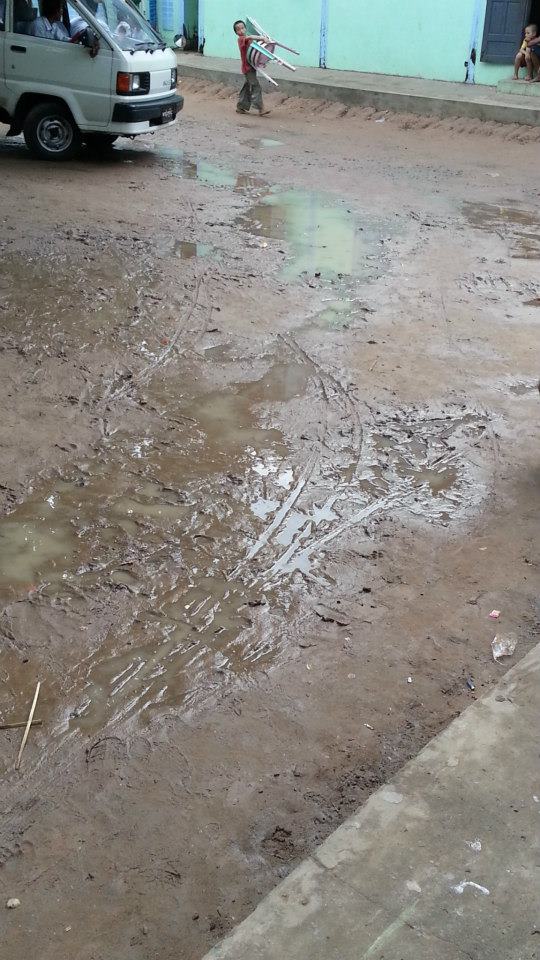 We will also pay the orphanages rentals with the money as they do not own the properties and buy them more food. But more importantly, the greater plan is to build sustenance. We want to send the older kids, the ones who are keen to study, for a better education. Perhaps sponsor them a place at a Malaysian College once they've mastered English etc. And the plan of Eileen Lui, bless her big heart, is for the graduates to then help support the next kid who wants to study. We also need to think of ways on how the kids can eventually care for their own lives and make their own living. All in progress, folks! Thanks to my childhood best friend, Lynette Yee, the girl who caused me to eat paper,;the girl whom I used to get up to mischief with at school, the girl who made that first crazy MAD step in pulling me to Yangon with her.
And to my new found Myanmar team, here's to Doctors!!!
WE  CAN  DO  THIS!!!
Show your support and spread the love!