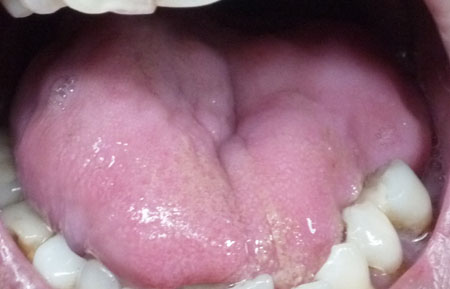 This is a picture of my Mother's tongue taken more than a year ago. If you looked into her tongue today, you would see that half her teeth are black, a third of them have fallen off and 1-2 have dropped off and embedded themselves onto the growth. The growth has also doubled in size and really, soon my Mom would have a mouth full of growth mass. Eventually, it would suffocate her, her tubes would shut down and she wouldn't be able to eat at all. She is already skin and bones as it is. The cancer on her tongue is not only embedded with the two rotten teeth  (mind you, the teeth are nowhere near their original homes!), it is filled with ulcers and open sores that bleed every now and then. To put a picture up is too horrific. I googled adenoid cystic carcinoma in tongue and there wasn't an image that resembled what we have.
It's been almost 12 years now that Mom has survived this cancer. When she was first diagnosed, some Doctors gave her 6 months to live. She has had the advice of Doctors from the UK, Australia, Singapore and of course, Malaysia. She has tried every treatment (medical and otherwise) there is that people have said will cure her, even the porcupine stuff. Our advise to her is just to enjoy what she has left of her life and pray for peace. I don't like seeing her suffer. None of us like seeing her suffer yet to any stranger, nobody would have a clue that this was a woman who was very ill.
Mom cannot eat now because of the mass in her tongue, rotting teeth and tremendous pain. Not even morphine kills it so you can imagine the pain. She has a poor diet. She cannot even talk properly. Try talking with your tongue stuck to the bottom of your mouth with an XL size at that?
Tok-Tok reckons she has less than a year left to live. Mom's will will fight for at least another year, she is one tough lady. She has fought so hard for almost 12 years for her children, for her grandchildren (the two little monkeys that I have) and has done a fabulous job fighting cancer.
Most times, we just shove the whole reality into the closet as it is the easier thing to do but sometimes, it hits us that a wonderful wife, mother and grandmother, will die soon. Then we talk about it, like most recently, Tok-Tok and I discussed it and we always end up crying. Always. What would we do without her? I know what Mom wants me to do. She would want me to be strong and keep my brothers together. She would want me to hold the fort and bring the family together like she had for so many years. Tok-Tok said we would still go on holidays together without Mom. Mom always says that as long as we have each other, nothing else matters. And she is right. I will do her honour by keeping us together. But you know what? Maybe it's time to visit that miracle Church and ask God for another 3 years – would that be too much to ask?
**************************************************************************
Who is Mamapumpkin?
Mamapumpkin spent 7 years in London committing crimes to gain her Bartlett BSc in Architecture. She spent 7 years as a Stay At Home Mom raising her children as documented in this Mamapumpkin blog since over 10 years ago and thereafter returned to the Corporate World stronger than ever. Her last job as Country Director of a British Railway Signalling organisation saw her getting ill with an aortal and mitral heart valve regurgitation and early stage cancer. Through her journey from working to not working to working again, she sets out to prove to all women that they can do anything and everything that they set out to do; as long as they have that fire of desire burning within and the drive to work hard. Even better with oodles of love, passion and integrity.
Despite being ill, she has grown a network marketing business from very little knowledge and experience in the otherwise infamously known MLM (Multi-Level Marketing) industry, racing from an income of ZERO to RM 100,000 monthly in merely 2 years. She is a firm believer of the MLM business model but realises the pitfalls too and understands how and why the majority of people would shy away (or zoom far away) from any MLM business.
She is now pondering the title of her new book, From Zero to 100,000 RM monthly in 2 years and has a sequel in the pipeline with the aim of helping real professionals succeed in the World of MLM. Always the giver, Mamapumpkin has supported orphans for over 30 years and has now extended her care to the sick, single mothers, and even struggling families. She believes that with the MLM business model, we can all have a life of our own desires to enable real contribution into the world.
A beautiful life without limits.
Mamapumpkin currently manages the
Homeschooling Hub Malaysia on Facebook
. She also runs
Working Women Malaysia
(not THAT kind of Working Women!),
Mamapumpkin - Creating A Life of Abundance
, and Funky Moms on Facebook to offer REAL support to all women who want career and life success. She is a living testimony that women really can have a lot. Being financially free has enabled her to travel the world anytime anywhere doing anything, and she spends most of her day to day with her children, reading and supporting other women.
For enquiries, please contact her at mamapumpkin at gmail dot com or WhatsApp her at +6012-2333840
Show your support and spread the love!