Every now and then, every one of us should take a back seat and think of our place in this motherhood journey (Men, think of your wives, think of your mothers!). It is by far the most taxing job in the world, depending on how much one invests into it, and certainly the most grueling task any woman would ever have to undertake. The more you put into it, the more you get. And that alone makes it worth every woman's while. And every child most certainly deserves it. Children don't ask to be born…..
So when I read an interview on motherhood on an old time blog that I have been reading since 2006, I decided to answer the questions myself. You should too.
How old are your kids?
I have 2 daughters, 6 and 1 respectively……
How would you describe yourself in 3 words?
Positive – Creative – Tenacious (and did you realise that it is the start of all our names in my humble family?)
What makes u different?
It is interesting how one perceives ones self compared to how one is perceived through the eyes of others; I think most of all, I stand out as somebody who is an old soul. Not many things surprise me. Not many things cause extreme reactions from me. Not many people can sway me to do what I don't want to do. It does make me sound like a boring old fart, doesn't it? But I live a life of acceptance and balance, or at least, I strive to. It is my life experiences together with inborn maturity (which my elder daughter has inherited) that have moulded me, and a good dose of healthy thoughts splashed with buckets of laughter. Everyone is capable of getting here if they gave themselves a chance. Seriously. So, how do you think I'm different?
What scents or smells will always remind you of your mom?
Cigarette smoke!!! Period. Ghastly!
And sights?
Mom is always surrounded by flowers. She herself makes beautiful bouquets of flowers and loves flowers. Her clothes are floral, her bags are floral, her shoes are floral, oh my goodness, if she lived in another world, I can just see her having floral tattoos covering her entire body……….she is just one big bouquet of flowers!
What makes your mother beautiful?
The fact that she keeps giving and giving and giving, always giving……even to us kids now when we are already adults and can fend for ourselves. She gives to strangers, she gives to friends, she gives to family and she never expects anything back. She also has this uncanny ability to stay quiet about things, that is very spiritual. For example, if she thinks that someone is taking advantage of her (and believe me, many people do!), she would not say anything about it. She believes that God will settle His score with them later and it isn't her place to stop giving to people who take advantage of her. I COULD NEVER DO THAT. But maybe one day. Insyallah!
Tell me about a time your mother taught you a life lesson, or gave you advice that you hold close to your heart.
My mother has been right about every single boyfriend I have ever had. Of course, in my youth, I would not pay heed to her boyfriend advice but seeing that she has been spot on 100 out of 100, I now have HER to thank when I found and chose my husband to be my life partner. Without the mistakes I had made and her skills in teaching me why and how she knew each boy was wrong for me, my lifetime happiness was marked out. And she has been right for many of the courting couples that we know for the past 30 years, whether their relationship would work or not, and how things would pan out and why. She could get paid for these amazing instincts! But yes, the biggest lesson she taught me was never to ever settle for second best in a life partner. If a man failed to give me all that I expected (and I expect a lot!), then he was not the man for me. Having said that, she now scolds me regularly for taking too much from my husband! Ahahaha……
What skills did you learn from your mom that you made certain to use when mothering your own children? Having respect for myself and others and passing this down to my children.
How is parenting different now from when your own mother was a parent? Ooooo……LOTS! For one, kids are a LOT smarter these days. I don't know if it's the food they eat or the environment in which we raise them but kids today are DIFFERENT. They demand more and can articulate ideas much better than we ever could as a kids. They are also bloody lucky. But at the end of the day, we still go back to the basics in parenting then and now. Love your child infinitely and unconditionally. Teach them good values, guide them through each phase of development and watch them soar. One last thing, remember that kids come from Heaven.
What advice would you give to someone who is still trying to figure out this parenting thing? I would say trust yourself and your instincts. There is so much advice out there but only you know your child best and EVERY child is different and whilst there may be a big group of children who do ABCDE, your child may not fall into that category and so what? Respect your child for who and what she is and do what you have to do in raising her. Allow kids to be kids by just being…….and doing nothing. Spend regular amounts of quality time with them, may it be one hour a day or one hour a week, or one hour a month. Don't let them do so much too soon. Make amazing memories together and ingrain family traditions into their lives. Talk to them lots and LOVE them lots. Simple.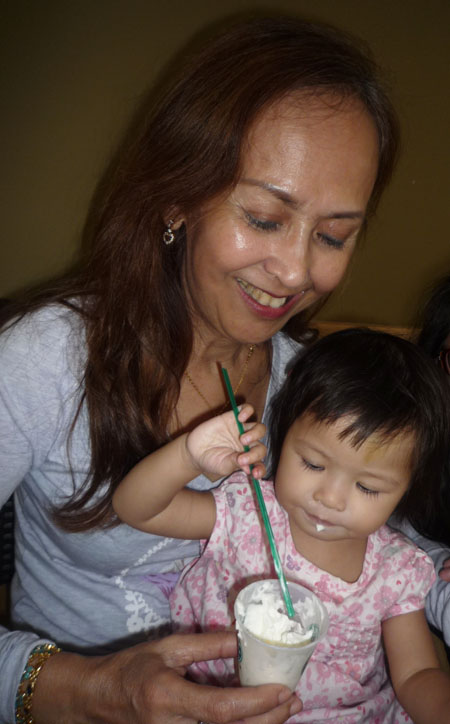 My beautiful, BEAUTIFUL Mama…….the only crazy Nana who'd allow her granddaughter to eat 2 whole cups of whipped cream from Starbucks! And you wonder why my girls fight over their Nana all the time……
**************************************************************************
Who is Mamapumpkin?
Mamapumpkin spent 7 years in London committing crimes to gain her Bartlett BSc in Architecture. She spent 7 years as a Stay At Home Mom raising her children as documented in this Mamapumpkin blog since over 10 years ago and thereafter returned to the Corporate World stronger than ever. Her last job as Country Director of a British Railway Signalling organisation saw her getting ill with an aortal and mitral heart valve regurgitation and early stage cancer. Through her journey from working to not working to working again, she sets out to prove to all women that they can do anything and everything that they set out to do; as long as they have that fire of desire burning within and the drive to work hard. Even better with oodles of love, passion and integrity.
Despite being ill, she has grown a network marketing business from very little knowledge and experience in the otherwise infamously known MLM (Multi-Level Marketing) industry, racing from an income of ZERO to RM 100,000 monthly in merely 2 years. She is a firm believer of the MLM business model but realises the pitfalls too and understands how and why the majority of people would shy away (or zoom far away) from any MLM business.
She is now pondering the title of her new book, From Zero to 100,000 RM monthly in 2 years and has a sequel in the pipeline with the aim of helping real professionals succeed in the World of MLM. Always the giver, Mamapumpkin has supported orphans for over 30 years and has now extended her care to the sick, single mothers, and even struggling families. She believes that with the MLM business model, we can all have a life of our own desires to enable real contribution into the world.
A beautiful life without limits.
Mamapumpkin currently manages the
Homeschooling Hub Malaysia on Facebook
. She also runs
Working Women Malaysia
(not THAT kind of Working Women!),
Mamapumpkin - Creating A Life of Abundance
, and Funky Moms on Facebook to offer REAL support to all women who want career and life success. She is a living testimony that women really can have a lot. Being financially free has enabled her to travel the world anytime anywhere doing anything, and she spends most of her day to day with her children, reading and supporting other women.
For enquiries, please contact her at mamapumpkin at gmail dot com or WhatsApp her at +6012-2333840
Show your support and spread the love!