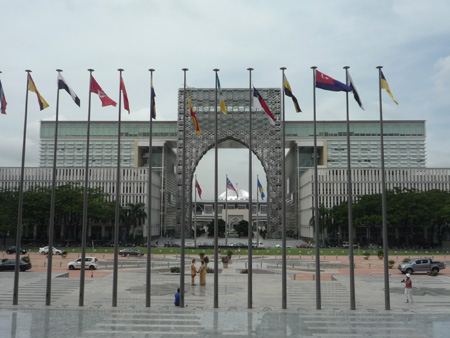 No, that isn't the Palace of Justice above though I'm not quite sure what it is! Oh, I just google-mapped it and discovered that the building belongs to Putrajaya Holdings.
Have you ever been into the buildings at Putrajaya? There are some AMAZING building out in the boonies.
TRULY AMAZING.
But when you enter, it becomes not so amazing…….
Some, like the Palace of Justice building, are still TRULY SPECTACULAR. And some, let's just say you can take the boy out of the kampung but you can't take the kampung out of the boy.
What I don't get is why so many of the buildings are phenomenally huge, yet only a fraction of them are occupied. Do you know how much wastage there is??? Just look at the air-conditioning bill alone, never mind anything else. Wouldn't they have planned this before building? Surely one knows how big the immigration department is and would be in 5 years time? Did they expect the office to expand at a rate of half a million percent? Sorry, but I must be totally missing something here. There isn't even car parking for the public within the buildings. All that marvellous space so grand and nought a single parking spot for guests. If you go to Putrajaya for an errand, you must either A: have a driver, or B: be prepared to walk in the hot sun (or rain, sometimes with children in tow. Let's face it, not everyone can afford child-care and not everyone wants to), get your car dirty in mud soiled terrain and cross big streets before arriving at your grand destination.
It's exercise time every time I head out to PFJ, as I fondly call it, to my Headquarters. They all know what I mean.
But hey, did I tell you how AMAZING the interior of the Palace of Justice is??? It was laced with beautiful carvings all round, EVERYWHERE, and BEAUTIFUL marble EVERYWHERE!!! It was just so beautiful and my secret camera does no justice whatsoever to the space. Go there, if you can. Lawyers, you lucky b*stards, how long have you been hiding this treasure from us plebs?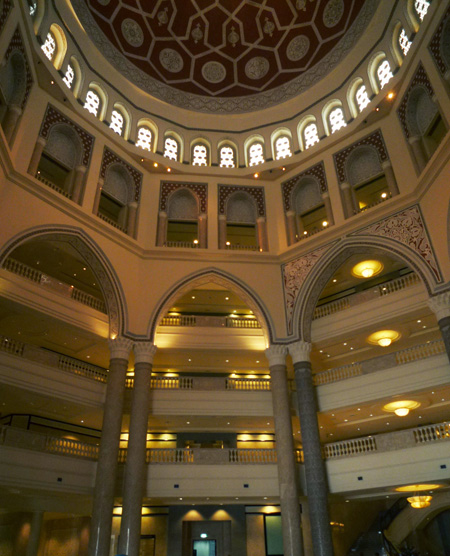 Anyway, the reason I was forced to enter the Palace of Justice was because I had to get something signed by a commissioner of oath and that was the only place in all of Putrajaya that had one. So we walked……in our shorts, only to be advised that we were not allowed to enter any space within the building in shorts!
You're kidding me, right?
I wasn't going to waste my time all day in Putrajaya just because I was in shorts! They were long shorts!!!
The receptionists suggested that I could walk another kilometre in the hot sun back to the immigration building to buy some bottoms from some stall vendors. Yeah, they have such little use of space that stall vendors have started doing business…….so sad.
Then another fella said if I was willing to wait, I could rent some pants. Oooooo…….rent some pants? You mean, just like the MPO? CRAP.
The last thing I wanted to do was to rent some pants that a million other persons had touched. Who knows if they even WASH the stuff??? EWE!!!
But I was desperate.
After waiting 30 minutes, I asked them why it took so long? Had the pants lady gone out for her break? They seemed to be having breaks all day in Putrajaya and hell I know, because I've been there a lot.
Their reply? Because there was only ONE PANTS.
Kill me, please.
Finally, the pants arrived and I held my breathe to put then on OVER my shorts and I swear I started itching at my crotch and everywhere else. All psychological, of course, but still.
They were men's pants and about 6 inches too long so they just dragged along the floor and the waist rode on my hips despite my very large waist. And just look at those lifts that I was in. You'd imagine such a grand building to be supported with grand lifts, no?
There. I've finally exposed the story of my disgusting pants story at the Palace of Justice.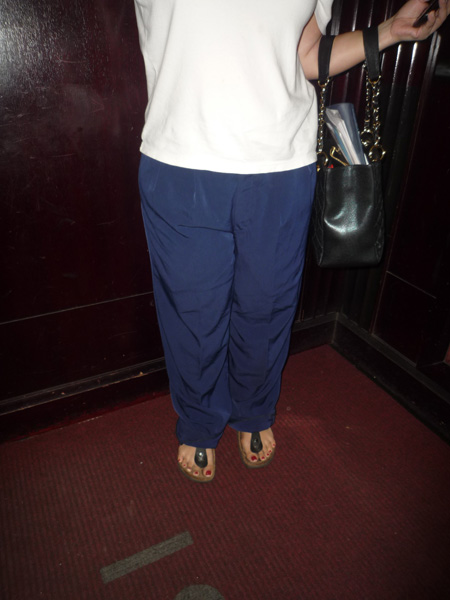 **************************************************************************
Who is Mamapumpkin?
Mamapumpkin spent 7 years in London committing crimes to gain her Bartlett BSc in Architecture. She spent 7 years as a Stay At Home Mom raising her children as documented in this Mamapumpkin blog since over 10 years ago and thereafter returned to the Corporate World stronger than ever. Her last job as Country Director of a British Railway Signalling organisation saw her getting ill with an aortal and mitral heart valve regurgitation and early stage cancer. Through her journey from working to not working to working again, she sets out to prove to all women that they can do anything and everything that they set out to do; as long as they have that fire of desire burning within and the drive to work hard. Even better with oodles of love, passion and integrity.
Despite being ill, she has grown a network marketing business from very little knowledge and experience in the otherwise infamously known MLM (Multi-Level Marketing) industry, racing from an income of ZERO to RM 100,000 monthly in merely 2 years. She is a firm believer of the MLM business model but realises the pitfalls too and understands how and why the majority of people would shy away (or zoom far away) from any MLM business.
She is now pondering the title of her new book, From Zero to 100,000 RM monthly in 2 years and has a sequel in the pipeline with the aim of helping real professionals succeed in the World of MLM. Always the giver, Mamapumpkin has supported orphans for over 30 years and has now extended her care to the sick, single mothers, and even struggling families. She believes that with the MLM business model, we can all have a life of our own desires to enable real contribution into the world.
A beautiful life without limits.
Mamapumpkin currently manages the
Homeschooling Hub Malaysia on Facebook
. She also runs
Working Women Malaysia
(not THAT kind of Working Women!),
Mamapumpkin - Creating A Life of Abundance
, and Funky Moms on Facebook to offer REAL support to all women who want career and life success. She is a living testimony that women really can have a lot. Being financially free has enabled her to travel the world anytime anywhere doing anything, and she spends most of her day to day with her children, reading and supporting other women.
For enquiries, please contact her at mamapumpkin at gmail dot com or WhatsApp her at +6012-2333840
Show your support and spread the love!