Oh my God!!! I'm finally writing about my trip to Tangkak! 6 whole months later!!! This one's for you, Shireen Loh!!!
Upon recommendation from Elaine, we finally made the trip to Tangkak when the Hubs stopped working. Tang-where??? Pekak? Angkat? Pokak? Bukan Tongkat! Tangkak! TANGKAK!
Tangkak – located in Johor and sounds damn far, right? (Gosh, that phrase just sounded so Malaysian. I'm a true Malaysian, for sure) On the contrary, it isn't far at all. It took us less than 2 hours to get there leaving KL at 10am. For the longest time, we never went because the Hubs was working and no way was I going by myself and 2 girls. But when he was free, we jumped at the opportunity. Once and for all, let us sort out my allergy problem. My asthma was getting severely out of control ever since the maid did a stinky. TOO MUCH STRESS.
Here are the details if you have allergies and want them sorted.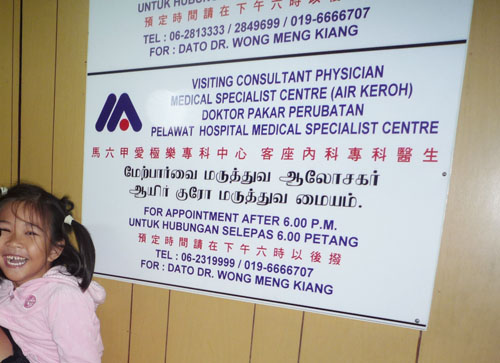 He is a general doctor but also specialises in a few things. Such as allergies.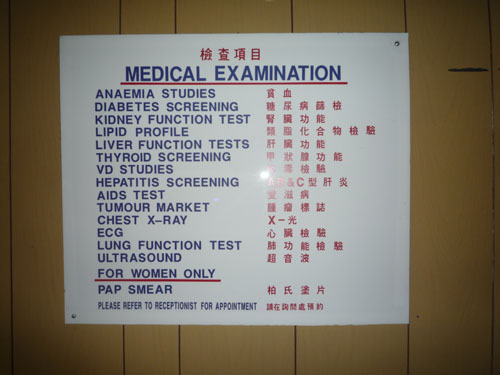 These are the visiting hours but I'd recommend you to call first.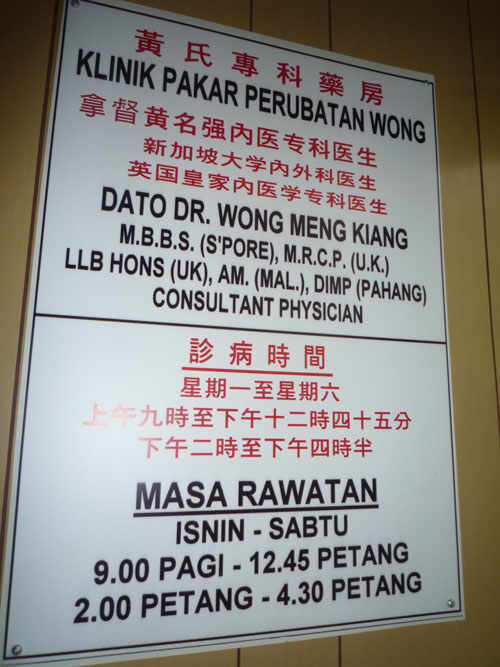 So what happened?
I told Dr Wong my history of bad sinuses since I was a teenager, asthma since I was a kid, eczema in the last few years only and generally, I always felt bad. Tired, lethargic……never full of spirit. I never felt on top form. I was always in pain, my joints were always aching, I suffered from headaches, I needed regular massages to function! People always said I just needed to exercise and yes, it is true. I do need to exercise and exercise did make me feel slightly better but it didn't take away the pain and it didn't really make me lose weight either. And then they'd say, oh you're not exercising enough and you're eating too much. Well, you know, people are quick to judge, aren't they? They have no idea how I have starved for an entire month eating all the right things and still there is no difference, even with exercise. And for me, it is a chicken and egg situation. I get asthma attacks when I exercise and it isn't easy with a baby. Nevertheless, I still do whenever I get the chance.
After asking me more questions, he identified that I had an overgrowth of Candida (thrush bacteria?) in my body because I've had 2 C-sections already and when you have a C-section, they drip you with a strong dose of antibiotics after to prevent infection. I already was kind of allergic to antibiotics in the past and sugar as well because every time I consumed them, I would suffer.
He started giving me test tubes to hold and pressed my other arm down. We did it like 30 times for various allergens and eventually identified that I was allergic to the following:-
Dust-Mites – +22 (beyond limit)
Candida (yeast) – 20
The rest of the things I was allergic to, I cannot remember the scores because they were not so pronounced, but they included mangoes, longan, anti-bacterial soap, mushrooms, and to be honest, it was so long ago, that I cannot even remember! All I know is that I left feeling awful because I was pretty much confined to having a diet without these food following the candida diet. And although the Doctor didn't test me for milk, I've self-diagnosed since that milk also does funny things to my body.
Below are the hundreds of test tubes at the clinic containing allergens that are replenished every 2 months or so. One really can be allergic to ANYTHING.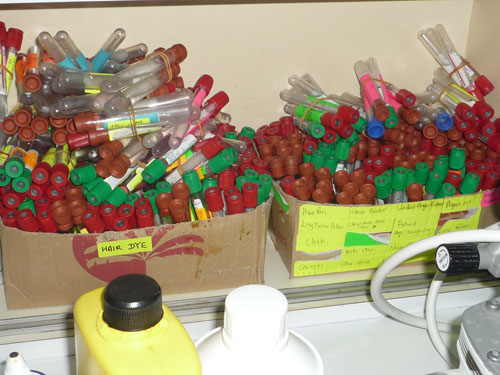 The idea is that if you are found to be allergic to let's say yeast (candida), like myself, then the nurse will electrolyte some saline solution with a small amount of yeast in it for you to consume drop by drop every day till your body is strong enough to NOT be allergic to yeast anymore. In the meantime, you are to STAY AWAY from anything that you are allergic to.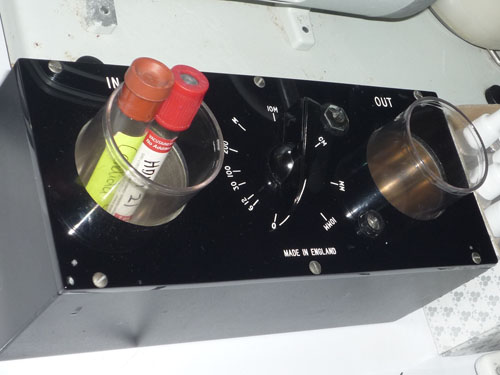 For me, that meant staying away from bread, the food I eat and love most! And sugar……but the Doctor said that it was natural for me to love sugar because people with candida overgrowth naturally have sweet taste buds and this is possibly made worse by the epidurals. He also said that it was a lost cause for people with candida allergies to lose weight as it is very difficult. Unless the allergy is stopped. It makes sense, because if you eat a lot f bread and sugar, how can you lose weight? Hoohoohoo…..
So I stayed away from bread and everything else for a week, a month, and I swear to God, my asthma went away. I stopped having asthma attacks, no more wheezing frequencies, my lungs were clear. After putting a RM500 anti-dustmite protector on my bed, my sinuses stopped as well. Just like that. Usually, I'd turn on my laptop after the kids are in bed, and my nose would start dripping and all night whilst working, I'd live with a dripping nose. But not anymore. So truly miraculously, my sinuses and asthma and itching stopped, as soon as I stopped eating ALL the food that I was not meant to.
But what a life????!!!!!!!
After a month, I'd started sneaking in bread once a week, then twice a week and several months later, now I just don't care anymore and just eat whatever the hell I want!!! And of course, my asthma is back. My sinuses are still OK unless I don't sleep on the bed with the dust-mite protector. And my legs are always itching like mad. It's an instant reaction. I eat the wrong thing, and I'll start wheezing and my legs start itching. Such is the life of one with allergies.
I don't know where I'm heading with these allergies but obviously, I have to cut down on the forbidden fruit SOME DAY. But it is so hard!!! How can I not eat bread????? WAHHHHHH!!!!!!
**************************************************************************
Who is Mamapumpkin?
Mamapumpkin spent 7 years in London committing crimes to gain her Bartlett BSc in Architecture. She spent 7 years as a Stay At Home Mom raising her children as documented in this Mamapumpkin blog since over 10 years ago and thereafter returned to the Corporate World stronger than ever. Her last job as Country Director of a British Railway Signalling organisation saw her getting ill with an aortal and mitral heart valve regurgitation and early stage cancer. Through her journey from working to not working to working again, she sets out to prove to all women that they can do anything and everything that they set out to do; as long as they have that fire of desire burning within and the drive to work hard. Even better with oodles of love, passion and integrity.
Despite being ill, she has grown a network marketing business from very little knowledge and experience in the otherwise infamously known MLM (Multi-Level Marketing) industry, racing from an income of ZERO to RM 100,000 monthly in merely 2 years. She is a firm believer of the MLM business model but realises the pitfalls too and understands how and why the majority of people would shy away (or zoom far away) from any MLM business.
She is now pondering the title of her new book, From Zero to 100,000 RM monthly in 2 years and has a sequel in the pipeline with the aim of helping real professionals succeed in the World of MLM. Always the giver, Mamapumpkin has supported orphans for over 30 years and has now extended her care to the sick, single mothers, and even struggling families. She believes that with the MLM business model, we can all have a life of our own desires to enable real contribution into the world.
A beautiful life without limits.
Mamapumpkin currently manages the
Homeschooling Hub Malaysia on Facebook
. She also runs
Working Women Malaysia
(not THAT kind of Working Women!),
Mamapumpkin - Creating A Life of Abundance
, and Funky Moms on Facebook to offer REAL support to all women who want career and life success. She is a living testimony that women really can have a lot. Being financially free has enabled her to travel the world anytime anywhere doing anything, and she spends most of her day to day with her children, reading and supporting other women.
For enquiries, please contact her at mamapumpkin at gmail dot com or WhatsApp her at +6012-2333840
Show your support and spread the love!