Last weekend, we went out to visit Crocs for new Crocs but their sizings are really strange so both girls couldn't fit into the next size up yet their current sizes were too tight. We considered the fake ones but weren't sure where to get them from and were too lazy to wait around and go hunting for them through trial and error.
We took the easy way out and just strolled into our local neighbourhood mall and visited all the kids shoe shops. The aim was to buy them both a pair of everyday sandals – like Crocs, as ugly as they are……
T1 was very simple. She knew what she was looking for, she knew the colours she liked and it was easy to identify what she wanted. She just needed the right sizing. T2 on the other hand??? OMG.
She had to try on every single pair and then kept changing her mind wanting A, then B, then C, then A again, then C again, then D……and so on. The Hubs said, "Just choose one for her and be done with it!!!"
But how would you like it if someone made you wear a hideous pair of shoes???!!!!
Come on, I dare you……
Shoes to the female form are like hair on a man's head. Most of them really want it, the hair. And it is important to groom the hair every morning with gel. Or whatever. There is only a small percentage of bald men and most are bald not out of choice. And if they are, they spend ages massaging their jewelled baldness with shining cream, for fear that a plant would grow on top.
Then suddenly like magic, she found it.
A black pair of baby Mary-Janes…….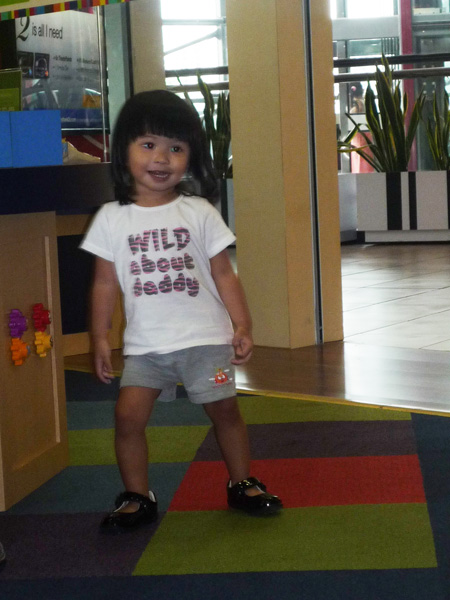 No more changing after that. And after two dozen times of giving her other options (especially ones that WE preferred, she only wanted those BLACK MARY-JANES).
The Hubs said no. He said they were impractical! We were there to get sandals so let's stick with the programme!
But Little T2 said NO!! NONONONONONO!!! I want THIS ONE!!!!
We spent the next half hour twiddling thumbs deciding what to do – get her a pair of shoes she doesn't want, or get her what she wants??? What does one do? Do toddlers really know how to decide??
She REALLY liked those black Mary-Janes. She didn't care about any of the other shoes after she wore her black Mary-Janes…….and seeing how much she was into them, I told the Hubs that she could wear them casually too. Who says Mary-Janes can only be worn with white socks and to parties?
Besides, they were decent shoes. We've had a few Stride Rite shoes in the past for the last few years and they have served us very well……
The exasperation in the Hubs face was like a big dick around his head, except that this time yet again it was his baby's little finger. I told him that it was up to him. The shoes cost RM139 or thereabouts for something that he saw totally impractical but whatever he decided, I told him to sort it out with T2.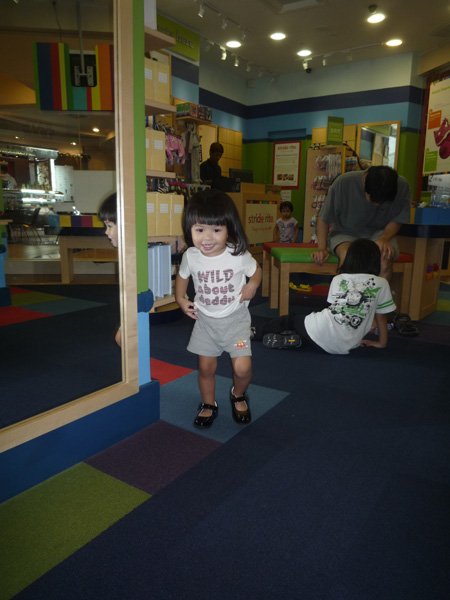 T2 continued to hop around in her black Mary-Janes and posed in front of the mirrors, sometimes lifting up her shirt to see how the shoes looked in different styles. She's totally vogue.
We walked out of Stride Rite with the black Mary-Janes, of course.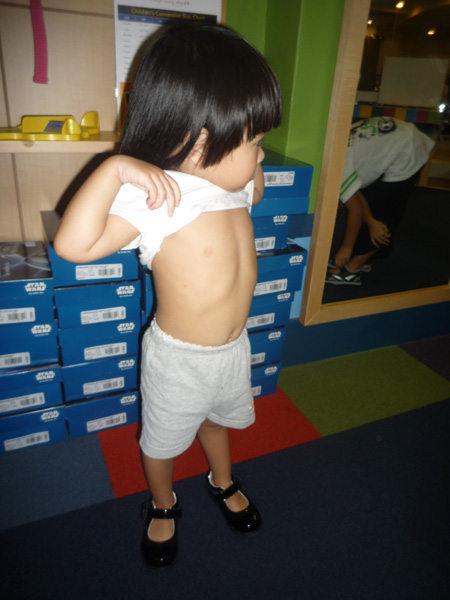 T2 excitedly said, "Same!!! Same Back Shoes Che-Che! Same Back Shoes Mama! Same Back Shoes Dada!"
And she was right.
We were all wearing black slippers / sandals that very day. She was a well chuffed baby.
Two weeks later, she still wears her black Mary-Janes every day no matter what she wears on top. But just today for a change, she requested for her pink sneakers.
**************************************************************************
Who is Mamapumpkin?
Mamapumpkin spent 7 years in London committing crimes to gain her Bartlett BSc in Architecture. She spent 7 years as a Stay At Home Mom raising her children as documented in this Mamapumpkin blog since over 10 years ago and thereafter returned to the Corporate World stronger than ever. Her last job as Country Director of a British Railway Signalling organisation saw her getting ill with an aortal and mitral heart valve regurgitation and early stage cancer. Through her journey from working to not working to working again, she sets out to prove to all women that they can do anything and everything that they set out to do; as long as they have that fire of desire burning within and the drive to work hard. Even better with oodles of love, passion and integrity.
Despite being ill, she has grown a network marketing business from very little knowledge and experience in the otherwise infamously known MLM (Multi-Level Marketing) industry, racing from an income of ZERO to RM 100,000 monthly in merely 2 years. She is a firm believer of the MLM business model but realises the pitfalls too and understands how and why the majority of people would shy away (or zoom far away) from any MLM business.
She is now pondering the title of her new book, From Zero to 100,000 RM monthly in 2 years and has a sequel in the pipeline with the aim of helping real professionals succeed in the World of MLM. Always the giver, Mamapumpkin has supported orphans for over 30 years and has now extended her care to the sick, single mothers, and even struggling families. She believes that with the MLM business model, we can all have a life of our own desires to enable real contribution into the world.
A beautiful life without limits.
Mamapumpkin currently manages the
Homeschooling Hub Malaysia on Facebook
. She also runs
Working Women Malaysia
(not THAT kind of Working Women!),
Mamapumpkin - Creating A Life of Abundance
, and Funky Moms on Facebook to offer REAL support to all women who want career and life success. She is a living testimony that women really can have a lot. Being financially free has enabled her to travel the world anytime anywhere doing anything, and she spends most of her day to day with her children, reading and supporting other women.
For enquiries, please contact her at mamapumpkin at gmail dot com or WhatsApp her at +6012-2333840
Show your support and spread the love!